On this day, December 8, 2005, federal prosecutors announced six arrests of eco-sabotage suspects following a nine-year investigation in four arson cases in Oregon dating to 1998 and 2001 and a toppled power line in Bend, Oregon in 1999.
You need to know this stuff.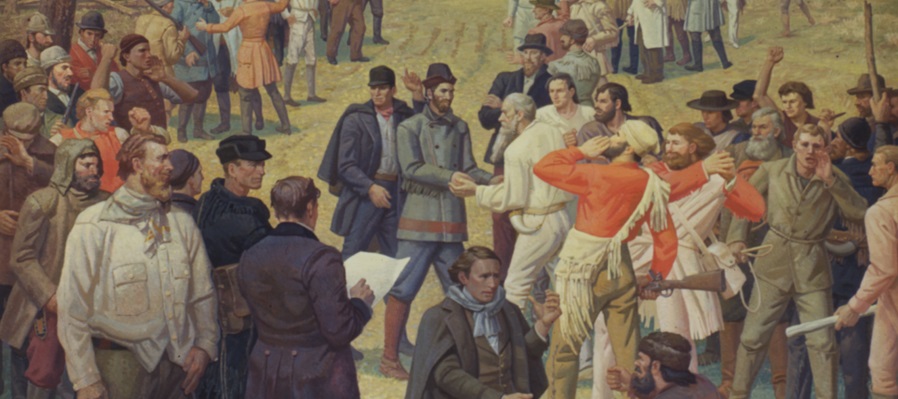 The Northwest Observer loves history. In addition to providing civics education and breaking news, we pride ourselves on providing interesting articles on the history of the region -- especially how it impacts the legal and political situation today. Indeed, history provides the context needed to properly understand the news we provide.
You can
browse through a chronological presentation
of history articles, or look them up by topic interest, here.
A History of Minimum Wage in Oregon
Land Use Laws
Oregon's Beach Use Laws
--Editor
| | |
| --- | --- |
| Post Date: 2020-05-01 00:00:00 | Last Update: 2020-10-14 20:55:16 |
Study up. There will be a test.


The Northwest Observer is committed to civics education. In addition to providing historical and breaking news, we pride ourselves on providing relevant articles on civics. Indeed, civics is the framework needed to properly understand and provide context to the news we provide. You can
browse through a chronological presentation
of civics articles, or look them up by topic interest, here.
State Government
Voting and Elections

Vacancies in Elected Office
The Initiative Process
Political Parties in Oregon

Oregon Laws
Oregon's Education System
Local Government
--Editor
| | |
| --- | --- |
| Post Date: 2020-05-01 00:00:00 | Last Update: 2023-10-12 07:01:57 |
Go get a fresh cup of coffee and start clicking

The Northwest Observer is committed to bringing you in-depth news about what is
really
going on around you, not just the if-it-bleeds-it-leads click bait. If you have a tip or a suggestion for a series, please contact us at
editor@northwestobserver.com
. We're proud of the work that we've done.
2024 Legislative Referrals
A multi-part series on legislative referendums scheduled for the November 2024 election. (September 2023)
Oregon Habitat Conservation Plan
A multi-part series on the Oregon Department of Forestry's Habitat Conservation Plan and how it impacts wildlife and communities. (September 2023)
The impact of your vote for School Board Candidates
A multi-part series on the impact of your vote for School Board Candidates, an OAA Voter Education Project
The 2022 Oregon Legislative Budget Items
A multi-part series on the Budget bill passed during the 2022 Oregon Legislative Session (March 2022)
Tina Kotek, 2022
A multi-part series on Oregon House Speaker Tina Kotek, her past and her future – as well as where her political ambitions might take her (August 2021)
Direct Democracy in Oregon
A multi-part series on the history and process of the initiative and referendum process in Oregon.(August 2021)
Measure 11
A multi-part series on Measure 11 and its impact on crime. This series is adapted from letters written to the legislature by Kevin Mannix, the author of Measure 11.(March 2021)
A Fed Up Oregonian
A multi-part series which is a reprint of a letter from a desperate gun owner and her thoughts on the current proposals in the legislature. (February 2021)
2021 Tax Legislation
A multi-part series exploring tax measures before the Oregon Legislature during the 2021 session (February 2021)
2020 Ballot Measures
A multi-part series exploring all four statewide ballot measures for the November 2020 election (October 2020)
Candidate Comparison
A multi-part series based on the work of the Oregon Abigail Adams Voter Education Project (September 2020)
Voter Fraud
A multi-part series exploring voter fraud and the Oregon vote-by-mail system. (August 2020)
Tone Deaf
A multi-part series recounting how the party in power is thwarting the will of the people. (August 2020)
School Reopening
A multi-part series analyzing the latest version of the school re-opening guidelines and the prospects of schools re-opening in the Fall. (July 2020)
The State Budget
A multi-part series on the budget for the State of Oregon and where possible efficiencies can be found. (June 2020)
Oregon Administrative Rules and Law
A multi-part series on Oregon Administrative Rules and Law. (July 2021)
--Editor
| | |
| --- | --- |
| Post Date: 2020-05-01 00:00:00 | Last Update: 2023-09-13 11:12:43 |
Meme is as meme does.
--Northwest Observer Comedy Staff
| | |
| --- | --- |
| Post Date: 2020-04-29 20:48:24 | Last Update: 2020-08-08 12:29:01 |
President Trump: "Fake news"
One of the problems with the media, is that in addition to holding the means of communication (they get to say what they want, when they want to, in the way they want to), but they also hold the rule book for what constitutes responsible journalism. When confronted with accusations of bias, they flip open the rule book and push back with rules made up on the fly to justify their agenda-driven behavior at any given moment. Don't believe me? Just step over here to the website for the Grey Lady, the New York Times, where you will find the
handbook for ethical journalism
.
I'm glad that such a handbook exists, but it has no place being owned, managed and warehoused on the website of the New York Times. It should inspire the same outrage that people have when incumbent elected officials enact weak ethical rules for themselves. Or when union teachers sit in rubber rooms -- collecting a paycheck -- because the organization that represents them doesn't want them touched.
Bias in the media matters. Watch this clip. It's only 43 seconds long.
Pretty outrageous stuff. Can you see
anyone
in the current legacy media asking such a similar softball question of President Trump? Press interactions with President Trump look more like this kind of badgering, that's more directed as cutting into his credibility than getting at facts:
I could multiply examples. They're easy to find. Information is important. We're not getting it from the legacy media.
--Staff Reports
| | |
| --- | --- |
| Post Date: 2020-04-28 20:27:25 | Last Update: 2020-04-26 20:28:09 |
Effective May 1, elective and non-urgent procedures are allowed.

Amidst mounting pressure that she open the State of Oregon to economic activity, Governor Brown has
issued an executive order
permitting elective and non-urgent medical procedures, starting May 1.The order reads "On or after May 1, 2020, elective and non-urgent procedures across all care settings that utilize PPE are allowed, but only to the extent they comply with guidance or administrative rules issued by the Oregon Health Authority."
In the same executive order, the Governor extended her guidelines for visitors to medical facilities, saying "I continue my delegation of authority to the Oregon Health Authority to provide guidance, which may be revised from time to time, regarding limitations and screening requirements for visitors to hospitals and ambulatory surgical centers, based on best practices, to ensure the safety of patients and health care workers, and to slow the spread of COVID-19."
The Governor has claimed the authority to regulate this activity under the Oregon law that describes public health emergencies, claiming that her order "is a public health law, as defined in ORS 431A.005, and may be enforced as permitted under ORS 431A.010. Additionally, any person found to be in violation of this Executive Order is subject to the penalties described in ORS 401.990."
You can read the text of this law
here
.
--Staff Reports
| | |
| --- | --- |
| Post Date: 2020-04-28 07:48:32 | |
State Senator Shemia Fagan has been receiving lots and lots of cash from government unions
Government employee unions have been giving quite a bit of cash lately to Secretary of State candidate and current State Senator, Shemia Fagan (D-Portland). She's received a donation of $32,000 from the Oregon Education Association, the largest teachers' union in the state on April 17, as well as a donation of the exact same amount ($32,000? Maybe they have a matching gift program) from Citizens Action for Political Education, a political arm of SEIU, one of the largest public employee unions in the state.
Fagan has raised over $175,000.00 so far and has about $100,000.00 on hand.
Fagan entered the race after former House Majority Leader and State Rep. Jennifer Williamson (D-Portland) left the race amid a cloud of allegations that she
used campaign funds
for lavish travel. Her political future is uncertain.
One reason political experts are so interested in the Secretary of State's race this cycle is that whomever is elected will create the district maps in the redistricting process, if the Legislature fails to complete the redistricting process.
--Staff Reports
| | |
| --- | --- |
| Post Date: 2020-04-27 09:39:40 | Last Update: 2020-04-27 09:39:49 |
He replaces Senator Herman Baertschiger, who is stepping down.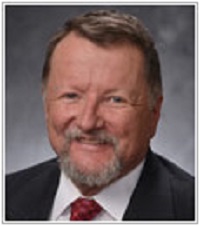 State Senator Fred Girod (R-Lyons) was elected to be the next Senate Minority Leader in the Oregon Legislature, replacing Herman Baertschiger (R-Grants Pass) who has stepped down from that role to
run
for Josephine County Commissioner. Baertschiger will be best known for his leadership during the legislative walk-out over Cap and Tax and other controversial pieces of legislation being pushed by the Democrats.
Oregon House Minority Leader, Christine Drazan said, "I have enjoyed working together on issues our constituents care deeply about. Senator Girod brings his years of experience in the Oregon Legislature to his new role as Senate Republican Leader and I look forward to partnering with him for the benefit of all Oregonians."
Senate Majority Leader, Ginny Burdick (D-Portland) Congratulated Senator Girod on his new role, saying "I have served with Senator Girod in the Senate for 12 years and I appreciate his good humor and commitment to public service. I know he will be a great leader for the Senate Republican caucus. I look forward to working with him in this new capacity."
Senate Republicans look to make gains in the November elections. They are currently in a super-minority holding 12 seats out of 30.
--Staff Reports
| | |
| --- | --- |
| Post Date: 2020-04-26 21:55:25 | Last Update: 2020-04-26 21:57:10 |
Even before the state was hit with COVID-19, the Medicaid burden had become unsustainable
Historically, Medicaid was funded almost exclusively by the federal government. Now, with the Medicaid expansion and the extension of benefits to illegal aliens, Medicaid is on the verge of becoming unsustainable both in terms of costs and the demands that it puts on resources and personnel, and these costs are being increasingly borne by the state. Medicaid programs deliver health care services to over one million people in Oregon -- about a quarter of the population -- primarily through the Oregon Health Plan, which supports comprehensive health care coverage for low-income adults and children eligible for Medicaid, children eligible under the federal Children's Health Insurance Program (CHIP), and children who would be eligible for Medicaid or CHIP except for their immigration status.
Oregon's Medicaid programs have experienced significant changes in the last several years. In the 2011-13 biennium, Oregon transformed the way it provides and pays for medical assistance through a new Medicaid health care delivery system managed by coordinated care organizations (CCOs). A CCO is a network of all types of health care providers who agree to work together in local communities to serve OHP members. CCOs focus on prevention; chronic disease management; early intervention; integration of physical, behavioral, and oral health; and the reduction of waste and inefficiency in the health system.
The jury is still out on the effectiveness of CCOs to meet this mission.
The chart at the right shows the considerable spike in caseload when Medicaid was expanded. It should be noted that the estimates that the chart was based on were made before the recent COVID-19 outbreak.
--Staff Reports, with Legislative Fiscal Office
| | |
| --- | --- |
| Post Date: 2020-04-26 21:20:21 | Last Update: 2020-04-26 21:20:39 |
Critics say she may be on thin ice.
Upset with the lingering "don't go out unless ncecessary" order, people are beginning to question the legal authority that Governor Brown is relying on to justify her order. It's clear that she has some authority.
Governor Kate Brown has used a statutory process, ORS 401.165, to declare a state of emergency. When the Governor declares a state of emergency under ORS 401.165, the Governor has the following powers, among others:
The right to exercise all police powers vested in the state by the Oregon Constitution. ORS 401.168 (1). The right to suspend state agency orders and rules. ORS 401.168 (2).
The right to direct state agencies to use personnel, equipment and facilities to prevent or alleviate damage caused by the emergency. ORS 401.168 (3).
The right to assume control over all emergency operations, and police and law enforcement activities. ORS 401.175 (1) and (2)
The right to require the aid and assistance of any state agency or other public or quasi-public agency in the performance of duties and work related to the emergency. ORS 401.175 (5).
The right to control, restrict and regulate by rationing, freezing, prohibiting or other means, the use, sale or distribution of food, feed, fuel, clothing, or other commodities, materials, goods or services. ORS 401.188 (1).
The right to prescribe and direct activities in connection with the use, conservation, salvage and prevention of waste of materials, services and facilities, including but not limited to, production, transportation, power and communication facilities, training and supply of labor, utilization of industrial plants, health and medical care, nutrition, housing, rehabilitation, education, welfare, child care, recreation, consumer protection and other essential civil needs. ORS 401.188 (2).
The right to take any other action necessary for the management of resources following the emergency. ORS 401.188 (3).
What's not clear is how she can justify intervening in the private economy when it doesn't concern the "management of resources". Since the courts are closed now, it's perhaps not possible for litigation, but as things return to normal, there may be opportunities for some to take action against the State of Oregon and Governor Brown.
--Staff Reports
| | |
| --- | --- |
| Post Date: 2020-04-26 18:51:53 | Last Update: 2020-04-26 18:52:10 |
State Rep. Paul Evans voted for a carbon tax that won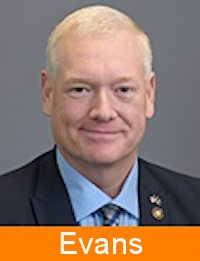 Everyone -- well almost everyone -- still remembers the Republican walk out from the 2020 short session to quash the carbon tax and a host of other controversial legislation, but not many remember that the carbon tax passed the House in 2019, only to fail in the Senate. Many have forgotten that Paul Evans (D-Monmouth) is one that voted for this regressive tax.
Economic experts say that this legislation has grave economic consequences and that it may ultimately lead to a recession in Oregon. Early estimates of costs just to state agencies are estimated by legislative fiscal office to be upward of $22 million during the first year. These costs "are primarily associated with the initial implementation of the bill in the 2019-21 biennium. Subsequent biennia costs may be significantly higher due to the roll-up of position costs, standard inflation, or undefined factors such as information technology application implementation."
--Staff Reports
| | |
| --- | --- |
| Post Date: 2020-04-26 18:43:43 | Last Update: 2020-04-26 18:43:52 |
Lock down Oregon Day 35.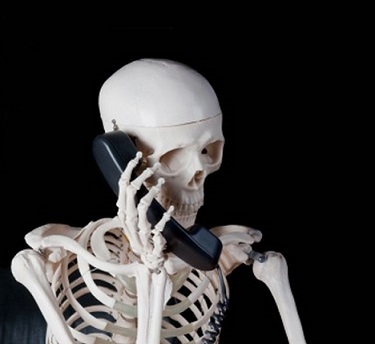 No matter what Oregon does with computer systems some how things get screwed up. Remember the deal with Oracle and Obama care? The next problem is going to be with Oregon implementing Real ID, seems DMV computer capability is going to have a very rough go of it. Have you ever wondered "where is the legislative oversight?"
The long hold times at the Oregon Employment Department are only an example of how Oregon's ruling party has proven incompetent in resolving most of the real issues that affect formerly working, taxpaying, private sector Oregonians. Instead, they have focused on expanding their power to control through excessive taxation, draconian legislation, and denial of the constitutional prerogative reserved for voters to decide on issues by declaring fake emergencies-to prevent dissension. Then, when an economic crisis does present itself, they accept no responsibility for their disastrous failures and misguided agenda. It seems the only disaster planning contingencies the Democrats know is how to cause them.
The questions I would like to ask candidates and elected officials are: So who is responsible for this mess? Why has no one been held accountable? What is your plan to fix this? Why should we vote for you? How are you going to be any different when it comes to tackling the real issues that affect formerly working Oregonians?
Why should I trust you to do any better at anything than they-the enlightened-who have promised nirvana and delivered a dung pile?
My objective is to encourage you to inform voters what you think and how you will address issues that are impacting them now and in the future.
--Northwest Observer Editorial Board
| | |
| --- | --- |
| Post Date: 2020-04-26 17:44:44 | Last Update: 2020-04-26 17:46:12 |
Read More Articles