On this day, June 4, 1990, Janet Adkins, age 54, of Portland, became the first person to use a suicide machine developed by Dr. Kevorkian. This began a national debate over the right to die.
Also on this day, June 4, 1999 a federal judge in Portland ruled that AT&T must open its cable lines to competitors.
Also on this day, June 4, 2017, a pro-Trump rally and counter-protest in Portland was marked by multiple arrests and clashes.
Or maybe you want to be appointed to a board or commission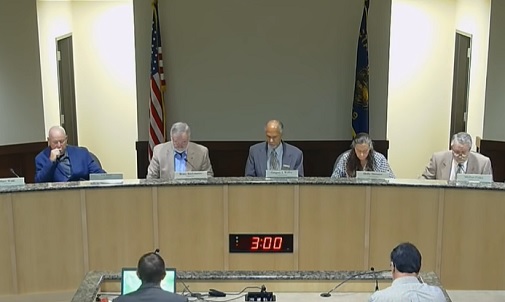 Governor Kate Brown is
seeking qualified candidates
to apply for the Director of Executive Appointments position.
The Governor appoints nearly
300 policymaking, regulatory and advisory boards and commissions
. Many of these set policy for executive branch agencies. The Executive Appointments Director works with the Governor's Policy Advisors to recommend candidates for the Governor's selection and guides appointments through the Senate confirmation process.
This work requires an excellent grasp of the various missions of boards and commissions and how their work relates to that of state agencies, the Legislature, the Governor's Office. The Director must engage with a variety of stakeholder groups across the state to identify qualified volunteers and must balance the needs and goals of boards and commissions with demographic considerations such as geography, race, ethnicity, age, gender, military status, disability status, and experience.
Governor Brown is looking for a Director to build on current goals for increasing racial diversity in Oregon boards and commissions. Members of Oregon state boards and commissions are vital participants in the policy–making, regulatory, and advocacy efforts for a wide variety of issues affecting Oregonians. The board system contributes to the success of Oregon state government by bringing diverse and local talent and interest to the state level.
If you are interested in being appointed by the Governor to one of the
almost 300 boards or commissions
, you can get more information on the
executive branch website
. Members of Oregon State Boards and Commissions are vital participants in statewide decision-making and dedicated individuals have the opportunity to participate in developing a wide variety of important governmental policies. Major issues range from consumer protection, economic development, education, conservation, and health care—all of which are critical to the ongoing success of the State of Oregon.
You must be an Oregon resident and taxpayer to participate unless otherwise noted.
--Staff Reports
| | |
| --- | --- |
| Post Date: 2020-10-20 08:28:02 | Last Update: 2020-10-20 09:52:40 |