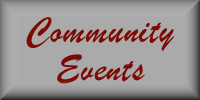 Post an Event

We Are Stronger Together
Monday, March 27, 2023 at 10:00 am
Oregon's Natural Resources & Industries (ONRI) is sponsoring the rally to meet legislators and influencers to bring light on legislation affecting natural resource industries, their families, and their communities. https://onri.us/events
Rally at the State Capitol, Salem.

Oregon Republican Party Freedom Banquet
Tuesday, March 28, 2023 at 6:00 pm
Hosted by ORP Chairman Justin Hwang
Keynote Speaker NRA First VP Willes K. Lee
Special Musical Guest, Nashville's Stokes Nielson
Tickets: Dinner $75 - VIP Tickets $100
Call 503-931-1756 for table sponsorship info.
Ticket Sales end on March 23, 2023
Click for tickets
Embassy Suites Portland Airport

Ways and Means Hearing
Saturday, April 8, 2023 at 10:00 am
Public hearings on the budget. Members of the public will have the opportunity to testify at each of the hearings regarding their perspectives and priorities around the state budget. To testify, members of the public will be able to access sign up links on the Ways and Means Committee's webpage on OLIS.oregonlegislature.gov
Portland Community College - PAC Auditorium, Sylvania Campus 12000 SW 49th Ave, Portland, OR 97219

Ways and Means Hearing
Friday, April 14, 2023 at 5:00 pm
Public hearings on the budget. Members of the public will have the opportunity to testify at each of the hearings regarding their perspectives and priorities around the state budget. To testify, members of the public will be able to access sign up links on the Ways and Means Committee's webpage on OLIS.oregonlegislature.gov
Newport Performing Arts Center 777 W Olive St, Newport, OR 97365

Active Shooter Response Training
Friday, April 14, 2023 at 6:00 pm
TNT Martial Arts--- Friday April 14, 2023 from 6pm-9pm. $10
SIGN UP HERE
Pre-Registration is mandatory, class slots are LIMITED, and in the interest of safety and security, you'll be expected to provide your identification that matches the registration name, upon entering the training facility.
TNT Martial Arts 1982 NE 25th Ave. Suite 15. Hillsboro, Oregon 97124

NW Food Show
Sunday, April 16, 2023 at 10:00 am
Showcase your foodservice industry solutions to buyers and influencers across the Northwestern U.S. and beyond. Exhibiting at the Northwest Foodservice Show is a cost effective way to meet with hundreds of industry decision makers face-to-face and grow your business. Space is limited, so book now!

SELL FACE-TO-FACE

• Generate high-quality leads by sampling and/or demonstrating your products in person

• Answer questions and give tailored pitches to a diverse group of attendees over two days

• Create new connections with buyers and build on existing relationships across the Northwest

WHO ATTENDS?

• 75% of attendees are key decision makers and have purchasing authority

• 47% of attendees have an alcohol license

• Nearly half of attendees are experiencing the Show for the first time

INDUSTRY SEGMENTS IN ATTENDANCE

• 36% Restaurant / Café

• 10% Bar / Tavern

• 10% Catering

• 10% Broker

• 7% Institutions: Universities, Schools, Hospitals, Corrections

• 5% Food Carts / Mobile

• 22% Other Foodservice

The Oregon Restaurant & Lodging Association (ORLA) is the leading business association for the foodservice and lodging industry in Oregon. A not-for-profit trade organization, ORLA represents over 3,000 member units and advocates for over 10,000 foodservice locations and over 2,400 lodging establishments in Oregon.

Contact
Marla McColly - mmcolly@oregonrla.org to register for a booth today!
Portland Expo Center - Hall D - 2060 N Marine Dr, Portland, OR • April 16 –17, 2023 • Sunday, April 16: 10:00 a.m. – 5:00 p.m. Monday, April 17: 10:00 a.m. – 4:00 p.m.

Ways and Means Hearing
Friday, April 21, 2023 at 5:00 pm
Public hearings on the budget. Members of the public will have the opportunity to testify at each of the hearings regarding their perspectives and priorities around the state budget. To testify, members of the public will be able to access sign up links on the Ways and Means Committee's webpage on OLIS.oregonlegislature.gov
Umpqua Community College 1140 Umpqua College Rd, Roseburg, OR 9747

Ways and Means Hearing
Friday, April 28, 2023 at 5:00 pm
Public hearings on the budget. Members of the public will have the opportunity to testify at each of the hearings regarding their perspectives and priorities around the state budget. To testify, members of the public will be able to access sign up links on the Ways and Means Committee's webpage on OLIS.oregonlegislature.gov
Four Rivers Cultural Center 676 SW 5th Ave, Ontario, OR 97914 Note: Ontario, Oregon is in the Mountain Time Zone

Lincoln County Fair
Friday, June 30, 2023 at 5:00 pm
June 30-July 2 Lincoln County Fair
Lincoln County Commons 633 NE 3rd St, Newport, OR

St Paul Rodeo
Friday, June 30, 2023 at 7:00 pm
Small town fun, big time rodeo! JUNE 30 - JULY 4, 2023

St Paul Rodeo website
4174 Malo Avenue NE, Saint Paul, OR, United States, Oregon

Marion County Fair
Thursday, July 6, 2023 at 5:00 pm
The Marion County Fair
July 6-9
Oregon State Fair and Exposition Center 2330 17th ST NE Salem, OR 97301

Washington County Fair
Friday, July 21, 2023 at 5:00 pm
Washington County Fair

FREE ADMISSION

Washington County Fair
JULY 21 - 30
Westside Commons 801 NE 34th Ave, Hillsboro, OR 97124

Coos County Fair
Tuesday, July 25, 2023 at 5:00 pm
The Coos County Fair
July 25-29
Coos County Fairgrounds 770 4th St, Myrtle Point, OR 97458

Clatsop County Fair
Tuesday, August 1, 2023 at 5:00 pm
The Clatsop County Fair
August 1st-5th
Clatsop County Fair and Expo Center 92937 Walluski Loop, Astoria, OR 97103

Oregon Jamboree Music Festival
Friday, August 4, 2023 at 5:00 pm
The Oregon Jamboree is the Northwest's premier country music festival. Nestled in the foothills of the scenic Cascade Mountains, the Oregon Jamboree is held on 20+ acre park-like setting that includes the historic Weddle Covered Bridge. The Jamboree offers a full festival atmosphere in the main venue and a more intimate concert experience on the second stage. In addition to featured headline entertainment, this event hosts RV and tent camping, merchandise vendors, food booths, beer & wine gardens, and a variety of other attractions.


Sweet Home, Oregon

Douglas County Fair
Wednesday, August 9, 2023 at 8:00 am
Douglas County Fair AUGUST 9 - 12
Douglas County Fairgrounds Complex 2110 SW Frear Street Roseburg, OR 97471

Crook County Fair
Wednesday, August 9, 2023 at 1:00 pm
Crook County Fair
AUGUST 9 - 12
Crook County Fairgrounds Prineville, Oregon

Oregon State Fair
Friday, August 25, 2023 at 1:00 pm
Oregon State Fair
Oregon State Fair & Exposition Center 2330 17th St NE, Salem, OR 97301

Pendleton Round-Up
Saturday, September 9, 2023 at 5:00 pm
The world famous Pendleton Round-Up
Pendleton Round-Up Grounds 1205 SW Court Ave, Pendleton, OR 97801
View All Calendar Events
Two-term incumbent faces Republican challenger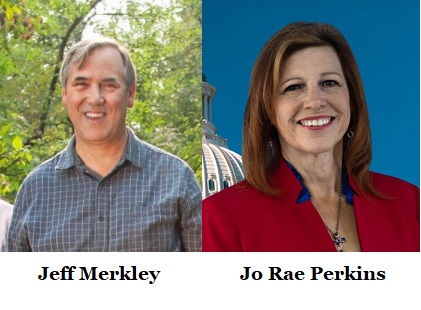 Editor's note: Oregon Abigail Adams Voter Education Project equips voters with information on how candidates stand on issues through a questionnaire process featured in comparison guides.
Candidate for U.S. Senate
Jo Rae Perkins
is running against incumbent
Jeff Merkley
. When you look at what is happening in Portland spreading to other parts of the state, change is what voters are looking for. Perkins' view of the Portland scene is she is incensed over the weeks of nightly protests that have turned violent. She livestreamed praising law enforcement and thinks little of Merkley's decrying of federal officer's actions.
Senator Merkley accuses Trump of fueling chaos in Portland and proposed an amendment to the National Defense Authorization Act bill to limit the use of federal law enforcement against violent protesters in cities like Portland. It would restrict federal agents' jurisdiction to federal property and streets surrounding Federal buildings or property, require wearing identification clearly visible when working crowd control, and prohibit unmarked vehicles. President Trump repeatedly says, "Democrats are sticking up for the violence. These are anarchists in Portland that have moved into the state. Any time they're ready I'll send in help."
Perkins' longtime belief is that the federal government needs to be dramatically reduced in scope. She's insistent that both the state and federal governments have been overreaching during the current pandemic. She opposes the use of masks saying she has done lots of research and distrust experts and official death statistics. Rightfully so since this week CDC reduced the death count for deaths solely due to COVID-19 from 161,392 to 9,683.
Merkley was one of nine Democrats that signed a letter to Defense Secretary Mark Esper over the Pentagon's handling of the COVID-19 pandemic. They wrote their concerned citing news reports about COVID-19 cases among U.S. troops "the Department is still not properly prioritizing the health and well-being of our service members." Then accused them of insufficient response. The assistant secretary responded accusing the Democrat senators of using "inaccurate media reports that have been discredited, to unfairly portray the Department while we are in the middle of the COVID-19 fight." Merkley also said he wanted to ban middle seats on airlines, "these airlines are only flying because we're subsidizing them."
Government arrogance or overreach? Who has their focus on We The People?
--Donna Bleiler
| | |
| --- | --- |
| Post Date: 2020-09-09 13:52:25 | Last Update: 2020-09-07 13:19:46 |
Inmates relocated to OSP facility
The Oregon Department of Corrections has evacuated all employees and adults in custody (AICs) from Oregon State Correctional Institution, Santiam Correctional Institution and Mill Creek Correctional Institution in response to the Beachie Creek and Lionshead fires. The department notified the public shortly after the decision was being implemented.
In order to maintain safety and security during the evacuations, we were not able to officially notify you earlier in the process. These three Salem institutions are in the path of the fire and the Department of Corrections (DOC) worked closely with the Oregon State Police and State Fire Marshall to carry out the evacuations. With little notice, DOC's organized labor bargaining units fully cooperated with management and each other to secure the safety of our AICs. We are grateful for their honorable dedication to our unique public safety mission.

To be clear, inmatess from these institutions are not being released from custody—rather, they have been moved to other DOC institutions. At this point, we don't know how long these moves will remain in place. OSCI has 774 inmatess, SCI has 363, and MCCF has 257.

In addition to our institutions, many DOC employees and their families are evacuating from their homes, and their focus needs to be on the safety of loved ones.
--Ben Fisher
| | |
| --- | --- |
| Post Date: 2020-09-08 13:01:00 | Last Update: 2020-09-08 18:46:50 |
Labor Day windstorm creates dire situation
This a developing story.
Evacuations across Oregon are prompted after an late summer weather event has brought high winds into the mix, complicating fire fighting efforts in multiple regions of Oregon.
Marion, Lincoln, and Lane County have issued evacuation orders to many residents.
Significant fires include:
Star Mountain
French Creek Fire
Mt. Hood Meadows
Mosier Creek
Santiam Canyon
Grizzly Creek
White River
Lionshead
Beachie Creek
Many other wild fires are not listed here as of yet.
--Ben Fisher
| | |
| --- | --- |
| Post Date: 2020-09-08 12:08:02 | Last Update: 2020-09-08 13:01:00 |
Look the other way.
Black Lives Matter (BLM) sets out national demands for education in a new racial justice curriculum using the 1619 Project in their "guiding principles." The National Education Association has endorsed including the principles. However, President Trump is attempting to stop the 1619 Project by denying funds to schools teaching it. The revisionist history plan was created by Pulitzer Prize winner for Commentary, Nicole Hannah Jones. It was promoted by the NY Times Magazine drawing the attention of activist educators, even though it isn't history. The project claims America was founded in 1619 when the first slaves arrived in Virginia, and the colonies were established to preserve slavery.
In 2019 Oregon Legislature passed
HB 2023
requiring curricula for history, geography, economics, and civics include contributions from every minority group by 2024. Did they foresee the social agenda and violence we see today?
Four bullet points head the BLM Week of Action National Demands flyer that should concern us all:
Each year since the initiation in Seattle in 2016, they have added more schools, more states, thousands of educators, and lesson plans about structural racism, black history, and anti-racist movements for a national organization. Now they are adding:
Transgender Affirming by encouraging leadership and recognizing trans-antagonistic violence.
Queer Affirming a network where heteronormative thinking no longer exists.
Collective Value that continues a long legacy of social movements fighting for the advancement of the rights of black folks through electoral strategy.
Zero Tolerance that implements restorative justice, empathy and loving engagement according to the BLM curriculum.
Funding counselors and not cops shifting enforcement from the prison system to school counselors.
"The over-policing, out of control suspensions, and expulsions must be brought to an immediate end. To rebuild our structures, we will focus our resources on restorative justice-the organic appointment of
community leaders; mediation and processing; and equitable perspectives on rehabilitation. Ending zero tolerance and focusing our schools around restorative justice will honor an autonomous voice and vision for students, staff and faculty."
Encouraging people to condemn racism is not what is being taught. By bringing BLM into the classroom, educators are actively allowing the most radically divisive movement in modern American history to warp the minds of students.
The plan of the 1619 Project is to first teach this false history. Then they incite young people to destroy history. Through the COVID-19 shutdown, young people were encouraged to participate in taking down statutes and remove them from history so history can be rewritten. If they can do that enough across the country, they can infiltrate from within and introduce a new constitution.
If we look at what is happening in Portland and around the state, it doesn't say much for BLM's ability to control themselves and a lot about their agenda. We are getting a glimpse into the kind of students that schools will release on society with no sense of consequences or accountability.
--Donna Bleiler
| | |
| --- | --- |
| Post Date: 2020-09-08 09:42:00 | |
Oregon company has a needed energy solution
The Nuclear Regulatory Commission has issued a
final safety evaluation report
for NuScale's small modular reactor (SMR) design. This meets the agency's original 42-month technical review schedule and demonstrates the NRC's commitment to timely licensing of safe technologies for new, advanced reactors. The NRC is preparing a rulemaking to certify the design.
NuScale applied on Dec. 31, 2016, for certification of the company's SMR design for use in the United States; the NRC accepted the design for review in March 2017. The design uses natural "passive" processes such as convection and gravity in its operating systems and safety features to produce approximately 600 megawatts of electricity. The SMR's 12 modules, each producing 50 megawatts, are all submerged in a safety-related pool built below ground level. The NRC concludes the design's passive features will ensure the nuclear power plant would shut down safely and remain safe under emergency conditions, if necessary.
NuScale has indicated it will apply in 2022 for a standard design approval of a 60-megawatt per-module version of the design. That version will require additional NRC review.
Neither a standard design approval nor a design certification grant permission to build or operate a reactor. Full certification, if granted by the Commission following the staff's recommendation, allows a utility to reference the design when applying for a combined license to build and operate a nuclear power plant.
The majority investor in NuScale is Fluor Corporation, a global engineering, procurement, and construction company with a 60-year history in commercial nuclear power. NuScale is headquartered in Portland and has offices in Corvallis and elsewhere. The first plant is expected to be built in the Boise, ID area.
With increased demands for energy, as well as pressure for greener, renewable sources, nuclear energy shows great promise in the face of rolling blackouts in California.
More information about the
NuScale design review
can be found on the NRC's website.
--Staff Reports
| | |
| --- | --- |
| Post Date: 2020-09-07 17:30:48 | Last Update: 2020-09-07 18:03:19 |
Small fire now but high winds are a concern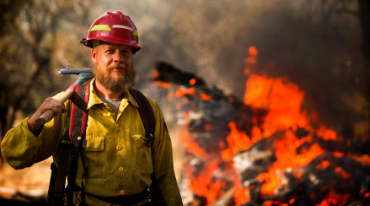 Mt. Hood Meadows public safety has reported a small fire at Mt. Hood Meadows Ski Area, about 0.25 mile east of the Shooting Star chair lift in the Heather Canyon drainage. There is an engine crew and hand crew already responding to the fire, supported by a helicopter dropping water. Additional crews are on their way to the fire. The fire is estimated to be around 2-acres as of midday.
To protect public safety and facilitate firefighters reaching the fire, the Timberline Trail is closed between Timberline Lodge and Cloud Cap. The Elk Meadow Trailhead and Sahalie Falls Trailhead have also been closed. Travelers in that area are asked to drive extra carefully and be aware of fire vehicles and the possibility of smoke.
There are east winds forecasted and a Red Flag Warning in effect across the region through Wednesday evening, which means there is an increased chance of fire activity. Campfires are currently prohibited across the Mt. Hood National Forest.
--Ben Fisher
| | |
| --- | --- |
| Post Date: 2020-09-07 17:08:30 | Last Update: 2020-09-07 17:30:48 |
The result of economic chickens coming home to roost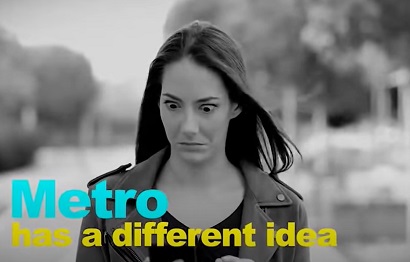 A bold new commercial, directed at defeating the
transportation ballot measure
in the Metro region is ready for screens throughout the tri-cojnty area.
Stop the Metro Wage Tax
is the group mounting a campaign against Measure 26-218, dubbed "Get Moving 2020" which is expected to raise over $5 billion per year as a permanent payroll tax of 0.75%.
It's clear that COVID-19 is both a health and an economic crisis for our community. Many families and local businesses are struggling just to stay afloat – with record job losses, layoffs and shrinking paychecks.
In the face of the sharpest economic downturn in state history, Metro is proposing a brand new tax, forcing local businesses to choose between protecting their worker's paychecks and keeping their businesses afloat. Metro's proposal will divide our community by imposing a new tax on wages, threatening local non-profits and businesses at precisely the worst time.
In the last three elections alone, Metro has raised $3.6 billion in taxes. Those measures were supported by many in the business community, including the Portland Business Alliance, who worked to pass new taxes that would create affordable housing, expand green space, and improve homeless services. Many think this is the wrong tax at the worst possible time.
Much of the money goes to light rail, which has seen consistent ridership declines, year over year. Look for this commercial on a screen near you.
--Staff Reports
| | |
| --- | --- |
| Post Date: 2020-09-07 15:38:53 | Last Update: 2020-09-07 16:30:11 |
And coronavirus makes white supremacy worse in Oregon apparently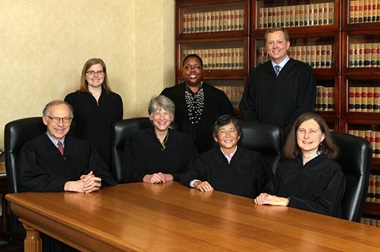 The State of Oregon Judicial Department released a statement when the Portland riots were just beginning. They suggest it was to address the death of George Floyd, and to ensure the public they would have an aim to ensure "racial justice" in Oregon.
But isn't justice best served without regard to wealth, power, skin color or other status?
"We write to address the death of George Floyd–a tragedy that has been repeated too often. At the time of Mr. Floyd's death, our nation already was reeling from the deaths of Breonna Taylor, Ahmaud Arbery, Tony McDade, and many others before them.Those deaths have had a tremendous impact on all of us, but especially on our colleagues, family, and friends from communities of color, who experienced them on a very personal level.

We acknowledge the pain, trauma, anger, and frustration that has resulted from the tragedy of the recent week and that has been felt by the Black community and other communities of color.We understand that many in the judicial branch and throughout the legal community are struggling to process what is happening and trying to figure out what to do.We may wonder if the very core of what we do, as arbiters of justice and officers of the court, is being called into question.

As members of the judicial branch, we are cautious –always careful not to prejudge situations.But we cannot ignore the risks that African Americans, Blacks, and other people of color face as each day dawns.The urgency for action has long been upon us, but the immediacy of the need is even more apparent today.We must ensure that the lives of African Americans, Blacks, and people of color are valued and respected and that the color of peoples' skin does not affect their rights to justice or the treatment they are afforded by our system of justice.

In facing up to that responsibility, we must recognize that we, in Oregon, are subject to the same prejudices as others throughout this country.Oregon entered statehood steeped in racial discrimination, and it is still with us –from Black exclusion laws in the 1800s, to the common presence of the KKK in the 1900s, to the effects of redlining that continue today.Communities of color throughout this state, in both urban and rural settings, continue to experience inequality that has only been compounded by the coronavirus.

Our courts are an integral part of the justice system and have an essential role to play in ensuring justice for all.We must stand firm against racism and oppression.We must be intentional in our efforts to move in a different direction.We must examine our individual thoughts and beliefs, as well as our professional approaches, processes, and environments to address the impact of our own biases.

We must examine, a new ,what we are doing, or failing to do, to root out conscious and unconscious bias in our legal system."
The full letter can be seen
here
--Ben Fisher
| | |
| --- | --- |
| Post Date: 2020-09-07 07:44:58 | Last Update: 2020-09-07 08:38:40 |
Instead, blames white supremacy
Wikipedia defines
psychological projection
as a "defense mechanism in which the human ego defends itself against unconscious impulses or qualities (both positive and negative) by denying their existence in themselves while attributing them to others." In a bizarre moment, Oregon Governor Kate Brown seemingly heaps all the Antifa and Black Lives Matter violence on white supremacists.
During a press conference that touched on the
recent statement
signed by Democrats denouncing violence and specifying white supremacy, Governor Brown was asked by a reporter why she failed to call out Antifa for their role in the violence. The Governor answered:
Brown: "My goal, my vision for a future Oregon is to build a better Oregon where everyone can thrive and that means eradicating racism. My understanding of these organizations is that they are built on hate and I think it make it really difficult for us to build what Dr. King would call "a beloved community."

Reporter: Would you plan to address issues with Antifa, as well?

Brown: "We will continue to work with the community to make sure that folks understand that our goal here is to stop the violence directed toward property, stop the arson and obviously stop the person to person violence that is happening, yeah."
Surely, no thinking person supports white supremacy. Most people could not name a white supremacist, nor could they name a white supremacist organization. Some people might accuse an organization of being a white supremacist organization, but could not name anything they have done to attempt to advance the cause of white supremacy. In a state where there is so much to be fixed, from support for foster children, to wildfires, to unfunded PERS liability -- not to mention Antifa and Black Lives Matter violence in Portland and COVID-19 shutdowns, Governor Brown has identified white supremacy as a major problem in Oregon.
--Staff Reports
| | |
| --- | --- |
| Post Date: 2020-09-06 10:46:34 | Last Update: 2020-09-06 11:36:07 |
The feds don't mess around
Ever since Multnomah County District Attorney Mike Schmidt announced what many are calling his "
catch and release
" policy, rioters in Portland have operated with clear guidelines regarding what they would and would not be prosecuted for. Knowledge of this works in favor of the rioters, who know what they can get away with.
By issuing the
statement
, Schmidt put police in a less-than-optimal position in which they could not count on prosecutors to attach any consequences to rioters' misbehavior. Many people were arrested multiple times, for serious crimes and immediately released. Observers feared that this was creating conditions in which mob violence could thrive and flourish. It did.
Elected officials such as Oregon Governor Kate Brown (D-Portland) and Portland Mayor Ted Wheeler (D-Portland) have wanted to be sympathetic to the rioters, yet, after more than three months wanted to see the violence end. Schmidt's actions created an impasse.
In a move that has only recently become public, is has been discovered that State Troopers have been
deputized as federal Marshals
which gives them the authority to arrest rioters for federal crimes. Additionally, rioters have begun being charged with the crime of "
civil disorder
" which is a federal crime. This combination may mean the end of "catch and release" for rioters.
The end game may be that federal charges stack up against the worst of the rioters and as the consequences stack up, the resolve to riot wanes.
--Staff Reports
| | |
| --- | --- |
| Post Date: 2020-09-05 19:47:27 | |
Is white supremacy really a problem in Oregon?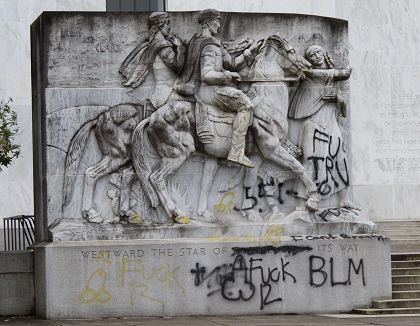 After nearly being recalled, Oregon's governor Brown seems to be avoiding calling out the identity of those who are obviously the true culprits of the months of violence in downtown Portland Oregon. They are the groups popularly known as "Antifa" and 'BLM(Black Lives Matter, the organization)". They are Left-wing groups, so it would not serve the Democrat agenda to rightfully call them out. She instead insists that the "peaceful protests" are necessary, and will continue, in order to advance her idea of "Racial Justice" and "Police Reform" in Oregon. Governor Kate Brown has issued the following statement along with other elected officials and community leaders:
"As elected officials and community leaders, we are coming together to condemn the acts of violence in Portland that have occurred as thousands of Oregonians have been peacefully protesting for racial justice and police accountability.
"The violence must stop.
"There is no place for white supremacy or vigilantism in Oregon.
All who perpetrate violent crimes must be held equally accountable.
"Together, we are committing ourselves to do the hard work that will bring meaningful change for racial justice and police reform."
The following leaders and organizations signed the letter:
Governor Kate Brown
Tobias Read, State Treasurer
Attorney General Ellen Rosenblum
Labor Commissioner Val Hoyle
Speaker of the House Tina Kotek
Senator Michael Dembrow
Senator Lew Frederick
Senator Kathleen Taylor
Representative Maxine Dexter
Representative Alissa Keny-Guyer
Representative Karin Power
Representative Andrea Salinas
Representative Sheri Schouten
Representative Akasha Lawrence Spence
Representative Barbara Smith-Warner
Senate President Peter Courtney
Senator Ginny Burdick
Senator Shemia Fagan
Senator Elizabeth Steiner Hayward
Senator Rob Wagner
Representative Janelle Bynum
Representative Diego Hernandez
Representative Rob Nosse
Representative Jeff Reardon
Representative Tawna Sanchez
Mayor Ted Wheeler
City of Portland
Commissioner-Elect Carmen Rubio, Portland City Council
Commissioner Chloe Eudaly, Portland City Council
Commissioner Amanda Fritz, Portland City Council
Commissioner elect Dan Ryan, Portland City Council
Mike Schmidt, Multnomah County District Attorney
Reynolds School Superintendent Danna Diaz
Business and Community Leaders:
Black American Chamber of Commerce
Oregon Commission on Black Affairs
Oregon Commission on Hispanic Affairs
Oregon Commission on Asian and Pacific Islander Affairs
Oregon Commission for Women
IRCO Africa House
Grantmakers of Oregon and Southwest Washington
Muslim Educational Trust
NAACP Portland
Oasis of Praise International Ministries
Oregon AFL-CIO
Oregon AFSCME
Oregon Education Association
Oregon Latinx Leadership Network
Oregon Nurses Association
Portland Business Alliance, Greater Portland's Chamber of Commerce
Portland Timbers
Portland Thorns
Portland Trailblazers
SEIU 49
SEIU 503
Stand for Children
Unite Oregon
Read the full statement
here
––additional names and organizations may be added.
--Ben Fisher
| | |
| --- | --- |
| Post Date: 2020-09-05 12:35:04 | Last Update: 2020-09-05 20:46:34 |
Politicians will pick their voters.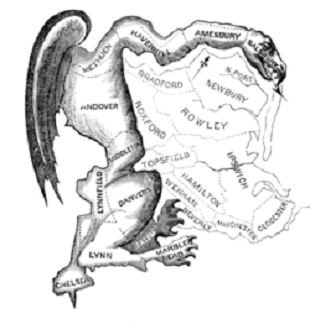 Initiative 57
has lost the appeal in the 9th Circuit Court of Appeals. The measure "Amends Constitution: Repeals legislative redistricting process; creates congressional/state redistricting commission; equal number of Democrats, Republicans, others." It was the hope of Norman Turrill, Chief Petitioner, to add "fair, transparent and impartial" redrawing of congressional and legislative district lines in the state.
When all the shutdowns and restrictions ordered due to the coronavirus, made it difficult to gather enough signatures, the Petitioners filed an appeal for a reduction in the number of signatures required. U.S. District Judge Michael McShane agreed and set a lower signature threshold of 58,789 that petitioners were able to meet.
When Secretary of State Bev Clarno accepted Judge McShane's decision, Oregon Attorney General Ellen Rosenblum went all out to protect the Democrat Legislators and Governor Brown's control over redistricting process next year. AG Rosenblum went to the U.S. Supreme Court to fight against placing the initiative on the ballot.
The U.S. Supreme Court on Aug. 11 stayed McShane's order. On September 1st, a three-judge panel of the 9th Circuit Court of Appeals said the clock was going to run out and didn't rule on the merits of the case.
Norman Turrill, an Oregon League of Women Voters official and a chief sponsor of the initiative, said he was disappointed by the decision. "The appeals court did not decide on the merits of our case so we will likely never know its reasoning."
The measure was backed by a coalition of government watchdog groups and business interests, and the only opposition was by groups allied with Democrats. A clear battle against continued gerrymandering of districts so Democrats can retain their control over the process. It's no wonder
Greater Idaho movement
is so attractive to 15 Oregon Counties to move the state boundary.
The only anti-gerrymandering move and to save the borders of Oregon is a change in control of the Legislature and the administration of Oregon.
--Donna Bleiler
| | |
| --- | --- |
| Post Date: 2020-09-04 13:16:48 | Last Update: 2020-09-04 17:14:12 |
Read More Articles