Is white supremacy really a problem in Oregon?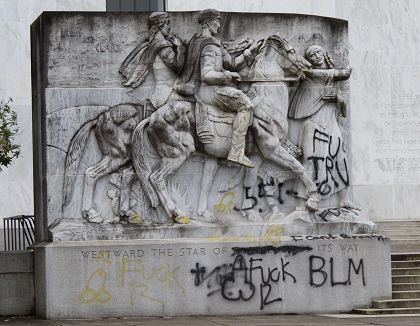 After nearly being recalled, Oregon's governor Brown seems to be avoiding calling out the identity of those who are obviously the true culprits of the months of violence in downtown Portland Oregon. They are the groups popularly known as "Antifa" and 'BLM(Black Lives Matter, the organization)". They are Left-wing groups, so it would not serve the Democrat agenda to rightfully call them out. She instead insists that the "peaceful protests" are necessary, and will continue, in order to advance her idea of "Racial Justice" and "Police Reform" in Oregon. Governor Kate Brown has issued the following statement along with other elected officials and community leaders:
"As elected officials and community leaders, we are coming together to condemn the acts of violence in Portland that have occurred as thousands of Oregonians have been peacefully protesting for racial justice and police accountability.
"The violence must stop.
"There is no place for white supremacy or vigilantism in Oregon.
All who perpetrate violent crimes must be held equally accountable.
"Together, we are committing ourselves to do the hard work that will bring meaningful change for racial justice and police reform."
The following leaders and organizations signed the letter:
Governor Kate Brown
Tobias Read, State Treasurer
Attorney General Ellen Rosenblum
Labor Commissioner Val Hoyle
Speaker of the House Tina Kotek
Senator Michael Dembrow
Senator Lew Frederick
Senator Kathleen Taylor
Representative Maxine Dexter
Representative Alissa Keny-Guyer
Representative Karin Power
Representative Andrea Salinas
Representative Sheri Schouten
Representative Akasha Lawrence Spence
Representative Barbara Smith-Warner
Senate President Peter Courtney
Senator Ginny Burdick
Senator Shemia Fagan
Senator Elizabeth Steiner Hayward
Senator Rob Wagner
Representative Janelle Bynum
Representative Diego Hernandez
Representative Rob Nosse
Representative Jeff Reardon
Representative Tawna Sanchez
Mayor Ted Wheeler
City of Portland
Commissioner-Elect Carmen Rubio, Portland City Council
Commissioner Chloe Eudaly, Portland City Council
Commissioner Amanda Fritz, Portland City Council
Commissioner elect Dan Ryan, Portland City Council
Mike Schmidt, Multnomah County District Attorney
Reynolds School Superintendent Danna Diaz
Business and Community Leaders:
Black American Chamber of Commerce
Oregon Commission on Black Affairs
Oregon Commission on Hispanic Affairs
Oregon Commission on Asian and Pacific Islander Affairs
Oregon Commission for Women
IRCO Africa House
Grantmakers of Oregon and Southwest Washington
Muslim Educational Trust
NAACP Portland
Oasis of Praise International Ministries
Oregon AFL-CIO
Oregon AFSCME
Oregon Education Association
Oregon Latinx Leadership Network
Oregon Nurses Association
Portland Business Alliance, Greater Portland's Chamber of Commerce
Portland Timbers
Portland Thorns
Portland Trailblazers
SEIU 49
SEIU 503
Stand for Children
Unite Oregon
Read the full statement
here
––additional names and organizations may be added.
--Ben Fisher
| | |
| --- | --- |
| Post Date: 2020-09-05 12:35:04 | Last Update: 2020-09-05 20:46:34 |