Two-term incumbent faces Republican challenger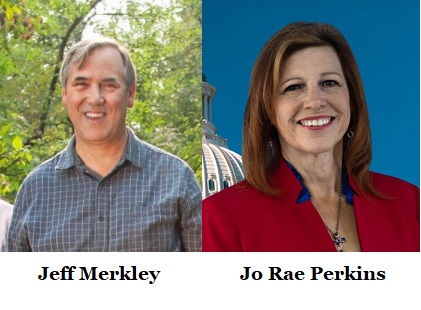 Editor's note: Oregon Abigail Adams Voter Education Project equips voters with information on how candidates stand on issues through a questionnaire process featured in comparison guides.
Candidate for U.S. Senate
Jo Rae Perkins
is running against incumbent
Jeff Merkley
. When you look at what is happening in Portland spreading to other parts of the state, change is what voters are looking for. Perkins' view of the Portland scene is she is incensed over the weeks of nightly protests that have turned violent. She livestreamed praising law enforcement and thinks little of Merkley's decrying of federal officer's actions.
Senator Merkley accuses Trump of fueling chaos in Portland and proposed an amendment to the National Defense Authorization Act bill to limit the use of federal law enforcement against violent protesters in cities like Portland. It would restrict federal agents' jurisdiction to federal property and streets surrounding Federal buildings or property, require wearing identification clearly visible when working crowd control, and prohibit unmarked vehicles. President Trump repeatedly says, "Democrats are sticking up for the violence. These are anarchists in Portland that have moved into the state. Any time they're ready I'll send in help."
Perkins' longtime belief is that the federal government needs to be dramatically reduced in scope. She's insistent that both the state and federal governments have been overreaching during the current pandemic. She opposes the use of masks saying she has done lots of research and distrust experts and official death statistics. Rightfully so since this week CDC reduced the death count for deaths solely due to COVID-19 from 161,392 to 9,683.
Merkley was one of nine Democrats that signed a letter to Defense Secretary Mark Esper over the Pentagon's handling of the COVID-19 pandemic. They wrote their concerned citing news reports about COVID-19 cases among U.S. troops "the Department is still not properly prioritizing the health and well-being of our service members." Then accused them of insufficient response. The assistant secretary responded accusing the Democrat senators of using "inaccurate media reports that have been discredited, to unfairly portray the Department while we are in the middle of the COVID-19 fight." Merkley also said he wanted to ban middle seats on airlines, "these airlines are only flying because we're subsidizing them."
Government arrogance or overreach? Who has their focus on We The People?
--Donna Bleiler
| | |
| --- | --- |
| Post Date: 2020-09-09 13:52:25 | Last Update: 2020-09-07 13:19:46 |