On this day, June 4, 1990, Janet Adkins, age 54, of Portland, became the first person to use a suicide machine developed by Dr. Kevorkian. This began a national debate over the right to die.
Also on this day, June 4, 1999 a federal judge in Portland ruled that AT&T must open its cable lines to competitors.
Also on this day, June 4, 2017, a pro-Trump rally and counter-protest in Portland was marked by multiple arrests and clashes.
Or does she?
Many are confused on when the pandemic can be put in the history file and burned. Oregon headlines has an excitement in the air. Indoor mask mandate will be dropped on March 19, but Governor Kate Brown announced that she will be lifting Oregon's COVID-19 state of emergency on April 1. Why the difference?
Most of the Governor's executive orders regarding COVID-19 were rescinded on June 30, 2021. In responding to the subsequent Delta and Omicron surges of COVID-19, the Governor for the most part did not use her executive authority to issue new emergency orders. She did take other steps, such as activating the Oregon National Guard to help support hospital workers, and coordinating with the Oregon Health Authority (OHA) to bring skilled healthcare workers to Oregon to support hospital and long-term care facility staff. Let's not forget OHA's temporary masking rules turned permanent just three weeks ago for no good reason except to have that option available for instant access to use against citizens.
Since June 30, 2021, the state of emergency was shifted to an emergency declaration that provided the Governor with flexibility and resources for COVID-19 response and recovery efforts, including allowing for the use of SERV-OR volunteer medical providers in hospitals, providing flexibility around professional health licensing, and ensuring Oregon could access all available federal disaster relief funds available, such as enhanced SNAP benefits. To codify that flexibility, SB 1529 is being rushed through by Senator Deb Patterson (D-Salem), chair of the Senate Committee on Health Care.
SB 1529
redefines 'Health care emergency' to allow the Public Health Director (OHA) to declare if there exists a disease outbreak, epidemic or other condition of public health importance statewide or in a specified geographic area of this state.
A D V E R T I S E M E N T

A D V E R T I S E M E N T
The Governor made sure to exonerate herself and let us know more restrictions are on the horizon without her declaring a state of emergency. Safety requirements in place today regarding masks, vaccinations for K-12 educators and staff, and vaccinations for healthcare workers do not rely on the state of emergency declaration––instead, they are covered by state or federal agency administrative rules issued under existing non-emergency state or federal authority.
SB 1529
is headed to the House floor for its final vote.
--Staff Reports
| | |
| --- | --- |
| Post Date: 2022-02-24 17:39:43 | Last Update: 2022-02-24 18:14:46 |
Will happen on April Fools' day
O
regon's Governor Kate Brown has announced that she will be lifting Oregon's COVID-19 emergency declaration, effective April 1.
She says that COVID-19 hospitalizations and case numbers continue to drop rapidly across Oregon as the Omicron variant recedes.
"Over the past six months, as Oregon weathered our worst surges of the pandemic, I'm proud of the way Oregonians have worked together to keep each other safe," said Governor Brown. "Lifting Oregon's COVID-19 emergency declaration today does not mean that the pandemic is over, or that COVID-19 is no longer a significant concern. But, as we have shown through the Delta and Omicron surges, as we learn to live with this virus, and with so many Oregonians protected by safe and effective vaccines, we can now protect ourselves, our friends, and our families without invoking the extraordinary emergency authorities that were necessary at the beginning of the pandemic."
"COVID-19 is still present in Oregon, and we must remain vigilant. We must continue to get vaccinated and boosted, wear masks when necessary, and stay home when sick. That is the only way we can achieve our shared goals of saving lives and keeping our schools, businesses, and communities open."
Some of the Governor's executive orders regarding COVID-19 were rescinded on June 30, 2021. But excessive restrictions continued.
A D V E R T I S E M E N T

A D V E R T I S E M E N T
Kate Brown says she wanted to ensure Oregon could access all available federal disaster relief funds available, such as enhanced SNAP benefits.
According to Governor Brown, requirements in place currently regarding controversial masks and vaccine mandates for educators, staff and healthcare workers do not rely on the state of emergency declaration––instead, they are covered by state or federal agency administrative rules issued under existing non-emergency state or federal authority.
--Bruce Armstrong
| | |
| --- | --- |
| Post Date: 2022-02-24 13:51:39 | Last Update: 2022-02-24 14:07:53 |
Longtime resident of Clackamas County
Mark Johnson
has announced he is running for Clackamas County Commissioner
. He has deep roots in Clackamas County and has lived there most of his life.
Mark was active in Future Farmers of America and student leadership before going on to study agriculture, business and accounting. He is a known chinchilla farmer in the area.
"We need more local control of our forests," said Johnson, commenting on excessive wildfires recently experienced in Oregon. "Active management will keep our county from burning."
Mark says he would be an independent leader, not beholden to any political parties or special interest groups
"I will govern with a sense of principled consistency," said Johnson.
His family has owned multiple local businesses throughout the years, and Mark has helped run them. Those include metal fabrication shops, vineyards and sheep and cattle ranching operations.
A D V E R T I S E M E N T

A D V E R T I S E M E N T
Mark says he is running for commissioner to bring principled and consistent leadership back to Clackamas County. He intends to work with the other commissioners to find solutions to the difficult issues faced by county residents, including transportation and housing.
"I will work to make the county development codes more flexible for anyone wanting to build housing," Johnson said. "We can allow more growth in rural areas without turning them into suburbs."
--Staff Reports
| | |
| --- | --- |
| Post Date: 2022-02-24 11:17:11 | Last Update: 2022-02-21 18:05:11 |
Republicans seek compromise
O
regon Representative Shelly Boshart Davis (R-Albany) is submitting an agriculture overtime proposal from agriculture communities to find a unique solution to meet the needs of Oregon's farm employees and preserves the state's agricultural sectors.
This plan would offer state money to essential farm employees with a $50 million dollar grant and protects their health and safety.
With this proposal employees would have new overtime earning opportunities while providing farmers and ranchers with flexibility for crop harvests dictated by time and weather.
As Oregonians committed to an Oregon solution, the plan proposes overtime pay at 48 hours and with overtime at 55 hours during a limited period when harvesting is busiest.
Salaried workers, many who need flexibility to care for livestock, could make a base salary exceeding $36,000 in rural counties while earning overtime pay when they work more than 55 hours a week.
"We will continue to ask our colleagues to come to the table for an Oregon solution to overtime," said Representative Shelly Boshart Davis (R-Albany), a third-generation farmer. "This plan incorporates feedback from the agriculture community and recognizes two critical needs we all value: the health, safety and economic opportunity for our farm workforce; and the fickle nature of our diverse agricultural and rural economies that are heavily dependent on seasons and weather."
A D V E R T I S E M E N T

A D V E R T I S E M E N T
"A true Oregon solution to agriculture overtime will fulfill our obligation of putting the health and future opportunities of our workforce first," said Representative Daniel Bonham (R-The Dalles), Vice-Chair of the House Business and Labor Committee. "We look forward to working with labor advocates and the farming community to gain support for an approach that puts money directly into the hands of our important workforce, while protecting their jobs and our family-owned farms and ranches."
"Our farmers and ranchers aren't looking for a hand-out, we just want to keep farming," added Rep. Boshart Davis. "Our farmworkers and our farms are facing a myriad of headwinds, from skyrocketing inflation to shipping costs to decreasing commodity prices due to competition from other states and countries. We're proud to answer the call to find an Oregon solution."
--Bruce Armstrong
| | |
| --- | --- |
| Post Date: 2022-02-23 16:39:42 | Last Update: 2022-02-23 16:56:56 |
Cost of Living Relief for a Select Group
A
recent press release from the House Speaker and Senate President is titled, "Cost of Living Relief Package Will Target Childcare Affordability and Support Working Families." They say as the cost-of-living spikes across the country, the Oregon Legislature is working on a relief package to put money back in Oregonians' pockets and drive down the cost of everyday necessities like childcare.
There are a couple things wrong with this statement. Putting money back into a priority population is government picking winners and losers. It isn't constitutional equality; it is Democrat equity.
What package? It is something the Ways and Means does in a full session to establish the biennium budget. A short session was intended to adjust things that weren't quit on target in the biennium budget. When they say they are working on a relief package, they do mean it is more than an adjustment to the budget. It's more like a redistribution of how you spend your income.
Unless you follow every legislative hearing, you'd have no idea what is coming in this package, and since they don't mention the bill numbers, it's still hard to tell. The press release wasn't aimed at hardworking Oregonians. The relief is specifically aimed at priority populations, otherwise known as underserved minorities.
R
ecently Representative Wilde debilitated his Democrat party in a letter to the Oregonian, on how the Democrat House Caucus was hiding things from the public and decision made behind closed doors. Including lack of transparency and engagement, Wilde says they have "stopped supporting laws that returned power to the people we represent. Instead, we let our partisan desire to maintain power override our duty to the people… Over time, we even stopped debating the issues, as caucuses became a forum for leadership to give orders to ensure the Democratic agenda prevailed over the Republicans' agenda, regardless of whether it was in the public interest… The House Democratic leaders even stopped telling the caucus members about their discussions. In effect, the content and direction of legislation for all of Oregon was decided by a group of 10 or fewer people picked by their ability to raise money, in secret."
If the press release is an effort in transparency, it is only a crumb. Senator Deb Patterson (D-Salem) states, "We need to make targeted investments to drive down the costs that are burdening hardworking folks in my district and around the state. That means building up programs that can help Oregon families protect their pocketbook – investments in childcare and early learning are central to this effort." The package consists of three areas: affordable childcare, low-income worker payments, and earned-income tax credit outreach.
Affordable childcare is to address the shortage of affordable childcare across the state. The funding package will support providers who accept Employment Related Day Care (ERDC) subsidies, leading to more equitable rates and giving more options to parents who utilize ERDC. This support includes recruitment and retention payments to childcare workers; recruiting and training of new childcare providers; direct grants to expand existing childcare facilities; and other investments to make our public childcare system more equitable for parents. What this means is that eligible ERDC families that for a family of three doesn't have a gross income of more than $3,660 monthly income will have more options for child care.
A D V E R T I S E M E N T

A D V E R T I S E M E N T
The second package item is low-income worker payments providing a one-time payment of $600 first failed funded by a sales tax. When that didn't fly, they pushed a bill funded by the Oregon Worker Relief Fund to pay 240,000 low-income workers costing $144 million. Senator Kathleen Taylor (D-Portland), chair of the Senate Committee on Labor and Business, said, "It has become more difficult for low-wage workers to afford basic necessities, like rent, food, and childcare, as the cost of living continues to rise. We have an urgent opportunity to support the equitable recovery of our workforce by sending relief to low-wage individuals and working families with the greatest need." It's undetermined where this authorization comes from, but they neglect to mention HB 4122 sponsored by Representative Ricki Ruiz (D-Gresham) and others, which pays $695 to DACA qualified to cover the costs of DACA renewal costing taxpayers $7 million.
To complete their package is an earned-income tax credit (EITC) outreach that strengthens the resources available to help navigate the tax system and access the credit. Representative Ruiz said. "This will support Oregon's economic recovery and lift up communities across the state by providing individuals and working families with support to receive the benefits of the earned-income tax credit." To summarize, the "Cost of Living Relief Package" isn't intended for everyone, but everyone will pay for it.
--Donna Bleiler
| | |
| --- | --- |
| Post Date: 2022-02-23 15:45:18 | Last Update: 2022-02-23 20:17:07 |
Gates is assigned to the Family Law Department
O
regon's Governor Kate Brown announced today that she will appoint Maurisa Gates to the Multnomah County Circuit Court. Gates will fill the vacancy created by the retirement of Judge Kathleen M. Dailey. Her position will be assigned to the court's Family Law Department.
Gates' appointment is effective immediately.
"Maurisa Gates is a skilled attorney who has spent decades working with the most vulnerable in our community—particularly children—as they navigate the justice system," Governor Brown said. "I look forward to seeing her bring her compassion, empathy, and commitment to procedural fairness to her work as a judge on the family law bench."
Gates has served as a public defender for more than 25 years, spending much of that time representing juvenile clients.
She grew up in Detroit, Michigan, attending school in the Detroit Public Schools Community District. Gates attended Wayne State University for her undergraduate degree, and then went on to earn her law degree from the same university. After graduating from law school, she worked in Detroit representing juveniles in delinquency and dependency cases for nearly five years before moving to Portland in 2000 and joining the Metropolitan Public Defender office (MPD). In 2006, Gates moved to the juvenile unit of MPD, and has remained there ever since. She currently serves as a senior attorney in that office.
A D V E R T I S E M E N T
A D V E R T I S E M E N T
Gates has acted as a co-trainer for the Juvenile Immersion Training Program at the Oregon Criminal Defense Lawyers Association juvenile conference and as the Western Division Board Member for the State of Oregon for the National Juvenile Defender Center.
She has served on the Multnomah Bar Association's Equity, Diversity and Inclusion Committee.
--Bruce Armstrong
| | |
| --- | --- |
| Post Date: 2022-02-23 13:53:12 | Last Update: 2022-02-23 14:13:38 |
Pride and Prejudice to be Performed in Dallas
W
hen the curtains go up for the Dallas High School Theatre production of Pride and Prejudice (February 24th-26th) one of the leading roles will be played by a 16-year old actor who attends a statewide online public school for K-12 students. Kason Utz from Dallas is a sophomore at Willamette Connections Academy.
"We feel so fortunate that Dallas High School has allowed him to participate with the other students and we're excited to see him experience the social aspects of school through extracurricular activities and watch him do what he loves to do on stage," said Kason's mother Nicole Utz.
Dallas High School Thespians and Theatre Troupe presents Pride and Prejudice by Kate Hamill (dhstheatre.org/shows) February 24th, 25th, and 26th at 7 pm each night. There's also 2 pm performance on February 26th. For ticket information go to dhstheatre.org/buy-tickets Kason appreciates the following the theatre program has generated from the community. "Dallas High School's program has kind of a small town feel and it isn't the biggest or most advanced, but most of its impressiveness comes from the people involved," said Kason. "The leadership is very caring while keeping things on track. The community support from funding and volunteering allows the program put on higher quality shows."
In the cast of Pride and Prejudice, Kason plays a character named Fitzwilliam Darcy, a wealthy arrogant high society English gentleman suitor to Lizzy Bennet, one of five sisters looking for potential husbands in the early 1800s. "To me, the story is about how real love has nothing to do with status, anyone no matter how rich or successful they are can love anyone," observed Kason. "You see that a few times in this show where people defy expectations or follow them."
"Kason is our shining star as an actor, entertaining our friends and family around the campfire at a very young age," Nicole Utz noted. "We have always been so proud of him and all he has accomplished."
However, Kason didn't try to get his name printed on a playbill until 6th grade when his middle school drama teacher inspired him to pour himself into acting roles. Since then, he's landed lead roles in several productions and acted in seven plays, including Frozen, The Little Mermaid, and Mary Poppins.
A D V E R T I S E M E N T
A D V E R T I S E M E N T
"Pride and Prejudice has been a great show for me, for a few reasons," explained Kason. "The main ones are more personal, I love being around the people I'm with in this show, and this is my first high school show."
According to Kason, the flexibility he has with Willamette Connections Academy's online program gives him the ability to pursue his passion for activities outside school. "There's no way I could do this in any other educational environment. With this online school I can pursue various things that would be impossible to schedule around in a regular school setting. Now it's great because I can just take an hour off and do whatever I want, I don't have to be in that cram, study, stressful mindset each day."
"O
ur family has always appreciated the opportunities offered to our son with alternative public education," added Nicole Utz. "We found Willamette Connections Academy during the summer of 2020 when we learned his previous school would not be returning to classroom learning and we wanted to ensure Kason had a solid start to his freshman year in high school."
The family was motivated to switch to a full-time virtual public school because they felt it was a better fit for Kason's learning needs. They also wanted something more than distance education programs implemented by the traditional school system.
"Kason has always done well in a traditional brick and mortar school but has struggled with behavioral issues of disruptive children in the classroom who continually disrespected rules and authority. He values respect and his elders greatly and this became an almost daily distraction for his learning environment," noted Nicole Utz. "I know the move to distance learning was a very difficult change to suddenly take brick and mortar teachers and place them into virtual classrooms. The technology alone had to be very challenging and we sought out something for Kason with years of online experience."
A D V E R T I S E M E N T
A D V E R T I S E M E N T
Kason's mom was thrilled to see her son thriving in his learning environment and taking AP level classes. It was his choice with his parent's support to continue with Willamette Connections Academy after the regular brick-and-mortar schools opened their doors again. "Stability is the main reason I wanted to attend Connections Academy. Brick and mortar school was often very stressful. The amount of freedom I have with Connections, to control how my day goes, has allowed me to be successful in schooling, without sacrificing the enjoyment of life."
Kason appreciates being able to attend a statewide online charter school and still be able to participate in extracurricular activities at the regular public school whether it's theatre or sports. "All it takes is a little motivation, and you can turn that into a drive to make yourself happy by no means other than yourself. I've been lucky to see that happen, and I'm very grateful to be a part of this show," said Kason.
While he likes acting, Kason is also interested in other types of performing arts like filmmaking, and technical work. Kason might continue theatre as a hobby, but after high school he plans to enter the military. "While in this production as Mr. Darcy, I've learned a lot about myself. I decided to become healthier by eating better, and exercising," said Kason. "I've also gotten less nervous in social settings. I've seen a definite improvement, and I really enjoy it."
--Staff Reports
| | |
| --- | --- |
| Post Date: 2022-02-22 13:35:05 | Last Update: 2022-02-22 15:45:18 |
Had been arrested twice earlier in the day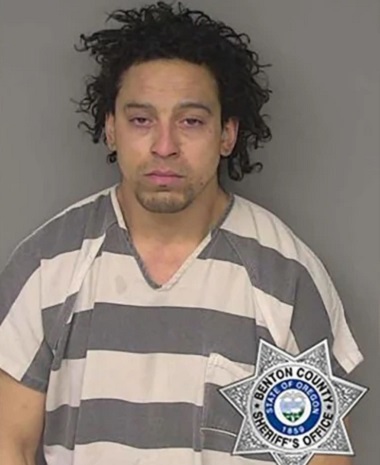 O
n February 12, 2022 at approximately 12:33PM, officers from the Corvallis Police Department responded to the 200 block of SW 7th Street for a report a burglary that occurred moments earlier.
The caller reported a male suspect had entered he and his girlfriend's residence, and then attacked his girlfriend while she was in the shower. The victim reported the male pulled his pants down to his knees, while opening the shower door.
The victim attempted to flee the bathroom, at which time the male grabbed her by the shoulders, shoving her against the bathroom wall, strangulating her with both of his hands. The victim continued to fight off her attacker as he continually grabbed at her and prevented her from escaping the bathroom.
Awoken by the victim's screams, the caller reported entering the bathroom where he saw the male suspect standing over the victim who was laying on the floor.
The caller confronted the suspect, causing the male to flee from the residence towards SW Jefferson Ave. Both the caller and the victim were able to provide a description of the male suspect to officers as they were responding.
Officers began canvassing the neighborhood and located a male matching the description nearby. Through their investigation, officers were able to determine the suspect, now identified as Garrett Caspino (29) of Albany and Corvallis, was the suspect in the attack.
Prior to the attack on SW 7th Street, Caspino had been arrested twice earlier in the day by Corvallis Police Offices.
Officers originally contacted Caspino at approximately 10:53 AM in the 200 block of SW 2nd Street where Caspino was reported to have entered an unlocked vehicle. The caller in that incident reported finding Caspino sitting in the driver seat of the vehicle and acting "totally out there."
Caspino was arrested for Criminal Trespass, but due to the severity of the crime not meeting the criteria for booking and lodging at the jail, Caspino was transported to the Law Enforcement Center. Caspino was issued a citation to appear in court and released.
A D V E R T I S E M E N T
A D V E R T I S E M E N T
A short time later, an officer was conducting vehicle maintenance in the restricted parking area of the Law Enforcement Center when he was alerted to a male concealing himself in the behind a pillar. Caspino was contacted a second time and once again cited for Criminal Trespassing. Caspino was transported to the area on NW Monroe Ave and NW 6th Street to facilitate his access to local service providers. Caspino was last seen in the area at approximately 11:50 AM.
Upon his third arrest, and due to the severity of the crimes, Caspino met the criteria to be booked and lodged at the Benton County Jail. Caspino was transported to the jail at approximately 2:48 PM where he was booked on the following charges:
Burglary in The First Degree (ORS: 164.225)
Menacing (ORS: 163.190)
Strangulation (ORS 163.187)
Coercion (ORS 163.275)
Harassment (ORS 166.065)
Sexual Abuse in the First Degree – Attempted (ORS: 163.427)
Effective January 1, 2022, and in accordance with
Oregon House Bill 3273
, the Corvallis Police Department is prohibited from releasing a booking photo of the suspect in this investigation.
HB 3273 was sponsored by Representative Janelle Bynum (D-Clackamas), Representative Teresa Alonso Leon (D-Woodburn), Representative Ron Noble (R-McMinnville), as well as other Democrats.
--Bruce Armstrong
| | |
| --- | --- |
| Post Date: 2022-02-21 18:05:11 | Last Update: 2022-02-22 08:50:40 |
Ward 8 needs new representation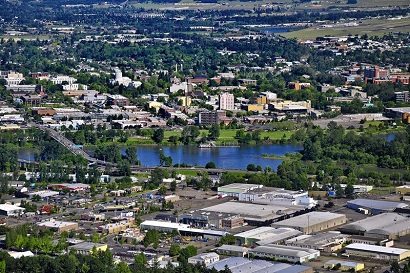 S
alem City Councilor Jim Lewis has resigned his position effective February 14, 2022.
The longest-serving member currently among the City Councilors, Councilor Lewis has represented Ward 8 in West Salem since January 2015. Lewis, whose term expires December 31, 2022, had announced that he would not seek re-election.
"It is with great sadness and disappointment that I must submit my resignation from the Salem City Council." Councilor Lewis continues, "Lingering medical issues, family obligations and celebrations are keeping me from fulfilling my obligations to the position of City Councilor. I want to thank the City of Salem especially the residents of West Salem for giving me the opportunity to serve my community. I wish everyone the best and may God bless the City of Salem."
In his capacity on the City Council, Lewis has represented Salem and contributed to regional transportation policy and funding of projects through his service to the Mid-Willamette Area Commission on Transportation and the Salem-Keizer Area Transportation Study Policy.
Lewis also represents Salem on the Travel Salem Board and Executive Committee. Most recently, Lewis has served on the City Council's Legislative Committee, Steering Committee for the Community Improvement Bond, and the City's Water/Wastewater Task Force and Systems Development Charge Methodology Committee.
Those interested in filling the vacancy created by the resignation of Councilor Lewis will be required to
submit an application
to the City Council, be registered to vote and have lived in Ward 8 for 12 months prior to appointment.
A D V E R T I S E M E N T
A D V E R T I S E M E N T
The appointment would last until the term expires on December 31, 2022.
The Salem City Council is composed of one representative from each of Salem's eight wards and the Mayor.
All members of the City Council, including the Mayor, are unpaid volunteers. In addition to twice monthly City Council meetings, Members of the Council may participate in many community activities and meetings, including City Council Work Sessions, other workshops, neighborhood association meetings, committee meetings, and other events.
--Bruce Armstrong
| | |
| --- | --- |
| Post Date: 2022-02-21 15:07:54 | Last Update: 2022-02-21 17:44:49 |
Must apply by March 15
T
he Oregon Department of Agriculture (ODA) seeks volunteers to fill 63 commissioner seats on 22 of the state's agricultural and commercial fisheries commodity commissions. The deadline to apply is March 15. For instructions on applying or learning more about commissions, please
visit their website
.
ODA Director Alexis Taylor appoints commissioners, most serve three-year terms.
Their duties include making decisions about funding for promotion, education, and research projects.
Director Taylor is looking for applicants who represent Oregon's farmers, ranchers, processors, and commercial fisheries. For public members, users of the commodity who have an interest and time to serve are often the best fit.
A public member must be a US citizen, an Oregon resident, and have an active interest in improving economic conditions for the commodity. A public member cannot be directly associated with producing or handling the specific commodity they seek to serve.
Applicants for producer or handler positions must also be a US citizen, an Oregon resident, and have paid or collected the assessment for that particular commodity for the previous three years or longer in some cases.
A D V E R T I S E M E N T
A D V E R T I S E M E N T
A producer is defined as a grower or harvester. A handler is the first to buy the commodity from the producer and is often a processor, distributor, or marketer.
The following commodity commissions have openings:
Albacore Commission – 2 producers, 1 handler; 1 public member;

Alfalfa Seed Commission – 2 producers;

Beef Council – 1 beef producer, 1 Cattle Feeder/Feedlot Operator;

Blueberry Commission – 2 producers, 1 handler;

Clover Seed Commission – 1 producer, 2 handlers;

Dairy Products Commission – 1 producer from Willamette/Southern Oregon (Clackamas, Columbia, Multnomah, Washington, Lane, Linn, Benton, Marion, Polk, Yamhill, Douglas, Josephine, Jackson, Klamath, Coos, and Curry counties);

1 producer from Tillamook/North Coast (Clatsop, Tillamook and Lincoln counties);

1 public member, State at Large

Dungeness Crab Commission – 1 producer (Port of Brookings) 1 producer (Port of Astoria), 1 handler;

Fine Fescue Commission – 2 producers;

Hazelnut Commission – 2 producers;

Hop Commission – 2 producers, 1 handler, 1 public member;

Mint Commission – 3 producers;

Potato Commission – 2 producers (1 from Malheur & Harney counties) & (1 from the Klamath, Coos, Curry, Douglas, Jackson, Josephine & Lake counties)

Processed Vegetable Commission – 1 producer, 1 handler, 1 public member;

Raspberry & Blackberry Commission – 3 producers, 1 handler;

Ryegrass Seed Commission – 2 producers (1 Lane county, 1 state at large), 1 public member;

Salmon Commission – 1 producer (South of Florence to southern Oregon border);

Sheep Commission – 2 producers;

Strawberry Commission – 3 producers;

Sweet Cherry Commission – 4 producers (2 from Western Oregon (all areas west of the Cascade Mountains & 2 from Wasco and Hood River counties), 1 handler;

Tall Fescue Commission – 3 producers;

Trawl Commission – 2 producers, 1 handler;

Wheat Commission – 1 producer (Umatilla, Morrow, Gilliam, Sherman, Wasco, & Jefferson county), 1 handler.
For more information about Oregon's Commodity Commissions or the application process, please contact Kris Anderson, ODA Commodity Oversight Program Manager
via email
or by phone (503)-970-3260.
--Bruce Armstrong
| | |
| --- | --- |
| Post Date: 2022-02-20 15:49:05 | Last Update: 2022-02-20 17:43:27 |
More so in underprivileged communities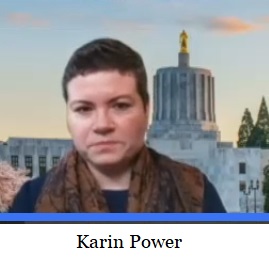 O
regon House Democrats are reveling over passing
HB 4086
, which will modernize outdated language that excludes Oregon families from worker's compensation benefits.
The bill will also ensure that workers are protected against retaliation for pursing compensation claims, regardless of the size of their employer.
The bill sponsor, Representative Karin Power (D-Milwaukie) said, "We need to build an economy that works for working families, not just big corporations. Workers deserve protection from retaliation and certainty that they and their families will be supported if they are injured or killed on the job. Our laws should reflect how Oregon families look today, and that's especially important for essential supports like workers' compensation."
In 2020, 53 Oregonians lost their lives as the result of an on-the-job injury or exposure.
HB 4086 updates the current workers' compensation death benefits language to ensure that it applies to surviving family members regardless of whether they are legally married and where family members live.
What Representative Power leaves out is that the changes to the law, removes the exclusion for employers that have less than six employees and subjects small employers to not just the newly crafted retaliation law, but the entire ORS chapter 656 – Workers' Compensation.
It subjects them to hiring and tenure or any term or condition of employment, which they were previously excluded from unless specifically stated.
When Representative Power says "Our laws should reflect how Oregon families look today," she is saying the definition of "beneficiary" now includes aliens. The change removes the exclusion for those who do not reside within the United States at the time of the accident, other than a parent, a spouse or children, unless a treaty provides otherwise.
She also neglected to state that their definition of "family" has become all inclusive.
A D V E R T I S E M E N T
A D V E R T I S E M E N T
The bill defines who is a "dependent" to include domestic partner, parents of a domestic partner, grandchildren of a domestic partner, and siblings or step-siblings of a domestic partner. But it doesn't stop there.
It includes any friend that may be treated as a family member, "Any individual related by blood or affinity whose close association with a worker is the equivalent of a family relationship." Oregon has worked hard to reduce worker' comp rates for small business. These changes will have an adverse effect on small businesses, and more so in underprivileged communities.
--Donna Bleiler
| | |
| --- | --- |
| Post Date: 2022-02-20 07:56:43 | Last Update: 2022-02-20 08:27:46 |
Leading causes of serious injury and fatal crashes
O
regon State Police Patrol Troopers will be conducting a high visibility saturation patrol focusing on Interstate 5, Interstate 205 and Interstate 84.
This saturation will be focusing on what OSP refers to as the "Fatal Five": Speeding, Occupant Safety, Lane Safety, Impaired Driving, and Distracted Driving.
Governor Brown proposed a $20 million cut to the Oregon State Police budget in 2019-21, however, most of that was restored in the legislative adopted budget.
They report top budget drivers are loss of revenue due to COVID-19 causing relocation of staff and holding trooper positions vacant, and infrastructure needs.
The 2021-23 budget allocated 30.4% ($205,654,278) employing 410 troopers.
A far cry from 1980 when 624 troopers cruised our highways.
SB 211
passed in 2021, ORS 181A.015 establishes 15 troopers per 100 thousand citizens with incremental increases beginning in this biennium, with the ratio achieved by 2030, which would employ 726 troopers.
Starting on February 18, 2022, and running through Monday, February 21, 2022, the Oregon State Police Patrol Troopers from Salem, Albany, Springfield, Roseburg, Grants Pass, Central Point, Portland, Pendleton, La Grande, and Ontario area commands are conducting the high visibility saturation patrol focusing on the "Fatal Five." These 5 driving behaviors are the leading causes of serious injury and fatal crashes.
This is what OSP pushed out via our social media platforms:
Some drivers have just lost their minds



We have all seen a huge uptick in the number of people driving crazy on Oregon's interstates. When we say "crazy" we mean drivers committing what OSP calls the "Fatal Five" Speeding, Occupant Safety, Lane Safety, Impaired Driving, and Distracted Driving. These poor driving practices are the leading cause of serious injury and fatal crashes



Oregon State Police Patrol Troopers from Salem, Albany, Springfield, Roseburg, Grants Pass, Central Point, Portland, Pendleton, La Grande, and Ontario area commands are joining together to conduct a high visibility saturation patrol that will last through the extended holiday weekend. This saturation patrol will be focusing on Interstate 5, Interstate 84, and Interstate 205



Don't be surprised if you also see Sheriff's Deputies and Police Officers working these areas alongside OSP



Be safe on the roads, it is not just your life on the line
However, the media might like some statistics around what impact this might have on these bad driving behaviors in Oregon.
Currently, OSP has 410 Sergeants & Troopers in Patrol across Oregon. This number is authorized positions and doesn't include vacancies, troopers on leave, troopers at training, troopers at court, etc



Oregon has about 8,000 miles of state-owned highways, which are primarily patrolled by OSP



Oregon has 4.1 million registered vehicles with nearly 3.1 million licensed drivers



Those numbers do not include the estimated over 29 million visitors Oregon gets a year



If you do the math, with just the number of licensed drivers (3.1 million) that is 1 trooper for every 7,561 licensed drivers in Oregon
Oregon Patrol Troopers are 100% committed to making Oregon's highways safer, but these low patrol staffing numbers, begs the question, what impact could OSP Patrol have with more Troopers on the road?
--Donna Bleiler
| | |
| --- | --- |
| Post Date: 2022-02-19 18:43:13 | Last Update: 2022-02-19 18:59:20 |
Read More Articles