More so in underprivileged communities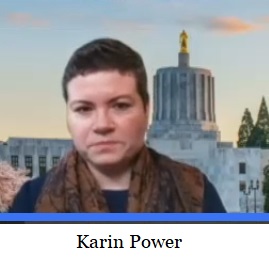 O
regon House Democrats are reveling over passing
HB 4086
, which will modernize outdated language that excludes Oregon families from worker's compensation benefits.
The bill will also ensure that workers are protected against retaliation for pursing compensation claims, regardless of the size of their employer.
The bill sponsor, Representative Karin Power (D-Milwaukie) said, "We need to build an economy that works for working families, not just big corporations. Workers deserve protection from retaliation and certainty that they and their families will be supported if they are injured or killed on the job. Our laws should reflect how Oregon families look today, and that's especially important for essential supports like workers' compensation."
In 2020, 53 Oregonians lost their lives as the result of an on-the-job injury or exposure.
HB 4086 updates the current workers' compensation death benefits language to ensure that it applies to surviving family members regardless of whether they are legally married and where family members live.
What Representative Power leaves out is that the changes to the law, removes the exclusion for employers that have less than six employees and subjects small employers to not just the newly crafted retaliation law, but the entire ORS chapter 656 – Workers' Compensation.
It subjects them to hiring and tenure or any term or condition of employment, which they were previously excluded from unless specifically stated.
When Representative Power says "Our laws should reflect how Oregon families look today," she is saying the definition of "beneficiary" now includes aliens. The change removes the exclusion for those who do not reside within the United States at the time of the accident, other than a parent, a spouse or children, unless a treaty provides otherwise.
She also neglected to state that their definition of "family" has become all inclusive.
A D V E R T I S E M E N T
A D V E R T I S E M E N T
The bill defines who is a "dependent" to include domestic partner, parents of a domestic partner, grandchildren of a domestic partner, and siblings or step-siblings of a domestic partner. But it doesn't stop there.
It includes any friend that may be treated as a family member, "Any individual related by blood or affinity whose close association with a worker is the equivalent of a family relationship." Oregon has worked hard to reduce worker' comp rates for small business. These changes will have an adverse effect on small businesses, and more so in underprivileged communities.
--Donna Bleiler
| | |
| --- | --- |
| Post Date: 2022-02-20 07:56:43 | Last Update: 2022-02-20 08:27:46 |