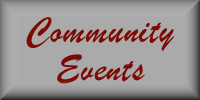 Post an Event

Oregon Republican Party State Central Committee Meeting
Saturday, May 21, 2022 at 7:30 am
Including election of a new Vice-Chair
Marion Post 661 VFW
630 Hood Street, NE
Salem, Oregon

OREGON FREEDOM RALLY
Saturday, June 4, 2022 at 12:00 pm
Oregon's premiere annual event for grassroots conservatives sponsored by Oregon Liberty Alliance and others. Featuring Dinesh D'Souze, Elisha Krauss, Scott Rasmussen and Isabel Brown. Lunch included at $65 per person, under 16 are free. Doors open at 11am to network with exhibitors. Register at: www.OregonFreedomRally.com
Wingspan Event & Conference Center, 801 NE 34th Ave, Hillsboro, OR 97124

DALLAS Community-wide ONE Service
Sunday, June 5, 2022 at 10:30 am
ONE Community joined together for a community wide Worship Service. Fellowship and coffee at 10:30, Service at 11am.
Dallas High School Football Stadium

Fight for Freedom Event
Friday, June 10, 2022 at 6:00 pm
Training on survival and emergency medicine by XSA International Krisanne Hall 2-Day Constitutional Training Friday 6-10pm, Saturday 8am-11pm, Sunday 8am-2pm Tickets: $30 www.peoplesrightsoregon5.com/fight-for-freedom-event
Deschutes County Fairgrounds

Fight for Freedom Event
Friday, June 10, 2022 at 6:00 pm
Training on survival and emergency medicine by XSA International Krisanne Hall 2-Day Constitutional Training Friday 6-10pm, Saturday 8am-11pm, Sunday 8am-2pm Tickets: $30 https://www.peoplesrightsoregon5.com/fight-for-freedom-event
Deschutes County Fairgrounds

Fight for Freedom Event
Friday, June 10, 2022 at 6:00 pm
Training on survival and emergency medicine by XSA International
Krisanne Hall 2-Day Constitutional Training

Friday 6-10pm, Saturday 8am-11pm, Sunday 8am-2pm

Tickets: $30

https://www.peoplesrightsoregon5.com/fight-for-freedom-event

Deschutes County Fairgrounds

World Athletics Championships
Friday, July 15, 2022 at 8:00 am
The World Athletics Championships are coming to Eugene this summer (July 15-24 2022), the first time in history that the championships will be held in the United States. This mega-sporting event will showcase the best track and field athletes in the world. The event will bring 2,000 athletes from more than 200 nations, all competing for 49 gold medals. About 20,000 to 25,000 attendees are expected per session, with most days hosting two sessions (both morning and afternoon).
Eugene

Gathering of Eagles/Rally Around the Flag
Saturday, September 10, 2022 at 10:00 am
Watch for details, sign up for Oregon Liberty Coalition (OLC) alerts and information. orlibertycoalition@gmail.com
Ames Ranch, Turner, Oregon

Oregon General Election
Tuesday, November 8, 2022 at 8:00 pm
Statewide
View All Calendar Events
Look for several faces to change
A
s the 2022 elections near in a year in which Republicans expect to do well nationally, the hope that statewide coattails will follow combined with the fog of redistricting has inspired several Republican members of the Oregon House to run for the Oregon Senate.
In Salem, two-term Republican Representative Raquel Moore-Green has announced her decision to run in Senate District 10 which includes South Salem, West Salem and the cities of Monmouth and Independence. She will run against Democratic Incumbent Deb Patterson who narrowly defeated Denyc Boles in 2020.
Freshman Representative Suzanne Weber is seeking to take over Senate District 16 which is being vacated by Democrat Senator Betsy Johnson who is set to run for Governor as an Independent. The district includes Tillamook, Clatsop and Columbia Counties.
Representative Daniel Bonham who represents The Dalles and much of the rural Columbia River Gorge will run for Senate District 26 which also includes Sandy and Hood River. He seeks to replace Chuck Thomsen who is retiring from a district that is very tight.
Also declared is Cedric Hayden who will run in Land and Linn Counties in Senate District 6, trying to replace Democrat Lee Beyer, who is retiring.
Senate Republican Leader Tim Knopp (R-Bend) supports all four candidates, "Raquel, Suzanne, Daniel, and Cedric are proven leaders who have fought for a better Oregon. I welcome their decisions to step up and run for the Senate.
"Oregonians are desperate for new leadership. Voters are angry and anxious about the direction of the state. They want public safety, real solutions on homelessness, no heavy-handed government controlling their lives, and parents need to be part of education decisions in the classroom. Making progress on these issues starts electing more Republicans to the Senate."
Knopp focused on Moore-Green's opponent in Salem. "Since getting elected, Senator Patterson has proven she is out of touch with her constituents. She voted with Portland liberals 99.99% of the time to advance the same tired policies that have made Oregon a more expensive place to live and raise a family.
"In just one year, she has voted to keep schools closed, against bolstered funding for law enforcement, and has sided with Governor Kate Brown's extreme overreach. She has voted to continue the same policies that have made homelessness in Salem worse. She has even advocated taking school resource officers out of schools, which has led to fights in Salem-Keizer schools to increase by 42%."
--Staff Reports
| | |
| --- | --- |
| Post Date: 2021-12-09 09:11:41 | Last Update: 2021-12-09 10:12:45 |
Ron Noble is seen as a moderate Repbublican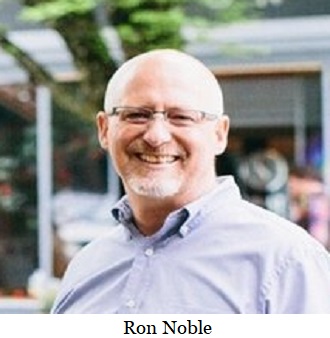 S
tate Representative and former McMinnville Police Chief Ron Noble (R-McMinnville) has announced that he is running for the Republican nomination for the newly carved out 6th Congressional district. He joins a crowded field for the seat which, of course as a new district, has no incumbent.
In a tweet which at the same time could be seen as both an expression of frustration of serving in the super-minority in Oregon's House, while at the same time, hoping to serve in what many experts see as a real possibility of a Republican majority in Congress, Noble said, "I am officially running for Congress in #OR06. I look forward to earning the trust of Oregonians to represent their interests and actually get results in Congress."
The crowded field includes Republicans
Angela Plowhead
,
David Russ
and returning 5th Congressional District nominee,
Amy Ryan Courser
. The 6th district contains much of what was in the 5th in the previous decade. As a moderate, Noble could watch a handful of conservative with less name recognition than he split the conservative vote and make his nomination possible.
As Chair of the
House Special Committee On State Legislative Redistricting
, State Representative Andrea Salinas (D-Lake Oswego)
drew herself into the vacant district, then filed to run for the district
. Many experts see this as a clear case of the kind of self-dealing that gives politics a bad name.
Prior to serving in the Oregon Legislature, Salinas was a lobbyist for the government employee union SEIU 503 and presumably will expect support from them.
Also announced on the Democratic side, is Loretta Smith (D-Portland) who served as a Multnomah County commissioner from 2011 to 2018. She ran unsuccessful campaigns for Portland City Council in 2018 and 2020.
Oregon's newly created 6th Congressional District is the counties of Yamhill, Polk and the western part of Marion County, as well as the southwestern portion of Clackamas County.
--Staff Reports
| | |
| --- | --- |
| Post Date: 2021-12-08 14:12:18 | Last Update: 2021-12-08 15:18:39 |
Fighting misinformation is one of its priorities
S
ince the middle of last century, the craft of journalism has been in decline. According to some experts, this decline has been the result of an increasingly intensifying leftward slide. Now, forces on the left have taken to shoring up their failing industry and the impact will be felt in Oregon.
The Oregonian/OregonLive is
reporting
that it has been selected to host a new
Report for America
corps member journalist beginning in June 2022.
According to the Portland based print and daily, the addition of this reporter, "will enable The Oregonian/OregonLive to expand its education coverage to focus deeply on early childhood programs and literacy education in kindergarten and first- and second-grade."
According to its website
Report for America
says that "the collapse of local journalism has created a crisis for democracy. Residents no longer get the information they need to understand the critical issues facing their community, to make good decisions for their family, and hold elected officials accountable. Charles Sennott formerly of the Boston Globe is the Executive Director of Report for America.
"Report for America is a national service program that places journalists into local newsrooms to report on under-covered issues and communities. An initiative of the nonprofit media organization, The
GroundTruth Project
, it is structured to harness the skills and idealism of an emerging group of journalists plus the creative spirit of local news organizations." They "aim to place 1,000 reporters by 2024 and strive to fundamentally transform local news business models and ecosystems."
A D V E R T I S E M E N T

A D V E R T I S E M E N T
Influence Watch
reports that "Report for America is a joint project of Google News Lab and The GroundTruth Project, both organizations associated with the political left-of-center. The GroundTruth Project was founded in 2014 to train foreign correspondents. It is cosponsored by
Google News Lab
. GroundTruth Project has taken funding from a number of left-of-center institutional funders, including the Packard Foundation, the MacArthur Foundation, and the Knight Foundation."
The Google News Lab describes its mission "is to collaborate with journalists and entrepreneurs to drive innovation in news. Offering partnerships and training in over 50 countries, the News Lab brings the best of Google technology to tackle important challenges in journalism today." It also identifies the challenge of fighting misinformation as one of its priorities.
The Northwest Observer has received no such grants.
--Staff Reports
| | |
| --- | --- |
| Post Date: 2021-12-08 08:53:37 | Last Update: 2021-12-08 10:12:18 |
Judge will serve Jefferson and Crook counties
G
overnor Kate Brown has announced that she will appoint Crook County District Attorney Wade Whiting as a judge on the Circuit Court for the 22nd Judicial District, serving Jefferson and Crook Counties.
Whiting will fill the vacancy created by the resignation of Judge Michael McLane. His appointment is effective immediately.
"Wade Whiting has broad and impressive experience as a lawyer in both Jefferson and Crook Counties, and is also deeply involved in his community through his volunteer activities," said Governor Brown. "I am looking forward to seeing him bring his energy and enthusiasm to his new role on the bench."
W
hiting, an Eagle Scout, graduated from high school in Camas, Washington and went to college at Brigham Young University in Provo, Utah, where he majored in business.
A D V E R T I S E M E N T

A D V E R T I S E M E N T
After graduating from college, Whiting earned his law degree from the University of Kansas. He moved to Oregon with his family, and worked for a private firm in Madras for nearly three years, handling a wide variety of matters, including family, real estate, and business law issues, and also criminal defense. In 2013, he joined the Jefferson County District Attorney's office. Whiting subsequently was appointed to serve as District Attorney of neighboring Crook County in 2017.
Whiting lives with his family in Prineville, where he is deeply involved in his community. He is the chair of the Crook County Local Public Safety Coordinating Council, serves as vice president of the Crook County Foundation, is a member of the Kiwanis Club, and volunteers as a coach for various youth sport leagues. He is also active in the local bar association, including serving as Bar President from 2013-2016. In addition, Whiting lent considerable time and energy helping to promote the recent passage of the Crook County criminal justice center bond measure.
--Bruce Armstrong
| | |
| --- | --- |
| Post Date: 2021-12-07 12:45:23 | Last Update: 2021-12-07 12:52:46 |
"Any chance we have of retaining what's left of our freedoms will be fought for at the local level"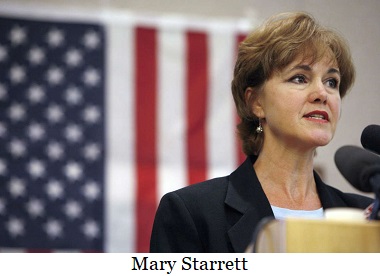 A
t a time when Oregonians are leaving the State in unprecedented numbers, the question facing many is, 'Do we stay and fight or do we relocate to a more freedom-friendly state?'
Yamhill County Commission Board Chair Mary Starrett, who has spent her last two terms pushing back against Oregon's relentless overreach, answered this question by filing for re-election to Board Position #3 saying, "We stay and hold the line."
Asked why she was running, Starrett said:
"Regardless of one's politics, we should all be concerned that our governor can, without any Legislative input shut down businesses, schools, and churches, weaponize State agencies to take away licenses and levy fines, instigate baseless child welfare actions against political enemies, mandate experimental medical treatments for employees and force the masking of children and adults under the guise of an ongoing "Emergency" that has no data end point."
"The goalposts keep moving and more rights are being taken away with shocking frequency."
Chair Starrett decried the lack of State-County collaboration from the Governor's office saying:
"Governor Brown has refused to include counties in the decision-making process throughout the COVID "emergency" of the past 2 years. OHA, under the Governor's direction has refused to share accurate COVID-19 data despite numerous counties' inquiries and Public Records requests from State Senators.
The obfuscation and determination to defy legitimate requests for transparency is an outrage that our majority party legislators refuse to acknowledge."
Starrett makes freedom a top priority of her agenda.
"Any chance we, as Oregonians have of retaining what's left of our freedoms is going to have to be fought for at the local level. Counties and cities will either stand up to Federal and State government overreach or we'll continue to lose precious rights.
Our State Legislature has abdicated its role and now it's up to counties to push back and protect the rights of the individual"
Starrett has pushed back against the State's continued overreach by sponsoring or supporting over 20 Board actions for the protection of Constitutional rights during emergencies and to push back on Oregon Governor Kate Brown's COVID restrictions, including:
Support for Medical Freedom
Support for Business Reopening
Support for Overturning COVID -19 Executive Orders
Opposition to Minor Immunization without Parental Consent
Support for Congregate Care Family Visitation
Support for Local Economy/Businesses of Yamhill County Impacted by COVID-19
Opposition to Ongoing County Lockdowns
Support for Vaccine Informed Consent Guidance
Opposition to COVID-19 Vaccine Passports
Support Civil Rights of Yamhill County Residents Regardless of Immunization Status
Oppose OHA/Oregon OSHA Health Mandates
Support Local Control re: COVID-19 Protocols, Opposing Mask Mandate K-12
Starrett adds: "And the work has just begun."
--Staff Reports
| | |
| --- | --- |
| Post Date: 2021-12-06 12:19:55 | Last Update: 2021-12-06 16:53:37 |
Bill has $80 billion in funding for 87,000 more IRS agents
A
s the massive infrastructure bill
passed the US House
containing a myriad of
and tax increases -- including
$80 billion in funding for 87,000 more IRS agents
to "spy" on Americans and
giving more power to the IRS
an Oregon State Senator is calling for a member of the Oregon delegation to the US Senate to vote against the measure.
State Senator Fred Girod (R-Lyons) is calling on U.S. Senator Ron Wyden, chairman of the Senate Finance committee, to reject proposals to spy on Americans' bank accounts.
"Oregonians do not want their bank accounts spied on. Senator Wyden must ensure these proposals do not make it into Biden's blowout spending bill. There are better ways to enforce tax law than a dragnet operation that would lead to unnecessary audits of regular Oregonians.
"If this proposal passes, the legislature must take immediate action to ensure Oregonians' privacy is protected. Legislative Democrats, the Attorney General, and the Treasurer must pledge to not enforce this extreme proposal. Oregonians deserve better than this invasion of privacy."
Wyden, who is 72 years old has been a US Senator from Oregon since 1996. Prior to that, Wyden was a member of Congress from Oregon's 3rd District -- Multnomah County -- since 1981.
--Staff Reports
| | |
| --- | --- |
| Post Date: 2021-12-06 12:17:48 | Last Update: 2021-12-06 12:19:55 |
Will succeed retiring Sheriff Jim Yon
L
inn County Undersheriff Michelle Duncan will
have a new job title
come January 1st.
Linn County Commissioners Roger Nyquist, Sherrie Sprenger and Will Tucker agreed that Duncan should succeed Sheriff Jim Yon, who recently announced his retirement as of the end of the year.
Duncan, 47, will become the first female sheriff in Linn County law enforcement history, as she completes the final year of Yon's four-year term of office.
The commissioners indicated strong support for Duncan, who has held numerous leadership posts within the Sheriff's Office, starting as a resident deputy in Mill City for seven years.
She has also been a detective, worked narcotics, was patrol sergeant and worked with mountain patrols, was a lieutenant dealing with contract cities and was a Field Training Coordinator. In 2019, Duncan was promoted to Patrol Captain and earlier this year, she was promoted to Undersheriff.
Duncan has said previously that she and Sheriff Yon share the same command philosophy and that is teamwork is vital to success of any organization. She also believes strongly in the value of training and valuing the work of all departments within the LCSO equally.
Duncan grew up in Linn County and in California. She has a degree in criminal justice from San Jose Community College.
A D V E R T I S E M E N T

A D V E R T I S E M E N T
She is married and has a son and a daughter. She enjoys hiking, fishing, yard and garden work and football.
T
he LCSO employs 190 people when at full strength and has an annual budget of about $36 million.
Commissioner Tucker said he has always been impressed with Duncan's professionalism and dedication to the job.
He added she has succeeded at every level of command leading up to the top job.
Commissioner Sprenger agreed and said she first met Duncan at a meeting in Crabtree at which people were angry. Sprenger said Duncan truly listened to the people and cared about their issues.
Yon told the commissioners, "You will not be disappointed."
Duncan will stand for election in 2022.
LCSO Deputy John Raymond has also filed to run for sheriff as well.
I
f there are only two candidates, their names will appear on the November 2022 ballot. If more than two candidates file, their names will appear on the May 2022 primary ballot.
The names of the two candidates who receive the highest number of votes will be on the November ballot. If one of the candidates receives 50% of the primary vote tally — plus one vote — that candidate would be the lone name on the November ballot.
--Bruce Armstrong
| | |
| --- | --- |
| Post Date: 2021-12-05 12:50:02 | Last Update: 2021-12-05 15:48:50 |
"His messages and behaviors harm all of us"
I
n a bold case of cancel culture, a local organization called Southern Oregon Coast Pride has posted a
petition online
to have local political talk show host Rob Taylor removed from the air.
The petition wording ironically calls out Taylor for "his efforts to organize local opposition to the values of inclusion and acceptance." According to the group,
We ask that our allies, local community organizations, and businesses who believe that LGBTQIA+ people deserve to live and belong in our area without fear of harm or harassment to join us in rejecting the messages and behaviors of hatred and bigotry that Rob Taylor espouses. We ask that you join us in contacting Bicoastal Media and requesting that they remove the Rob Taylor Report from their station.

For transphobic, homophobic, and racist comments on his radio show, at public events, and on social media, Southern Oregon Coast Pride takes an unprecedented action to denounce Rob Taylor and the Rob Taylor Report. His messages and behaviors harm all of us and hinder the well-being and prosperity of our community. That they are given a platform that reaches a wider audience and that they are part of his efforts to organize local opposition to the values of inclusion and acceptance of the diversity within our community makes this denouncement urgent and necessary.


Southern Oregon Coast Pride knows how important it is to advocate and create safe spaces for trans identifying individuals in our communities. Sadly, 2021 has already seen at least 45 transgender or gender non-conforming people fatally shot or killed by other violent means. We say at least because too often these stories go unreported -- or misreported. In this and previous years, the majority of these people were Black and Latinx transgender women.
Taylor responded to the intolerance. "It is sad to see so many Americans buy into this "cancel culture" mentality. It is not good enough to turn the dial or change the channel, anyone in the public spotlight who makes any off-color remarks will be removed.
"The communist Chinese Government made the tennis star Peng Shuai disappear, and that seems to be the direction the left wants to take the rest of us. When the mob rules only the sanctioned rhetoric of the collectivist mind will be allowed because there is no debate and there is no freedom of expression in the world of the thought police."
The
Rob Taylor Report
airs weekly on KWRO Radio on 101.1 FM in Coos County each Monday from 3:00pm to 6:00pm. His topics, which can also be heard via
podcast
include a unique perspective on local, state and national issues.
--Staff Reports
| | |
| --- | --- |
| Post Date: 2021-12-04 14:58:53 | Last Update: 2021-12-04 18:17:48 |
"It is setting a very high bar by centering equity and climate"
As long as there is deterioration in this world the Interstate 5 Bridge Project will remain on the to-do-list.
The
Joint Interim Committee on the Interstate 5 Bridge
, chaired by Senator Lee Beyer and Representative Susan McLain, will meet on December 6, 2021 at 9am, with the Washington State Legislature's Joint Legislative Action Committee regarding the construction of a new Interstate 5 Bridge. The meeting will be live-streamed and the public will have 20 minutes to give comment.
Greg Johnson, Program Administrator, Interstate Bridge Replacement (IBR) Program will provide an update and discuss the next steps. In the IBR 2021 Progress Report, Johnson states, "The Interstate Bridge is ranked as the worst bottleneck in Oregon and Washington and the 23rd worst bottleneck in the nation (ATRI 2021). The corridor experiences crash rates over three times higher than statewide averages for comparable facilities. With one bridge span now 104 years old, it is at risk for collapse in the event of a major earthquake and no longer satisfies the needs of modern commerce and travel. Replacing the aging Interstate Bridge across the Columbia River with a seismically resilient, multimodal structure that provides improved mobility and reliability for people, goods, and services is a high priority for Oregon and Washington."
What can we expect from the meeting? Johnson says "the program has a dedicated principal equity officer working in tandem with the Equity Advisory Group and spearheading what we consider to be nationally significant equity-focused community outreach. The program also has a dedicated principal climate officer who is working shoulder-to-shoulder with partner agencies and stakeholders to help guide the program in designing a bridge that works toward reducing greenhouse gas emissions and planning for climate resilience issues...it is setting a very high bar for infrastructure programs across the country by centering equity and climate, which is a departure from the historical way of building infrastructure."
A D V E R T I S E M E N T

A D V E R T I S E M E N T
The IBR program is using previous planning work to maximize the current investment and support efficient decision-making, to not repeat the same work means the program will be able to take advantage of federal funding opportunities. By using prior Columbia River Crossing work, federal agencies will accept updates to prior data, which means a high-speed rail or a third bridge is out of this project, but may be planned for a future project.
The opposition has been unfairly identified as "do nothing" and stop planning. Perhaps if IBR were listening to stakeholders in opposition as much as it does to communities of color and reducing greenhouse gases, they may learn there is little opposition to a safer seismic tolerant bridge. The opposition had a lot to do with the extravagant design including high-speed rail, and in manipulating funds to deceive the public.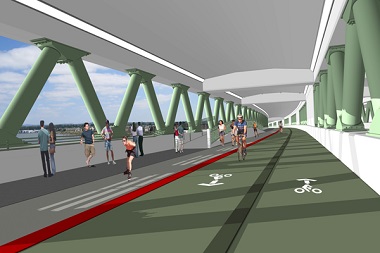 Currently Oregon has committed $45 million and Washington has committed a total of $133 million that includes improvements on their interchange. Federal competitive grant funding could potentially support the IBR program. A preliminary IBR Toll Rate Schedule has been developed by the IBR program and the Oregon Toll Program to be used by both the IBR and Oregon's Regional Mobility Pricing Project (RMPP) traffic modeling teams for their preliminary analyses. And what of the $5.3 billion Oregon will receive and $8.6 billion Washington will receive from federal infrastructure funding? Is there a need to slow traffic for tolling?
Next steps will involve outlining a more detailed path forward, including key stakeholder and community engagement, and schedule of milestones for pursuing the implementation of highway tolling on the Interstate Bridge. The "equity" process prioritizes access, influence, and decision-making power for underserved communities throughout the program in establishing objectives, design, implementation, and evaluation of success. One could ask if these are the primary users of the I-5 bridge that warrants prioritizing their input. Climate goal is to overcome the limited capacity for low-emissions travel (e.g., walking, biking and rolling), constrained transit options, and significant congestion resulting in idling vehicles contributing to GHG emissions. Impaired freight movement is of major concern.
The basic design has three options: A curved twin span is the preferred option 1; a straight twin span; or a stacked alignment, with an upper deck and a lower deck carrying traffic in opposite directions.
Early work on the bridge project estimated $3-$5 billion needed. One thing is for sure, the longer the planning process, the more expensive the project. You can receive monthly updates by subscribing to the Interstate Bridge Replacement Program.
--Donna Bleiler
| | |
| --- | --- |
| Post Date: 2021-12-04 12:36:30 | Last Update: 2021-12-04 12:45:36 |
Former nominee of the Pacific Green Party
E
ugene resident Ibra Taher has announced
a run for United States Senate
as a Republican.
Taher was born in Eugene, Oregon in 1989 to two immigrant parents. His father was a computer science student at U of O. His mother was a housewife who took care of him and his siblings.
Before high school, Ibra moved with his Persian mom to Kuwait where he discovered that they have free education from kindergarten to Ph.D. He went to Kuwait University from which he got his B.A. in Philosophy. Then after, he moved back to his hometown (Eugene) to pursue higher education. He was then a teacher in Kuwait, which led him to get his Master's in Philosophy.
In 2016, Ibra moved to Rochester, MN to get specialized medical attention for cancer. After a successful long treatment, he moved back to Eugene where he lives now with his wife and two kids.
A D V E R T I S E M E N T

A D V E R T I S E M E N T
Taher says he is interested in areas in Philosophy that are related to the people and society like ethics, critical thinking, and philosophy of social science. "Politics," says Taher, "which is a social behavior, is broken, corrupted, and the main obstacle that prevents us from having ethical societies where justice, morality, and peace thrive."
I
n 2018, Taher became a member of the Pacific Green Party of Oregon, which he emphasizes was an outlet for his interest in peace activism. He ran in 2020 for the US Senate seat on the party ticket with being co-nominated by the Progressive Party of Oregon.
Taher says that there were major disagreements with the Pacific Green Party and their refusal to stand up for the people and against what he saw as repression in how the government of Oregon was responding to COVID.
Taher became a member of the Republican Party of Oregon which he sees as a more effective vehicle for political activism.
Taher claims he was the first candidate in Oregon to call out the corruption of the medical establishment concerning the COVID response. He published his first article regarding COVID on March 26th, 2020, titled
"COVID19: A Pretext For Authoritarianism"
.
Taher also co-founded a national group
'Greens and Allies Against COVID Repression'
in July of 2020.
--Bruce Armstrong
| | |
| --- | --- |
| Post Date: 2021-12-03 10:48:46 | Last Update: 2021-12-03 12:11:15 |
"I would've defeated him"
A
fter 36 years in Congress -- a virtual poster child for term limits -- Oregon's 4th district Congressman Peter DeFazio (D-Springfield) has
announced his retirement
leaving an open seat in the newly minted district.
In a
facebook post
, DeFazio praised his own accomplishments and promised to stay engaged. "This was a very difficult decision at a difficult time for our nation, but I'm ready to pass the baton to the next generation so I can prioritize my personal health and well-being. I'm so proud of what we accomplished together. I will continue to remain active and dedicated; there is a lot of work that I intend to accomplish before my term ends and in the future."
Presumed front-runner on the Republican side,
Alek Skarlatos
responded:
"As I travel the district, voters have consistently told me that Congressman Peter DeFazio lost touch with Oregon's 4th Congressional District, because he supported defunding the police, the Green New Deal, more spending that resulted in record inflation, and I have no doubt I would've defeated him." Skarlatos fell just
5.3 percentage points short
of defeating DeFazio in the fall of 2020.
Skarlatos continued, "While our opponent has changed, my vision of securing our border, standing with law enforcement, fixing this inflation crisis, and most importantly holding Joe Biden accountable remains as strong as ever, and I'm thankful to have the support of our next Speaker of the House, Kevin McCarthy."
--Staff Reports
| | |
| --- | --- |
| Post Date: 2021-12-03 06:34:24 | Last Update: 2021-12-02 20:35:23 |
"Government overreach from Governor Brown and others must stop"
L
ocal businessman and Realtor John Velez has announced his intention to run for the Republican nomination in the new Senate District 13 that stretches from Tigard to Wilsonville.
Velez was born in Puerto Rico, moving to Oregon in 1991.
He has been working in his real estate and general contracting businesses with his husband John. Velez commented, "I am excited to step up and help change the direction the state is headed. I talk to many frustrated parents and business owners every day about the increasing frustration with state government. It is time for me to do something."
John Velez says he is focused on bringing local control back to the communities of Tigard, King City, Sherwood, and Wilsonville. "It is important for local parents to have more control in the education of their kids. Parents are the vital link between the home and the school their children attend. Government over reach from Governor Brown and state agencies must stop."
A D V E R T I S E M E N T

A D V E R T I S E M E N T
Velez says he looks forward to a spirited conversations with parents, business owners and community leaders in 2022.
SD 13 incumbent Senator Kim Thatcher (R) Keizer will be running for Senate District 11, due to redistricting.
--Bruce Armstrong
| | |
| --- | --- |
| Post Date: 2021-12-02 16:50:06 | Last Update: 2021-12-07 14:52:30 |
Read More Articles