"Any chance we have of retaining what's left of our freedoms will be fought for at the local level"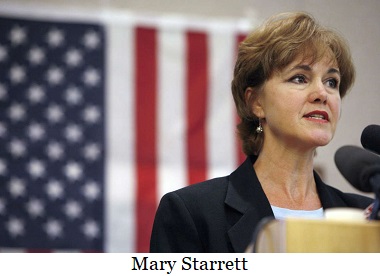 A
t a time when Oregonians are leaving the State in unprecedented numbers, the question facing many is, 'Do we stay and fight or do we relocate to a more freedom-friendly state?'
Yamhill County Commission Board Chair Mary Starrett, who has spent her last two terms pushing back against Oregon's relentless overreach, answered this question by filing for re-election to Board Position #3 saying, "We stay and hold the line."
Asked why she was running, Starrett said:
"Regardless of one's politics, we should all be concerned that our governor can, without any Legislative input shut down businesses, schools, and churches, weaponize State agencies to take away licenses and levy fines, instigate baseless child welfare actions against political enemies, mandate experimental medical treatments for employees and force the masking of children and adults under the guise of an ongoing "Emergency" that has no data end point."
"The goalposts keep moving and more rights are being taken away with shocking frequency."
Chair Starrett decried the lack of State-County collaboration from the Governor's office saying:
"Governor Brown has refused to include counties in the decision-making process throughout the COVID "emergency" of the past 2 years. OHA, under the Governor's direction has refused to share accurate COVID-19 data despite numerous counties' inquiries and Public Records requests from State Senators.
The obfuscation and determination to defy legitimate requests for transparency is an outrage that our majority party legislators refuse to acknowledge."
Starrett makes freedom a top priority of her agenda.
"Any chance we, as Oregonians have of retaining what's left of our freedoms is going to have to be fought for at the local level. Counties and cities will either stand up to Federal and State government overreach or we'll continue to lose precious rights.
Our State Legislature has abdicated its role and now it's up to counties to push back and protect the rights of the individual"
Starrett has pushed back against the State's continued overreach by sponsoring or supporting over 20 Board actions for the protection of Constitutional rights during emergencies and to push back on Oregon Governor Kate Brown's COVID restrictions, including:
Support for Medical Freedom
Support for Business Reopening
Support for Overturning COVID -19 Executive Orders
Opposition to Minor Immunization without Parental Consent
Support for Congregate Care Family Visitation
Support for Local Economy/Businesses of Yamhill County Impacted by COVID-19
Opposition to Ongoing County Lockdowns
Support for Vaccine Informed Consent Guidance
Opposition to COVID-19 Vaccine Passports
Support Civil Rights of Yamhill County Residents Regardless of Immunization Status
Oppose OHA/Oregon OSHA Health Mandates
Support Local Control re: COVID-19 Protocols, Opposing Mask Mandate K-12
Starrett adds: "And the work has just begun."
--Staff Reports
| | |
| --- | --- |
| Post Date: 2021-12-06 12:19:55 | Last Update: 2021-12-06 16:53:37 |