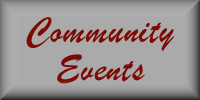 Post an Event

Oregon State Fair
Friday, August 26, 2022 at 10:00 am
Which part of the Oregon State Fair are you most excited for? We'll keep adding to the fun all summer long!
Salem, Or

Washington County Candidate Meet and Greet
Wednesday, August 31, 2022 at 6:30 pm
Join our Washington County State House and Senate Candidates and Oregon State and National Candidates to discuss issues that are important to you, your family, and your community. Refreshments provided.
King City Clubhouse 15245 SW 116th Ave. King City, Oregon 97224

Linn County GOP Gala and Auction
Saturday, September 10, 2022 at 5:00 pm
Keynote Speaker Dave Sanderson, 2009 "Miracle on the Hudson" survivor.

linngop.com/galatickets
Linn County Expo Center

Washington County GOP Reagan Dinner
Saturday, September 17, 2022 at 6:00 pm
Tickets for Reagan Dinner 2022 in Hillsboro September 17th, now on sale at www.washco.gop, featuring former Secretary of State Mike Pompeo.

Oregon General Election
Tuesday, November 8, 2022 at 8:00 pm
Statewide
View All Calendar Events
What problem are you trying to solve?
It's no secret that prescription drug prices are spiraling out of control. The cause of the high cost isn't so well understood by some. Take
SB 711
, introduced by Senator Deb Patterson (D-Salem) which requires the Department of Consumer and Business Services to study cost differences in hormone replacement drugs used by men and pharmaceuticals] hormone replacement drugs used by women and report findings to Legislative Assembly. Patterson describes what she calls a "Pink Tax" in her
testimony on the bill
:
"In retail sales, it is a common practice to charge more for items targeted at women than items targeted at men. Such gender-specific pricing is commonly referred to as the "Pink Tax." We see It in items such as personal care products such as shampoo or razors and in services such as dry cleaning -- a woman's cotton blouse costs more to dry clean than a man's cotton shirt."
Patterson ignores the fact that in a free-market economy, anyone can set any price they want, and if there really were an arbitrary reason for charging more for personal care products or dry cleaning, some crafty entrepreneur would by now have cut the price on these items and cornered the market. Price injustice almost only occurs under monopolies, during natural disasters and under the reign of government price fixing. Patterson concludes her testimony:
Finally, I would like to remind the Health Committee that a gender pay gap exists, as well, with white women making on average 79 cents for every dollar a white man makes. For women of color, the disparity is greater, dropping to 62 cents for black women and 54 cents for Hispanic women. We must work to close these gaps, and to address inequities where they exist across our economy. Exploring whether there is gender inequity in pharmaceutical costs, which have risen by 33% in the last seven years, is another piece of that puzzle.
Senator Patterson seems at once very progressive, while at the same time a step behind the current left-leaning thought on gender, which is characterized at least by an utter inability to define a man or a woman.
Senator Kim Thatcher (R-Keizer), also
provided testimony
on the bill from the perspective of someone who -- at least at one time -- knew man from woman.
As written, the bill is problematic in that we should be looking at pharmaceutical costs in aggregate, and not based on preconceived notions of what "female" drugs or "male" drugs are. In classifying drugs this way, without looking at the real reasons behind the costs of the drugs, we fail to consider that drugs aren't used specific to gender, specific to men or specific to women. Drugs are used to treat medical ailments, or to promote positive health outcomes for those to whom they've been prescribed.
Her testimony continued
If we start categorizing these types of hormone therapies as men's and women's drugs, we are missing the point that the goal should be to treat patients where they're at with their health, with their medical conditions, and not try to segment their conditions perceived on "this" being for a man or "that" being for a woman.
Senator Thatcher concluded her testimony, by scolding the legislature for it's treatment of the gender issue in general.
This bill is well-intended but because of bills this body has chosen to pass, the terms "men" and "women," are no longer relevant in Oregon law. It's a little confusing this body would choose to use these terms now, regardless of past policy precedent.
It gets hard to create law and policy on the subject of gender when there no longer is gender.
--Staff Reports
| | |
| --- | --- |
| Post Date: 2021-05-18 12:05:58 | Last Update: 2021-05-17 18:21:02 |
Individually identifiable information would be used
Oregon's Governor Kate Brown has announced that she would immediately have the state follow the CDC guidance on masks, all the while setting standards so high it will be at least several weeks before Oregonians can breathe easy again.
According to the latest CDC guidance, all people will still be required to wear masks only on public transportation, inside airports and while in health care settings.
Not letting a CDC guideline go to waste, Governor Brown has her team, Representative Andrea Salinas (D-Lake Oswego), Representative Ron Noble (R-McMinnville), Senator Deb Patterson (D-Salem), Representative Lisa Reynolds (D-Portland), Representative Maxine Dexter (D-Portland), Representative Paul Evans (D-Monmouth), Representative Dacia Grayber (D-Tigard), Representative Rachel Prusak (D-Tualatin), and Representative Sheri Schouten (D-Beaverton) making sure HB 3057 passed both houses on May 13.
HB 3057
is Oregon's attempt to make vaccine passports a reality. The bill violates federal law and HIPPA patient privacy. The intent is to allow nurses and bureaucrats not involved in patient care to access a citizens' medical records on a computer system without either the patient or patient's providers knowledge.
Senator Boquist (I-Dallas) has
released a vote explanation
saying:
"HB 3057 is an Oregon Health Authority end run on HIPAA confidential patient health information very likely in violation of federal law. Likely a statute designed to shield OHA from its illegal activities during the symptomatic Covid-19 political pandemic in which OHA locked seniors in homes to intentionally perish. Classic crimes against humanity. Oddly, the bill attempts to re-define Covid-19 directly to only cases of SARSCoV-2 instead of their own OHA CDC definition of symptomatic Covid-19 which is 16 times broader per the CDC's own data. If the bill's definition were strictly applied cases would plummet, however, the definition cannot be correct. Nor does OHA display any competency what-so-ever to be given any additional authority. The Carrier was quite clear the intent was to allow nurses and bureaucrats not involved in patient care to access a citizen's medical records on a computer system without either the patient or patient's providers knowledge. The Carrier stated the intent was to protect nurses from exposure that were not patient providers. The Carrier could not provide a reason for the need of this bill at this time when questioned…"
Boquist goes on to point out some discrepancies in the bill regarding the security of patient information that ultimately allows OHA to release patient information for any reason it deems necessary and to non-providers.
The legislative analysis indicates that according to the United States Department of Health and Human Services Office of Civil Rights, the federal Health Insurance Portability and Accountability Act (HIPAA) Privacy Rule allows law enforcement, paramedics, and public health authorities to disclose protected health information (PHI) of an individual infected with, or exposed to, COVID-19. For public health purposes, federal law allows covered entities such as hospitals to disclose PHI with federal, state, and local health departments, if reporting is for public health activities and disclosure is required by federal, state, or local law.
Thus, we have HB 3057 authorizing disclosure, but the bill doesn't just allow the Oregon Health Authority to receive information as HIPAA would suggest. It wants to share your medical information with the world. Whether it be via an app verifying vaccinations to fly or to do business in person, it discloses protected health information beyond the medical field and beyond public health purposes creating its own pandemic.
--Donna Bleiler
| | |
| --- | --- |
| Post Date: 2021-05-18 11:24:43 | Last Update: 2021-05-18 11:44:07 |
Gov. Brown balks at a maskless society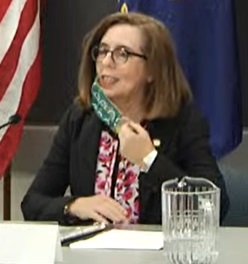 As the surprise
CDC guidance on masks
is embraced and celebrated by some, in Oregon, the mighty hand of government may not be moving on this issue. Governor Kate Brown has
issued a statement
on the CDC action in which she announces the rosy news.
Starting today, Oregon will be following this guidance, which only applies to fully-vaccinated individuals. That means Oregonians who are fully-vaccinated no longer need to wear masks or social distance in most public spaces.
Further in her comments, the Governor makes it clear that masklessness is dependent on vaccine compliance and providing proof of being vaccinated.
In the coming days, the Oregon Health Authority will be providing updated guidance for businesses, employers, and others to allow the option of lifting mask and physical distancing requirements after verifying vaccination status. Some businesses may prefer to simply continue operating under the current guidance for now, rather than worrying about verifying vaccination status, and that's fine.
The Governor makes it clear that she regards masks as a trade for vaccines. That might work for most people. It may not work for those who -- for a medical reason -- cannot be vaccinated. It fails to take into account those who have already had the disease -- can we call them "COVID survivors?" She lays out the options.
Oregonians now have a choice of how to protect themselves and others from COVID-19: either get vaccinated, or continue wearing a mask and following physical distancing requirements. The new CDC guidance makes clear that vaccines are the best tool to protect yourself, and everyone around you. Vaccines are also the fastest way to get back to doing the things we all love, and to returning to a sense of normalcy.
At the very least, Oregonians are owed a more specific description of the options and the consequences. At this stage, Oregonians are probably owed some freedom.
--Staff Reports
| | |
| --- | --- |
| Post Date: 2021-05-18 08:38:56 | Last Update: 2021-05-17 18:29:39 |
Bill would make it illegal to simultaneously serve as a state officer
Oregon politics has been dominated by the Democrat party since 2007 when the party took over controlling majority in the House, the Senate and the Governor's office, and the Republican party has struggled to regain a balance of power ever since. Difference of opinions within the party at the national and local level have dominated conversation in recent years and in some cases possibly cost the party elections. Now, Senator Lynn Findley (R-Vale), and Senator Bill Hansell (R–Athena) and Senator Rob Wagner (D– Lake Oswego) have introduced
SB 865
at the request of the Malheur, Baker and Morrow County Republican Executive Committees which would change who may serve as state elected officer of a party Central Committee. The bill appears to be targeted at the Republican party as the Chair and Treasurer are both current sitting Republican Senators; Senator Dallas Heard, Chair (R–Roseburg) and Senator Dennis Linthicum, Treasurer (R–Klamath Falls). The Democrat Party State leadership has no sitting elected state officials in their executive Committee.
The changes would make it illegal to simultaneously serve as a state officer (Governor, Secretary of State, State Treasurer, Attorney General, Commissioner of the Bureau of Labor and Industries, state Senator or Representative, Judge of the Supreme Court or Judge of the Court of Appeals) and hold an elected officer position of the State Central committee of a major political party.
SB 865
proposes to add to existing law in
ORS 248.072
. The section of law that covers the Authority of the State Central Committee for major political parties.
"The state central committee is the highest party authority in the state and may adopt rules or resolutions for any matter of party government which is not controlled by the laws of this state".
However, the bill does not address other statues in the same section of law that cover fair representation within the State Central Committee.
ORS 248.005 Partied to insure widest and fairest representation of members.
Each political party by rule shall insure the widest and fairest representation of party members in the party organization and activities. Rules shall be adopted by procedures that assure the fair and open participation of all interested party members.

ORS 248.007 Organization of major political party.
(1) Subject to ORS 248.005 (Parties to insure widest and fairest representation of members), a major political party may organize and select delegates to national party conventions in any manner.
In addition, there is also the possibility that the change in statute would be in conflict with federal law under free speech and associational rights of political parties and their members guaranteed by the First and Fourteenth Amendments.
The bill is scheduled for a hearing in the Senate Committee on Rules, chaired by one of the main sponsors, Sen. Wagner on May 18th. As of press time there were over a hundred pieces of submitted testimony, the majority of which is against the bill. However, this session many bills have been overwhelmingly opposed by the voters and the super majority has pushed the legislation through anyway. The Oregon Republican party was established in February 1857 as the Free State Republican Party of Oregon and held its first state convention on April 1, 1859. However, with an emergency clause in
SB 865
, and a fine of up to $250 per day for violation, the Oregon Republican Party could be using their next state convention to replace half of their State Executive Committee.
--Terese Humboldt
| | |
| --- | --- |
| Post Date: 2021-05-18 07:44:55 | Last Update: 2021-05-17 16:05:58 |
Salem radio pioneer, may he rest in peace
In the early 1990's Mike Frith, a long time sales representative for large corporations like Aladdin, moved to Salem and bought AM 1430 KYKN which had been a classic country station for decades. He flipped it to talk radio fairly quickly and became one of the "heritage" Rush Limbaugh stations. He then added many other legendary Conservative radio shows like Sean Hannity, Laura Ingraham, Glenn Beck and more. He was always involved in the Salem Keizer community and served many, many people, both customers and listeners well. He cared about sharing American values and America First thinking long before it was in vogue.
In 2008, I was an out of work deejay after the station I was working for went out of business. I went to Mike looking for work even though I knew my chances were slim since most of his programming was via satellite. He gave me a job reading news, sports and weather in short 3 minute breaks during Laura Ingraham's morning show. Eventually, in 2009, he allowed me to try an one hour talk show which led to a three hour show later that year, The Bill Post Radio Show. His faith in me was humbling and I will forever be grateful for that.
Late Friday afternoon, he passed away surrounded by family. I will miss him but know that he is with his beloved wife Pat who passed a few years ago. I don't know what the future holds for KYKN but know that Mike's legacy will live on! "Ten Hut" to Sgt. Mike!
--State Representative Bill Post
| | |
| --- | --- |
| Post Date: 2021-05-17 18:02:38 | Last Update: 2021-05-17 18:13:58 |
"The best way to bring down the cost of housing is to increase the stock"
Senator Tim Knopp (R-Bend) has carried
SB 458
on the Senate floor. Co-sponsored with Sen. Lew Fredrick (D-Portland), the legislation would expand homeownership opportunities for Oregonians.
In 2019, to increase the stock of housing to make it more affordable, the legislature passed
HB 2001
which expanded middle housing construction in single-family neighborhoods.
HB 2001
did not address regulatory barriers to selling those new units. Local ordinances currently create a patchwork of regulations on the sale of middle housing.
SB 458
will create a statewide standard for the sale of middle housing in the communities implementing
HB 2001
.
Senator Tim Knopp released the following statement:
"The best way to bring down the cost of housing is to increase the stock of housing built at affordable cost. This bill adds to the work we did in 2019. We know that one of the best ways to build intergenerational wealth is through homeownership. This legislation will ensure more people have access to buy homes, especially first-time homebuyers."
The bill has passed both chambers and now awaits the Governor's signature.
--Staff Reports
| | |
| --- | --- |
| Post Date: 2021-05-17 18:01:09 | Last Update: 2021-05-17 18:02:38 |
Democrats hold hostage a bill to return it to them
Today marks the deadline for Oregonians to file their income taxes. This year, money that was meant to give people relief during the depths of the pandemic will now end up in the hands of Democrats who control the government.
According to an analysis from the Legislative Revenue Office, approximately 870,000 middle-class Oregonians will be sending an estimated $160 million of their stimulus checks to the state. An average family of four could see their income taxes increase by nearly $300 because of the loophole, instead of it going to pay the bills.
"Tax Day is here and Democrats are coming for your stimulus checks.
SB 842
would exempt stimulus checks from taxes, but it appears it is being held for ransom. We must move quickly to pass this bill to return this money to where it belongs: Oregonians' pockets," Senator Anderson (R-Lincoln City), author of the legislation, said.
Under
SB 842
, the Department of Revenue would send refund checks to affected Oregonians for the amount of excess taxes they paid for simply receiving a stimulus check in the 2020 tax year. It would also exempt the most recent $1,400 stimulus payment and any future ones from 2021 taxes by creating a tax credit.
SB 842
is currently sitting in the Senate Finance and Revenue Committee where it is being blocked by Senate Democrats. After an initial public hearing, Senate Democrats have signaled that they are holding the bill hostage as a negotiating tool with Republicans, despite holding supermajorities in both chambers of the legislature.
"Good bills should pass. Oregonians deserve to keep all their stimulus checks. With Oregon swimming in federal bailout money, there is no reason to be 'nickel and diming' working Oregonians.
"This bill has bipartisan support. Congressman DeFazio supports exempting stimulus checks from taxes, but Governor Brown and the Democrats want the money to fund their extreme Portland agenda. It is not right to be using Oregonians' stimulus money as leverage for political gain," Anderson said.
--Staff Reports
| | |
| --- | --- |
| Post Date: 2021-05-17 15:41:08 | Last Update: 2021-05-17 15:44:55 |
This most certainly violates some free speech rights.
In case you haven't been paying attention, there is a rift in the Senate Republican Caucus. The dispute started over
SB 554
which was the gun control bill. About half the Senators wanted to deny quorum and prevent the bill from passing.
You'll also remember that back in January, a group of Senators, two sitting and one former, essentially took over the leadership of the Oregon Republican Party. Senator Dallas Heard (R-Roseburg) was elected chair, Former Senator Herman Baertschiger was elected Vice Chair and Dennis Linthicum (R-Klamath Falls) was elected Treasurer.
One of the battles being fought in this war is
SB 865
, introduced by Senators Findley and Hansell, as well as by Democratic Senator Rob Wagner. This raises some questions. Why is he sponsoring a bill that's essentially just a family feud on the other side of the aisle? And, if Wagner is so concerned about conflicts of interest, why does he continue to
serve on the Lake Oswego School Board
?
SB 865
prohibits a person from simultaneously serving as holder of state office and as officer of state central committee of political party and establishes fine of up to $250 per day for violation. This, of course, is targeting what is going on in the Republican party.
Senator Hansell
penned an op-ed
in which he claims to want to root out conflicts of interest, but why just stop at party officials? Certainly Rob Wagner has much more of a conflict of interest in voting for billions of dollars to go to school districts, upon one board he serves, than Dallas Heard who controls little, either as a Senator or as a party chair.
Two former Republican Senators are now caucusing as Independents. The scorecard looks like this:
| | |
| --- | --- |
| Dallas Heard (R) | Fred Griod (R) |
| Dennis Linthicum (R) | Dick Anderson (R) |
| Art Robinson (I) | Lynn Findley (R) |
| Kim Thatcher (R) | Bill Hansell (R) |
| Chuck Thomsen (R) | Bill Kennemer (R) |
| Brian Boquist (I) | Tim Knopp (R) |
The bill is in the Senate Committee on Rules, where it is scheduled for a public hearing and committee vote this week. Assuming it passes the full Seate, it will be interesting to see if the House has any appetite for a bill that is the result of a Senate war and most certainly violates some free speech rights.
--Staff Reports
| | |
| --- | --- |
| Post Date: 2021-05-17 07:38:55 | Last Update: 2021-05-17 11:38:56 |
Officer Involved Shooting
On Wednesday, May 12, 2021, law enforcement officers from the Marion County Sheriff's Office and the Silverton Police Department became involved in a vehicle pursuit of a possible kidnapping suspect.
While in pursuit of the white Ford F150, an occupant in the involved vehicle fired multiple rounds toward police as they traveled through the city of Silverton, Oregon.
The vehicle finally came to a stop on Highway 214 near Forest Ridge Road NE where the suspect exchanged gunfire with involved officers.
The male driver of the Ford F-150 was detained by law enforcement; the female passenger was transported by Life Flight from the scene with life threatening injuries. Multiple police vehicles were struck by gunfire during the incident, no law enforcement officers were injured.
A Marion County Sheriff's Office Deputy and two Silverton Police Officers were involved in the shooting. Pursuant to Marion County Senate Bill 111 protocols, the Oregon State Police will be leading the investigation into the incident and the involved law enforcement officers will be placed on Administrative Leave.
--Bruce Armstrong
| | |
| --- | --- |
| Post Date: 2021-05-16 16:33:38 | Last Update: 2021-05-16 16:46:48 |
Some are eager to exploit the case to further the equity agenda,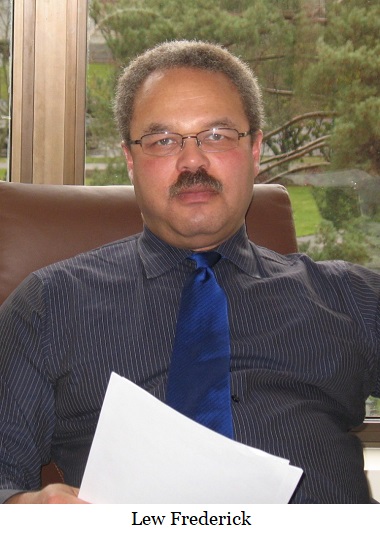 On March 25, 2021, the Oregon State Board of Bar Examiners voted to recommend that the Oregon Supreme Court appoint a special master to investigate the Board's previous recommendation and the current petition from Robert Roosevelt Parker, Jr's Petition
In Re Waiver of various Rules of Admissions
. The
letter requesting
review states, "Mr. Parker has requested a number of remedial waivers related to RFA's that presently would prohibit his admission to the Oregon State Bar. While the Board would normally recommend that these rules be enforced, Mr. Parker's case is entirely unique. He has alleged a number of irregularities against former Board members and the former Board's conduct in his character and review proceeding, which if true, would raise doubt in the findings and recommendations related to his prior application."
On May 4, 2021, Senator Lew Frederick (D-Portland), eager to exploit the case to further the equity agenda, introduced
SCR 22
. This bill asks that the state apologize to Robert Parker for 31 years of suffering injuries and effects of racism and institutional bias that has denied him admission to Oregon State Bar and urges the Oregon Supreme Court to admit Robert Parker to the bar.
In early May, the Oregon Supreme Court issued an order
In re: Robert Parker's Application for Admission to Practice Law in Oregon
directing that application fees be waived and that Mr. Parker's 1990 bar exam passing scores satisfy the exam requirements imposed by Oregon Supreme Court Rules for Admission 8.10. In addition,
"The court directs the Board to assess applicant's current character and fitness to practice law under the normal rules for such assessment. If applicant established the required character and fitness, the Board shall recommend terms of conditional admission needed to ensure applicant's competence to practice law."
Kamron Graham
, president-elect of the Oregon State Bar testified, "the OSB (Oregon State Bar) and BBX (Board of Bar Examiners) are prepared to move forward with a new character & fitness examination."
In other words, the court is saying they aren't going to reopen the 1992 case, and that Parker's petition for application should be judged on his character since that ruling. What are they willing to forget? Multiple reasons were given for not recommending his application for admission to the bar, including impersonation, inconsistent testimony, and omission or misstatement of facts -- you can read the
court record
.
Whether Parker's petition has valid claims or not, we'll never know. But, proving the OSB and BBX decision involved irregularities would mean the Supreme Court committed those same irregularities. But, without a determination, should the state be in the business of apologizing?
It seems the only purpose for
SCR 22
is to exploit a situation and to put pressure on OSB and BBX, regardless of the findings, to make sure Parker is admitted to the Bar for fear of backlash. Should legislation get in the middle of or put pressure on a board trying to make an objective review?
--Donna Bleiler
| | |
| --- | --- |
| Post Date: 2021-05-15 12:10:23 | Last Update: 2021-05-16 09:37:23 |
Tensions are beginning to rival those of about 20 years ago
In the wake of the
Federal Bureau of Reclamation's denial of water to Klamath Basin irrigators
, State Representative E. Werner Reschke is calling on the Oregon Water Resources Department to release the water to the local farmers.
While the Bureau of Reclamation has a the right to store water in Upper Klamath Lake, it has no right to use water from the Upper Klamath Lake — that authority falls to OWRD, to manage the use of that water, per holders of water rights and determined claims. Existing statutory provisions (ORS 540.210) clearly direct OWRD to undertake necessary action when water users are unable to reach agreement pertaining to the ultimate distribution of water. The language found in subsection (2) of this statutory is straightforward:
"(2) The water master shall then take exclusive charge of the ditch or reservoir, for the purpose of dividing or distributing the water therefrom in accordance with the respective and relative rights of the various users of water from the ditch or reservoir, and shall continue the work until the necessity therefor shall cause to exist."
Tensions are beginning to rival those of about 20 years ago when Klamath Basin farmers clashed with tribes and law enforcement.
--Staff Reports
| | |
| --- | --- |
| Post Date: 2021-05-15 11:57:09 | Last Update: 2021-05-15 12:10:23 |
Suspect also burned a power pole
A suspect is facing numerous charges after pushing a woman into traffic, burning a power pole, and fighting with officers.
On Thursday, May 13, 2021 at 2:52p.m., a call came in to police of an area check regarding a suspect seen pushing a woman into the street near Southeast 36th Avenue and Southeast Hawthorne Boulevard.
No officers were immediately available to respond.
22 minutes later, at 3:15p.m., officers were able to clear calls and respond. They were updated that the suspect was throwing trash cans into the street, trying to grab passing cars and busses, and had set a nearby power pole on fire.
Officers located the suspect at Southeast 36th Avenue and Southeast Hawthorne Boulevard and attempted to take him into custody. He fought the officers, biting two of them and trying to break an officer's finger.
They called for additional officers and they were finally able to arrest him.
The investigation revealed that the suspect pushed a 67-year-old woman off the sidewalk into the street, causing approaching cars to brake to avoid hitting her. Officers later learned that the victim broke her wrist during the fall. Officers also located the power pole that was burned by the suspect. The fire was extinguished by community members.
Kenneth A. Church, 39, of Portland, was booked into the Multnomah County Detention Center on charges of Attempted Assault in the Second Degree, Assault in the Third Degree, Assault in the Fourth Degree, Reckless Endangering, Criminal Mischief in the First Degree, Attempted Assault on a Police Officer (3 counts), Interfering with a Peace Officer, Resist Arrest, Reckless Burning, and Disorderly Conduct in the Second Degree.
--Bruce Armstrong
| | |
| --- | --- |
| Post Date: 2021-05-15 07:11:53 | Last Update: 2021-05-15 00:02:16 |
Read More Articles