Gov. Brown balks at a maskless society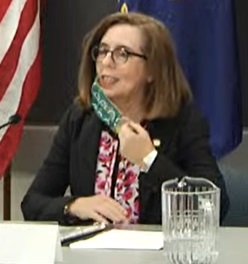 As the surprise
CDC guidance on masks
is embraced and celebrated by some, in Oregon, the mighty hand of government may not be moving on this issue. Governor Kate Brown has
issued a statement
on the CDC action in which she announces the rosy news.
Starting today, Oregon will be following this guidance, which only applies to fully-vaccinated individuals. That means Oregonians who are fully-vaccinated no longer need to wear masks or social distance in most public spaces.
Further in her comments, the Governor makes it clear that masklessness is dependent on vaccine compliance and providing proof of being vaccinated.
In the coming days, the Oregon Health Authority will be providing updated guidance for businesses, employers, and others to allow the option of lifting mask and physical distancing requirements after verifying vaccination status. Some businesses may prefer to simply continue operating under the current guidance for now, rather than worrying about verifying vaccination status, and that's fine.
The Governor makes it clear that she regards masks as a trade for vaccines. That might work for most people. It may not work for those who -- for a medical reason -- cannot be vaccinated. It fails to take into account those who have already had the disease -- can we call them "COVID survivors?" She lays out the options.
Oregonians now have a choice of how to protect themselves and others from COVID-19: either get vaccinated, or continue wearing a mask and following physical distancing requirements. The new CDC guidance makes clear that vaccines are the best tool to protect yourself, and everyone around you. Vaccines are also the fastest way to get back to doing the things we all love, and to returning to a sense of normalcy.
At the very least, Oregonians are owed a more specific description of the options and the consequences. At this stage, Oregonians are probably owed some freedom.
--Staff Reports
| | |
| --- | --- |
| Post Date: 2021-05-18 08:38:56 | Last Update: 2021-05-17 18:29:39 |