On this day, June 4, 1990, Janet Adkins, age 54, of Portland, became the first person to use a suicide machine developed by Dr. Kevorkian. This began a national debate over the right to die.
Also on this day, June 4, 1999 a federal judge in Portland ruled that AT&T must open its cable lines to competitors.
Also on this day, June 4, 2017, a pro-Trump rally and counter-protest in Portland was marked by multiple arrests and clashes.
Suit challenged Governor Brown's executive orders
A Multnomah County Circuit Court judge, Melvin Oden-Orr, has dismissed a
lawsuit
filed by Senator Dennis Linthicum (R-Klamath Falls), Representatives E. Werner Reschke (R-Malin) and Mike Nearman (R-Independence), and a citizen Neil Ruggles, over the validity of the emergency executive orders issues by Governor Kate Brown regarding the COVID-19 outbreak.
The Legislators argued "that certain executive orders issued by Governor Kate Brown pursuant to ORS Chapter 401 violate provisions of the Oregon Constitution and are, therefore, invalid. In addition, that ORS 401.168 and 401.192 violate the Oregon Constitution, as well as the Guarantee [of a Republican Government] Clause of the United States Constitution.
The dismissal marks a setback for the conservative legislators who sought to roll back the Governor's executive orders and end what they saw as arbitrary lockdowns and other measures not based strictly on science.
In his
decision
, Judge Oden-Orr concluded:
Legislator plaintiffs argue they have, "as individuals, a right to be heard in the Legislature on the important questions of public policy raised by the COVID-19 epidemic." They point to the Oregon Constitution, Article I, Sections 21 and 22, and Article IV, Sections 14 and 26. As an initial matter, Plaintiffs provide no basis for the Court to determine Article IV, Section 26 applies in any context outside of actual legislative debate. Thus, the Court finds Article IV, Section 26 does not reflect a legally recognized interest for a legislator to challenge the constitutionality of ORS Chapter 401. None of the other constitutional provisions speak to a legally recognized right of an individual member of the Legislative Assembly. Instead, each refers to the role or function of the Legislative Assembly, House and Senate, as bodies; not those of individual members. Thus, plaintiff legislators have failed to allege and prove a legally recognized interest to support standing to challenge the provisions of ORS Chapter 401 and the Governor's executive orders issued pursuant thereto.
Plaintiffs have indicated that they are unlikely to appeal, based on the makeup of the Oregon Court of Appeals and the Oregon Supreme Court.
--Staff Reports
| | |
| --- | --- |
| Post Date: 2021-02-17 15:46:51 | Last Update: 2021-02-17 16:25:55 |
Knowledge takes a back seat to anti-racism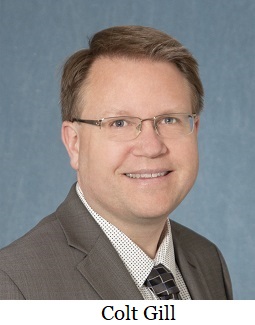 The Oregon Department of Education, under the leadership of Director Colt Gill, is in the news again -- this time nationally -- and not for good reasons. The ODE has released a document, entitled
Pathways to Equitable Math Instruction: Dismantling Racism in Mathematics Instruction
that purports to serve as a "workbook [which] provides teachers an opportunity to examine their actions, beliefs, and values around teaching mathematics." The document has caused a national stir, appearing in
Fox News
, the
Washington Examiner
, the
New York Post
and others.
The document says:
We see white supremacy culture show up in the mathematics classroom even as we carry out our professional responsibilities outlined in the California Standards for the Teaching Profession (CSTP). Using CSTPas a framework, we see white supremacy culture in the mathematics classroom can show up when:
The focus is on getting the "right" answer.
Independent practice is valued over teamwork or collaboration.
"Real-world math" is valued over math in the real world.
Expectations are not met.
Addressing mistakes.
Teachers are teachers and students are learners.
State standards guide learning in the classroom.
Students are required to "show their work."
Grading practices are focused on lack of knowledge.
Despite the claims of the document, one would think that of all the academic disciplines, Mathematics would be one in which racism would be hard to introduce. To the contrary, the document asserts that "The framework for deconstructing racism in mathematics offers essential characteristics of antiracist math educators and critical approaches to dismantling white supremacy in math classrooms by visualizing the toxic characteristics of white supremacy culture."
Oregon has been ranked
47th in graduation rate and 24th in math scores
. One would think that the most anti-racist thing that the Oregon Department of Education could do is to focus on providing the best education possible for students.
Most of Oregon's school children are safe from racist Mathematics education for the time being. Unlike much of the nation, Oregon's schools remain closed to in-person instruction.
--Staff Reports
| | |
| --- | --- |
| Post Date: 2021-02-17 14:23:19 | Last Update: 2021-02-17 15:46:51 |
No school? No sports? Lets have a protest.
If you can't play sports, you've had it with virtual learning and achieved level 25 on whatever the latest video game is, what else is there for a bored kid to do? In many communities, they are taking to the streets. Many cities are featuring gathering of local kids with home-made signs, demanding to return to sports and/or school in general.
Though most wear masks in the outdoor air, there's not much of a sense of fear of a "pandemic." Social distancing -- honored more in breach than observance -- seems to be more a function of the length of the sidewalk than precaution against a virus. Youth in such far-flung locations as Independence and Newport have been seen gathering in high-profile locations to let their views be known.
Democrats like Ricki Ruiz (D-Gresham) and Courtney Neron (D-Wilsonville) who are proposing allowing 17-year-olds to vote -- presumably under the assumption that they will vote Democrat -- may find that these kids remember who locked down their world, who kept it locked down, what party they are a member of, and cast their votes accordingly.
Editor's note: If you have photos of a local protest, send them to us at editor@northwestobserver.com
--Staff Reports
| | |
| --- | --- |
| Post Date: 2021-02-17 13:35:26 | Last Update: 2021-02-17 14:23:19 |
The fidelity of the system starts with registration
We all like things to be easy, and in doing so, sometimes we complicate them. Lets not make that same mistake with our voter registration system.
HJR 11
is a proposal for same-day voter registration, sponsored by Senator Michael Dembrow (D-Portland) and Representative Dan Rayfield (D-Corvallis).
First off, what is the point of having voter registration? What is the purpose? Why don't we just let everyone who wants to vote just show up and vote? We have to know how many ballots to prepare.
It makes sense to know who voters are so we know if they qualify. We don't want people showing up from all over the country to vote or allow children to vote. We don't want dead people voting. And in the case of mail in voting, we should have time to mail their ballots to them. We should know the universe of voters. Candidates want to know their constituents. Citizens what to know their rights are being upheld.
Of course we have Automatic Voter Registration now. That takes care of the vast majority of voters. Why do we need same day voter registration? It would seem that as Motor Voter and other programs register an increasing number of voters, the value of same day voter registration diminishes, as the risk of fraud increases.
Did you know that when Mexico had its voter rights revolution they set up 6 month deadline on voter registration? If they don't get their ID verified and registration done 6 months in advance they just can't vote in the election. Election officials also come to your house to register you. Their voter ID is the most positive and reliable.
Oregon by contrast, does not require identification. That's right,
ORS 247.012
reads "...except as provided by ORS 247.124, if a registration card is legible, accurate and contains, at a minimum, the registrant's name, registrant's address, date of birth and signatures, the county clerk shall register the person."
A D V E R T I S E M E N T

A D V E R T I S E M E N T
Oregon allows anyone to register without a residence. You only have to think of Oregon as your home to qualify. Oregon Legislators passed a law ORS 247.035-038: (a) The person's residence shall be the place in which habitation is fixed and to which, when the person is absent, the person intends to return. (a) The residence address of a person who is homeless or resides in a shelter, park, motor home, marina or other identifiable location may be any place within the county describing the physical location of the person. An unintended effect is that it allows someone living in another state, say they have the same political views as the majority of the people in that state, who wants to affect our states elections, to simply say that they "think of Oregon as their home and they intend to return some day." As long as they don't vote in another state, it is legal. Who is to dispute their intention. We ask for some ID to be HAVA compliant, but it is not necessary. You can skip it by using the National Postcard Application.
For example, I was in the elections office and a gentleman came in saying he needed to register to vote. He stated he lived in New York. Was here just for the day and leaving to go out of the country the next day and did not know when he would return. He stated also that he had already signed up for Oregon Health Plan and tried to register to vote online but it wouldn't accept his outdated drivers license. The clerk told him it was best to use the
National Postcard Application
because
it didn't require identification
. The man agreed. Filled out the form. When he submitted it, he asked for a certified copy of his voter registration so he could take it with him to help him get his Oregon Driver's license. The clerk complied with his request.
--Janice Dysinger
| | |
| --- | --- |
| Post Date: 2021-02-17 12:58:07 | Last Update: 2021-02-17 18:44:11 |
Senate GOP lays out plan for working families and businesses
While Oregon Democrats are trying to sneak through a backdoor tax increase on businesses struggling to keep workers employed, Senate Republicans have outlined legislation that would provide much-needed relief. The slew of bills includes provisions like slashing taxes on necessities like feminine hygiene products, prescription drugs, diapers, and baby formula.
"If the pandemic lockdowns have taught us anything, it is that when our local businesses suffer, our communities suffer," Senate Republican Leader, Fred Girod (R-Lyons) said. "When people can't provide for their families, emergencies like the pandemic are made worse."
"While Democrats are attempting to repeal COVID relief measures that passed in an overwhelmingly bipartisan fashion in Congress, Senate Republicans are focused on the needs of struggling Oregon families," Deputy Leader Chuck Thomsen (R-Hood River) added.
The package would implement common-sense economic recovery measures that would help Oregonians get back to work, keep more money in their pocket, and support our struggling businesses.
"If there was ever a contrast between two approaches to recovery, this is it," Senator Lynn Findley (R-Vale) said. "One wants to put more money back in the pockets of Oregonians who need it the most, and the other wants more money in the state coffers to spend as they please."
The tax relief and recovery package will be the first of many packages Senate Republicans will be introducing to address Oregonians pressing needs.
"While Oregonian's state government is dominated by one party, we are providing them with a viable alternative," Senator Kim Thatcher (R-Keizer) said. "The only solution being offered by Democrats is more taxes, their same tired solution to every problem for decades."
The package includes important measures that would help families struggling with student loans, set up an assistance fund for struggling small businesses, and create incentives for businesses that pay above-average wages.
"The 2021 legislative session is all about recovery," Senator Tim Knopp (R-Bend) added. "From public safety, getting kids back to the classroom and families back to work, to wildfire and economic recovery, Senate Republicans are focused on the most important issues facing Oregonians."
The bills included in the package are:
SB 521
(Girod, Findley, Knopp) exempts basic necessities like prescription drugs, feminine hygiene products, diapers, and baby formula from the corporate activites tax.
SB 506
(Thatcher) would make it easier for those without a high school diploma to get into good-paying jobs by allowing job experience to count toward professional or occupational licenses.
SB 531
(Girod, Findley, Thatcher) would establish an assistance fund for employers for lost income that resulted because of lockdown orders.
SB 760
(Findley) would save small businesses from spiraling unemployment insurance increases.
SB 462
(Girod) would give those with student loans a credit on their taxes for student loan interest payments.
SB 449
(Knopp) would help employers bounce back and start hiring again by creating a tax credit for employers who expand the workforce with high-wage jobs.
SB 530
and
SB 15
(Girod, Findley) would reform the death tax so families who lose a loved one from COVID aren't surprised on top of their grieving by getting met with an unexpected tax bill from the state.
SB 545
(Girod, Findley, Knopp, Thatcher) grants special property tax exemptions for disabled veterans.
SJR 21
(Girod, Findley) proposes an amendment to the Oregon Constitution to prohibit the Legislature from raising unnecessary taxes.
SJR 11
(Knopp) enacts a property tax relief program for seniors.
SB 443
(Knopp) would tax working families at a predictable, flat rate.
SB 447
(Knopp) requires bureaucratic fee increases to be approved by Legislature.
SJR 14
(Girod) would limit the growth of state government and new taxes by limiting budgetary increases.
SB 87
(Findley) would create a tax credit for housing providers who lost income because of non-payment of rent.
SB 738
(Knopp) would forgive fines on businesses if they reopened to support themselves and employees in violation of the Governor's executive orders but did not lead to a disease outbreak.
Yesterday, Senator Dick Anderson (R-Lincoln City) announced he is drafting the '
Stimulus Check Protection Act
' that would keep more money in working Oregonian's pockets by shielding federal stimulus checks from state income taxes.
--Staff Reports
| | |
| --- | --- |
| Post Date: 2021-02-17 12:44:50 | Last Update: 2021-02-17 12:58:07 |
This entire "remote session" depends on electronic means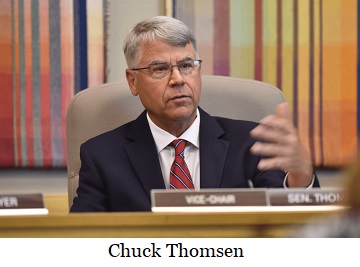 Recent ice and snow storms have left over 150,000 Oregonians without power and countless more without internet access.
Senator Chuck Thomsen (R-Hood River), Deputy Senate Republican Leader, released the following statement demanding legislative leaders delay legislative proceedings until Oregonians can participate:
"This entire "remote session" depends on the public's ability to access their state capitol through electronic means. With over 150,000 still without power and even more without internet, the public's involvement in their government is actively being denied. I am joining House Republican Leader Drazan's call that we temporarily pause all legislative business until Oregonians have access to their state capitol again. The people's business requires the people."
The Oregon State Senate has canceled nearly all committee hearings for Wednesday, February 17th, but the House of Representatives remains committed to ignoring the plight of Oregonians that want to participate in the legislative process by still holding hearings.
"Most of the communities affected by these recent storms are in the Portland area. I don't understand why House leadership would abandon their constituents and ignore their voices in the democratic process. That is not right. We can do better."
--Staff Reports
| | |
| --- | --- |
| Post Date: 2021-02-17 12:37:50 | Last Update: 2021-02-17 12:44:50 |
Portland Police respond to prevent violence
On February 16, 2021, at about 4:00p.m., a call came in to the Portland Police Bureau (PPB) regarding a grocery store in the 3000 block of Northeast Weidler Street in Portland, Oregon regarding a group of people arguing with employees and refusing to leave the property. The power was out and employees were discarding spoiled food. People in the crowd took exception to their work.
Initially, no officers were available to respond.
At about 4:17 p.m., an employee called back because they felt the situation was escalating and feared there may be a physical confrontation. The crowd grew to about 20 people and the employee calling wanted police to remove the people from store property. At about 4:30p.m., North Precinct officers arrived and gathered information from the store representative.
The position of the employees of the store was that the food was spoiled and required to be disposed of due to lack of refrigeration. The food was unfit for consumption or donation. Officers also tried to explain this to the group of people. No subject in the crowd was willing to have an open dialogue with the officers and continued to shout insults at them and store employees.
A D V E R T I S E M E N T

A D V E R T I S E M E N T
As it was private property, the officers asked the group to leave store property or risk potential arrest for trespassing. People in the crowd slowly moved away. Officers' interest in this call was to preserve peace, prevent violence, and restore order. Officers estimated the crowd grew to about 50 people.
Between about 5:05p.m. and 5:15p.m., there were the most officers on scene. One lieutenant, one sergeant, six officers, and three trainees (who were there with their training officers). Most were there for about 10 minutes. Three officers (plus one trainee) were there for the duration of the call, which lasted about an hour.
Officers left the scene once they believed parties were separated and there was no longer any threat of harm. After officers left, employees called to report people in the crowd moved back onto store property and were confronting employees again. Store employees reported that people in the crowd were making threatening statements to them. Police supervisors decided that unless there was an imminent threat to life or threat of serious injury, police would remain away. Police did not return to the scene. There were no arrests or citations issued, and no force was used.
--Bruce Armstrong
| | |
| --- | --- |
| Post Date: 2021-02-17 12:10:44 | Last Update: 2021-02-17 12:31:43 |
Who is the election system intended to serve?
Recently, US Senator Ron Wyden (D-OR) and US Representative Earl Blumenauer (D-OR) sponsored legislation for national mail in voting. Oregon was the first to have that system and is held up by the Democrats as the model system. Most County Clerks are proud of Oregon elections believing controls in place are working reasonably well. One has to wonder then why Democrats in this legislative session have introduced so many bills to change our voting laws.
Election integrity skeptics are concerned about attempts to reduce methods of verification that the voter is legal, is registered at only one address, has a valid signature on file, is living, is a citizen, completed their ballot themselves, is of a legal age to vote and that the voter desires to participate in the elections system.
HB 2499
, co-sponsored by Representatives Julie Fahley (D-Eugene) and Jack Zika (R-Redmond), would allow a third party to electronically submit a voter's signature. The potential for fraud outweighs any claims of convenience.
Three bills
HB 2681
,
HB 2685
and
HB 2499
would transfer some County Clerk responsibilities to the Secretary of State. That would reduce local control and make it possible to concentrate power in one office, SOS, to commit fraud affecting the entire state. That is more than hypothetical as we witnessed in battleground states in the last national election.
HB 2679
would let 17-year old's vote in a primary if they would reach 18 years of age by general election. Attempts to lower voting age to 16-years are subtle and suspect.
HB 2684
attempts to handicap the initiative petition process by not letting the petitioner make the argument.
HB 2921
would have the public treasury subsidize campaign donations 6 to 1, a clear abuse of public funds.
Several bills,
HB 2658
,
HB 2685
and
HB 2686
would have ranked choice replace the current practice of parties choosing their contender in the primary election for a runoff in the general election. That would disenfranchise the entire party system.
Bills to extend elections beyond the second Tuesday of November in the form of
HB 2687
and
HB 2226
would recognize the postmark date in lieu of election date. Delaying results creates opportunities for fraud.
Concerns with voter race and ethnicity seek to create separate classes of voters versus treating all voters the same as the law says they must. They are
HB 2745
,
HB 2991
.
HB 2227
would ban photos of candidates in voter's pamphlets. The subtle message is that minorities are targets of discrimination when identified by their picture. Election results don't bear out the claims that votes for minorities are suppressed without government protections.
HB 2287
would treat farmers different than other voters in annexation matters.
Attempts to control the campaign funding process beyond the extensive laws on the books are manifest in
HB 2238
,
HB 2680
,
HB 2923
and
HB 3076
. The reasoning for some of these isn't clear and at times are at cross purposes. All of the above describe changes proposed by Democrats. They would increase Democrats power but not benefit voters.
Republicans have proposed three bills on elections.
HB 3097
would allow for bigger field signs in the two months leading up to an election.
HB 2651
would place more responsibility on the voter in registering while giving the voter more time to act on those responsibilities.
HB 2022
would have the District Attorney rather than the County Clerk interpret the Constitutional wording of petitions. The Multnomah County D.A. released 666 0f 742 arrested for riots in Portland. The Clerk can always seek legal advice beyond the D.A.'s office if necessary. The Clerk may be the better arbiter of ballot wording.
What would elections look like if we errored on the side of assuring integrity? Some perennial suggestions follow, that won't be found in the above legislation.
Reinstate paper ballots
Reinstate voting and vote counting as public acts
Reinstate the precinct as the place where voters cast their ballots and where the ballots are counted
Allow candidates to choose areas to audit the vote
Mandate that the election process be recorded with video and audio equipment
Publicly and immediately post precinct vote results
Mandate the cleaning up of all voter registration lists
Eliminate same-day voter registration
Put in place law to protect evidence
Punish fraud and end early voting
Require an absolute chain of custody for ballots
Repeal laws that allow for unattended drop boxes for ballots and laws allowing for no-excuse absentee balloting
Ballots should have verifying features
Make it easier to recruit election clerks
Don't allow government employees or political hacks to run the polls
Require paper voter sign-in sheets
Why don't we ever see any of these suggested in super majority Oregon? Could it be they would threaten the party in power? Who is the election system intended to serve?
--Tom Hammer
| | |
| --- | --- |
| Post Date: 2021-02-16 21:34:52 | Last Update: 2021-02-16 21:46:30 |
"Removing the dams will cause untold ecological damage"
Representative E. Werner Reschke (R-Malin) has stated his opposition to dam removal and transfer being considered by Federal Energy Regulatory Commission (FERC). The first docket (P-14803-001) allows the transfer of four hydropower dams along the Klamath River from PacifiCorp to a newly formed company, Klamath River Renewal Corporation (KRRC). The second docket (P-2082-063) grants authority to KRRC to remove the four hydropower dams.
"Removing the Klamath River dams will cause an untold ecological damage to the river's fish and other aquatic species for the foreseeable future due to decades of toxic silt built up behind each dam. PacifiCorp understands this risk. That is why they are pursuing this transfer of hydropower dam ownership to KRRC, so they can avoid the landslide of impending lawsuits caused by the ecological disaster of dam removal from the flushing of these toxins down river," said Rep. Reschke.
Rep. Reschke has opposed dam removal from beginning concept, as local elections in Siskiyou County, California (2014) and in Klamath County, Oregon (2016) show that 75% of the people directly effected by dam removal oppose this action. Rep. Reschke's complete letter with more critical reasons for opposing dam removal can be read online at his
legislative website
.
--Staff Reports
| | |
| --- | --- |
| Post Date: 2021-02-16 21:01:01 | |
"Struggling working families need our help, not the government"
Senator Dick Anderson (R-Lincoln City) has announced that he is drafting legislation that would prohibit the state of Oregon from taxing federal economic impact payments.
"The sole purpose of federal stimulus checks was to give people help when they needed it the most," Senator Anderson said. "There is no justification for the state to be taking some off the top. Helping people get back on their feet means helping them keep more money in their pockets."
An estimated 870,000 Oregonians will be sending part of their federal stimulus checks to the state government because of a reduced federal tax subtraction on state returns. Because federal subtractions are phased out at higher income levels and not applicable for low-income earners with no federal tax liability, middle-class families are hit hardest by the loophole.
"Struggling working families need our help, not for the government to be taking more money from them during these challenging times," Sen. Anderson continued. "It's an issue of fairness. Should the state be taking money that was intended to help people? I don't think so, and most my constituents from the coast don't think so either."
An average family of four would see nearly $300 of their federal stimulus money go to the state in personal income taxes, bringing over $110 million over the next few years in state revenue, according to a
Legislative Revenue report
.
"$300 can make a big difference for families who are struggling to afford groceries, childcare, or making rent," Senator Dick Anderson said. "While we will be dealing with the impacts of the economic devastation the pandemic has brought for years, this is a good first step. I look forward to finding more ways to help our small businesses and working families recover."
Per state law, the earliest bills that affect state finances can go into effect is 91 days after the end of the legislative session. Thus, filers may opt to amend this year's tax filing or apply for a tax credit on next year's taxes. Other provisions included in the legislation would also exempt any future stimulus checks from state taxes. The bill is currently being drafted with Legislative Counsel and a bill number will follow.
--Staff Reports
| | |
| --- | --- |
| Post Date: 2021-02-16 20:23:20 | |
Democrats offer thin-skinned retort
Oregon House Republican Leader Christine Drazan (R-Canby) released the following statement in regard to preserving public access to the legislature amid historic power and heat outages across northern Oregon:
"A virtual session requires access to power and internet for Oregonians to meaningfully participate in the legislative process. Legislative leaders committed to an open and transparent session. We must honor that commitment and not leave Oregonians behind in a rush to return to business as usual.
"Today I am calling on the Speaker to put the welfare and on-going recovery of Oregonians first and pause all legislative activity. We have over 200,000 families who have suffered extensive storm damage and are without power and heat, many since last Friday, with no clear end in sight.
"We need to keep our focus on serving constituents and the most vulnerable while we await power to be restored. "Our work in the legislature should come back online once the power does."
At the time of this release Portland General Electric is reporting 216,000 customers without power and an
uncertain restoration time period
.
Drazan's statement was met with a -- as one Republican Representative characterized -- "a defensive and thin-skinned tweet" produced by House Majority Leader Barbara Smith Warner (D-Portland) at a time when more than one State Legislator is without power and internet while being expected to participate in the session remotely. That same Representative, who declined to be named, chided the party in power. "First, they lock out the public, then they move forward when some legislators are not able to attend. If the only way for the people and legislators to participate is electronically and some have no electricity, they can't participate."
--Staff Reports
| | |
| --- | --- |
| Post Date: 2021-02-16 19:57:11 | Last Update: 2021-02-16 20:23:20 |
Oregon Education Department promotes training that degrades scholastic achievement
An Oregon State Senator claims that the Oregon Education Department is now promoting indoctrination sessions for teachers and administrators. In an
email newsletter
, the Department recommended that education professionals take the "Pathway to Math Equity Micro-Course" which promotes the idea that correct and incorrect answers in math are "characteristics of white supremacy."
Senator Dennis Linthicum (R-Klamath Falls) released the following statement to demand answers from the Education Department: "Thousands of Oregon families are suffering from school shutdowns imposed by the Governor. Parents and students have rightfully demanded that schools be reopened, but with propaganda like this being taught to our teachers, parents should feel betrayed. If parents truly want their kids to learn basic skills to be successful in life, I doubt they will consider putting their kids back into the Oregon public school system."
The
training suggests
that white supremacy shows up in the culture when mathematics is "used to uphold capitalist, imperialist, and racist views," and also teaches that an oppressive hierarchy is upheld, when "teachers are teachers and students are learners," and "students are required to show their work."
"This curriculum is divisive and destroys the very goal of our education system, which is to teach kids objective truths about our world. The ideas in this curriculum degrade the very people it purports to help. This is nothing but the 'soft bigotry of low expectations' for our students. All children are capable of learning math, or other subjects, without our state creating a curriculum that says, "there is no wrong answer." Of course, there are wrong answers.
"By its own admission, this curriculum is a full-frontal assault on truth and the fact that 2+2=4. I can't think of a better example of the post-truth progressive ideology than this. Correct math answers are not correct because of the color of one's hair, eyes, or skin-tone, nor because a child comes from a single-parent home or has a disability. The correct calculation for the square root of 10 is an objective fact and all of us have the potential to follow the logic and come to a correct calculation. In life, as well as in mathematics, there are correct and incorrect answers.
"America's great experiment in public schooling used to be about enabling children to develop their fullest potential by cultivating their minds, instilling values, and defending foundational principles. Now it is turning into a shameful scam. Our once great institutions are no longer serving parents and their children but are being hollowed out by radical ideologies and power-hungry public sector unions.
A D V E R T I S E M E N T

A D V E R T I S E M E N T
"When parents can't trust schools to do their only job – educate – we, as policymakers, have an obligation to give people alternatives. I have introduced several measures this session that will increase the options for parents desperate to escape the indoctrination centers that our public schools have become."
Senator Linthicum's school reform measures include:
SB 657
increases the percentage of kids who can enroll in virtual charter schools from 3% to 5%.
SB 658
would establish an education savings account program to give low-income families the ability to choose a private school without tax penalties.
SB 659
allows any child in the state to attend any school in the state without the approval of the school board.
--Staff Reports
| | |
| --- | --- |
| Post Date: 2021-02-16 17:41:11 | Last Update: 2021-02-16 19:34:52 |
Read More Articles