This entire "remote session" depends on electronic means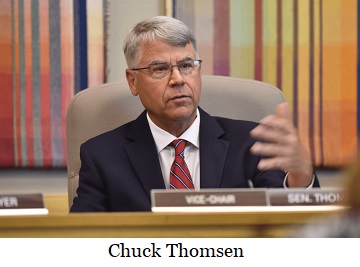 Recent ice and snow storms have left over 150,000 Oregonians without power and countless more without internet access.
Senator Chuck Thomsen (R-Hood River), Deputy Senate Republican Leader, released the following statement demanding legislative leaders delay legislative proceedings until Oregonians can participate:
"This entire "remote session" depends on the public's ability to access their state capitol through electronic means. With over 150,000 still without power and even more without internet, the public's involvement in their government is actively being denied. I am joining House Republican Leader Drazan's call that we temporarily pause all legislative business until Oregonians have access to their state capitol again. The people's business requires the people."
The Oregon State Senate has canceled nearly all committee hearings for Wednesday, February 17th, but the House of Representatives remains committed to ignoring the plight of Oregonians that want to participate in the legislative process by still holding hearings.
"Most of the communities affected by these recent storms are in the Portland area. I don't understand why House leadership would abandon their constituents and ignore their voices in the democratic process. That is not right. We can do better."
--Staff Reports
| | |
| --- | --- |
| Post Date: 2021-02-17 12:37:50 | Last Update: 2021-02-17 12:44:50 |