Separation of Powers is the Basis for Three Legislators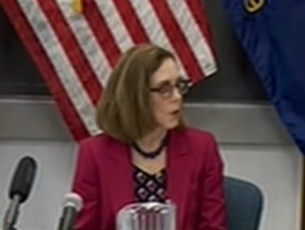 This afternoon Senator Dennis Linthicum (R-Klamath Falls), Representatives Mike Nearman (R-Independence) and E. Werner Reschke (R-Klamath Falls), and Neil Ruggles
sued the Governor and State of Oregon
in the Circuit Court for the County of Multnomah, challenging the Governor's power to maintain a continuing state of emergency under
ORS Chapter 401
. The lawsuit claims that the Legislature's attempt to delegate "all police powers vested in the state by the Oregon constitution" is in fact prohibited by several sections of the Oregon Constitution which provide for a separation of legislative, executive and judicial powers.
"This lawsuit raises constitutional claims not previously considered by the Supreme Court of Oregon in its Elkhorn Baptist Church case, which upheld the Governor's exercise of emergency powers when challenged on statutory grounds," explained James Buchal, counsel for plaintiffs. "We hope that the Oregon Supreme Court will follow the Supreme Court of Michigan and other state and federal courts which have recognized that the exercise of very broad statutory emergency powers for months on end infringes the rights of both citizens and legislators to have important general policy rules established by the legislative brand of government."
The complaint cites Article III, Section 1 of the Oregon Constitution:
"The powers of the Government shall be divided into three separate (sic) departments, the Legislative, the Executive, including the administrative, and the Judicial; and no person charged with official duties under one of these departments, shall exercise any of the functions of another, except as in this Constitution expressly provided."
The lawsuit points out that the measures available to the legislature "places a significant burden on the Legislature to regain its own Legislative powers once the Governor declares an emergency. For example, recently in Pennsylvania, the power supposedly granted to the legislature to end the emergency by a simple majority vote of both houses in a joint resolution failed because the governor vetoed the bill."
The complaint notes that "All rules and orders...shall have the full force and effect of law both during and after the declaration of a state of emergency. All existing laws, ordinances, rules and orders inconsistent with ORS 401.165 to 401.236 shall be inoperative during the period of time and to the extent such inconsistencies exist." The complaint describes the Governor as a "super-legislature who might strike down 'all existing law' at will after such a declaration of emergency, making the effect of all outstanding laws dependent upon the whim of the Governor."
Ending on a grand note, the complaint notes that "allowing the Governor to exercise all police power of the state for an extended period of time beyond the statutory limits of ORS Chapter 433 and the Constitutional limits of Article X-A violates the federal rights of Oregonians to a Republican form of government under Article IV, § 4 of the U.S. Constitution."
One of the plaintiffs, Neil Ruggles, has a
Go Fund Me
page to help cover the costs of the suit.
--Staff Reports
| | |
| --- | --- |
| Post Date: 2020-10-16 16:57:50 | Last Update: 2020-10-18 13:15:27 |