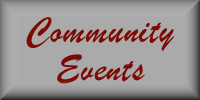 Post an Event

We Are Stronger Together
Monday, March 27, 2023 at 10:00 am
Oregon's Natural Resources & Industries (ONRI) is sponsoring the rally to meet legislators and influencers to bring light on legislation affecting natural resource industries, their families, and their communities. https://onri.us/events
Rally at the State Capitol, Salem.

Oregon Republican Party Freedom Banquet
Tuesday, March 28, 2023 at 6:00 pm
Hosted by ORP Chairman Justin Hwang
Keynote Speaker NRA First VP Willes K. Lee
Special Musical Guest, Nashville's Stokes Nielson
Tickets: Dinner $75 - VIP Tickets $100
Call 503-931-1756 for table sponsorship info.
Ticket Sales end on March 23, 2023
Click for tickets
Embassy Suites Portland Airport

Ways and Means Hearing
Saturday, April 8, 2023 at 10:00 am
Public hearings on the budget. Members of the public will have the opportunity to testify at each of the hearings regarding their perspectives and priorities around the state budget. To testify, members of the public will be able to access sign up links on the Ways and Means Committee's webpage on OLIS.oregonlegislature.gov
Portland Community College - PAC Auditorium, Sylvania Campus 12000 SW 49th Ave, Portland, OR 97219

Ways and Means Hearing
Friday, April 14, 2023 at 5:00 pm
Public hearings on the budget. Members of the public will have the opportunity to testify at each of the hearings regarding their perspectives and priorities around the state budget. To testify, members of the public will be able to access sign up links on the Ways and Means Committee's webpage on OLIS.oregonlegislature.gov
Newport Performing Arts Center 777 W Olive St, Newport, OR 97365

Active Shooter Response Training
Friday, April 14, 2023 at 6:00 pm
TNT Martial Arts--- Friday April 14, 2023 from 6pm-9pm. $10
SIGN UP HERE
Pre-Registration is mandatory, class slots are LIMITED, and in the interest of safety and security, you'll be expected to provide your identification that matches the registration name, upon entering the training facility.
TNT Martial Arts 1982 NE 25th Ave. Suite 15. Hillsboro, Oregon 97124

NW Food Show
Sunday, April 16, 2023 at 10:00 am
Showcase your foodservice industry solutions to buyers and influencers across the Northwestern U.S. and beyond. Exhibiting at the Northwest Foodservice Show is a cost effective way to meet with hundreds of industry decision makers face-to-face and grow your business. Space is limited, so book now!

SELL FACE-TO-FACE

• Generate high-quality leads by sampling and/or demonstrating your products in person

• Answer questions and give tailored pitches to a diverse group of attendees over two days

• Create new connections with buyers and build on existing relationships across the Northwest

WHO ATTENDS?

• 75% of attendees are key decision makers and have purchasing authority

• 47% of attendees have an alcohol license

• Nearly half of attendees are experiencing the Show for the first time

INDUSTRY SEGMENTS IN ATTENDANCE

• 36% Restaurant / Café

• 10% Bar / Tavern

• 10% Catering

• 10% Broker

• 7% Institutions: Universities, Schools, Hospitals, Corrections

• 5% Food Carts / Mobile

• 22% Other Foodservice

The Oregon Restaurant & Lodging Association (ORLA) is the leading business association for the foodservice and lodging industry in Oregon. A not-for-profit trade organization, ORLA represents over 3,000 member units and advocates for over 10,000 foodservice locations and over 2,400 lodging establishments in Oregon.

Contact
Marla McColly - mmcolly@oregonrla.org to register for a booth today!
Portland Expo Center - Hall D - 2060 N Marine Dr, Portland, OR • April 16 –17, 2023 • Sunday, April 16: 10:00 a.m. – 5:00 p.m. Monday, April 17: 10:00 a.m. – 4:00 p.m.

Ways and Means Hearing
Friday, April 21, 2023 at 5:00 pm
Public hearings on the budget. Members of the public will have the opportunity to testify at each of the hearings regarding their perspectives and priorities around the state budget. To testify, members of the public will be able to access sign up links on the Ways and Means Committee's webpage on OLIS.oregonlegislature.gov
Umpqua Community College 1140 Umpqua College Rd, Roseburg, OR 9747

Ways and Means Hearing
Friday, April 28, 2023 at 5:00 pm
Public hearings on the budget. Members of the public will have the opportunity to testify at each of the hearings regarding their perspectives and priorities around the state budget. To testify, members of the public will be able to access sign up links on the Ways and Means Committee's webpage on OLIS.oregonlegislature.gov
Four Rivers Cultural Center 676 SW 5th Ave, Ontario, OR 97914 Note: Ontario, Oregon is in the Mountain Time Zone

Lincoln County Fair
Friday, June 30, 2023 at 5:00 pm
June 30-July 2 Lincoln County Fair
Lincoln County Commons 633 NE 3rd St, Newport, OR

St Paul Rodeo
Friday, June 30, 2023 at 7:00 pm
Small town fun, big time rodeo! JUNE 30 - JULY 4, 2023

St Paul Rodeo website
4174 Malo Avenue NE, Saint Paul, OR, United States, Oregon

Marion County Fair
Thursday, July 6, 2023 at 5:00 pm
The Marion County Fair
July 6-9
Oregon State Fair and Exposition Center 2330 17th ST NE Salem, OR 97301

Washington County Fair
Friday, July 21, 2023 at 5:00 pm
Washington County Fair

FREE ADMISSION

Washington County Fair
JULY 21 - 30
Westside Commons 801 NE 34th Ave, Hillsboro, OR 97124

Coos County Fair
Tuesday, July 25, 2023 at 5:00 pm
The Coos County Fair
July 25-29
Coos County Fairgrounds 770 4th St, Myrtle Point, OR 97458

Clatsop County Fair
Tuesday, August 1, 2023 at 5:00 pm
The Clatsop County Fair
August 1st-5th
Clatsop County Fair and Expo Center 92937 Walluski Loop, Astoria, OR 97103

Oregon Jamboree Music Festival
Friday, August 4, 2023 at 5:00 pm
The Oregon Jamboree is the Northwest's premier country music festival. Nestled in the foothills of the scenic Cascade Mountains, the Oregon Jamboree is held on 20+ acre park-like setting that includes the historic Weddle Covered Bridge. The Jamboree offers a full festival atmosphere in the main venue and a more intimate concert experience on the second stage. In addition to featured headline entertainment, this event hosts RV and tent camping, merchandise vendors, food booths, beer & wine gardens, and a variety of other attractions.


Sweet Home, Oregon

Douglas County Fair
Wednesday, August 9, 2023 at 8:00 am
Douglas County Fair AUGUST 9 - 12
Douglas County Fairgrounds Complex 2110 SW Frear Street Roseburg, OR 97471

Crook County Fair
Wednesday, August 9, 2023 at 1:00 pm
Crook County Fair
AUGUST 9 - 12
Crook County Fairgrounds Prineville, Oregon

Oregon State Fair
Friday, August 25, 2023 at 1:00 pm
Oregon State Fair
Oregon State Fair & Exposition Center 2330 17th St NE, Salem, OR 97301

Pendleton Round-Up
Saturday, September 9, 2023 at 5:00 pm
The world famous Pendleton Round-Up
Pendleton Round-Up Grounds 1205 SW Court Ave, Pendleton, OR 97801
View All Calendar Events
Rent and mortage relief will be looked at it
With Governor Kate Brown's mandated shutdowns of businesses extended now til at least the end of the year 2020, many Oregonians are reportedly beginning to question whether the state will ever cede it's newfound powers that have materialized from the Coronavirus epidemic.
It seems that opportunists among those in power in Oregon are now wanting to see how much farther that power can be taken. Two legislative concepts have been introduced which will be considered in the third special session of 2020.
These concepts will become bills if passed by the Oregon legislature and will supposedly be passed in order to help stabilize the renting and housing market in Oregon which has been devastated by Kate Brown's moratorium on evictions and foreclosures.
Both of these bills,
LC0017
and
LC0018
will likely be passed by the legislature with the attachment of the Emergency Clause, making them go into effect immediately.
--Ben Fisher
| | |
| --- | --- |
| Post Date: 2020-12-09 16:39:03 | Last Update: 2020-12-07 17:31:50 |
In co-operation with county emergency management agencies
An Oregon Special Session Legislative Concept(LC) has been proposed which would direct the Oregon Business Development Department to establish program to create the Oregon Critical Disaster Preparedness Stockpile to ensure robust stock of emergency supplies and equipment.
LC0003
would direct the Oregon Homeland Security Council, in consultation with Oregon Health Authority and relevant state agencies, to develop a list of essential equipment, materials, supplies,distribution channels and manufacturing capabilities for stockpile, including personal protective equipment, communicable disease testing equipment and all-hazards emergency surge supplies.
The program would be administered by the department in co-operation with county emergency management agencies and the Office of Emergency Management.
The often used emergency would be declared in the state legislature, making this law effective immediately upon it's passage.
--Ben Fisher
| | |
| --- | --- |
| Post Date: 2020-12-09 10:49:49 | Last Update: 2020-12-07 12:18:40 |
Restaurant industry needs help amid Oregon lock-down
In what will be Oregon's third special legislative session of 2020, a first ever "Catastrophic Special Session" may soon be called for by Oregon's governor in order to address some of the complications which have arose during the prolonged state lock-down mandates of 2020.
A number of Legislative Concepts(LCs) have been released by the Oregon House Legislative Director, including
LC 10
which will allow holders of full on-premises sales license to sell and deliver mixed drinks in sealed containers for off-premises consumption. The so adopted rule will require one substantial food item ordered for every two mixed drinks. In other words, up to two alcoholic beverages may be allowed to be sold alongside one "substantial" food item for delivery.
This seems like common sense legislation to many observers, and some would say it is long overdue considering the difficult year that 2020 has been for food and service businesses as well as consumers in Oregon. With dine-in services mandated closed by one-size fits all government policies, the businesses who do manage to stay open and operate are innovating in any way they can to exist under such totalitarian policies of the state. If the legislature decides to allow these cocktail deliveries it made give some freedom to these industries that certainly need it right now.
The Emergency Clause would be used in this legislation in order to have it go into effect immediately.
This proposed law would sunset 60 days after date on which the declaration of the state of emergency as issued by the Governor is no longer in effect.
Oregon's Governor Kate Brown has yet to officially declare the Catastrophic Special Session, but the likelihood of that happening is great, according to insiders.
--Ben Fisher
| | |
| --- | --- |
| Post Date: 2020-12-09 08:23:11 | Last Update: 2020-12-07 12:48:46 |
This is a rework of HB 3063 from the 2019 session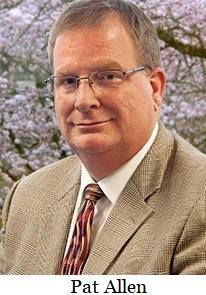 Oregon lawmakers are again proposing a mandatory vaccine bill for children. Why now? The regular session is scheduled to begin January 19, 2021 and a
previous iteration
failed in 2019. The bill draft known as
Legislative Concept 1701
for mandatory vaccines in order to attend school is available to read here. A few clues are in the verbiage of the bill as you read on. The summary follows:
Removes ability of parent to decline required immunizations against restrictable diseases on behalf of child for reason other than child's indicated medical diagnosis. Allows child who is not immunized or exempt for reason of indicated medical diagnosis to attend school that provides education pro- gram through online courses. Prohibits child from attending in person specified school-related events, meetings and opportunities. Allows Oregon Health Authority to recommend diseases in addition to restrictable diseases against which children may be immunized.

Directs boards that regulate certain licensed health care practitioners to review documents completed by licensed health care practitioners granting exemptions from immunization requirements because of indicated medical diagnosis. Defines "licensed health care practitioner." Requires boards to annually report to authority on results of review. Requires authority to re- port annually to Legislative Assembly on reports submitted to boards.

Directs authority to establish outreach and education plan regarding disease control in schools.

Allows child who is not immunized to continue attending school in person until August 1, 2022. Allows child who is not immunized and has schedule for immunizations approved by authority to continue attending school in person after August 1, 2022.

Declares emergency, effective on passage.
Anyone surprised there is an emergency clause?
What this means is that your child cannot go to school unless he has received all 69 doses on the childhood recommended schedule. There were only five on the schedule when parents over 40 were vaccinated. Remember, we
previously reported
on the CDC's ACIP committee voting to add the COVID-19 vaccine to the adult schedule for healthcare workers and long term care staff residents. When will the ACIP vote to add this to the childhood schedule? The inequity of this bill would be detrimental to many children including underserved and minorities. Access to services for those with disabilities has been lacking with the current lockdowns and will further be denied with the passage of this bill. Families now struggling with distance learning would continue to be left behind. All children have a right to a fair and equitable education. No vaccine is 100% safe or effective and since it is not a fail safe, children should not be punished for missing even one vaccine on the schedule.
Bill sponsors would have you think that this is not a mandatory vaccine bill, but one could argue that without choice, there is no freedom. Democrat and previous bill sponsor, Representative Marty Wilde even said as much when he lobbied against Measure 106, "Choice without access isn't a real choice." Or does that only apply to abortions?
Make no mistake this is a mandate bill. Coercive measures like this bill draft are being used to force a medical procedure.
Medical Exemptions for previous harm or injury or family history of adverse events is as elusive as Oregon's sasquatch and this bill draft would further tighten the screws in its formation of a special medical board to approve of medical exemptions. It removes the doctor patient relationship and puts medical decisions into the hands of unelected bureaucrats like self proclaimed economist, Pat Allen, Director of Oregon Health Authority. In Oregon, the OHA limits their medical exemptions to anaphylaxis, encephalitis, or immunodeficiency only for the live virus vaccines like MMR & Varicella. These are the children they claim need our "herd immunity" help and they have only approved .00013% of them. That is the real risk number. 2.4% of non medical exemptions are mostly students who have experienced any of the red box side effects but were told their injuries don't qualify. 2.6% of the non medical exemptions are mostly siblings or children who experienced those injuries. Those who need medical exemptions cannot get them no matter what their doctors say.
For some, lack of choice is the crisis. This is the real emergency.
--Nicole DeGraff
| | |
| --- | --- |
| Post Date: 2020-12-08 18:21:02 | Last Update: 2020-12-08 20:38:15 |
Will now be in place until January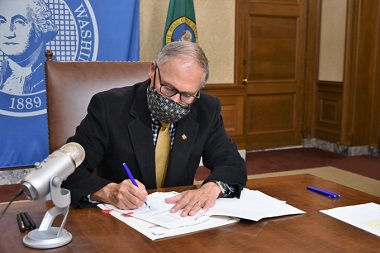 Governor of Washington Jay Inslee today announced additional money to be spent by the state for workers and businesses impacted by the COVID-19 pandemic. Inslee also announced a three-week extension of the state's current restrictions which will now be in place until January 4, 2021.
Washington has distributed billions of dollars in federal and state funds to help all of the state's industries and workers impacted by this lock-down. Inslee was joined by Department of Commerce Director Lisa Brown who announced an additional $50 million to be spent. Industries recently shut down, such as restaurants and fitness centers, as well as businesses that have been devastatingly impacted throughout the lock-down, like music and event venues, have been prioritized.
"The needs among our small businesses are profound, and speed is of the essence," Brown said. "This additional funding allows us to double the number of small businesses we can provide aid to, but we know it's not enough."
Unemployment Insurance
In addition, Inslee also announced the state's readiness to step in in the case of congressional failure to extend the Pandemic Unemployment Assistance funding in the CARES Act by the end of the year. Washington will be able to fill some of the funding gap for residents that aren't eligible for regular UI, such as self-employed workers, freelancers and independent contractors.
"Whether it is through federal or state aid, if Congress fails to act by Christmas, we will step up to help workers and their families who are not covered by pre-pandemic unemployment insurance benefits," Inslee said.
Restriction extension
The three-week extension of statewide restrictions come as the the effects of Thanksgiving on infection and hospital numbers are still unknown. Although that is unknown, this extension is meant to grant the state's medical system extra time to increase Intensive Care Unit (ICU) capacity.
We need people to mask up, stay home as much as possible and delay gatherings with anyone outside your home." said Secretary of Health John Wiesman.
Currently, nearly 80% of ICU beds in Washington are currently occupied, with around 1,000 residents in those units.
"They're not all COVID patients taking up the ICU beds, which is very important to remember." Inslee said. "We are all... in this together."
--Ben Fisher
| | |
| --- | --- |
| Post Date: 2020-12-08 18:01:16 | Last Update: 2020-12-08 18:26:30 |
Just in time for businesses to come up with a pot of money to pay additional taxes
Following Oregon Governor Kate Brown's release of a short budget calling for a tax increase on mostly small businesses, Democrats released a tax bill for a third Special Session that also hits mostly small businesses. Despite the cry for more federal money the
Governor's budget
is aimed at an additional $55 million to prop up her new freeze estimated to increase unemployment for 51,000 more Oregonians. Along with the undistributed federal stimulus funds,
her budget states
, "Oregon remains in a healthy position to meet future challenges. The budget includes over $293.8 million in increased revenues and leaves $243.3 million in the General Fund. In addition, by the end of the 2019-21 biennium, the Rainy-Day Fund is projected to have a balance of $942.3 million."
In light of all the prudent savings, why are Democrats proposing a bill in the form of
Legislative Concept 2
to disconnect Oregon Tax Returns from federal tax provisions for certain net operating costs, including federal repeals of previously enacted limitations on deductions by requiring additions to federal taxable income for Oregon tax purposes? Businesses taking advantage of carryback deductions did so to cover operating losses. Now they are being told to recalculate their taxes.
Oregon has a rolling tie to changes made to the definition of federal taxable income. Most information to support the amounts on Oregon's return comes from the federal return. Even when Oregon law differs from federal law, the state still needs information from the federal return (ORS 314.380).
ORS 316.028(1)
requires that in the computation of state taxable income the net operating loss, net operating loss carryback and net operating loss carryforward shall be the same as that contained in the Internal Revenue Code as it applies to the tax year for which the return is filed, and shall not be adjusted for any changes or modifications contained in this chapter or by the case law of this state.
The proposed LC 2 changes ignores that filings "shall not be adjusted…" and adds to the federal taxable income an amount equal to excess business loss deducted going back to January 1, 2018 and a termination date of January 1, 2021, clearly expects failing business to fill-in for lost revenue.
Section 3 adds the sum of the carryback deduction and the amount that net operating loss deduction exceeds 80% of adjusted taxable income. Adds back any carry-back amounts and net operating losses to January 1, 2018 terminating January 1, 2021.
Section 4 adds federal taxable income the amount by which business interest deducted that exceeds 30% of current tax year adjusted taxable income. That 30% isn't protected. Under Section 6 it adds back to the federal taxable income that 30% deducted. Applies to years 2019-2020.
Some think it is unconstitutional to change taxing retrospectively, as it is with any contract -- not to mention that the Governor's proposed budget increases taxes on small businesses harder than big corporate businesses. Business closures have impacted small businesses the hardest without relief in sight.
Oregon Constitution, Article IV, Section 25(2) requires a "three-fifths of all members elected to each House shall be necessary to pass bills for raising revenue." However, clever labeling has allowed many backdoor taxes to be passed by the legislature. LC 2 is no exception.
Proposed is the reinstatement of lower limitation on business interest deduction, limitations on deductions for excess business loss and net operating loss carryforwards. It disallows a five-year carryback of net operating loss, for Oregon personal income tax purposes, but waives any penalties or interest due to recalculation on what has prior approval.
"Section 10. This 2020 third special session Act takes effect on the 91st day after the date on which the 2020 third special session of the Eightieth Legislative Assembly adjourns sine die." That projects an effective date of mid-March, just in time for businesses to come up with a pot of money to pay additional taxes on April 15 to cover past problems they thought were resolved with prior tax filings.
--Donna Bleiler
| | |
| --- | --- |
| Post Date: 2020-12-08 10:48:30 | Last Update: 2020-12-08 10:55:20 |
OSAA moves back start to resuming sports
On Monday December 7th, the
Oregon School Activities Association(OSAA)
decided to push back the start of its sports seasons as it continues to navigate the COVID-19 lock-downs.
The executive board
moved to adopt
a three-season plan with six-week seasons, starting with fall sports contests March 1 and followed by spring (April 12) and winter (May 17). The seasons include an "opt-in culminating week," an option for postseason competition.
Fall sports practices are scheduled to begin Feb. 22, except for football, which will start Feb. 8. Spring and winter practices begin April 5 and May 10, respectively.
"It's a moving target," OSAA executive director Peter Weber said of altering the calendar. "We needed to make a decision. I think the board made the right decision."
The board voted in August for a plan that would have opened winter sports practices Dec. 28, hopeful that state guidance would allow for schools to return to in-person learning. But virus cases and testing have increased throughout the fall, with 25 of the 36 counties – and all but 42 member schools – currently in the "extreme-risk" category.
"As we're looking to provide as much time as possible to lower case counts and get counties out of the extreme-risk level, if possible. We thought that this timeline made sense." Weber said.
Considering many districts end their first semester in early February, Weber said that moving the start to late February is potentially a good fit for schools that could return to in-person learning. Also, the weather later in February would better accommodate the outdoor fall sports.
The previous plan had seven-week seasons, plus the culminating week. The new plan calls for six-week seasons that include the culminating week.
"Obviously, they're shorter seasons, but they also provide three distinct seasons and continue an opportunity for all kids to be involved, hopefully," Weber said. "It's shorter than we would like, and not as soon as we would like, but we feel like it's realistic and something that we can put into place."
The board also considered a two-season plan with nine-week seasons. In that plan, the first season (February to April) would have included fall sports, golf and swimming, and the second season (April to June) would have had spring sports, basketball and wrestling.
Ultimately, the board believed that stacking sports would have created too much difficulty for smaller schools.
"While there was some support for the idea that there would be longer seasons, and provide some flexiblity, in the end, the stacking of sports on top of one another was difficult for the board to move beyond," Weber said.
The board did approve extending the current Season 1 period, which lifts restrictions for out of season coaching, through Feb. 21.
--Ben Fisher
| | |
| --- | --- |
| Post Date: 2020-12-07 18:23:27 | Last Update: 2020-12-07 19:42:28 |
Applications only accepted during three hour window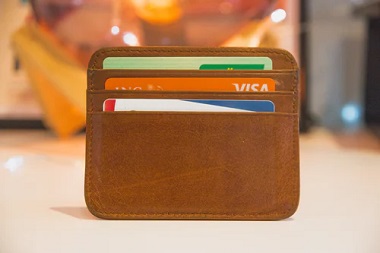 This Thursday, December 10, Portlanders struggling from health or financial impacts of COVID-19 will have the opportunity to apply for $500 in cash assistance through a City of Portland program to help households pay for urgent needs such as food, dependent care, medicine, rent and utilities, and transportation.
The Portland Housing Bureau (PHB) launched the Household Assistance Program in September, and partnered with United Way of the Columbia-Willamette on an initial public offering of more than 2,800 prepaid debit cards in October.
In response to overwhelming demand, the City has allocated additional funding to make another 4,000 cards available through a second application round.
"The City of Portland's emergency response to the COVID-19 crisis prioritizes housing stability, food security, and support for the most vulnerable in our community," Mayor Ted Wheeler said. "The urgent need for PHB's Household Assistance Program is reflected in the community's response to the first round of funding availability. The program is helping ease the daily struggle of those who are most deeply impacted by the pandemic's severe economic impact."
Applications will be accepted
online
on Thursday, December 10, from 3pm to 6pm. The application window will remain open for three hours and all applications submitted during that time will be accepted. Once the application window has closed, applicants will then be selected from the applicant pool at random using a lottery system.
The Household Assistance Program is part of a $38 million investment in housing relief measures by the City of Portland and the Portland Housing Bureau in response to COVID-19, including $19.5 million in for rent assistance and $1.6 million in housing stabilization support. The majority of the funds are being distributed in collaboration with more than 30 culturally specific community organizations in an effort to better serve Black, Indigenous, and People of Color (BIPOC) communities, and those facing barriers to a public application process.
In total, the Household Assistance Program is expected to assist more than 31,000 Portlanders.
--Ben Fisher
| | |
| --- | --- |
| Post Date: 2020-12-07 17:59:03 | Last Update: 2020-12-08 10:20:19 |
Environmentalists on bikes invade farm country.
Rural Yamhill County residents have been tangling with some of their county commissioners over the development of the Yamhelas Westsider Trail. Opposed by many in the rural areas,
the proposed trail
represents to them an encroachment by wealthy, liberal, urban folk into their area of commerce and, like many public recreation projects, looks good on paper, but may not be worth the problems it brings.
Yamhill County Chief Counsel Sadlo has lost his fifth out of five appearances before Oregon's Land Use Board of Appeals. Each time he is sent packing, commissioners Kulla and Olson send him back for more. With legal options likely exhausted, the pair of commissioners have now commissioned a $139,000 planning exercise with Alta Planning as an apology to the Friends of Yamhelas Trail for failing to infringe on the private property rights of adjacent farms. The Friends are disappointed they didn't get the trail they wanted at taxpayers' expense. Additionally the commissioners are planning to give the Friends $9,000 of COVID-19 relief money. Oregon has 180 state parks, many with
safe
cycling opportunities that don't threaten farmers livelihoods and they have great views. Alta Planning hosted Zoom meetings recently which prompted one property rights advocate, Billie Matthews, to comment.
The trail proposal is the result of a $139,000 grant from the Oregon Department of Transportation and the Department of Land Conservation and Development. The proposed trail would be 100% parks related and funded by Yamhill County. Proponents of this trail have and continue to put forward a number of claims that have been publicly disputed.
The claim: "The proposed Yamhelas Westsider trail is just like the Banks-Vernonia trail." The Banks-Vernonia trail is primarily through forest lands very little farm land. (by the way there have been problems on that trail). The Yamhelas Westsider trail on the other hand lies through farm land in fact it cuts right through some of the best farmland and farms. For a trail purported to be "rails to trails" one would expect it to comply with the Rails to Trails conservancy's position "do not fragment farms. Build the trail away from barns, crops or anything else that can be looted or vandalized." And yet this proposed trail lies within feet and sometimes inches of barns and other ag buildings, cuts through farms and aggravates access to others.
The claim: "This trail will provide a safe route for kids between Yamhill and Carlton." How is it safe when it will be hidden from view and dumps kids and other trail users on the Highway 240 three quarters of a mile from Yamhill, with no sidewalks or even shoulders combined with a narrow ODOT bridge and heavy traffic?
The claim: "It will be an economic boon to Carlton, Yamhill and Cove Orchard." Maybe for Carlton but designed to bypass Yamhill and disruptive to Cove Orchard. It also jeopardizes food safety certifications for FruitHill and adjacent farms and impedes essential crop spraying.
The claim: "It will be a scenic trip through farmland." You won't see much from the middle of a hazelnut orchard. You will get to experience the dust and dirt of normal hazelnut and field crop operations.
The balance of power is about to change on the Yamhill County Commission, as Commissioner-Elect Lindsey Berschauer is sworn in next month. This could make a difference on this.
--Tom Hammer
| | |
| --- | --- |
| Post Date: 2020-12-07 16:38:12 | Last Update: 2020-12-07 17:59:03 |
Will the new vaccine contain aborted human tissue?
Human vaccination is an increasingly controversial topic. In 2019, the Oregon Legislature considered removing the religious and philosophical and even parental discretion exemptions from the requirement to vaccinate, and the House passed
HB 3063
. Parents may choose to not vaccinate based on a medical experience of the child or of a sibling. Despite this,
Oregon has a 93% vaccination rate
, and even
that
is lower than the national average. Lower even than Mississippi.
The ever-growing list of vaccines routinely administered to children have been suspected of a wide range of side-effects, and that's why requiring them is controversial. As government agency cry "pandemic" many people think that makes the
requirement of a COVID-19 vaccine
inevitable, and therefore even more controversial. As if that wasn't enough, the development, testing and production of the COVID-19 vaccine has included the use of aborted human tissue, and for some, that is a bridge too far. Many people think it's simply not ethical to use the leftover human remains of an abortion to develop or -- worse -- to produce a vaccine. If agreement can't be found on that, at least we can agree that forcing a person who thinks that abortion is morally wrong shouldn't be forced to take a vaccine that contains leftover human remains of an abortion.
This is easy ethics. At least it should be. Let's see if the Oregon Legislature and the Oregon Health Authority think so.
Founded in 2011 and named for Dr. Charlotte Denman Lozier -- a contemporary of Susan B. Anthony -- the Charlotte Lozier Institute is, according to their website, "committed to bringing the power of science, medicine, and research to bear in life-related policy making, media, and debates to promote a culture and polity of life." They've taken on the task of an ethical scrutiny of the various attempts at a COVID-19 vaccine.
COVID-19 Vaccine Candidates and Abortion-Derived Cell Lines
They say,
"Accurate information about the development and production of COVID-19 vaccines is essential, especially because many proposed candidates use newer molecular technologies for production of a viral vaccine. One concern regarding the ethical assessment of viral vaccine candidates is the potential use of abortion-derived cell lines in the development, production or testing of a vaccine. This analysis utilizes data from the primary scientific literature when available, along with data from clinical trial documents, reputable vaccine tracking websites, and published commercial information. It is the hope that by providing accurate data, recipients can make well-informed decisions regarding vaccine choices."
They've developed an interesting document describing the science of
vaccine production
in general, packing a great deal of scientific knowledge into a ten page document and shedding light on the current development of a COVID-19 vaccine. Of real interest is the AstraZeneca and Johnson & Johnson vaccines, which are nearing the end of development. Both use abortion-derived cell lines for development, testing and production.
This is part of the reason why we have legislative processes that are cumbersome and tedious. When everyone is running around frenzied, with their hair on fire, exclaiming "pandemic," we tend to make poor legal, constitutional, ethical and scientific decisions. Let's hope the legislature can take a breath and let freedom govern.
--Staff Reports
| | |
| --- | --- |
| Post Date: 2020-12-06 12:54:14 | Last Update: 2020-12-06 16:04:54 |
Observance of Pearl Harbor Day on Monday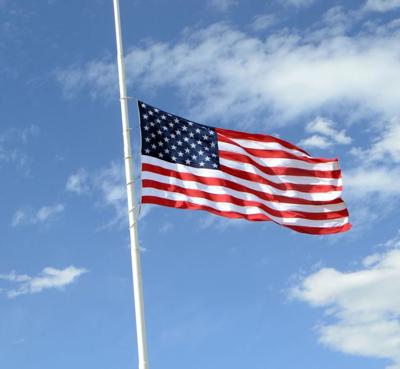 Monday, December 7th is Pearl Harbor Remembrance Day, and a good time to reflect on our nation's history.
Oregon's Governor Kate Brown ordered all flags at public institutions to be flown at half-staff in honor of National Pearl Harbor Remembrance Day from midnight to midnight on Monday, December 7.
"We benefit every day from the bravery and sacrifice of our United States service members, and especially owe a debt of gratitude to the people who served and gave their lives in Pearl Harbor and World War II ," said Governor Brown. "I encourage all Oregonians to take a moment to reflect on that sacrifice and express gratitude for the freedoms their fellow Americans have ensured through their service."
The White House also issued a national flag-order, and a President Trump has issued a
full presidential proclamation
.
--Ben Fisher
| | |
| --- | --- |
| Post Date: 2020-12-06 12:45:38 | Last Update: 2020-12-06 18:01:49 |
Is sharing showers in high school required?
In 2017 a group of parents organized as
Parents Rights in Education
at Dallas School District sued the district for violations of their children's privacy due to being forced to share showers with biologically opposite sex persons. As described in the
original complaint
:
This case is about protecting the privacy of every student within Dallas School District -- privacy that Defendants violate each school day through new rules and policies that radically changed the meaning of "sex" in Title IX. Defendants have unilaterally rejected the Title IX meaning of sex, which for 40 years has meant biologically male and female, two objectively determined, fixed, binary sexes rooted in our human reproductive nature. In lieu of this unambiguous meaning of sex, Defendants inject a distinct and altogether different concept of gender identity which is subjectively discerned, fluid, and nonbinary.
The case involved a biologically female, "transgender" student who insisted on showering in the boy's locker room, even though separate accommodations in a private shower were made for them. This student objected even to the private shower accommodations and the district relented and allowed them to shower with the boys. Title IX is a federal civil rights law passed as part of the Education Amendments of 1972 that protects people from discrimination based on sex in education programs or activities that receive Federal financial assistance.
The case lost in US District Court and was dismissed by the Ninth US Circuit Court of Appeals and at this point very few cases move on to the next step which is the US Supreme Court. Recently, however, attorneys from Child & Parental Rights Campaign in Georgia contacted
Parents Rights in Education
and they have filed a Petition for a Writ of Certiorari with the US Supreme Court asking them to review the case.
The US Supreme Court will be reviewing the petition and will be deciding soon whether or not they will hear the case.
In a Supreme Court Cert petition, the focus is on the reasons why the Court should agree to review the case, instead of on how they should rule on the issues. The Supreme Court gets thousands of requests to review cases every year and agrees to review less than 100. Therefore, in order to get through the first stage, the petition has to provide compelling reasons why this is one of the cases that should be accepted. According to the Court's tradition, it will only take cases if they: 1) Present a conflict between two or more federal courts of appeal on an important federal legal issue; 2) The court of appeals decided an important question of federal law that the Supreme Court has not yet decided but should decide; or 3) The court of appeals decided an important question of federal law in a way that conflicts with relevant decisions of the Supreme Court.
Consequently, in preparing the Petition, the focus will be on how the 9th Circuit's decision on the various constitutional claims you raised conflicts with other courts of appeal and/or conflicts with prior Supreme Court cases. The emphasis will be that these conflicting decisions should be resolved by the Supreme Court because they are interfering with fundamental rights. Furthermore, this deprivation of rights is of nationwide importance as schools continue to adopt policies such as the one adopted by Dallas School District. Therefore, it is imperative that the Court issue a decision.
Many eagerly await the court's decision to hear this case.
--Staff Reports
| | |
| --- | --- |
| Post Date: 2020-12-05 21:09:27 | Last Update: 2020-12-06 08:26:59 |
Read More Articles