You don't have to vaccinate. Unless you want to be able to function in society.
Editor's note: This is the first in a series on Oregon's COVID-19 vaccination plans digging into the Oregon Healthy Authority's 125 page draft plan on vaccinations.
Your papers, please.
How soon before Oregon's "No Mask, No service" mandate becomes "No Vax, No service" or "No vax, No groceries"?
This issue is sure to draw a great deal of heated debate and lawsuits due to the infringement on civil rights. Everyone from National Geographic to Ron Paul has weighed in on whether a COVID-19 vaccine will be approved, deemed safe and effective or even be mandated. Joe Biden said he would mandate it but in reality it is a states issue. Public health officials have acted like it is a foregone conclusion.
Why is that? Could it be the
low bar the FDA set
back in June? The vaccine only needs to show it is 50% effective. The FDA would expect that a COVID-19 vaccine would prevent disease or decrease its severity in at least 50% of people who are vaccinated.
So far, three manufacturers have announced their vaccine were 90% effective—at lowering symptoms. That's it. It will not prevent disease. It will not prevent newly vaccinated asymptomatic carriers from spreading it. It will not prevent cases from surging. It will take two doses to acquire, well, no immunity at all. This is bad because if it only lessens symptoms, people will be walking around like Typhoid Mary's. They'll pop a pill for a headache and still be able to spread COVID-19. Since it is fast tracked there are
zero
long term studies. The Moderna vaccine is using new RNA technology yet no one knows what the long term ramifications are. Will it create a host of autoimmune disorders? Cause Narcolepsy like the Pandemrix Influenza Vaccine from 2009 in the UK and Europe? Put bluntly, there will be enormous risk with little benefit. According to the BMJ, the vaccine trials aren't designed to prove prevention or assess severe COVID-19 infection at all. Associate editor of BMJ and assistant professor of pharmaceutical health services at University of Maryland School of Pharmacy, Peter Doshi says, "Yet the current phase III trials are not actually set up to prove either. "None of the trials currently under way are designed to detect a reduction in any serious outcome such as hospital admissions, use of intensive care, or deaths." Nor are the vaccines being studied to determine whether they can interrupt transmission of the virus. If Kate Brown uses the marketing slogan, "COVID-19 vaccine saves lives," you can send her
this
.
A D V E R T I S E M E N T
A D V E R T I S E M E N T
In order to implement a mass COVID-19 vaccination campaign, OHA has an ambitious
plan
. Oregon is in the middle of its biggest flu shot drive ever with the goal of administering 20,000 flu shots by year end. The goal? They plan to use what they learn as a pilot to get as many people vaccinated as possible. Across Oregon you may have noticed popup tents outside pharmacies or offices of healthcare providers facilitating 'drive through' flu shot clinics. New vaccine injected via drive up, what could go wrong?
Or, heaven forbid, what if there is a repeat of the
failed 1976 Swine Flu mass-vaccination campaign?
The political climate then was eerily similar to 2020. President Ford was facing reelection, the vaccine program was rushed. That vaccine killed 32 people and nearly 500 more suffered with paralysis, a rare neurological disorder called Guillain-Barre syndrome or GBS. In fact, it is one of the largest compensation claims for a vaccine since vaccine court was established in 1986. In 2010, a
complainant was awarded $10 million
. Thanks to the Prep Act, Covid-19 vaccine manufacturers won't be liable if recipients are injured or killed either. The
compensation scheme set up for COVID-19
is even more meager than the current Vaccine Injury Compensation Program has for vaccines within the regular vaccination schedule and you only have one year to file a claim. More on this later.
Oregonians have been prevented from doing just about everything unless they don a mask. Should a covid vaccine become available will the same covid guidance and restrictions become the roadmap to mandatory vaccinations? What is the assurance that Kate Brown won't end there? Or, like the flu shot, will you be forced to get it every single year to keep your job? Can employers mandate it if local governments decline? Biden has said he wants it mandated.
The draft plan OHA created lists healthcare workers, long term care workers and those living in care homes as first on the list to receive the vaccine, would those employers be the first to try? Can we expect the same from those who were the first to mandate masks when there was no statewide mandate, such as New Seasons grocery stores? The task to vax and track is monumental. So too is the fear surrounding Covid which has allowed draconian measures to continue for eight months. Sure, you probably won't be held down by a strike team and forced vaccinated, but there have been alarming reports of what we could expect in the near future.
Yesterday, the CEO of Qantas
announced
that no international traveler would be allowed to fly to Australia without proof of vaccination, once approved. What will you do?
Right now, you cannot get a seat at a restaurant, shop for food, get a manicure, go to work, send your kids to school (if you happen to be one of the lucky districts open to K-3) or ride a public bus without a mask. More than that, the terrible ad campaigns generously provided gratis by Wieden + Kennedy promoted the notion that you don't care about others if you don't wear a mask. Stay home or you could accidentally kill someone. There is no evidence to that but it didn't stop Kate Brown's endless promos or her flu shot tweets hawking a flu shots for Pharma. Using guilt and virtue signaling tactics she scolds us saying, "Don't accidentally kill someone," and "your mask protects ME." Will the new ad campaigns say the same?
A D V E R T I S E M E N T
A D V E R T I S E M E N T
This state has a dysfunctional relationship with Pharma to say the least.
In 2019, the Super Democrat Majority, along with two Republicans, one who lost her seat, had a mission to remove vaccine exemptions in school age children. They lost that bid thanks to a walkout by the Senate Republicans. Legislators like Democrat Senator Steiner-Hayward have been on the mandate warpath for nearly a decade to enact tougher legislation in school age children, who thankfully are not in the high risk category for covid infections. Heck, she was even featured in the quasi-documentary by Netflix, "Pandemic" about her efforts. In 2012, she spearheaded the removal of religious exemptions, watering it down to philosophical objection.
Most recently, last week the House Interim Committee on Revenue called a "vaccine our only hope." Never mind the fact one isn't approved, doesn't need to show an efficacy of more than 50% and many surveyed said they would not take it.
A
national survey by Pew Research Center
, conducted Sept. 8-13 among 10,093 U.S. adults, finds "intent to get a COVID-19 vaccine has declined across all major political and demographic groups." Half do not plan on getting the vaccine. Who can blame them when all reports points to terrible side effects? If a doctor from the American Medical Association says they,
"won't be a walk in the park,"
you know it is bad. If only half line up voluntarily, will the other half be coerced?
The crux lies in the monumental COVID-19 vaccination draft plan that OHA has developed. It details an enormous organizational structure and set a priority list of who they deem as essential enough or at high enough risk to be the first to get the Covid-19 vaccine. Oregon Health Authority faces serious hurdles with storage, administering the injections and most importantly, they know there will undoubtedly be a limited supply. Most traditional providers don't have the capability of cold-chain management beyond -20'F. Dry ice will be in short supply not unlike the toilet paper shortage. This will make transportation and distribution another major obstacle. The Pfizer vaccine? A stable temperature of -95' Fahrenheit is necessary. Other contenders are not much better designed as far as day to day operations require. Pfizer created storage containers with dry ice that can be stored for up to 20 days, Moderna can use normal freezer good for up to 30 days. Routine vaccines on the current adult/child recommended schedule are refrigerated at an average of 35'F to 46'F. Can healthcare providers afford to install necessary refrigeration? The draft plan indicated that there would be regional hubs who would store the vaccine. Without steady temperatures, vaccines can become ineffective or unsafe in warmer temperatures. In 2017, in South Sudan a
botched vaccine campaign
killed 15 children.
A D V E R T I S E M E N T
A D V E R T I S E M E N T
One idea springs to mind, what if the staged "morgue trucks" are for vaccine storage? We've already
reported
on the fact hospitals are not overwhelmed and yet Providence announced they are setting up
temporary morgues
and surge tents for a worst case scenario, but didn't that already happen with the field hospitals back in the Spring? Mortality rates are down significantly. What if these aren't morgues but freezers for vaccines? HHS indicated they have already been running tabletop and field exercises across the US. This morning HHS held a press conference on Operation Warp Speed discussing the allocation of vaccines. They met with Governors yesterday on the technical issues. Vaccine distribution being determined federally based on infection rates and a per capita approach. Oregon is at the very bottom of states for cases and deaths, as we always have been yet with some of the most draconian restrictions. We should expect a scarcity of vaccines and depend on natural immunity and existing therapeutics such as antibody treatments the distribution of which has been ramping up for those over 65 and who are at high risk. 20 million doses from each manufacturer and 25 million more each month thereafter isn't much. The truth of the matter is, Oregonians are not a priority in receiving significant doses of vaccine. Perhaps, that is why the House Interim Committee on Revenue said schools won't be back in-person until Fall 2021. With only .2% deaths per Oregon's population, we need to wake up and stop smelling the fear being dished out. Open schools, and end lockdowns meant to scare the population to sell a product. Isn't anyone curious about the sudden case surge when most of these individuals are asymptomatic?
In spite of challenges and low true efficacy, Pfizer and Moderna have submitted a
request to obtain emergency use
authorization by the FDA who
meets
December 8-10, 2020. The advisory committee will meet to discuss the emergency approval of these fast tracked Covid-19 vaccinations but has hinted they will announce expectations ahead of that.
Another dilemma is the need to track who has taken the vaccine. A precedent has been set with mask mandates and low compliance. To date, 13,000 Oregonians either filed complaints about a business for not wearing a mask or Kate Brown's latest command, that neighbors snitch on neighbors for having a big Thanksgiving dinner with family. The state has longed for a more robust vaccine database for years and now may have the necessary funds via CARES Act to track compliance. Currently in existence is the OR ALERT Immunization Information System (IIS) which provides "consolidated immunization records and high-quality immunization data for individuals and providers." Will they expand on this by connecting it with an app, card or eventual chip? The entirety of the vaccination plan is exorbitant yet, the vaccine will be free. In light of all that has been taken away from us since March, the foreboding is real. After all, the only free cheese is in the mousetrap.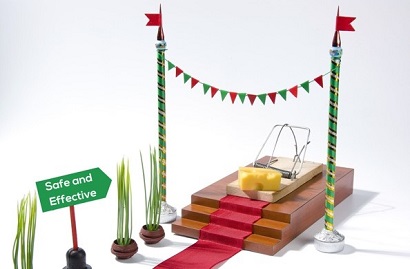 What could you be forced to live without or will you comply? It is essential to personal liberty to be able to decline any medical treatment or procedure, especially for a virus that has a
survival rate
of 99.9%.
"They who can give up essential liberty to obtain a little temporary safety deserve neither liberty nor safety."
--Benjamin Franklin
--Nicole DeGraff
| | |
| --- | --- |
| Post Date: 2020-11-24 16:56:08 | Last Update: 2020-11-24 19:41:15 |