On this day, January 28, 2003, Oregon voters defeated a proposed three-year income tax hike designed to forestall $310 million in cuts to schools and social services.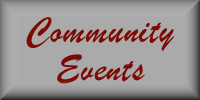 Post an Event

Western Liberty Network Leadership and Activist Training Conference
Saturday, February 4, 2023 at 9:00 am
The year's premiere grassroots activist and leadership conference! Get what you need to be successful in 2023!
Portland Airport Embassy Suites Hotel 7900 NE 82nd Avenue

The Oregon Constitution
Wednesday, February 22, 2023 at 7:00 pm
First of a three part series presented by former State Representative Mike Nearman studying the Oregon Constitution.
The River Church 4675 Portland Rd NE Salem

The Oregon Constitution
Wednesday, March 1, 2023 at 7:00 pm
Second of a three part series presented by former State Representative Mike Nearman studying the Oregon Constitution.
The River Church 4675 Portland Rd NE Salem

The Oregon Constitution
Wednesday, March 8, 2023 at 7:00 pm
Third of a three part series presented by former State Representative Mike Nearman studying the Oregon Constitution.
The River Church 4675 Portland Rd NE Salem

We Are Stronger Together
Monday, March 27, 2023 at 10:00 am
Oregon's Natural Resources & Industries (ONRI) is sponsoring the rally to meet legislators and influencers to bring light on legislation affecting natural resource industries, their families, and their communities. https://onri.us/events
Rally at the State Capitol, Salem.
View All Calendar Events
Cynthia Kaufman Noble will replace Judge Collins
O
regon's Governor Kate Brown has announced that she will appoint Cynthia Kaufman Noble to the Yamhill County Circuit Court.
Kaufman Noble will fill the vacancy created by the retirement of Judge John L. Collins.
Her appointment is effective immediately.
"Cynthia Kaufman Noble's broad experience and history of service in the Yamhill County community make her an excellent fit for this position," Governor Brown said. "I look forward to seeing her new role as a Circuit Court Judge."
Kaufman Noble currently divides her time between her roles as Municipal Court Judge for the City of McMinnville, Chief Judge for the Tribal Court of the Confederated Tribes of the Grand Ronde Community of Oregon, and as an attorney in private practice in McMinnville doing primarily juvenile defense work and serving as a family law mediator.
A D V E R T I S E M E N T
A D V E R T I S E M E N T
Over the course of her 29-year legal career, she has also served as a city prosecutor for the city of McMinnville, an attorney for Legal Aid, and has maintained her own private practice for doing defense-side criminal and juvenile work, in addition to family law. Kaufman Noble earned her bachelor's in fine arts from Syracuse University, and her law degree from Willamette University College of Law.
Kaufman Noble currently serves on the Tribal Court State Court Forum and the Ensuring Racial Justice Committee; as a board member for the Oregon Municipal Judges Association and the Yamhill County Bar Association.
--Bruce Armstrong
| | |
| --- | --- |
| Post Date: 2022-02-13 11:01:18 | Last Update: 2022-02-13 11:13:36 |
"It is grooming at best, evil at worst."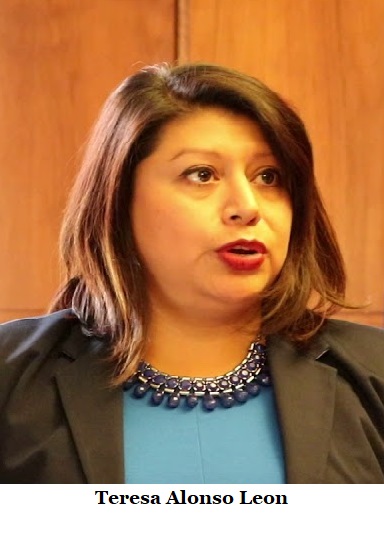 Representative Teresa Alonso Leon (D-Woodburn) has introduced
HB 4091
, which does a number of things. It develops a statewide education plan for students who are Native Hawaiian or Pacific Islander; requires all statewide education plans to include strategies that provide for alignment with other statewide education plans; and directs Department of Education to revise processes for collection of racial and ethnic data for purpose of developing and implementing statewide education plans.
This bill also has a funding segment providing grants to educational entities implementing a plan from the Statewide Education Initiative Account. Hidden in the middle of what the Account can be used to fund is added "the minority gender identity or sexual orientation education plan developed under ORS 329.847. Even though it is bolded along with and next to the funding for Native Hawaiian or Pacific Islander education plans, it runs together without notice. ORS 329.847 was also added as part of the education plan for early childhood through post-secondary education under all the statutes for students identified as slow-learners.
Rep. Alonso Leon chairs the House Committee on Education and made no mention of this added funding either in the bill summary or during the discussion, until the committee passed the bill. Why is this significant?
Parents are just finding out that their elementary student is being invited to join a QSA club at their school. They are asking why they aren't informed of clubs. QSA stands for Queer Straight Alliance or Queer & Sexuality Alliance. It seems that the LGBTQ has taken their minority status as a right to invade elementary schools motivating middle school students who are questioning their identity to start QSA Clubs. A slide presentation with an invitation to join the QSA Club was presented to all 4th and 5th graders at Raleigh Hills Elementary School in Beaverton School District, and now showing up in other schools.
A public records request revealed predatory behavior on the part of the social worker, district personnel, and principal pressuring kids into joining this club by signing a contact form without parental knowledge or consent. The record shows district leadership, Pat McCreery, sought district counsel's guidance on permission slips trying to not tell parents. The district's legal counsel responded: "In summary, it looks like the permission part is needed for student transportation, not general participation, and to answer the question of who is in the building before/after hours, not why they are there."
For a club to be able to occur on a school campus, a teacher or other school staff has to be the sponsor and it has to get administration approval. The administrator approved Amanda Cook, Raleigh Hills Elementary Social Worker, as the school faculty advisor for the QSA Club. Her request states, "We have a small group of students now asking and advocating to start a QSA, and I'm hopeful we can start after winter break." Did students contact her, or did she instigate the contact? Cook put together the material for the club invitation and used classroom hours for the presentation. Her office is the meeting place during lunch to avoid contacting parents.
The club is intended to be student run. However, Jeanette Schade says, "public records requests produced emails shared with many different campuses and district personnel to find a way to get QSA clubs going on October 20, 2021. This goes all the way up to the district level, pushing this hard onto other elementary campuses." There are also emails crafting meeting notices so parents won't suspect their child is attending. Raleigh Hills Principal, Jennifer DeMartino, is trying to find a way to get this club into elementary schools. It seems the Beaverton School District administration and QSA club promoters are finding ways to communicate to avoid public record requests.
The slides say QSA is a community where everyone belongs; students who identify as LGBTQ+, their allies, and those who want to learn more. One line says "What is said here, stays here" advocating to the students to keep things from their parents. Another slide addresses: What will we do?
Have conversations about identity, gender, equal rights and social issues that are important to you
Explore LGBTQ+ history and activism
Discuss personal struggles and successes in a supportive space
Advocate for change in our school and community.
Representative E Werner Reschke (R-Klamath Falls) responded to the situation, "This is shocking. It is grooming at best, evil at worst. Sexualizing children is wrong, period, full stop. It is child abuse, no matter whether done by a pedophile or by the state."
Jeanette Schade, educator for 24 years, stated in public testimony, "It is absolutely appalling that school teachers and officials are partaking in this type of behavior who are supposed to be 'safe' adults. These are 9- and 10-year-olds. Keep the personal and social politics out of the schools. Stop this predatory behavior and get back to teaching reading, writing and arithmetic without indoctrination."
HB 4091
opens the door to support these clubs and now targets the most vulnerable.
--Staff Reports
| | |
| --- | --- |
| Post Date: 2022-02-12 06:48:43 | Last Update: 2022-02-12 01:00:09 |
"If you're not familiar with a socialist agenda, read this bill"
T
he Senate Committee on Labor and Business has voted unanimously to move
SB 1545
out of Committee, clearing its first legislative hurdle. This bill will focus targeted investments on building career pathways in targeted sectors, including health care, manufacturing and construction and was introduced at the request of Governor Kate Brown.
"We need to build an economy that works for working families and Oregon businesses," said Senator Kathleen Taylor (D-Portland), Chair of the Senate Committee on Labor and Business. "That means investing in skills training and reducing barriers to people working to build their careers.
SB 1545
will achieve that goal by expanding opportunities for hardworking Oregonians."
Not everyone agreed.
Donna Bleiler submitted testimony, saying "I strongly oppose this bill. If you're not familiar with a socialist agenda, read this bill. $115.5 million of wealth redistribution."
"The pandemic created unprecedented challenges for many of our frontline workers, including health care workers," said Senator Deb Patterson (D-Salem), Chair of the Senate Committee on Health Care. "Staffing shortages in health care settings affect quality of care and the ability of health care workers to do their jobs.
SB 1545
will help Oregonians build their careers in health care, improving patient outcomes and the economic wellbeing of their families."
A D V E R T I S E M E N T
A D V E R T I S E M E N T
Testimony from David Wall pointed out that, "Priority populations means Communities of color and Women.
SB 1545
supports and codifies into Oregon law 'systemic racism' and eliminates 'equal treatment of everyone under the law'. I cannot support 'systemic racism' and or preferential treatment of one person over another.
SB 1545
creates and expands on various grant and advisory programs to provide increased access for what it describes as "priority populations" to workforce programs and training opportunities in health care, manufacturing and construction.
SB 1545
now goes to the Joint Committee on Ways and Means for consideration.
--Staff Reports
| | |
| --- | --- |
| Post Date: 2022-02-11 22:25:55 | Last Update: 2022-02-12 13:51:56 |
ODA is now accepting applications
T
he Oregon Department of Agriculture (ODA) Director Alexis Taylor announces the launch of a six-week application period (February 9 – March 23 Noon PT) for the new Oregon Meat Processing Infrastructure and Capacity Building Grant.
The $2 million investment comes from the 2021 Oregon Legislature's state funding package. The COVID-19 pandemic highlighted the need for more options in meat processing for livestock raised in Oregon.
"These critical resources will expand Oregon's regional meat processing capacity and strengthen our food supply chain from disruptions we saw early on in the pandemic," said Taylor. "I am excited to see the proposals we receive which will support our rural economies, open new markets for Oregon products, and connect local consumers with local producers and products."
Grant awards will be capped at $500,000, recognizing the significant investment meat processing facilities and equipment requires. ODA anticipates the requests will exceed available funds; however, this investment will help support the long-term economic and market development.
The Oregon Meat Processing Infrastructure and Capacity Building Grant are open to all Oregon meat processors, including slaughter facilities who fall into one of three categories:
Those planning to expand meat processing capacity to include animals raised in Oregon who also plan to operate under the State Meat Inspection Program; or
Those planning to build a new establishment to process animals raised in Oregon who also plan to operate under the State Meat Inspection Program; or
An official federal establishment is operating under USDA inspection also planning to increase meat processing from animals raised in Oregon.
I
n addition to the grant, ODA has also completed a draft plan to start a State Meat Inspection Program that is expected to begin in July 2022. The state's program will be equal to USDA in all its requirements. Stay tuned for updates from ODA. For more information about USDA requirements, please visit
their website
.
A D V E R T I S E M E N T
A D V E R T I S E M E N T
For the grant application form and more information about the Oregon Meat Processing Infrastructure and Capacity Grant, please visit the
Oregon Meat Initiative webpage
.
For additional questions or to receive a paper application, please contact
ODA Trade Development Manager Gary Neuschwander
at (503) 551-1706.
--Bruce Armstrong
| | |
| --- | --- |
| Post Date: 2022-02-11 16:21:58 | Last Update: 2022-02-11 17:06:02 |
It must be an election year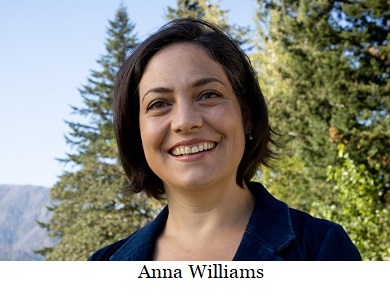 P
ublic voices rang out in the capitol yesterday.
HB 4079
, Oregon's first
sales tax bill
was scheduled for a hearing at 1 PM. Just hours prior to the hearing, the House Committee on Human Services Chair, Anna Williams (D-Hood River) suddenly took the bill off the agenda and removed it from the committee along with hundreds of testimonies that had been submitted.
Representative E. Werner Reschke (R-Klamath Falls) said, "the only explanation is you spoke up. You said no. You made the difference."
Choosing
HB 4079
as Oregon's first ever identifiable sales tax that didn't address safety or educational issues that are at the top of everyone's minds may have doomed it before it received a hearing. The purpose of the sales tax was to fund $750 monthly debit cards to the homeless and people under the poverty level.
Oregonians have voted down a sales tax six times, but more than saying no to a sales tax, is the current distrust of government. Even if they had proposed an offset in income taxes, the economic environment is not in favor for the Democrat leadership to advance a new tax.
Oregonians who signed up to testify or submitted testimony, can pat themselves on the back, and stay involved. There are election bills, gun bills and education bills flying through the system that still need your voices.
--Donna Bleiler
| | |
| --- | --- |
| Post Date: 2022-02-10 22:35:15 | Last Update: 2022-02-10 22:44:38 |
Creates a collaborative from 15% of the population to meet an equity criterion
T
he last three Oregon legislative sessions have been a concentrated effort to change laws from "equality" to "equity," contrary to the Oregon and U.S. Constitutions. Governor Brown has made it a priority for the legislative majority party. To help, minorities have been appointed to replace legislators who leave. There is now 30% of the majority party representing 15% of the minority population.
The march towards equity for racial, ethnic, underrepresented or underserved, sexual identity, English language learners, disabled minorities and poverty communities is being prioritized in every aspect of our lives and is seen in almost every legislative proposal. Our schools aren't exempt.
HB 4099
was initially introduced in 2021 as
HB 3363
with a proposed $1 million price tag, but left blank. Representative Andrea Valderrama (D-Portland) re-introduced the bill as primary sponsor of
HB 4099
. What is so desirable to resurrect this bill is the establishment of the Racial Equity and Justice Youth Collaborative. The formation of the collaborative isn't simple, but has the potential of impacting the whole education system.
This bill creates a state-level student collaborative drawing members from 15% of the population to meet an equity criterion. The selection of members is done by a work group of racial, ethnic, underrepresented or underserved, sexual identity, English language learners, disabled minorities and poverty communities that will determine the criteria for selecting members for the collaborative, recommend names to Governor, and mentor youth members in the collaborative.
A D V E R T I S E M E N T
A D V E R T I S E M E N T
The same membership criteria applies to the collaborative as used for the work group. The purpose of the collaborative is to serve at the will of the Governor to make recommendations on educational policy, and consider racial equity and justice and align with other statewide efforts for racial equity and justice when developing goals and criteria for making recommendations. They will identify best practices for reporting racist incidents or hate or bias crime. This amounts to giving 15% of students a say over the remaining 85% of the students.
What does this mean to school districts? School districts are to provide the collaborative members with counseling support, mental health support, tutoring, an adult mentor, and an opportunity to provide peer support or be a youth mentor. Individual schools, school districts, alternative education programs, or ESDs have no local control. All control is exercised by the Department of Education, whom are requesting $372,412 per biennium to administer and determine the training that may be required.
Who will do this administration and training? Since July 2018, Carmen Xiomara Urbina has been the Oregon Department of Education Deputy Director and works with agencies, executive leadership team, directors and principals regarding equity, diversity and inclusion helping to guide their approach.
Urbina also owns Oregon Center for Educational Equity (OCEE), trainers in equity and inclusion since December 2017. The license lapse, but was reinstated August 16, 2018, a month after she was hired by ODE, to do business with multiple public agencies and organizations in Oregon. It remains active through 2021.
Urbina's dual activities were challenged when they overlapped in August 2020, promoting her own company to school superintendents to meet state requirements in equity and inclusion. More evidence is being pursued.
Besides the fox in the hen house, the Racial Equity and Justice Youth Collaborative is pacific to a group exclusive of others that teaches segregation, by its structure, as their norm. And, teaching them how to discriminate and be discriminated against. No equity agenda can force unity when the criteria segregates.
HB 4099
captures vulnerable youth in the quicksand of government, programming them to believe that government provides the only solution to racial, cultural, and ethnic conflicts.
--Donna Bleiler
| | |
| --- | --- |
| Post Date: 2022-02-10 17:37:20 | Last Update: 2022-02-10 22:35:15 |
"The hypocrisy is unbelievable"
O
regon State Senator Dallas Heard (R-Roseburg) released the following statement regarding masks.
"The assault on freedom by the radical left against all Oregonians is simply wrong. This clear attempt to enslave all Oregonians, especially our children must be stopped. It is alarming to see how many elitist officials have been uncovered using COVID as a political weapon, a trojan horse to secretly steal the government and our freedoms away from 'We The People'. Yesterday was no exception. When I attempted to speak out and peacefully protest their immoral mandates against our children and the people of Oregon, the Senate Democrats directly infringed on my constitutionally protected speech yet again and refused to allow me to exercise that right.
"On Tuesday of this week, in a small school district in the greater Roseburg area, 50+ middle and high school students were suspended and sent home from school for refusing to wear masks. They were temporarily expelled, just as all of the citizens of Oregon were expelled from their own capitol building during the 2021 legislative session. Enough! It is time to stand up to this tyranny against our children! Yesterday, the hypocrisy of Democrat Senate President Peter Courtney was exposed as I revealed a photograph of him blatantly unmasked on the Senate floor while mandating all others be masked. The hypocrisy is unbelievable.
"I
nstead of admitting that these mandates have been a political science experiment and allowing me to continue speaking, he turned my microphone off and told me that I was required to leave the Senate floor unless I submitted and donned a mask. All this as I was standing next to a picture of him unmasked in that same room. I decided to leave the floor…for now. The unparalleled hypocrisy of Oregon's most powerful Democrat government officials is now complete. Kate Brown, Tina Kotek, and now Peter Courtney have all been exposed for not adhering to their own tyrannical rules being forced upon the children and people of Oregon.
"How many Oregonians have lost their jobs? How many have lost their homes or education because of those elected officials? How many in Oregon have been fined, discriminated against, had their schools shut down, or experienced deep depression because of the isolation we have all had to endure at their command?
"I am calling on all Democrats and Republicans of the legislative assembly to bring forward a bill that will strip the office of the Governor of these easily abused and manipulated emergency powers. The madness must end.
"To my fellow Republican House and Senate members, please join me in refusing to wear masks on the House and Senate floors going forward.
"To the people of Oregon, we cannot do this alone.
"This radical hypocrisy and oppression cannot continue to be submitted to!"
--Staff Reports
| | |
| --- | --- |
| Post Date: 2022-02-10 17:03:36 | Last Update: 2022-02-10 17:37:20 |
"Let's learn from what other states have done"
O
regon House Republican members of the House Committee on Business and Labor announced an Oregon solution for mandatory agriculture overtime pay to benefit both employees and farms.
A February 8 public hearing held by the House Committee on Business and Labor received testimony from more than 100 individuals with comments or concerns about a proposal mandating overtime pay in agriculture. More than 70 Oregonians and farmers from across the state spoke to the uniqueness of agriculture in Oregon and the need for fixes to the agriculture overtime proposal. Around 20 labor union representatives and their allies supported the proposal without changes.
Republican members of the committee, led by Representative Shelly Boshart Davis (R-Albany) introduced a
amendment
to
HB 4002
with three elements for an agriculture overtime proposal. These changes incorporate a year of comments from a diverse range of Oregonians and reflects Oregon's unique agriculture industry:
Flexibility in hours during peak harvest weeks -- Recognizing that nature dictates hours of work is similar to legislation passed in Hawaii and Colorado.
Increase standard hours available to employees from 40-hours to 50-hours -- Aligning the threshold of hours with the demands of the state's growing season is similar to Maryland, Minnesota and Colorado laws.
Exempts livestock -- Hours of care for dairy cows, sheep and other animals cannot be predicted or fit into a standard workday. Federal law, Oregon law and other states treat livestock differently to guarantee access to care for the health of livestock.
"These are three elements to a proposal to create an Oregon solution for agriculture overtime," said Representative Daniel Bonham (R-The Dalles) who serves as co vice-chair. "Let's learn from what other states have done and incorporate feedback we've received from Oregonians. We have an opportunity to make this a workable solution for our state that benefits both employees and farms. Without these changes we will only cause harm to both by reducing employee hours and increasing labor costs."
"We need this Oregon solution that reflects our unique state and the unpredictability of agriculture," added Representative Shelly Boshart Davis (R-Albany). "These fixes are carefully crafted to avoid unintended consequences for Oregon's farmworkers and our family farms and ranches. We invite our colleagues to join us by passing an Oregon version of agriculture overtime that supports jobs and preserves family farms."
"An overtime threshold that ignores the complexities of Oregon agriculture and fails both our farms and employees is not the solution Oregonians deserve," said Representative Jami Cate (R-Lebanon). "We need to truly heed the testimony of those directly responsible for implementing this policy on our farms and pass the solution Oregonians expect - balancing the needs of our farms and employees. Anything less is a disgrace to the confidence voters put in this Legislative body."
"These fixes reflect input from Oregonians as well as the complex and unique nature of our state's agriculture," added Representative Jessica George (R-St. Paul). "Oregon agriculture requires an Oregon solution that protects employee salaries and farms. That's what this amendment represents."
--Staff Reports
| | |
| --- | --- |
| Post Date: 2022-02-10 09:38:07 | Last Update: 2022-02-10 17:03:36 |
Using healthcare to undermine parental authority
A
cross the country, parents are beginning to step-up and demand answers about what is going on in their public schools. Concerned parents and taxpayers in rural Lebanon, Oregon have recently been forced into the fray by a progressive school superintendent Bo Yates, attempting an end-run around parents, taxpayers and the school board to install a school-based health clinic (SBHC) in Lebanon's high school under the direction of Principal Craig Swanson. According to Lindsey Perhson, a nurse and local parent activated by school concerns,
"No one will argue that healthcare for our children is incredibly important, that's not the issue. The good news is, every child in Lebanon already has a fully-funded means to acquire health care and also has access to medical care. In Lebanon, a free clinic, birth control clinic, mental health clinic, two urgent care centers, the hospital campus and provider clinics are just blocks from the high school—easy walking distance. There is no need to duplicate these services in the high-school".
Many Lebanon parents and taxpayers are wondering, "What is this really all about?"
SBHCs are not just about "free" medical care, strep throat and sprained ankles. They also have an ominous side, especially with the legal synchrony provided by Oregon's minor consent laws, the most liberal in the nation. These laws actually transfer the God-given parent-child primacy right to the state. Oregon's
minor consent laws
can drive a wedge between parent and child just when they need each other most.
In Oregon, a child any age can access birth control services, testing, invasive examinations, hormone treatments and abortion referral without parental notification or consent (ORS 109.610, ORS 109.640).
A child 14 or older may access mental health, chemical or alcohol treatment without parental consent (ORS 109.675). Children 15 or older can consent to any medical, surgical, dental, or other procedure they wish without consent. Remember, these are sixth, seventh, eighth and ninth grade children. They cannot get a driver's license, purchase a car, give informed consent, work a full-time job or be held accountable for many criminal offenses because, well, they're children after all.
According to science, the brain and emotional state are not developed sufficiently to make such complex decisions. According to Oregon law they can decide to begin transitioning to the opposite sex, be provided psychotropic medications, terminate a pregnancy, have a surgical procedure and still catch the bus home without their parent's knowledge or consent. Let's be clear, there is still an adult involved—it may be the state sponsored adult; just not you, the parent.
To ensure the parental shut-out is complete, Oregon law shields SBHC clinics and providers from civil liability for treatment or procedures provided at SBHCs. The Family Educational Rights and Privacy Act (FERPA) protects privacy of educational and school nurse information but must be provided to parents upon written request. Conversely, SBHC medical services fall under the Health Insurance Portability and Accountability Act (HIPAA) and will not be disclosed to the parent. That is, unless the child provides the parent with a written permission slip. This is not a joke.
A
n angry parent's call to the SBHC to find out why their daughter has shut herself into her bedroom crying for the last two days could easily get a response like this, "We're sure sorry, but under state law we can neither confirm nor deny your daughter was even seen or referred by the clinic". The school administration, in turn, will tell you the SBHC is run by a private medical agency that they have no control over. Do you see how this system can be used to undermine parental authority and a critical need to know? If parents have private health insurance, that will be billed—they just won't know about it unless their child thinks they should know. Taxpayers fund the rest through Medicaid, reproductive health access funds and other tax funded billing mechanisms—the same billing process used in all Lebanon's community clinics—it is not unique to SBHCs. Providers and administrators are highly paid and every visit gets billed. Taxpayers are on the hook for everything else.
A D V E R T I S E M E N T
A D V E R T I S E M E N T
Additionally, according to the
SBHC Status Report 2021
, three out of 10 SBHC visits are not children. SBHC's often open the clinic to homeless, drug addicts, indigent persons and illegal immigrants all on school grounds during school hours—what could go wrong?
Since the dawn of humanity, many young adults go through phases where they "hate" their parents, some may go so far as to say this out loud in an SBHC councilors office. This could easily earn the parents a visit from a sheriff or social worker, asking nosy questions, removing guns and creating government chaos for a situation that typically blows over in days. As you can imagine, SBHCs provide endless possibilities for government intervention and control over family life using children as the lever. After all, that may well be the point. Missie Carra a nurse from Ft Worth, Texas did her own investigative work into SBHC development and political underpinnings and outlined her findings in an eye-opening lecture given at the NW Safe Schools Summit called "
The Playbook
".
Meanwhile, back in Lebanon, data from the National Center for Education Statistics shows that Lebanon High School ranks 229th out of 266 high schools in Oregon, 77% of 11th graders are well below grade level in math and science and the drop-out rate is approaching 30%. That's not a medical issue. That's an academic failure of leadership. Many parents want their school to focus on reading, writing, mathematics, civics, history, science and mostly critical thinking. If the school does its job, then Lebanon's children will have the necessary skill to walk the 500 yards from the high school to the medical clinic. Better yet, maybe their parents will go with them.
--Clarke Vesper
| | |
| --- | --- |
| Post Date: 2022-02-10 00:45:55 | Last Update: 2022-02-10 10:05:00 |
"We have a windfall of one-time resources this year"
Last year 11 states reduced their individual income tax rates including top marginal rates. Five states reduced their corporate income tax rates and the number of tax brackets. Many reductions are paired with other pro-growth reforms, including helping low-income workers.
But Oregon legislature leadership with Governor Brown's direction, can't seem to get their focus off of the dollar signs. Introduced bills were already chipping away at the billion-dollar slush fund that built up letting federal handouts fill-in the budget.
Governor Kate Brown statement on the February revenue forecast revibrates legislature's majority leadership statements. "Our latest state revenue projections present an opportunity to make investments that spur a strong economic recovery and support working families, especially those who have been hardest hit by the pandemic, wildfires, and the unprecedented challenges Oregonians have faced in the last two years."
Governor Brown continues, "This is a pivotal moment for Oregon. We have a windfall of one-time resources this year, and we have the opportunity to make big investments—and to do the big and bold work to help our working families and businesses thrive. We cannot miss this moment."
In case you missed her intention to spend the windfall on you, she repeats, "While I am pleased to see growth in wages for Oregonians, there is more work we need to do to grow, develop, and support our workforce. Now is the time to make critical investments in housing, child care, workers, and businesses to help jumpstart growth and keep our economy moving."
A D V E R T I S E M E N T
A D V E R T I S E M E N T
"And as we work to help Oregon families succeed, with these additional resources at the midpoint of session, we also have an opportunity to ensure that every Oregonian feels safe in their community. I will continue to work with legislators to address community safety, and I encourage members of both parties to bring forward their ideas for evidence-based community violence prevention and intervention. When we invest in and create opportunities for Oregonians and their families, we create safer, healthier communities."
Gov. Brown drilled down on her State of the State address where she focused on budget priorities directing millions to affordable housing then turned around and said "we have invested more in affordable housing, homelessness prevention, and rental assistance in my tenure as Governor than any other administration." Taxpayers should ask, why don't we see some improvement?
One thing she didn't mention, nor did the majority party leadership, was a reduction in income taxes that would stimulate the economy.
--Donna Bleiler
| | |
| --- | --- |
| Post Date: 2022-02-10 00:35:12 | Last Update: 2022-02-10 00:45:55 |
Booming state revenues, but inflation and continued supply chain problems
T
he Oregon Economic Forecast for March has a mixed bag of prognostications. According to the Office of Economic Analysis which produces the forecast, "As the inflationary boom persists, all of Oregon's primary state revenue instruments continue to outperform pre-pandemic expectations. With the consensus of economic forecasters now expecting that there is more to come, the revenue outlook has been revised upward." The state has over $900 million in extra revenue.
On the other hand, it predicts challenges for the economy. "The biggest economic challenge remains the supply side of the economy. Supply chains are not broken but are overloaded due to strong consumer demand. Given that labor runs through everything, it is the single biggest constraint on the economy today. Labor supply is increasing. Oregon added a record number of jobs last year."
"More money for the state is not the same thing as good news for Oregonians," said Oregon House Republican Leader Vikki Breese-Iverson (R-Prineville). "People are struggling to make ends meet while the state is swimming in tax revenue. Years of Democrats' failed leadership have resulted in tax and fee increases. This has brought the state more money than ever at a time when inflation is hurting individuals, families and small businesses by raising prices and diluting salaries. Now should be the time to eliminate financial burdens. Instead, Democrats have floated ideas like a new sales tax. Oregonians deserve better."
The National Federation of Independent Businesses'
Small Business Optimism Index
recently reported that the number of small business owners raising average selling prices increased by the highest amount since the fourth quarter of 1974.
Oregon House Speaker Dan Rayfield (D-Corvallis) said that "After two incredibly difficult years, today's news means we can make critical investments in our schools, working families, and small business. "We need to seize this opportunity to invest in our schools, particularly given the burnout many frontline workers in education are feeling.
Speaker Rayfield continued, "We need to support working families and small businesses by investing in skills training and helping people start and expand small businesses. "We need to do whatever we can to bring down the cost of living for hardworking Oregonians, particularly individuals and families in need of affordable housing. That means making smart investments to help Oregonians cover everyday necessities like rent, mortgage payments, prescriptions and childcare."
"Crime is on the rise," said Senate Republican Leader Tim Knopp (R-Bend). "The Governor continues to double down on letting criminals out of prison, while several bills are working through the legislature that will make our communities more dangerous. We must invest in public safety.
Governor Kate Brown took to the defensive on crime. "As we work to help Oregon families succeed, with these additional resources at the midpoint of session, we also have an opportunity to ensure that every Oregonian feels safe in their community. I will continue to work with legislators to address community safety, and I encourage members of both parties to bring forward their ideas for evidence-based community violence prevention and intervention. When we invest in and create opportunities for Oregonians and their families, we create safer, healthier communities."
A D V E R T I S E M E N T
A D V E R T I S E M E N T
With the excess revenue, Republicans will also pursue a $50 million appropriation to fund forest thinning operations around the state. "Decades of forest mismanagement has left our forests overstocked ready to explode with a single spark," Senator Knopp continued. "We must act in a bold way to ensure Oregonians are protected from devastating wildfire."
"We must also be responsible with this money. We need to reserve more funds for the next downturn. We also need to look seriously at giving Oregonians a tax break. The government has buckets of money, but inflation is pinching the pockets of working Oregonians. As Democrats introduce bills to increase taxes, Republicans are looking at ways to cut them," said Senator Knopp.
"Wow... That is a lot of money. We can build big projects across the state. We can get the homeless off the street. We can do year-round schools. And we can better recruit, train and evaluate police. Much work to do in a very short period," said Senate President Peter Courtney (D-Salem).
Senate Majority Leader Rob Wagner (D-Lake Oswego) said, "Today's forecast is a green light for immediate investments to help kids succeed in school, get people into housing and make sure working families and small businesses are benefitting from our recovery. We must make sure that every community in Oregon shares these strong economic gains."
--Staff Reports
| | |
| --- | --- |
| Post Date: 2022-02-09 14:13:42 | Last Update: 2022-02-09 14:39:32 |
Bills are soft on crime, escalate police encounters, and let criminals out of prison early
Oregon Legislative Democrats have passed
SB 1510
out of the Senate Judiciary Committee -- Chaired by Sentator Floyd Prozanski (D-Eugene) -- along party-lines. The public hearing for
SB 1568
also tees up more bad policy by making it easier for criminals to get out of jail, making life more dangerous for other Oregonians.
SB 1510
would ban police from enforcing common-sense traffic safety measures like functional headlights and taillights, during a period of unprecedented increases in traffic fatalities in Oregon.
"Properly functioning vehicle lighting is essential for traffic safety," said Senator Dennis Linthicum (R-Klamath Falls). "Tying law enforcements' hands in situations where other motorists' safety is being threatened is reckless and dangerous public policy."
In addition,
SB 1510
would escalate encounters with the public, as they would be required to seek consent to a search of a vehicle. Yet, the bill does not change statutes that allow police officers to search a vehicle under probable cause or reasonable suspicion.
"Not only does this bill fail to address any safety problems, but it will require police officers to give false hope to drivers, only to search their vehicle regardless of their consent. That is a recipe to escalate interactions with police," Linthicum added. "This is a perfect example of how good intentions can have deadly consequences."
Finally, the bill appropriates millions in funding for grants to the Justice Reinvestment Equity Program which has an express purpose of "promot[ing] racial equity [and] reduc[ing] racial disparities."
A D V E R T I S E M E N T
A D V E R T I S E M E N T
A Legislative Counsel opinion found that the language in the bill may allow for racial discrimination. While the bill does not explicitly mention race-based discrimination, the opinion discussed the use of the term "culturally responsive organizations" which could be interpreted as a proxy for race:
"[C]ulturally specific organization by definition "serves a particular cultural community [and] is primarily staffed and led by members of that community." "Cultural community" is not synonymous with race. However, coupled with the Justice Reinvestment Equity Program's express purpose of "promot[ing] racial equity [and] reduc[ing] racial disparities," it is possible that in the implementation of the program, "cultural community" could be interpreted as a proxy for a specific racial group, and the program could provide grant funds to an organization based on the organization's explicit categorization of persons it has served or will serve based on race."
Therefore it could be found unconstitutional under the Equal Protection Clause of the 14th Amendment of the US Constitution. The 14th amendment was passed in the wake of the Civil War to prohibit racial discrimination in the states. It also could run afoul of Article I, Section 20 of the Oregon Constitution, which states, "No law shall be passed granting to any citizen or class of citizens privileges, or immunities, which, upon the same terms, shall not equally belong to all citizens"
"This bill is chocked full of terrible provisions that will further degrade Oregonians' safety," Linthicum said. "But this section is perhaps the most sinister. Democrats have written this bill with crafty language in hopes of skirting the Constitution. Oregon has already been admonished by the courts over this kind of racial discrimination. There is broad bipartisan agreement, with constitutional support, that racial discrimination is flat-out wrong. I am shocked to see this kind of provision making its way through the legislature."
SB 1510
will now go to the Ways & Means Committee.
SB 1568
would create a new unelected, unaccountable board to consider the release of criminals from prison. Board members will be appointed by the Governor, without any input or confirmation from the Senate.
The board will not include any representatives from law enforcement or victim advocates. The bill gives the board power to grant criminals a "get-out-of-jail-early-cards" when the Governor declares a state of emergency, like she did when she shut down businesses and required healthy Oregonians to stay home.
"Supporters of this bill want Oregonians to believe that letting unaccountable bureaucrats release criminals from prison is compassionate. It is not compassionate to crime victims or our system of justice. There is no other way to characterize these bills than being pro-criminal."
--Staff Reports
| | |
| --- | --- |
| Post Date: 2022-02-08 16:11:38 | Last Update: 2022-02-08 17:00:49 |
Read More Articles