On this day, January 28, 2003, Oregon voters defeated a proposed three-year income tax hike designed to forestall $310 million in cuts to schools and social services.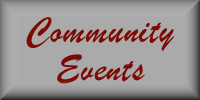 Post an Event

Western Liberty Network Leadership and Activist Training Conference
Saturday, February 4, 2023 at 9:00 am
The year's premiere grassroots activist and leadership conference! Get what you need to be successful in 2023!
Portland Airport Embassy Suites Hotel 7900 NE 82nd Avenue

The Oregon Constitution
Wednesday, February 22, 2023 at 7:00 pm
First of a three part series presented by former State Representative Mike Nearman studying the Oregon Constitution.
The River Church 4675 Portland Rd NE Salem

The Oregon Constitution
Wednesday, March 1, 2023 at 7:00 pm
Second of a three part series presented by former State Representative Mike Nearman studying the Oregon Constitution.
The River Church 4675 Portland Rd NE Salem

The Oregon Constitution
Wednesday, March 8, 2023 at 7:00 pm
Third of a three part series presented by former State Representative Mike Nearman studying the Oregon Constitution.
The River Church 4675 Portland Rd NE Salem

We Are Stronger Together
Monday, March 27, 2023 at 10:00 am
Oregon's Natural Resources & Industries (ONRI) is sponsoring the rally to meet legislators and influencers to bring light on legislation affecting natural resource industries, their families, and their communities. https://onri.us/events
Rally at the State Capitol, Salem.
View All Calendar Events
State of Oregon to pay for half of $40 million
B
enton County, Oregon
has been allocated
over $20 million in state matching funds for the construction of a new County courthouse.
With statewide recognition for the need for a modern courthouse that meets best practice standards for safety, access and services, the County's program was placed on a priority list by the Association of Oregon Counties-Oregon Judicial Department Courthouse Task Force five years ago.
Benton County collaborated with the Oregon Judicial Department, to apply for state matching funds for a new courthouse from the Oregon Capital Construction and Improvement Fund.
The matching funds enabled the state to pay for half of an approximately $40 million new courthouse, with the County funding the remainder.
Building a new County courthouse to meet the needs of current and future Benton County residents is generally considered to be critical.
T
he Historic Benton County Courthouse was built in 1888 and is no longer capable of meeting current accessibility, safety and trauma-informed services standards.
Through
HB 5006
, the 2021 State Legislature approved a 50% match of approximately $20.4 million to the County.
The new courthouse is one of four new facilities proposed for the County's Justice System Improvement Program. The award of these state matching resources is contingent upon the County demonstrating the ability to provide its equal share of the project cost.
These resources were contemplated to come through the County's original bond measure date of May 2022, which has since moved to May 2023.
The year-long postponement of the bond measure vote required that the County either identify another funding source for matching funds or re-request funds from the Legislature in the 2023 session.
On Tuesday, December 7, the Board of Commissioners agreed to fund the County's $20.4 million in matching funds for the new courthouse using a combination of budget reserves and borrowing, enabling the project to advance as originally contemplated.
A D V E R T I S E M E N T

A D V E R T I S E M E N T
The Board did not wish to forego the $20.4 million matching funds from the State and risk the possibility of a future legislature reducing or eliminating the award.
The Board's decision will enable the County to execute an agreement with the state to receive an official award of the resources so that design work on the new courthouse may begin in 2022, with an estimated completion date of July 2025.
A portion or all of the County's matching funds may still be included in the May 2023 bond measure to allow the County to reimburse itself for funds drawn from reserves or borrowing. The County does not need to secure its matching funds as a $20.4 million lump sum. It can be staggered over the life of the project.
A site for the new courthouse has not been determined and will in part hinge on the outcome of the Justice System Improvement Program's site selection process.
Currently, program staff and the Board of Commissioners are contemplating two suburban sites, in west and north Corvallis, and a site downtown that is smaller in size than the suburban sites, but large enough for a new courthouse. The Commissioners will have to align on the new courthouse site in early 2022.
R
elated to the new courthouse, the Board recently discussed the proposed future location of the District Attorney's Office. The District Attorney currently occupies a portion of the historic Benton County Courthouse.
Over the past year, the Justice System Improvement Program's Technical and Community Advisory Committees contemplated whether the District Attorney should remain in the Historic Benton County Courthouse, or become part of, or co-located with, the proposed new courthouse.
Ultimately, the advisory committees recommended the District Attorney's Office migrate to the new courthouse, to align with industry best practices and the Justice System Improvement Program's vision of building a justice system for the future.
Similarly, District Attorney John Haroldson advocated for moving the District Attorney's Office to the new courthouse. The Board weighed the recommendation from the advisory committees and DA Haroldson and agreed to support the move conceptually.
The proposed new District Attorney's Office is estimated to cost about $16 million and is not included in the new courthouse matching funds awarded by the State.
Consequently, Benton County must fund the entire $16 million to advance the County's desire to co-locate the District Attorney with the new courthouse. A funding source, whether the result of a successful bond measure, additional borrowing, or a combination of both, has not been determined at this time.
--Bruce Armstrong
| | |
| --- | --- |
| Post Date: 2021-12-27 14:11:36 | Last Update: 2021-12-27 16:34:44 |
Representing timberlands in Oregon
D
ouglas County has announced that Commissioner Tim Freeman has been re-elected for his sixth term as the President of the Association of O&C Counties (AOCC).
The AOCC unanimously re-elected its leaders for 2021 at the AOCC annual meeting held on Friday, December 17, 2021. In addition to Commissioner Freeman, Polk County Commissioner, Craig Pope was re-elected as Secretary/Treasurer and Coos County Commissioner, Bob Main was re-elected as Vice President.
"I am truly honored to be re-elected and I am thankful to have the support of the members of the AOCC, who trust me in leading this crucially important work." Freeman said. "Together with my colleagues and the staff at AOCC, we will continue to work hard to secure solutions to manage our unique congressional designated lands."
The
AOCC
represents the O&C lands in 18 western Oregon counties, the 18 counties host 2.1 million acres of O&C timberlands managed by the Bureau of Land Management (BLM).
A D V E R T I S E M E N T

A D V E R T I S E M E N T
AOCC advocates for sustained yield management of O&C lands, as required by federal law under the O&C Act, to protect and support jobs and local economies, county services, and healthy timber land.
D
uring its annual meeting, AOCC members discussed the latest decision filed by Judge Richard Leon of the United States District Court for the District of Columbia.
On November 19, 2021, Judge Leon continued to validate the claims made by the AOCC Counties, most notable being, that the Bureau of Land Management(BLM) must explicitly follow the terms of the 1937 O&C Act, in which all O&C lands classified as timber land shall be managed for permanent timber production under the principle of "Annual Sustained Yield Capacity".
He also ordered the BLM to expediate the completion of its rewrite of their 2016 management plan.
T
he 1937 O&C Act is widely regarded as the first Congressional conservation act.
It regulates the management of the Federal timber resource. The O&C Act signaled an end to the cut and run policies in the early years of the 20th century. By requiring management under the principle of Sustained Yield, timber harvest cannot outpace the annual growth of the forest, resulting in a perpetual supply of timber while concurrently providing quality habitat for wildlife, watershed protection, and recreational opportunities for the public.
Judge Leon's decision not only reaffirms the principles and requirements of the O&C Act, but also provides the foundation to create new job opportunities throughout the entire economic sector. In addition, Sustained Yield management will provide much needed revenue to fund vital County services such as the Sheriff's Office, 911 Communications, Senior Services, Veteran Services, Public Works infrastructure projects and public health programs.
--Bruce Armstrong
| | |
| --- | --- |
| Post Date: 2021-12-26 15:12:42 | Last Update: 2021-12-26 15:35:06 |
Fagin cites personal reasons
B
eaverton City Councilor Mark Fagin has announced his resignation from the Beaverton City Council effective Jan. 1, 2022. Councilor Fagin cited personal reasons for his decision.
Councilor Fagin began his service on the City Council in 2013 and before being elected was a member of the Planning Commission, the Civic Plan Steering Committee, and the Visioning Advisory Committee. He was the founding chairperson of the Visioning Advisory Committee.
Councilor Fagin has influenced countless projects.
"It has been an honor to serve the community as a Beaverton City Councilor," said Councilor Mark Fagin. "My family and business are growing, and by stepping down now, the city can hold an election for my seat this May, along with the three other positions that will be up for election. This was a difficult decision; this experience has been very rewarding. I am proud of the improvements made in the last decade and the projects in the works give me confidence that the city is on a good path. I look forward to watching the progress as Beaverton continues to evolve."
"I'm thankful to Councilor Fagin for his many years of impactful service," said Mayor Beaty. "Making the decision to step down is never easy, but I honor Councilor Fagin's commitment to his family."
A D V E R T I S E M E N T

A D V E R T I S E M E N T
The City Council accepted Councilor Fagin's resignation of Council Position 3 at their Dec. 14 meeting.
The Council is considering options for replacement, which may include appointment of an Interim City Councilor to fill the vacant seat. A public election to fill the remainder of the Council Position 3 will occur in May 2022. The remainder of the existing Beaverton City Council Position 3 term is through Dec. 31, 2024.
The Beaverton City Council was expanded to seven members under the city's new voter-approved Charter that went into effect Jan. 1, 2021.
The other members of the Beaverton City Council are Lacey Beaty (Mayor), Ashley Hartmeier-Prigg (Council Position 1), Laura Mitchell (Council Position 2), Allison Tivnon (Council Position 4), Marc San Soucie (Council Position 5) and Nadia Hasan (Council Position 6).
--Bruce Armstrong
| | |
| --- | --- |
| Post Date: 2021-12-25 20:28:36 | Last Update: 2021-12-25 20:37:27 |
Bagby Preservation, Inc selected
T
he Mt. Hood National Forest
has selected Bagby Preservation, Inc.
to operate Bagby Hot Springs and Campground on the Clackamas River Ranger District, beginning January 2023. Bagby Preservation Inc. is an Oregon business led by longtime Bagby Hot Springs advocates Mike and Tamarah Rysavy.
I am excited about this new opportunity for the public at Bagby Hot Springs," said Mt. Hood National Forest Supervisor Meta Loftsgaarden. "The Rysavy's experience operating other Oregon hot springs and long connection to Bagby Hot Springs will be a valuable for forest visitors."
After casting a wide net for creative proposals, the Forest Service evaluated applications for ability to provide effective operations, investment for public benefit, and financial stability- all while preserving the historic resources and rustic experience which Bagby Hot Springs offers.
"Bagby Preservation looks forward to making Bagby Hot Springs a safe, family-friendly environment for the public," said Mike Rysavy, President of Bagby Preservation, Inc. "My wife and I formed Bagby Preservation because of our love of Bagby Hot Springs. After spending countless volunteer hours, getting grants to restore the historic cabin, and starting the Northwest Forest Conservancy, Bagby inspired us to manage hot springs full-time."
A D V E R T I S E M E N T
A D V E R T I S E M E N T
T
he
popular hot springs
has attracted visitors for over 100 years and has been open year-round in the past. The site features two bath houses, an historic cabin, a bunkhouse, and an 18-site campground. Several of the buildings need repairs and renovation.
Bagby Preservation Inc. plans to invest $100,000 upfront to address deferred maintenance and make improvements. They plan to keep the soaking fee at $5 per person. As part of their plan for sustainable, local management, Bagby Preservation Inc. looks to partner with local non-profits where feasible to implement historic preservation projects, trail maintenance, and public education events, in coordination with the Forest Service.
Bagby Hot Springs is located along Forest Road 70, about 40 miles southeast of Estacada. The area is currently closed through at least winter for Bull Complex fire recovery work, following the fire's containment in November. Additionally, State Hwy 224 remains closed east of Estacada. CLM, the current permit holder, lost much of their equipment and vehicles used on the district in the 2020 Riverside Fire and is focused on reopening Bagby Hot Springs in 2022.
--Bruce Armstrong
| | |
| --- | --- |
| Post Date: 2021-12-25 18:51:48 | Last Update: 2021-12-25 19:01:15 |
Oregon suffers from human trafficking problems...
A
n effort in Oregon earlier in 2021 relating to prostitution, would have essentially legalized the practice, if
HB 3088
hadn't stalled in the
House Judiciary Committee
.
Representative Rob Nosse (D-Portland) was the chief sponsor of the bill which would have repealed the crimes of prostitution, commercial sexual solicitation and promoting prostitution. The measure takes away some of the protections for victims of sex trafficking.
For instance,
ORS 167.007
-- part of the law proposed to be repealed -- says that "A person commits the crime of prostitution if the person engages in, or offers or agrees to engage in, sexual conduct or sexual contact in return for a fee." However, also proposed to be repealed is the language protecting victims. "It is an affirmative defense to prosecution under this section that the defendant, at the time of the alleged offense, was a victim of the crime of trafficking in persons."
Now, that effort is continuing through the state's
initiative petition process
.
Being called the "Sex Worker Rights Act" On November 16, 2021, the Elections Division received
Initiative Petition 2022-042
, proposed for the November 8, 2022, General Election.
To qualify for the ballot,
Initiative Petition #42
will have to collect 112,020 valid signatures from Oregon voters.
Observers question whether this is perhaps not the best approach to dealing with Oregon's current problem with human trafficking, and it may be seen a continuing radical leftist agenda from the Kate Brown administration and super-majority Democrat party that may not be concerned with accountability if the results turn out to be a disaster.
--Bruce Armstrong
| | |
| --- | --- |
| Post Date: 2021-12-24 12:21:35 | Last Update: 2021-12-24 14:11:35 |
Projected severe winter weather across the state
G
overnor Kate Brown has
declared a state of emergency
lasting through January 3 due to projected severe winter weather across the state.
She had just
extended the COVID emergency
days prior. She has issued
several executive orders
.
This weather is expected to bring heavy snow and sustained temperatures below freezing, resulting in critical transportation failures and disruptions to power and communications infrastructure.
"Our state has experienced a number of climate-related emergencies this year, and with another coming, I urge all Oregonians to make a plan with your family now and be prepared," said Governor Brown. "I am directing state agencies to work proactively with local emergency management partners to coordinate on communications for emergency services, such as warming centers. Winter storms mean increased risk for those traveling as well as those staying home for the holidays. Check on your neighbors and loved ones when you can do so safely. If road conditions worsen, please help our first responders by staying home when possible."
A D V E R T I S E M E N T
A D V E R T I S E M E N T
Pursuant to ORS 401.165, Governor Brown determined a potential threat to life, safety, property, and significant damage to infrastructure exists due to severe winter weather across Oregon.
T
he National Weather Service has issued multiple winter storm watches, warnings, and winter weather advisories throughout the state.
The Governor's
declaration
authorizes the Oregon Office of Emergency Management (OEM) to activate state resources, and to utilize personnel, equipment, and facilities from other state agencies in order to respond to or mitigate the effects of the weather emergency.
In addition, the Oregon National Guard, Oregon State Police, Oregon Department of Transportation, Oregon Department of Human Services, and the Oregon Public Utility Commission and other state agencies are directed to provide any assistance as requested by OEM that is deemed necessary to assist in the response.
--Bruce Armstrong
| | |
| --- | --- |
| Post Date: 2021-12-23 18:47:20 | Last Update: 2021-12-23 19:06:33 |
Filling new positions on Deschutes County Circuit Court
G
overnor Kate Brown has announced that she will appoint two judges to fill new positions on the Deschutes County Circuit Court, created by the Legislature in House Bill 3011 (2021).
Governor Brown will appoint Michelle McIver to the newly created Position 8 and Alycia Herriott to the newly created Position 9. Both appointments are effective immediately.
"I am thrilled to appoint these remarkable women to the bench in Deschutes County," said Governor Brown. "Michelle McIver and Alycia Herriott are compassionate and skilled lawyers who will be able to pull from their years of experience in the courtroom to ensure that our justice system continues to fairly and equitably serve the people of Deschutes County."
Michelle McIver was raised in Michigan and graduated from Michigan State University with her bachelor's degree in 1999. After working with AmeriCorps for two years, she obtained her law degree from Lewis & Clark Law School. After law school, McIver performed work for Legal Aid Services of Oregon before becoming a public criminal defense attorney at Crabtree & Rahmsdorff Defense Services in 2011. She now maintains her own law practice in which she provides public criminal defense legal services to individuals in Deschutes County. McIver has also been involved in the community, including working to bring yoga to Family Drug Court and the Deschutes County Jail.
A D V E R T I S E M E N T
A D V E R T I S E M E N T
Alycia Herriott has been a criminal defense attorney at the Gilroy, Napoli, Short Law Group since 2018 and, before that, was a prosecutor for the Deschutes County and Clackamas County District Attorney's offices.
She also briefly served as a Special Assistant U.S. Attorney for the District of Oregon from 2015 to 2016. Herriott grew up in Klamath Falls, and is a graduate of the University of Oregon, where she received her bachelor's degree, and Willamette University College of Law, where she obtained her law degree in 2008. Herriott worked with programs such as the New Lawyer Mentor Program and the Deschutes County Emerging Adult Program.
--Bruce Armstrong
| | |
| --- | --- |
| Post Date: 2021-12-23 11:59:57 | Last Update: 2021-12-23 14:02:05 |
Oregon may see much snow in the next week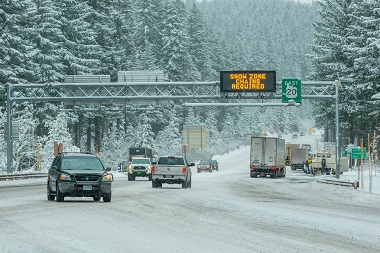 I
f you take to the roads this holiday season be aware that your travels may become treacherous, with freezing temperatures and
snow expected
in many corners of Oregon.
The Willamette Valley, the mountains, the Columbia River Gorge and Central, Southern and Eastern Oregon all likely will see varying degrees of snow and freezing temperatures over the three-day holiday weekend and into the following week.
Be prepared. Travelers may encounter hazardous winter conditions.
ODOT says their staffing shortages mean they may need a little more time to clear roads, whether it be snow or slides.
This is a continuation of a staffing trend seen since last year. ODOT says they are working hard to fill vacant positions and will shift resources as needed when they see significant snow or other issues on our roads.
ODOT crews are on duty around the clock to keep the roads safe and clear problems as quickly as possible.
A D V E R T I S E M E N T
A D V E R T I S E M E N T
Here are a few holiday travel tips.
Know before you go. Visit the tripcheck website and see road conditions along your route, start to finish
Remember that many tripcheck cameras include temperature, elevation and other critical details about road conditions
Drive for conditions. If encountering rain, mud, snow, ice or extra traffic be sure to slow down and give extra space for stopping
Keep your vehicle in good operating shape, checking brakes, lights, tires and wipers regularly
Watch out for bicyclists and pedestrians. In wintry conditions, visibility drops
Pay attention to roadside message signs. They contain critical information about conditions on the road ahead
Be patient, wear your seat belt, pay attention to conditions and keep a sober driver behind the wheel to help ensure a safe arrival for holiday activities
In recent days, snow has forced the closure of U.S. 97 into California and of Interstate 5 over the Siskiyou Pass into the Mount Shasta area. Be extra careful whether traveling through the Columbia River Gorge, the Coast Range or the Cascades.
Snow is expected so be prepared, be flexible and be careful.
--Bruce Armstrong
| | |
| --- | --- |
| Post Date: 2021-12-22 17:55:47 | Last Update: 2021-12-23 08:24:37 |
"We are talking about building roads, not reducing lanes."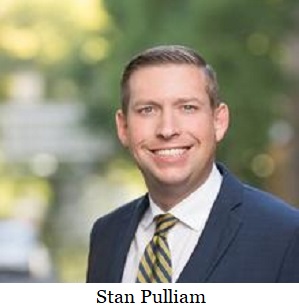 The City of Sandy, under the direction of Mayor Stan Pulliam has released a proposal to build a Highway 26 bypass around the city. Pulliam is also
running for the Republican nomination for Governor
.
"When I first ran for mayor in 2018, I was tired of past elected officials saying that solving our growing transportation problems was not possible," said Pulliam. "I knew Sandy wanted a leader who tried to say 'yes' and not 'no' when it came to such basic infrastructure needs."
The study released by the City of Sandy found that, if a bypass is not completed, intersections in Sandy on Highway 26 would exceed mobility targets, even with local street improvements. According to the report, adding the bypass is feasible, much less expensive than previously thought, and would reduce travel times through Sandy both directions.
"Politicians in Portland are spending millions building expensive light rail and other projects that will not solve congestion," continued Pulliam. "Here in Sandy we are talking about building roads, not reducing lanes."
"Sandy needs to take its destiny into its own hands and look out for its future, which is currently headed towards worsening gridlock. Building a bypass will make Sandy an even more attractive destination, not just a passthrough."
"Our city is committed to moving forward and addressing our major traffic congestion needs. We will carefully review the presented data and take action in the near future."
--Staff Reports
| | |
| --- | --- |
| Post Date: 2021-12-22 10:28:22 | Last Update: 2021-12-22 10:52:38 |
"The COVID-19 pandemic constitutes an ongoing statewide emergency."
I
t's almost as if Governor Brown has admitted to the fraud on Oregonians in
Executive Order 21-36
. She extended her declaration of a state of emergency by authority conferred to her in ORS 401.165 to 401.236, and ORS 401.192 claiming the full force and effect of law with no recourse of any individual rights or privileges against the State.
401-165-188 – emergency declared at requests of a county, and specifies the geographical area, and Governor's authority within the designated area including removal of disaster debris or wreckage, and providing temporary housing and unemployment for disaster victims. The Governor may issue, amend and enforce rules and orders to manage resources during and after an emergency.
401.192 - All rules and orders issued under authority conferred by ORS 401.165 (Declaration of state of emergency) to 401.236 (Rules) shall have the full force and effect of law both during and after the declaration of a state of emergency. All existing laws, ordinances, rules and orders inconsistent with ORS 401.165 to 401.236 shall be inoperative during the period of time and to the extent such inconsistencies exist.
401.204 - The Governor shall terminate the state of emergency by proclamation when the emergency no longer exists, or when the threat of an emergency has passed, or terminated at any time by joint resolution of the Legislative Assembly.
401.232-236 - Federal financial assistance to political subdivision, or to individuals or families. The Governor is authorized to make rules to carry out the purposes of ORS 401.165 to 401.236.
Also brought forward from Executive Order 20-03 is ORS 401.025(1), which applies "Emergency" to mean a human created or natural event or circumstance that causes or threatens widespread loss of life, injury to person or property, human suffering or financial loss. "Emergency service agency" includes health and medical services.
Governor Brown writes in the order: "In June 2021. the state's pandemic response shifted from acute emergency response to long-term management and recovery. At that time, in
Executive Order 21-15
, I rescinded executive orders that had imposed COVID- l9 safety measures. Although we knew the pandemic was not over, and recovery would be a longer-term proposition, it was time to begin transitioning from managing the pandemic under emergency powers to managing the pandemic under "ordinary government processes" like legislative action to address the ongoing eviction crisis, and agency rulemaking to address COVID-19-as we would any other established public health challenge."
A D V E R T I S E M E N T

A D V E R T I S E M E N T
H
owever,
Executive Order 21-15
was issued June 25, 2021, two days before the 2021 legislative session ended without addressing the authority of an ongoing emergency status giving the Governor authority to extend the emergency as an "ordinary government process."
Executive Order 21-36
is attempting to justify extending an emergency under unrelated statutes based on 2020 data. It claims that 21-15 was made law transitioning to "ordinary government processes" for managing COVID-19 was tested almost immediately, as the new Delta variant arrived in Oregon. Good thing we had Executive Order 21-15 because breakthrough cases drove hospitals to capacity all while the Governor issued orders to fire healthcare providers that weren't vaccinated.
Executive Order 21-36
states: "I find that although we have reached the point where the vast majority of pandemic-related business and public health restrictions to control the spread of COVID-19 have been transitioned to non-emergency authorities, the needs associated with Oregon's ongoing efforts to respond to and recover from the effects of the COVID-19 pandemic constitute an ongoing statewide emergency."
It says there is no emergency, controls have been transitioned to non-emergency authorities so they can make rules out of prior emergency orders that are unlawful. Admitting the transition seems like a direct admission of violating ORS 401.204 requiring termination of an emergency. But never mind the law, I (Governor Brown) am still declaring an ongoing emergency because I need more control and I like doing press conferences that keep Oregonians divided.
--Donna Bleiler
| | |
| --- | --- |
| Post Date: 2021-12-22 10:06:26 | Last Update: 2021-12-22 10:28:22 |
Your freedom is right around the corner, maybe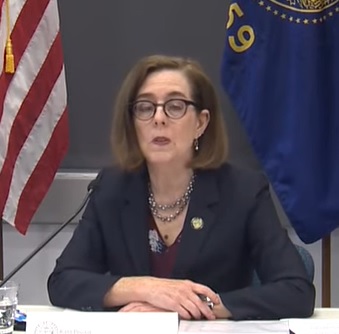 Governor Kate Brown once again
extended her declaration of a state of emergency in Oregon
, citing the impending Omicron variant surge.
"As Oregon prepares for what could be our worst surge in hospitalizations during this pandemic, I know that this is not the beginning of the new year any of us had hoped for," said Governor Brown. "Time and again over the last two years, Oregonians have proven that we will stand with each other in our most difficult times. Your actions have saved lives, and it is because we have worked together to keep each other safe that Oregon still has some of the lowest infection and mortality rates in the nation. Please, do your part again––get vaccinated, get your booster shot, and wear a mask."
The emergency declaration continues, with Kate Brown claiming that it is necessary to provide flexibility and resources for the state's COVID-19 response and recovery efforts, including allowing for the use of SERV-OR volunteer medical providers in hospitals, providing flexibility around professional health licensing, and ensuring Oregon can continue to access all available federal disaster relief funds available, such as enhanced SNAP benefits. Executive Order 21-36 will remain in effect until June 30, 2022, unless earlier rescinded or extended.
Most of the Governor's executive orders regarding COVID-19 were rescinded on June 30, 2021.
She then issued vaccine mandates upon news of the Delta variant. She also took other steps, such as activating the Oregon National Guard, and coordinated with the Oregon Health Authority to bring healthcare workers to Oregon after mandating vaccinations for healthcare workers.
Oregon's requirements in place today regarding masks, vaccinations for K-12 educators and staff, and vaccinations for healthcare workers do not rely on the state of emergency declaration––instead, they are covered by agency administrative rules issued under existing state authority.
--Bruce Armstrong
| | |
| --- | --- |
| Post Date: 2021-12-21 16:42:34 | Last Update: 2021-12-21 17:10:30 |
"It is a small price to pay for keeping the grassroots healthy"
If you're at all politically active, and political organizations have you email address or your mailing address, chances are they are asking you for donations at the end of the year. Most will reference Oregon's
political tax credit
, which almost sounds too good to be true. Give $50 for an individual or $100 for a joint return and all of that money comes back to you in the form of a credit -- not a deduction, as with charitable contributions -- when you file.
You can make a donation to a
major political party
or a
minor political party
or to any candidate, initiative petition drive or any political organization that has an
Oregon Political Action Committee
established.
As a tax credit, there is a cost to the taxpayers in tax revenue lost due to people using the credit. The Oregon Department of Revenue, under the direction of Betsy Imholt, estimated that the cost to the taxpayers would be about $6.7 million for the 2019-21 biennium. That means that about 67,000 people claim the credit each year -- a mere fraction of the
1.92 million individual tax returns
filed in 2018.
According to one PAC treasurer, the program is worth it. "It keeps individual contributions flowing and that helps offset large interest and corporate donations. It is a small price to pay for keeping the grassroots healthy."
--Staff Reports
| | |
| --- | --- |
| Post Date: 2021-12-20 21:35:35 | Last Update: 2021-12-21 11:49:07 |
Read More Articles