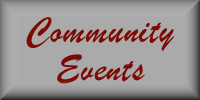 Post an Event

Oregon Republican Party State Central Committee Meeting
Saturday, May 21, 2022 at 7:30 am
Including election of a new Vice-Chair
Marion Post 661 VFW
630 Hood Street, NE
Salem, Oregon

OREGON FREEDOM RALLY
Saturday, June 4, 2022 at 12:00 pm
Oregon's premiere annual event for grassroots conservatives sponsored by Oregon Liberty Alliance and others. Featuring Dinesh D'Souze, Elisha Krauss, Scott Rasmussen and Isabel Brown. Lunch included at $65 per person, under 16 are free. Doors open at 11am to network with exhibitors. Register at: www.OregonFreedomRally.com
Wingspan Event & Conference Center, 801 NE 34th Ave, Hillsboro, OR 97124

DALLAS Community-wide ONE Service
Sunday, June 5, 2022 at 10:30 am
ONE Community joined together for a community wide Worship Service. Fellowship and coffee at 10:30, Service at 11am.
Dallas High School Football Stadium

Fight for Freedom Event
Friday, June 10, 2022 at 6:00 pm
Training on survival and emergency medicine by XSA International Krisanne Hall 2-Day Constitutional Training Friday 6-10pm, Saturday 8am-11pm, Sunday 8am-2pm Tickets: $30 www.peoplesrightsoregon5.com/fight-for-freedom-event
Deschutes County Fairgrounds

Fight for Freedom Event
Friday, June 10, 2022 at 6:00 pm
Training on survival and emergency medicine by XSA International Krisanne Hall 2-Day Constitutional Training Friday 6-10pm, Saturday 8am-11pm, Sunday 8am-2pm Tickets: $30 https://www.peoplesrightsoregon5.com/fight-for-freedom-event
Deschutes County Fairgrounds

Fight for Freedom Event
Friday, June 10, 2022 at 6:00 pm
Training on survival and emergency medicine by XSA International
Krisanne Hall 2-Day Constitutional Training

Friday 6-10pm, Saturday 8am-11pm, Sunday 8am-2pm

Tickets: $30

https://www.peoplesrightsoregon5.com/fight-for-freedom-event

Deschutes County Fairgrounds

World Athletics Championships
Friday, July 15, 2022 at 8:00 am
The World Athletics Championships are coming to Eugene this summer (July 15-24 2022), the first time in history that the championships will be held in the United States. This mega-sporting event will showcase the best track and field athletes in the world. The event will bring 2,000 athletes from more than 200 nations, all competing for 49 gold medals. About 20,000 to 25,000 attendees are expected per session, with most days hosting two sessions (both morning and afternoon).
Eugene

Gathering of Eagles/Rally Around the Flag
Saturday, September 10, 2022 at 10:00 am
Watch for details, sign up for Oregon Liberty Coalition (OLC) alerts and information. orlibertycoalition@gmail.com
Ames Ranch, Turner, Oregon

Oregon General Election
Tuesday, November 8, 2022 at 8:00 pm
Statewide
View All Calendar Events
Drazan steps down. To run for Governor?
In a move that insiders read as an announcement of a Gubernatorial bid, Oregon Representative Christine Drazan (R-Canby) has stepped down from the role of Oregon House Republican Caucus Leader. Representative Vikki Breese-Iverson (R-Prineville) was selected by House Republicans to serve as its new Leader.
Representative Drazan served as Caucus Leader since 2019.
"It has been a privilege to serve as Republican Leader in the Oregon House during these challenging times," said Representative Drazan. "Today I stepped down from this role to focus my efforts on preparations to serve our state in a new way. I have enjoyed working alongside my Republican colleagues who have been committed to amplifying the voices of tens of thousands of Oregonians that feel unheard by our current state leadership."
"It's an honor to be chosen by my friends and colleagues for this role," said Leader Breese-Iverson. "I'm proud of the work that this Caucus has achieved together in recent years, standing up to the one-party dominance that controls this state. The size of state government has
ballooned after a decade of Democrats' liberal agenda-driven focus and as a result made Oregon more expensive for everyone. I look forward to continuing our work in this new role to fight for much-needed balance. House Republicans will not stop pushing for solutions that focus on the actual needs of Oregonians."
Representative Breese-Iverson first began serving as a State Legislator in 2019.
Without hardly stopping to catch her breath, Breese-Iverson issued a statement in response to calls from Democrats for a
special session
to extend pandemic-related housing policies.
"We must allow our economy to return to normal," said newly minted House Republican Leader Vikki Breese-Iverson. "Our unemployment level, jobless claims, and job openings have returned to pre-pandemic years. A special session is unnecessary. After back-to-back years of record state revenue, the Emergency Board has the ability to allocate funds to support those already in line to receive rent assistance."
--Staff Reports
| | |
| --- | --- |
| Post Date: 2021-11-30 17:54:27 | Last Update: 2021-11-30 18:09:06 |
OHA wants to implement digital vaccine records
T
uesday, November 30th marks the final day for public input on the Oregon Health Authority's
digital vaccine record program
.
Senator Dennis Linthicum (R-Klamath Falls) released the following statement:
"Kate Brown and her administration rely on edicts, unconstitutional mandates, and brute force. They have tossed aside normal democratic processes in favor of gross government overreach through the tyrannical rule of one person."
"The OHA has no businesses creating a system that enables private businesses to discriminate based on a person's private medical decisions."
"No Oregonian should be coerced into any medical procedures just to live in this otherwise beautiful state and participate in everyday activities."
"Will an Oregonian be able to shop at the mall, eat at their favorite restaurant, ride public transit, attend classes at the local college, or visit the grocery store without their passport? This is just one more step toward giving the unelected bureaucrats the power to decide who is worthy to participate in society."
"This absurd, un-American, and unconstitutional plan is not about public health but about instituting state control over every detail of life."
The Oregon Legislature's
House Interim Special Committee on COVID-19 Response
intends for the Digital Vaccine Records Project to be implemented, as quickly as possible, and some observers are suggesting that they are trying doing so as quietly as possible, as to avoid public resistance.
Development and testing of the project is said to be within a six month period, with March 8th, 2022 expected to be the official launch date.
--Staff Reports
| | |
| --- | --- |
| Post Date: 2021-11-30 14:19:52 | Last Update: 2021-11-30 14:43:09 |
Courtney: "I hope we will be ready."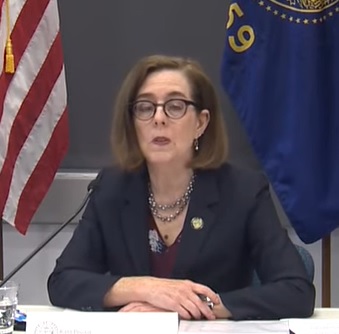 Governor Kate Brown has announced that she will be calling the Legislature into special session on December 13 to address eviction protections for renters.
"As we enter our coldest months, it is absolutely essential that we take action to ensure no additional Oregon families are evicted when rental assistance is on the way," said Governor Brown. "I have spoken directly with Oregon renters in recent weeks about the pain and hardship their families have faced due to the economic impacts of the pandemic. We must take legislative action now to approve additional state funding for rental assistance, and to extend eviction protections for Oregonians who have applied for assistance.
According to many experts, the COVID-19 outbreak itself has been less responsible for the social and economic havoc of the last two years than the government response to the outbreak.
According to economist Eric Fruits, Ph.D. with the Cascade Policy Institute
, "Both the U.S. and the Oregon constitutions forbid any laws "impairing the obligation of contracts." Rental agreements are contracts. So are arrangements with utilities and student loan providers. Neither the federal government nor state or local governments can simply "wipe out" the payment provisions of these contracts."
"Our federal funds for rental assistance will be nearly spent on December 1. I am continuing to work with federal officials at U.S. Treasury and the White House to secure additional federal emergency rental assistance funding for Oregon, but it is clear that a state solution is needed to address the urgent and immediate needs of Oregon renters. And, we must begin laying the groundwork now for the transition to local eviction prevention services after federal pandemic emergency programs draw to an end."
Oregon Housing and Community Services received $289 million in federal rental assistance funds to help Oregon renters impacted by COVID-19. As of last week, OHCS and their local partners had paid out close to $150 million in federal emergency rental assistance to over 22,000 households –– with Oregon ranking eighth in the nation for federal funds paid or obligated. OHCS and its partners have received more than 25,000 additional applications and continue to review and approve thousands of those applications each week. Nearly $20 million was paid to renters over the previous two weeks. OHCS has calculated that all remaining federal rental assistance funds will have been requested by December 1.
After conversations with legislative leaders, stakeholders, landlord associations, and housing advocates, the Governor is proposing the following framework to prevent further evictions:
Extend eviction safe harbor protections for each individual who has applied for rental assistance.
Ensure landlords are paid in full for the rent they are owed.
Provide up to $90 million in additional rental assistance to ensure low-income tenants access through the winter.
Provide $100 million to transition from large-scale pandemic-related emergency rental assistance to long-term, locally-delivered eviction prevention services.
The package would address the immediate needs of Oregon renters through the winter months. Legislators may also be asked to take on additional time-sensitive issues during the special session that require action before February 2022.
Senate President Peter Courtney (D-Salem) issued a statement on the special session that cast doubt on the ability of the legislature to effectively execute such an emergency session. "The Governor has called us in on December 13. That's two weeks from today. Special sessions are the most difficult of all sessions. Everything must be carefully planned. We have a lot of work to do. I hope we will be ready."
--Staff Reports
| | |
| --- | --- |
| Post Date: 2021-11-30 13:10:20 | Last Update: 2021-11-30 13:52:47 |
Oregon politician wanted to fan the flames
The Mayor of Beaverton, Oregon has released a
statement
in response to the recent Kyle Rittenhouse verdict. It can be seen here:
Dear Neighbors,

On August 25, 2020, 17-year-old Kyle Rittenhouse of Antioch, Illinois drove to Kenosha, Wisconsin with the stated intention of providing medical aid and protecting property in the midst of demonstrations that had turned violent. On that night, Rittenhouse shot and killed two people and wounded another at demonstrations over the shooting of Jacob Blake.

What I want us to focus on, and have a community dialogue about, is the proliferation of violence that is plaguing our country. There seems to be a pervasive belief that the way for voices to be heard, the way to protect the country or the community, is to use violence. As a veteran who served in combat, I can attest to the devastating effects of violence on all involved parties, however well-intended or justified.

Sometimes, our criminal justice system works as intended: offenders are caught, charged, proven guilty, and sentenced. Other times, there are breakdowns in the system where technicalities or outright fraud result in the guilty going free, or the innocent being wrongly convicted. In this case as in so many, the verdict is insufficient, and the system seems to work only for those for whom it was built. We cannot ignore the role of race in this trial.

The not guilty verdict does not mean Rittenhouse is innocent. He remains responsible for the deaths of Joseph Rosenbaum and Anthony Huber, and for the wounding of Gaige Grosskreutz. A white male (Rittenhouse) drove across state lines to attend a demonstration over the police shooting of a black man (Jacob Blake). His stated intention was not support of Jacob Blake or the Black Community, but rather to preserve property and provide medical aid. Instead of providing life-saving assistance, he took two lives and injured a third, with repercussions felt throughout those families, communities, and indeed the entire country.

I want to echo a statement released by John Huber and Karen Bloom, parents of Anthony Huber, about the verdict: "It sends the unacceptable message that armed civilians can show up in any town, incite violence, and then use the danger they have created to justify shooting people in the street. We hope that decent people will join us in forcefully rejecting that message and demanding more of our laws, our officials, and our justice system." I stand with them. People should be able to peacefully protest without the threat of violence.

As a community, let's take some time to process this. Then we have to get to work. City Council has heard recommendations related to public safety from our Human Rights Advisory Commission. We still need to talk more about those recommendations and take action. We are in a joint process with Beaverton School District related to School Resource Officers. Kenosha may be over 2,000 miles away but we have work to do right here in Beaverton.

Now that the trial has concluded and a verdict has been reached, I urge everyone to stay in this conversation. Your voice is needed, and I encourage you to have your voice heard through whatever channel you feel is best. If you would like to meet with me, please grab a time. I look forward to hearing from you, and to opportunities for community conversations.

In solidarity,

Lacey Beaty

Mayor of Beaverton
--Staff Reports
| | |
| --- | --- |
| Post Date: 2021-11-29 16:38:34 | Last Update: 2021-11-29 16:47:40 |
"Vision Zero" plan may not be working
I
n 2016 the City of Portland created the Zero Vision Traffic Plan to reduce traffic fatalities. At the time, Commissioner Steven Novick said "Other cities across the nation have implemented their own Vision Zero Act Plans and have seen a reduction in traffic deaths." New York was the earliest adoption and experienced a 22% reduction in three years. Portland's goal was to eliminate deaths and serious injuries for all who share Portland streets by 2025.
The project started with a survey asking 895 people their top three road safety tips. Eighty-five percent supported using automated cameras to ticket people who run red lights, and 71 percent supported automated cameras to ticket people who speed.
For a few years it improved hitting a low of 34 in 2018. Then it creeped up to 50, then 59 setting a new record in 2020. Now, five years into the project, they are on the verge of setting a record for the most traffic deaths ever. On Thanksgiving eve, deaths reach 61 passing the record of 2020.
Portland has spent more than $120 million on the Zero Vision Traffic Plan that hasn't changed even the most dangerous streets identified in the Plan. Six speed safety cameras were installed on the most dangerous streets and added street lighting at
high crash crossings
.
A D V E R T I S E M E N T
A D V E R T I S E M E N T
They installed
city trucks with side guards
that are risks to pedestrians.
Speed limits were reduced citywide
and enforced with speed cameras. With the lowering of speed limits, in July they added how to resolve a citation in five languages on the
Vision Zero website
.
An education campaign called
'Struck'
launched a Vision Zero
dashboard
with an
interactive map
and videos. To ensure safe driving is on the mind of Portlanders,
free Vision Zero pins
, stickers, brochures and fliers are available.
The Vision Zero Task Force was dissolved on January 25, 2021, that oversaw the implementation. Does that mean the project is on auto-pilot? In June, Portland Bureau of Transportation announced $80 million towards a $185 million plan to transform 82nd Avenue, one of many high-risk areas. What of the other high-risk areas?
According to the
Portland Traffic Fatality Tracker
, only two of the 61 accidents this year took place on 82nd Avenue compared to six on Marine Drive or four on Powell.
It's clear that five years has not produced any progress to eliminate fatalities. Another challenge lurks when ODOT implements tolling moving more traffic onto now busy streets where pedestrians and bikers travel.
--Donna Bleiler
| | |
| --- | --- |
| Post Date: 2021-11-29 15:27:16 | Last Update: 2021-11-29 16:00:29 |
It may become harder to be a mechanic in Oregon
T
he 2021 Oregon Legislature passed a law to create some financial stipulations for disputes over payment for car repairs under House Bill 2311. The new law will take effect Jan. 1, 2022.
Car owners don't need to do anything, but automobile repair businesses need to prepare.
Under current Oregon law, if an auto repair business does not receive payment for repairs to a vehicle, it has the right to apply for a possessory lien through DMV and to sell the vehicle to recover its costs. This "mechanic's lien" is based on Oregon Revised Statute 87.152.
Under
HB 2311
, as of Jan. 1, 2022, auto mechanics must first have a surety bond or an irrevocable letter of credit in the amount of $20,000 filed with DMV before they can apply for a mechanic's lien.
The chief sponsor of HB 2311 was Representative Paul Evans (D-Monmouth).
A D V E R T I S E M E N T
A D V E R T I S E M E N T
As of Jan. 1, DMV will not accept mechanic's lien applications without the bond or letter on file first unless the claimant also:
is a franchised dealership, as defined under ORS 650.120(5)
is a manufacturer, as defined under ORS 650.120
holds a towing business certificate issued under ORS 822.205
is a national auction company titling the vehicle pursuant to ORS 87.152(3)
Those required to file a surety bond or letter of credit must certify to DMV every year, in writing, that the bond or letter remains in effect.
If you are a mechanic or own an independent auto repair shop and need more information about filing a mechanic's lien from DMV, please call DMV Customer Assistance at 503-945-5000 or 503-299-9999 in the Portland Metro Area.
--Bruce Armstrong
| | |
| --- | --- |
| Post Date: 2021-11-29 10:15:22 | Last Update: 2021-11-29 10:29:45 |
Tranist may have a diminished role in the new normal
S
ince March of 2020, COVID-19 has been impacting TriMet ridership, and since late May of 2020 riots have added their impact. Even if COVID-19 were to have a minimized impact as an active outbreak, patterns of work-at-home and a lingering comfort in social distancing for some are likely to continue, and these will impact ridership.
When the stay-at-home order was announced by Governor Brown in March 2020, the first social distancing restrictions were put in place and many people began working from home. Weekly TriMet ridership dropped from February levels by around 60% by the end of March 2020. Ridership has continued to stay well below 2019's numbers throughout the rest of the year, impacted not only by the initial surge of the pandemic, but by the dramatic rise in the state's positive COVID cases in November and December, the wildfire smoke in September and our Steel Bridge MAX Improvements project in August 2020.
TriMet has required employees and riders to wear face coverings on board since May 2020. They have distributed more than 3.7 million disposable masks since May 2020.
According to TriMet, "From the start of the pandemic, TriMet quickly made changes to help keep our riders and employees safe. While we had cleaned our vehicles to some degree nightly, in March we began disinfecting all buses, MAX trains, WES trains and LIFT paratransit vehicles every night. We hired more than 150 people to help with the elevated cleaning efforts and purchased equipment such as electrostatic sprayers and fogging machines to help us do this more effectively and efficiently."
--Staff Reports
| | |
| --- | --- |
| Post Date: 2021-11-28 14:55:43 | Last Update: 2021-11-28 15:29:59 |
Democrat policies add to national and international woes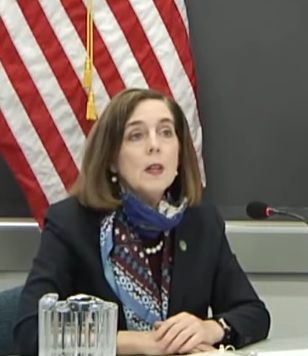 According to AAA/Oregon, Thanksgiving travelers will find gas prices holding relatively steady this week. Averages in 43 states including Oregon have changed by three cents or less. Lower crude oil prices are helping to put downward pressure on pump prices. For the week, the national average for regular slips a penny to $3.40 a gallon. The Oregon average remains at $3.78.
The Oregon average is the highest it's ever been for Thanksgiving. The national average is the highest for the holiday since 2012. The expensive gas prices won't keep people from traveling over Thanksgiving. AAA projects 53.4 million Americans including 746,000 Oregonians will travel for the Thanksgiving holiday, up 13% from 2020. About 90% will drive to their destinations.
After adopting notorious gas-price-raising policies, President Biden has announced that the U.S. and other countries would release strategic crude oil reserves in an effort to increase supply and put downward pressure on gas prices. The U.S. will release 50 million barrels and will be joined by China, India, Japan, South Korea, and the United Kingdom.
Under Governors Kulongoski and Brown, Oregon lawmakers have also created policies that have contributed to higher fuel prices.
Greenhouse gas emissions
were regulated in 2009 and the
low carbon fuel standard
was implemented in 2015.
Crude oil prices moved lower in the last week, partly in anticipation of the release. For the first time since Oct. 11, crude oil prices have fallen below $80 per barrel and have remained in the mid-to upper $70 range for the last week. Fears of slowing economic activity in the U.S. and Europe due to a resurgence of COVID-19, along with the release of stockpiled oil are driving the lower prices.
"Falling crude oil prices normally translates into cheaper pump prices for drivers because the price of crude oil accounts for 50% to 60% of what consumers pay at the pumps," says Marie Dodds, public affairs director for AAA Oregon/Idaho. "However, until global oil production ramps back up to pre-pandemic levels, the dip in crude prices may only be temporary."
Here in the U.S. about 5% of the nation's refineries shut down during the COVID-19 pandemic as people stayed home. And the cartel OPEC+ has not significantly boosted production. The result has been tight supplies and high prices as demand has climbed back up to pre-pandemic levels but production has not.
For the second week in a row, California continues to set new record high prices for gasoline. Today's average is $4.705. Monday's average was $4.706 and Sunday's was $4.704. California's previous record high price was $4.671 in October 2012. Severe rainstorms in Northern California impacted oil refineries in the area, leading to reduced production which has created supply issues.
The cheapest gas in the nation is in Oklahoma ($2.97) and Texas ($3.00) and. For the 46th week in a row, no state has an average below $2 a gallon.
--Staff Reports
| | |
| --- | --- |
| Post Date: 2021-11-27 14:29:24 | Last Update: 2021-11-27 14:59:20 |
She's done it before. She can do it again.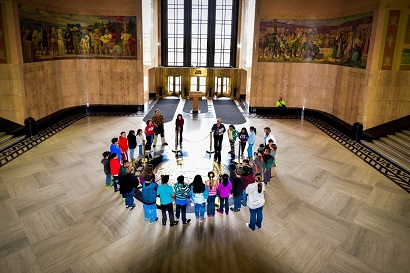 O
n June 25, Oregon Governor Kate Brown issued
Executive Order 21-15
which ended masking, distancing and capacity limits. It cites "declining rates of COVID-19" and "widespread availability and adoption of safe and effective vaccines." According to the Governor's order:
Throughout this pandemic, I have followed science and data and the advice of doctors and health experts to guide my decisions. Right now, in Oregon, we are quickly approaching the point where 70 percent of Oregon's adult population will have received at least a first dose of vaccine. We are also seeing declining rates of Covid-19, driven by the widespread availability and adoption of safe and effective vaccines. As a result of these developments, I find that statewide restrictions to control the spread of Covid-19 will no longer be necessary at the end of this month. Accordingly, this Executive Order provides that, not later than June 30, the executive orders that required health and safety restrictions to keep Oregon safe for the past year shall be lifted. This includes the complete rescission of Executive Order 20-66, the successor of my original "Stay Home, Save Lives" and "Safe and Strong Oregon" orders, which contains the authorities for the county risk level framework, statewide mask mandate, and business and other sector capacity and physical distancing restrictions, among other pandemic-related restrictions.
She concludes by ending the "mask mandate...capacity limits and physical distancing requirements."
To be clear, in this new phase of our response, statutory emergency authorities will be used at the state level for the limited purpose of resilience and recovery, not to impose or renew statewide pandemic restrictions.

For the reasons described above, I find that it is no longer necessary or advisable for me to use my emergency authorities to impose mandatory public health restrictions, such as statewide mask mandates or state-mandated capacity limits and physical distancing requirements for gatherings, businesses, and other sectors.
In seeming contradiction to that order, the Oregon Health Authority made its own "rule" on July 27, 2021, with Kate Brown giving a verbal pronouncement for everyone to mask up, ""Wearing a mask should give you confidence that you are not infecting others," said Governor Brown. "Masks are also our best bet at keeping our schools and businesses open."
Many Oregon parents will not forget the trauma done to their children, their families, their businesses, their lost ability to recreate, to socialize, to get health care as they've come to realize that the governor never had a right under ORS 401.165(5) to close down all of Oregon -- including the Pacific Ocean -- since her first of many executive orders that closed down the lives of Oregonians and business owners and employees starting in March 2020.
Some say that the Oregon emergency law that Kate Brown cited in March 2020 noted the governor never had the legal authority to shut down every square inch of Oregon including the Pacific Ocean per ORS 401.165 (5):
"Any proclamation of a state of emergency must specify the geographical area covered by the proclamation. Such area shall be no larger than necessary to effectively respond to the emergency.
Governor Brown has not issued another executive order since June 25, 2021 and her executive orders issued since March 2020 are now numbering up into the 40+ range. With so many Oregonians having obeyed her orders previously many have wondered now, if perhaps the governor now prefers just giving verbal commands and that her administrative state apparatus government agencies such as Oregon Health Authority would then carry out her orders.
A
poll
showed Governor Brown to be the 47th most popular governor in the United States of America.
Many in Oregon agree with that sentiment, want to go back to living and to having a very Merry Christmas.
--Staff Reports
| | |
| --- | --- |
| Post Date: 2021-11-26 15:34:28 | Last Update: 2021-11-29 01:10:20 |
Kids, go ahead and try this at home. It may be your only chance at logging.
Christmas tree permits for the Mt. Hood National Forest are now available to purchase at local vendors and online through
Recreation.gov
where one may purchase a permit, download cutting area maps, and find tree cutting tips. Permits are $5 per tree with a limit of 5 permits per household.
Recreation.gov
charges an additional $2.50 service fee per order.
Finding and cutting a Christmas tree is a long-standing tradition and a way to spend time with family and friends on national forest lands. When following regulations and guidelines, Christmas tree cutting can also improve forest health in dense stands of small-diameter trees.
Tree cutting is prohibited along Highways 26, 35, and 216, in Wilderness, in the Bull Run Watershed and The Dalles Watershed, fire closure areas, Camp Baldwin, and other areas closed to public entry.
Forest offices remain closed to the public due to the COVID-19 pandemic. However, Christmas tree permits are available in person for $5 at many local businesses.
Winter weather in the forest can change rapidly. Most forest roads are not maintained for winter driving. Forest staff recommend bringing traction devices and a shovel, extra food, drinking water, winter clothing, blankets, a flashlight, and a first aid kit. Don't forget a tool for cutting the tree and a rope or cord to secure it to vehicles. Tree cutting and travel may take longer than anticipated, so let a friend or family member know where you're going, get an early start, and leave the woods well before dark.
Photo by Taylor Friehl on Unsplash
--Staff Reports
| | |
| --- | --- |
| Post Date: 2021-11-26 15:21:32 | Last Update: 2021-11-26 15:34:28 |
Fracking is banned in Oregon
A
lmost two and a half years ago, Oregon Governor Kate Brown signed into law
HB 2632
, a ban on hydraulic fracturing -- known as "fracking." The bill, passed largely on party lines and when gas prices were just a little over $2.50 per gallon, was widely regarded as a symbolic measure.
Prior to the ban in Oregon, hydraulic fracturing required a permit and was regulated by the Department of Geology and Mineral Industries, Department of Environmental Quality, and the Water Resources Department. Oregon has few petroleum resources, so fracking is not commonly used in Oregon.
introduced by Representatives Julie Fahey (D-Eugene), Ken Helm (D-Beaverton) and Senator James Manning, Jr. (D-Eugene), the bill was a response to the transient uproar in the media over fracking.
At the time Meredith Connolly Oregon State Director of Climate Solutions called the bill "a straightforward bill that reflects Oregon's priorities to combat climate change and wean our economy off fossil fuels. The devastating impacts of fracturing on numerous communities around the country further demonstrates the foolhardiness of expanding fractured gas exploration and production."
That kind of hyperbolic talk is no longer popular.
According to Brian Doherty, on behalf of the Western States Petroleum Association, "The facts are hydraulic fracturing has been demonstrated, across multiple state and federal jurisdictions, to be a safe and effective technology that can be used to increase the recovery of hydrocarbons and deliver significant benefits, without adverse environmental effects.
Contrary to persistent, unsubstantiated claims, hydraulic fracturing has been safely used for over 60 years, has not contaminated drinking water, does not use excessive amounts of water, and is comprehensively regulated in Oregon."
--Staff Reports
| | |
| --- | --- |
| Post Date: 2021-11-25 18:39:26 | Last Update: 2021-11-25 19:27:20 |
Issue statement on prison sentencing decision
P
olk County Public Safety Leaders, which include the County Commissioners, as well as the County District Attorney, and Sheriff, have issued a statement regarding Governor Kate Brown's recent decision to essentially pardon 75 violent offenders due to their juvenile status.
The letter
, which expresses deep dismay, can be read here:
As elected Commissioners and public safety leaders in Polk County, we are expressing our deep disappointment and dismay with Governor Brown's decision to use her clemency authority to unilaterally change the prison sentences of 75 individuals throughout Oregon. As has been reported, these are individuals serving adult sentences for violent crimes committed when they were between the ages of 15 to 17 years old.

Four of the 75 were convicted in Polk County. Among the crimes committed by these four are murder, forcible rape, and sexual abuse against children as young as 10. Clearly, these sentences have been reserved for the rarest of cases and imposed against the most extremely violent offenders.

We are also appalled at the breathtaking lack of regard for the rights of crime victims evident in the process surrounding the Governor's decision. No victims or their families were consulted or even warned that blanket commutations were going to be issued by the Governor. Instead, District Attorneys and many victims found out from the media. The Governor's Office's ensuing attempts at back peddling and blaming others for their missteps has been unconvincing at best. To not recognize and take responsibility for the trauma this decision created for crime victims throughout Oregon is simply unacceptable.

Polk County has long supported the value of redemptive juvenile justice. Generations of County Commissioners, District Attorneys, Sheriffs, and Juvenile Department Officers have advocated through budgets, programs, and individual decisions for juvenile offenders to receive a second chance. This includes juveniles that have committed property offenses, drug offenses, and even person crimes. Alternative programs such as probation, diversion, sanction courts, and treatment opportunities have been the hallmark of Polk County's commitment to reformative juvenile justice.

It has always been understood, however, in the most extremely violent cases, adult length sentences are appropriate for accountability and community safety. The cases on the list from Polk County are there because the facts of the case and the individual circumstances were carefully weighed before going forward. The Governor's order does none of that. Rather, it abandons the practices of past Oregon governors in applying the extraordinary power of executive clemency in rarest of cases and applies it in a broad brush manner that Oregonians should find very unsettling. We urge the Governor to reconsider her decision.


Craig Pope, Chair, Polk County Board of Commissioners



Lyle Mordhorst, Polk County Commissioner



Jeremy Gordon, Polk County Commissioner



Mark Garton, Polk County Sheriff



Aaron Felton, Polk County District Attorney


--Staff Reports



| | |
| --- | --- |
| Post Date: 2021-11-25 09:57:06 | Last Update: 2021-11-25 10:13:59 |



Read More Articles