On this day, December 8, 2005, federal prosecutors announced six arrests of eco-sabotage suspects following a nine-year investigation in four arson cases in Oregon dating to 1998 and 2001 and a toppled power line in Bend, Oregon in 1999.
Bills have bi-partisan support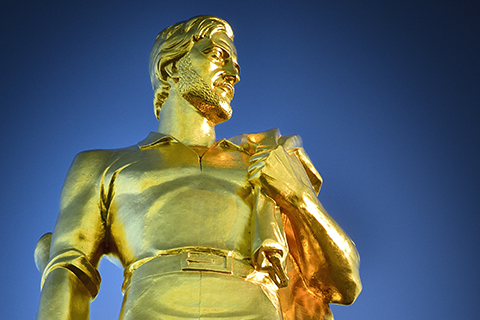 A new round of business shutdowns highlights unbalanced government authority and has prompted reaction from the Oregon Legislative branch.
In response to new shutdown orders from the Governor's office, House Republicans today are considering pulling bills to the House floor to bring up proposals with sponsors from both parties that would roll back COVID-19 executive orders or require additional accountability.
The announcement follows the bipartisan actions of Legislatures in
New York
,
Texas
and
Michigan
, where state lawmakers seek to restore balance to government decision-making.
New York's legislature repealed several coronavirus-related executive orders
, nearly two months after stripping Governor Andrew Cuomo of pandemic-era emergency powers. Senate Majority Leader Andrea Stewart Cousins, a Democrat, explained the decision by saying it is time to begin removing certain restrictions and regulations that are no longer necessary to rebuild the state's economy.
In Oregon, Governor Kate Brown has exercised emergency powers which grant authority to enact widespread restrictions on commerce, education and public gatherings without any checks and balances.
The newest shutdown orders do not reflect the current situation Oregonians are experiencing.
Today the personal protective equipment supply situation is different, the vaccination situation is different, and the treatment of patients has evolved as well. Furthermore, the regional collaboration among hospitals has been developed over the course of the pandemic.
Severe cases of COVID-19 are also less common now because nearly 70 percent of Oregon's at-risk population is fully vaccinated.
A D V E R T I S E M E N T
A D V E R T I S E M E N T
Hospital rates for parts of the state like Southern Oregon are also not increasing, yet the new shutdowns impact businesses in those communities. Two weeks ago, Asante had as many as 26 cases in the system. By last night they had 13 in house. In both Providence and Asante in Southern Oregon, only 6 patients with COVID-19 are in ICU beds.
House Republicans point out that despite these changing circumstances, the response from the Governor's office has not changed.
"The Legislature is in Session and we have a duty to engage. Oregonians need to have a balance of power between the separate branches of government again," said House Republican Leader Christine Drazan (R-Canby.) "The decision to shut down businesses this week contradicts the newest CDC recommendations by not accounting for vaccinated individuals in Oregon. Furthermore, our businesses allow people to gather in places with standardized safety measures. There is no evidence that shutting them down will have an impact on transmission rates. If COVID guidelines in Oregon continue to ignore CDC guidelines to the detriment of families, kids and our main street businesses, we must restore the Legislature's ability to hold the executive branch accountable."

"There's zero evidence that we're anywhere close to running out of hospital capacity in Marion County from COVID-19 cases," added Marion County Commissioner Colm Willis. "We have plenty of PPE and because of vaccinations we aren't seeing the same high level of severity in overall cases who need hospitalization. On top of that, there is zero data to suggest that restaurants have ever been a top contributor to COVID-19 transmissions. Shutting businesses down won't change the numbers."
This week the Centers for Disease Control and Prevention released new guidance that lifted many restrictions for vaccinated individuals, including dining at the same table without masks and social distancing. The newest shutdowns from the Governor's office does not account for the fact that nearly a third of Oregonians have received both vaccination doses.
--Bruce Armstrong
| | |
| --- | --- |
| Post Date: 2021-04-29 13:19:24 | Last Update: 2021-04-29 16:11:16 |
Calls out Democrat legislators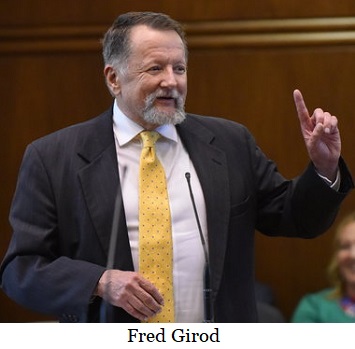 Oregon Senate Minority Leader Fred Girod has issued a statement in response to the continued lockdown of Oregon's economy and livelihood.
"We are not obligated to let the Governor railroad Oregonians without accountability and transparency," Senate Republican Leader Fred Girod (R-Lyons) said. "Legislative Democrats have locked people out of their Capitol building, and are actively participating in the Governor's efforts to lock working Oregonians out of their jobs. With vaccinations ramping up, we should focus on lifting Oregonians up, not putting them out of work."

"Democrat's refusal to take seriously their role as a co-equal branch of government is actively harming Oregonians," Girod continued. "The Democrats are aiding and abetting the abuse against working Oregonians because it gives them more power. No one-party, no one person should have this much power. Republicans are ready to reestablish principles of checks and balances and uphold values of transparency in the legislative process to protect lives and livelihoods."

"The Governor's emergency powers kept kids locked out of the classroom for over a year," Girod added. "They have led to countless Oregonians losing their livelihoods. Legislative Democrats have shown no courage to stand against the Governor's overreach. They have failed to stand up for working families."

"Democrats will tell you they are the party of the working class, but when given the opportunity, they have refused to stand up for their livelihoods. Republicans are standing shoulder to shoulder with working Oregonians," Girod said.
--Bruce Armstrong
| | |
| --- | --- |
| Post Date: 2021-04-29 12:01:35 | Last Update: 2021-04-29 16:17:31 |
Teases re-opening in June
Governor Kate Brown has again extended her declaration of a state of emergency for COVID-19 for 60 days, until June 28, 2021, unless earlier rescinded or extended.
The declaration is the legal underpinning for the Governor's COVID-19 executive orders and the Oregon Health Authority's health and safety guidance.. Extending the state of emergency also helps ensure Oregon is able to fully utilize available federal COVID-19 relief and assistance.
The Governor issued the following statement:
"We are in the middle of the fourth surge of COVID-19 in Oregon, driven by more contagious variants of the disease. We must stop hospitalizations from spiking, so we can save lives, help our nurses and doctors weather this surge, and ensure no Oregonian is denied vital health care. Tomorrow, 15 counties are moving to the Extreme Risk Level, with nine more in High Risk. Hospitalizations nearly doubled in the last two weeks, to well over 300.

"At this time last year, there was so much we did not know about how to stop the spread of this deadly disease. Now, more than a year into the COVID-19 pandemic, we just have to hold on for a few weeks longer."

"I intend to fully reopen our economy by the end of June, and the day is approaching when my emergency orders can eventually be lifted. How quickly we get there is up to each and every one of us doing our part. Over 1.7 million Oregonians have received at least one dose of vaccine, and over 1.2 million are fully vaccinated against this deadly disease.

"Vaccinations are the best way to protect yourself, your friends, and your loved ones. They are also the quickest path toward lifting restrictions.

"Today, I am lifting Oregon's executive order for price gouging related to the pandemic, because the days of hand sanitizer and, yes, toilet paper scarcity are far behind us. In the weeks to come, as the number of fully vaccinated Oregonians continues to grow, we will be able to lift the emergency orders and state regulations that have kept us safe for the past year."
--Bruce Armstrong
| | |
| --- | --- |
| Post Date: 2021-04-29 10:18:42 | Last Update: 2021-04-29 10:39:19 |
State lockdowns are not working
Oregon State legislator Representative Vikki Breese-Iverson (R-Prineville) has issued a statement publicly advocating for ending the excessive and restrictive government mandated lock-downs that have plagued Oregon now for more than a year.
The statement reads as follows:
The data is becoming clearer regarding the effectiveness of lockdowns and other government-imposed responses to the COVID-19 pandemic. Lockdowns are not helping reduce case counts or hospitalizations. Governor Brown's actions are contributing to the host of negative consequences that result from lockdowns of our society, including, poor and declining mental health; suicide ideation (up 25% in 18-24-year olds); economic ruin for families and small businesses; kids being significantly set back in their education; and many students missing a pivotal part of growing up by not being able to participate in sports and other extracurricular activities.

My office received an email this week from a constituent who explained her son would not be able to compete in his high school track meet, nor take his senior class picture, because he was supposedly 'exposed' to COVID though he repeatedly denied being in contact with the original case. In other situations, busloads of kids are being quarantined because they have merely been on the same bus as a positive case, regardless of contact. In more dire circumstances, children have been deprived of the social interaction they need, hot meals, and the teachers and other adults who act as mentors.

My constituents have been drained physically, financially, and morally as a result of the lockdowns. Some have sold everything to make it by because they lost their jobs. Others are just now receiving their Pandemic Unemployment Assistance benefits after more than a year of waiting. This is heartbreaking and unacceptable.

The Oregon Health Authority and Governor Brown say we need to reinstitute lockdowns to prevent hospitals from becoming overwhelmed. That might make sense - if there were evidence that lockdowns worked. The truth is, I am hard-pressed to find a correlation between state management and success in slowing or flattening case rates – and so are researchers. We can see evidence of this failure both here and in other states.

In January, Newsweek reported a peer-reviewed study published in the European Journal of Clinical Investigation which analyzed coronavirus case growth in 10 countries in early 2020. "The researchers used a mathematical model to compare countries that did and did not enact more restrictive lockdown orders, and determined that there was 'no clear, significant beneficial effect of [more restrictive measures] on case growth in any country'."

Dr. Tom Woods, a senior fellow at the Mises Institute, added to this point when he compared Los Angeles to Sweden:

"The graph that follows may seem a trifle unfair – aren't Sweden and Los Angeles quite different from each other? Well, sure. But if we were truly facing a catastrophic problem that could be mitigated only by lockdowns, social distancing, and masks, shouldn't there still be a major difference between relatively laissez-faire Sweden and heavily locked-down Los Angeles? Shouldn't the difference in results between two places with such different policies absolutely overwhelm whatever other differences exist between them, such that the superiority of the Los Angeles approach should come through clearly in the chart? And yet..."

In Oregon, we are seeing a spike in cases, but not in deaths. Texas is mask-free and 100% open while steadily declining in both new cases and deaths. Other states - Mississippi, Georgia, and Arizona - are loosening their restrictions and declining, or static, in cases as vaccine rollout nears the halfway point.

These points lead us to three conclusions:
Lockdowns are ineffective at managing case rates.
People will take voluntary measures to ensure their health and the health of their loved ones.
Vaccines are effective in reducing deaths among our vulnerable populations.
We are nearing the 50% vaccination mark across the state. Most of our vulnerable populations, if they chose to, have received their shots. It is time to open Oregon. People will make decisions for their safety and the safety of their loved ones. It is not our job to do it for them. The vulnerable are vaccinated. People are ready to get back to living after a year of distress and hardship. It is time to stop the arbitrary-number-guidelines, OSHA at-will fines and permanent rulemaking for a temporary issue. My constituents, and I, have had enough.

Sincerely,

Vikki Breese-Iverson

State Representative

House District 55
--Staff Reports
| | |
| --- | --- |
| Post Date: 2021-04-28 20:36:14 | Last Update: 2021-04-28 21:37:14 |
Will lower prices for Oregonians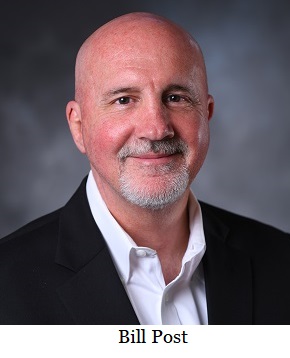 A bill from Representative Bill Post (R-Keizer) to allow the sale of pseudoephedrine products without a prescription has now been approved by Oregon House legislators today. That bill is
HB 2648
.
This is the third time that Rep. Post has attempted to remove an unnecessary barrier for Oregonians to lower their health care costs when purchasing pseudoephedrine products. Products such as Sudafed will still be restricted to people who are at least 18 years of age with a valid ID under the proposal.
Rep. Post was joined by a bipartisan group of lawmakers who sponsored the proposal. The impact on health care consumers' wallets could be significant. Currently, purchasing a pseudoephedrine product requires a visit to your doctor to receive a prescription, which comes with an expensive bill.
"With health care costs skyrocketing, this simple bill to reduce the cost of a common cold medicine should be a no-brainer," said Rep. Post. "We shouldn't be asking people to jump through very expensive hoops by visiting a doctor to obtain a prescription to common cold medicine, especially when Oregon is the ONLY state requiring a prescription."
--Bruce Armstrong
| | |
| --- | --- |
| Post Date: 2021-04-28 13:00:30 | Last Update: 2021-04-28 13:21:50 |
AOC and ORLA pen letter to the governor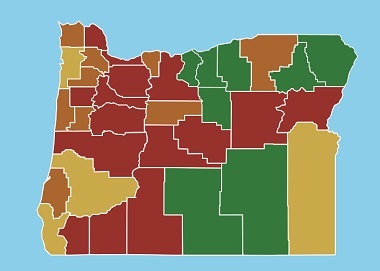 County Commissioners from 27 of the 36 counties across Oregon have jointly signed a letter along with the Association of Oregon Counties (AOC) and the Oregon Restaurant and Lodging Association (ORLA) demanding that Governor Brown remove restrictions that are killing Oregon restaurant and hospitality businesses.
The letter reads as follows:
This message is a unique one as it represents the first time county governments have formally written to your office in partnership with Oregon's hospitality industry. We write to you to ask for reconsideration of our approach to virus mitigation measures at this stage in the crisis.

The virus continues to take a grave toll on our local economies with restaurants representing one of the key cornerstones fueling connectivity, hope, and mental health for our residents. These are the places we break bread, share inspiration, and encourage one another and the COVID crisis has stripped us of these life essentials.

The environment in each county throughout Oregon is uniquely its own. And the experts of these regions live and breathe their successes and failures. The job of a Governor in a crisis like this is an unenviable one. We fully accept and understand the importance of hospital capacity including an assessment of available personnel in order to adequately meet the demands of any health emergency.

We have reached the point where the vast majority of Oregon's population most prone to serious illness has been successfully protected from the virus. And we must all admit a documented case today does not carry with it the same weight as a documented case in the Fall when so many of our fellow Oregonians lacked access to vaccine. The variants are indeed troublesome, and we share your concern for their spread. But shutting down our restaurants and further depriving Oregonians of their right to make calculated community engagement risks when the virus continues to spread elsewhere will not result in success.

The time has come to allow our communities the opportunity to move forward while embracing continued health and safety precautions. Our people understand the risks associated with COVID and our businesses have proven their ability to adhere to the highest expectations in safety, sanitation, and air quality. It is no coincidence Oregon has not seen one instance of a super spreader event tied to our hospitality industry.

We ask for your support in putting all effort and momentum into vaccinations. We have the safety guidelines and expectations clearly outlined for all industry sectors and have reached a point where those safety measures, alongside our work to achieve vaccination goals, can carry us through the other side of this pandemic without breaking our statewide hospital capacity.

You must know restrictions on specific types of businesses compared to others within our local communities is creating rifts and dividing people rather than bringing Oregonians together. We can flip the script by removing state mandated business restrictions on our communities while empowering our county health departments to uphold high expectations for ongoing health and safety measures as recommended by the CDC. We have reached our turning point and we thank you in advance for your consideration.
--Staff Reports
| | |
| --- | --- |
| Post Date: 2021-04-27 19:38:59 | Last Update: 2021-04-27 22:12:41 |
Oregonians growing weary of excessive mandates
Oregon's Governor Kate Brown has again announced updates to county risk levels under the state's public health framework.
With total hospitalizations above 300 people statewide, 15 counties will move to the Extreme Risk level effective Friday, April 30 through Thursday, May 6. In addition, nine counties will be in the High Risk level, four at Moderate Risk, and eight at Lower Risk.
Governor Kate Brown pleaded with Oregonian's who may be growing tired of the same rhetoric repeated so many times by the controversial governor, and gave the following statement:
"If we don't act now, doctors, nurses, hospitals, and other health care providers in Oregon will be stretched to their limits treating cases of COVID-19," said Governor Brown. "Today's announcement will save lives and help stop COVID-19 hospitalizations from spiking. It will take all of us working together to bring this back under control."
The following 15 counties have now been designated as Extreme Risk counties:
Baker
Clackamas
Columbia
Crook
Deschutes
Grant
Jackson
Josephine
Klamath
Lane
Linn
Marion
Multnomah
Polk
Wasco
Malheur County has now been moved from lower risk to Moderate Risk, and Hood River and Umatilla Counties were moved from Moderate Risk to High Risk by Governor Kate Brown. Benton, Clatsop, Coos, Jefferson, Lincoln, Washington, and Yamhill Counties will unfortunately remain in High Risk of Covid category.
"Our businesses allow people to gather in places with standardized safety measures. We shouldn't shut them down", said House Republican Leader Christine Drazan (R-Canby.) They are doing everything they can to reduce the spread of COVID-19 under existing rules."
--Bruce Armstrong
| | |
| --- | --- |
| Post Date: 2021-04-27 18:11:30 | Last Update: 2021-04-27 19:38:59 |
New bill would give Oregon landmark a designated day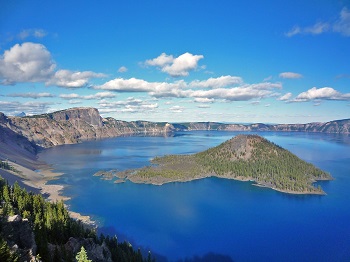 A new bill has passed the Oregon House which would designate May 22 as Crater Lake National Park Day to recognize a famous Oregon landmark and the deepest lake in the United States.
Chief sponsors Representative Vikki Breese-Iverson (R-Prineville) and Representative E. Werner Reschke (R-Klamath Falls) proposed
HB 3162
to celebrate this natural resource and state treasure.
At 1,943 feet deep, Crater Lake is the deepest lake in the United States. It is also the clearest lake on the planet with clarity down to 143'. It boasts some of the purest water on the planet which is comprised entirely of snow and rainfall.
"Oregon's natural environment is one of the greatest things about our state," said Rep. Breese-Iverson. "It's important to recognize our unique environments to not only celebrate our state's natural beauty, but also the benefits they bring us through scenic tourism and getting more people outside to enjoy nature."

"Crater Lake is Oregon's only National Park, renowned for its deep blue water and the amazing 360-degree bowl that surrounds this majestic lake," added Rep. Reschke. "Crater Lake National Park is truly a national treasure located here in Oregon, and we are fortunate to be able to enjoy it with a short day-trip. Crater Lake National Park Day recognizes this park as a defining landmark of Oregon."
--Bruce Armstrong
| | |
| --- | --- |
| Post Date: 2021-04-27 17:45:31 | Last Update: 2021-04-27 17:56:35 |
Mask mandates start to raise concerns
Earlier this year, New York Governor Andrew Cuomo was facing investigation over returning COVID-19 patients to nursing homes, leading to a high number of deaths. This should have sounded an alarm to all governors that they are accountable for consequences of their orders. For some reason this awareness may have bypassed Oregon's Governor Kate Brown.
Nearly a year ago, Governor Brown announced that face coverings were required statewide. Every news release since from the Governor or the Oregon Health Authority has repeatedly stated they are determining strict policy based on supposedly "the best science". Just like their "science," Dr. Fauci has been very inconsistent on how, if and when COVID-19 is spread and if masks or vaccines help. Governor Brown may think she is playing on the safety side, but science doesn't seem to support her.
Recently, when Oregon high school student Maggie Williams was on track to beat the school record running the 800-meter in a school track meet, she made national news because
she collapsed just meters short of the finish line
. Her coach immediately knew she wasn't getting enough oxygen through her mask. Coach Dave Turnbull warned OHA a month prior of respiration dangers for athletes, which they are now taking serious. Not because their science changed, but to cover up their lack of science and embarrassment.
Did they not remember or take serious the
two schoolboys in China that collapsed and suddenly died
within a week of each other after they were forced to participate in gym class while wearing face masks?
The National Institutes of Health
has also cited a study that raises concerns. They say wearing face masks for any length of time and "inhaling high levels of CO2 may be life-threatening. Hypercapnia (carbon dioxide toxicity) can also cause headache, vertigo, double vision, inability to concentrate, tinnitus (hearing a ringing noise), seizures, or suffocation due to displacement of air." There is a lot of evidence that most face-coverings are ineffective as protection against COVID. The toxic fumes trapped in your mask that you inhale can also cause permanent damage to your lungs. What liability does the state have for permanently impairing your child from toxic fumes?
The Oregon Health Authority said on Monday it revised the guidance on the use of masks during outdoor competition claiming medical evidence and evolving science.
"We are revising the current guidance on the use of masks outdoors during competition." The Oregon Health Authority (OHA) said in a statement. "The guidance will allow people to take off face coverings when competing in non-contact sports outdoors and maintaining at least 6 feet of distance from others and the other virus protective protocols."
--Donna Bleiler
| | |
| --- | --- |
| Post Date: 2021-04-27 10:51:12 | Last Update: 2021-04-27 12:01:48 |
School board elections just around the corner
The
Albany Democrat-Herald paper had recently ran an article
by Caitlyn M. May about politicization of school boards. The assertion of her point, is that politics are not to be a part of our education system. While this sounds altruistic, it is fantasy.
The Oregon Education Association is one of the top 5 largest financial contributors to Democrat Governor Kate Brown.
Caitlyn goes on but most surprisingly adds a statement from Kelsy Kretchmer assistant professor at OSU who brings up "Brown v. the Board of Education" and states "school boards filled with white, conservative, pro-segregation members" as if contemporaneous.
Let's reflect on this history Professor Kelsy is flashing us back to; it was in fact the Republican Party (i.e. the party of Lincoln) that most often led the fight to combat racism in America, while Democrats dragged their feet. The U.S. Supreme Court's unanimous, landmark ruling in the case of Brown v. Board of Education.
Consider the words of Chief Justice Earl Warren, a Republican appointed by a Republican president:
"Segregation of white and colored children in public schools has a detrimental effect upon the colored children. The impact is greater when it has the sanction of the law, for the policy of separating the races is usually interpreted as denoting the inferiority of the Negro group…Any language in contrary to this finding is rejected. We conclude that in the field of public education the doctrine of 'separate but equal' has no place. Separate educational facilities are inherently unequal."
In contrast, our current president Joe Biden once said "Unless we do something about this, my children are going to grow up in a jungle, the jungle being a racial jungle with tensions having built so high that it is going to explode at some point. We have got to make some move on this.", when speaking during a congressional hearing related to anti-busing legislation.
Even recently, Vice President
Kamala Harris called out Biden
on his opposition of busing during the presidential primary. This had no affect on her political aspirations in the end.
By definition, politics are the activities associated with governance.
When tax funded public education remains a function of government it will remain politicized.
--Benjamin Roche
| | |
| --- | --- |
| Post Date: 2021-04-26 21:53:54 | Last Update: 2021-04-26 22:15:13 |
Enjoy products now while you can afford them
Oregon agricultural products will soon see a necessary price increase to accommodate additional government mandates that are about to be passed in the Oregon State Legislature.
HB 2358
has been introduced by Representative Salinas (D-Clackamas), Representative Holvey (D-Eugene), Representative Ruiz (D-Portland), and Senator Frederick (D-Portland). It proposes to eliminate the agricultural exemption for payment of overtime to agricultural workers.
The
Fair Labor Standards Act of 1938
, 29 U.S.C. § 203 (FLSA), is the United States labor law that created the right to minimum wage, and time-and-a-half overtime pay when people work over forty hours a week. Since it's passage it has been amended several times to increase the actual minimum wage and to encompasses specific job classes into the Act, but the inclusion of agricultural workers has never been incorporated into federal changes. Six states currently have some form of requirements to pay agricultural worker's overtime; California, Minnesota, Hawaii, Washington, Maryland, and New York. Each of them varies slightly in how they apply. Oregon looks to be the next to join the list.
During testimony on the bill, Representative Bobby Levy (R–Echo), herself a rancher, said "feeding Oregon is a thankless job. The biggest obstacle to working in the ag industry is that the cost to produce our commodities is often more than we get paid for doing it". She also expressed concerns for the other bills being entertained this session that will continue to stack costs on agricultural businesses.
Mike Omeg, a 5th generation cherry farmer from The Dallas explained to the committee how migrant workers here on the H2A visa program are required to be paid based on Federal H2A rates, and in Oregon that is $16.34. The rate is set to ensure that a US citizen ag worker is not displaced by a guest worker. He added that "farmers in our current structure set our wages to meet the current laws not because we are racist." He and others also shared that consumers set the prices for agricultural crops and consumers will simply buy imported produce and ag commodities from other states or countries. In addition, one organic grower shared that because they use fewer chemicals in their farming practices and have gone to great lengths to reduce the use of fossil fuel vehicles, they will have no other choice than to abandon some of those practices to account for the increased labor costs.
Supporter of the bill, Oregon Climate & Agriculture Network (OrCAN)
submitted testimony citing a study
done by the National Agricultural Workers Survey (NAWS). It reported that individual farm workers earn $15,000 to $17,499 a year. However, with Oregon's current minimum wage rate at $12.00 and $12.75 in agricultural communities, that would mean that ag employees are working well under 40 hours per week. A 40-hour work week at current minimum wage is ~$25,740. In that same report, it was noted that only 51% of the respondents had authorization to work legally in the US.
A D V E R T I S E M E N T
A D V E R T I S E M E N T
In other testimony, supporters of the legislation pointed out that "Farm labor workers receive no overtime and/or holiday pay". Holiday pay is not mandated on any small or large employer in the state. Many employers use this as an incentive to attract labor. They also noted that farm workers receive no health benefits. However, any employer in the state with less than 50 employees is not required to provide healthcare coverage to their employees. Many family farmers themselves do not have health insurance because to acquire it on the exchange costs them several thousand dollars and they just can't afford it. Finally, they pointed out that farm labor does not receive an employer 401K. Again, this benefit is not specific to the ag industry. Many small, medium and large size employers do not offer 401Ks or other retirement plans to their employees.
After two days of testimony and hundreds of letters submitted to the committee in opposition, they chose to move it to the Legislative Rules Committee on a party line vote. They ignored a proposed amendment to phase in the overtime regulation, and one to increase the 40-hour threshold to 45. They also ignored an offer from Representative Post (R–Keizer) to host a work-group to see what could be worked out between now and next session. He said he "has many farmers in his district and they have expressed to him their concerns, and those are based in economics not racism, and rushing into this decision without all parties at the table to first discuss it is not good policy".
During the vote, however, Representative Bynum (D-Clackamas) who owns and operates four McDonald's Restaurants in the Portland metro area stated that "It's a human rights issue and to be quite honest as we listened to testimony, the optics are really bad, the optics are horrible, and the history of the whole conversation is quite tormenting".
The bill currently sits in the
State Legislative House Rules Committee
where it can be heard again at anytime before the end of session.
--Terese Humboldt
| | |
| --- | --- |
| Post Date: 2021-04-26 16:08:06 | Last Update: 2021-04-26 18:10:21 |
Sixth District to be added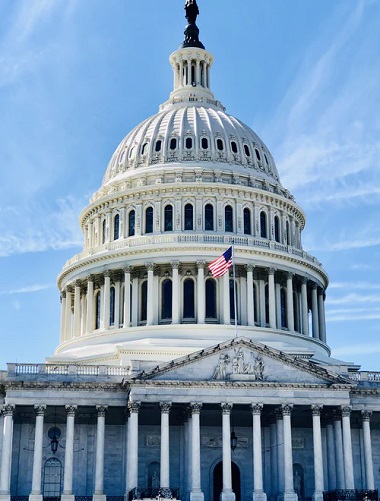 The desire has been emphasized for the need for a fair redistricting process that avoids political gerrymandering in Oregon and it seems now that will be addressed.
Oregon has now been awarded a sixth congressional district for representation in the nation's capitol of Washington D.C. after preliminary 2020 census data has been considered.
House Republican Leader Christine Drazan (R-Canby) has responded to confirmation that Oregon will have a sixth congressional district. The news highlights the importance of equal representation on the State Legislature's House Redistricting Committee which currently has three Republicans and three Democrats.
"Now that we have equal representation on the redistricting committee, our legislative and congressional districts will be drawn in a way that avoids political gerrymandering," said Leader Drazan. "Our current maps have favored one political party over another for the past 20 years, but Oregonians can be confident that this sixth congressional district will be drawn according to the rules to give people fair representation."
Some analysts have proposed that the sixth district may end up being a Republican held seat, compared to the current 4 congressional seats held by Democrats, and the one held by Republican Cliff Bentz.
--Bruce Armstrong
| | |
| --- | --- |
| Post Date: 2021-04-26 12:42:25 | Last Update: 2021-04-26 13:30:23 |
Read More Articles