On this day, June 4, 1990, Janet Adkins, age 54, of Portland, became the first person to use a suicide machine developed by Dr. Kevorkian. This began a national debate over the right to die.
Also on this day, June 4, 1999 a federal judge in Portland ruled that AT&T must open its cable lines to competitors.
Also on this day, June 4, 2017, a pro-Trump rally and counter-protest in Portland was marked by multiple arrests and clashes.
Calls out Democrat legislators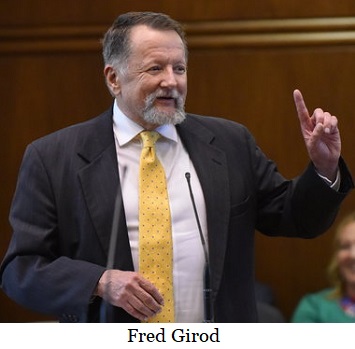 Oregon Senate Minority Leader Fred Girod has issued a statement in response to the continued lockdown of Oregon's economy and livelihood.
"We are not obligated to let the Governor railroad Oregonians without accountability and transparency," Senate Republican Leader Fred Girod (R-Lyons) said. "Legislative Democrats have locked people out of their Capitol building, and are actively participating in the Governor's efforts to lock working Oregonians out of their jobs. With vaccinations ramping up, we should focus on lifting Oregonians up, not putting them out of work."

"Democrat's refusal to take seriously their role as a co-equal branch of government is actively harming Oregonians," Girod continued. "The Democrats are aiding and abetting the abuse against working Oregonians because it gives them more power. No one-party, no one person should have this much power. Republicans are ready to reestablish principles of checks and balances and uphold values of transparency in the legislative process to protect lives and livelihoods."

"The Governor's emergency powers kept kids locked out of the classroom for over a year," Girod added. "They have led to countless Oregonians losing their livelihoods. Legislative Democrats have shown no courage to stand against the Governor's overreach. They have failed to stand up for working families."

"Democrats will tell you they are the party of the working class, but when given the opportunity, they have refused to stand up for their livelihoods. Republicans are standing shoulder to shoulder with working Oregonians," Girod said.
--Bruce Armstrong
| | |
| --- | --- |
| Post Date: 2021-04-29 12:01:35 | Last Update: 2021-04-29 16:17:31 |