On this day, November 26, 2010, US federal agents in a sting operation arrested Mohamed Osman Mohamud (19), a Somali-born teenager, just as he tried blowing up a van he believed was loaded with explosives at a crowded Christmas tree lighting ceremony in Portland.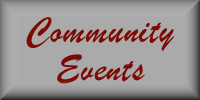 Post an Event

Oregon Legislature Interim Committee Meetings
Wednesday, December 7, 2022 at 8:00 am
Legislative Committee hearings
Oregon Capitol

Oregon Legislature Interim Committee Meetings
Thursday, December 8, 2022 at 8:00 am
Legislative Committee hearings
Oregon Capitol

Oregon Legislature Interim Committee Meetings
Friday, December 9, 2022 at 8:00 am
Legislative Committee hearings
Oregon Capitol

82nd Session of the Oregon Legislature Begins
Monday, January 9, 2023 at 8:00 am
The 2023 Session of the Oregon Legislature begins. Legislators are sworn in and bills are introduced.
Oregon Capitol, Salem
View All Calendar Events
Public safety sees little priority in Brown's new budget
Kate Brown has explained that "equity" will be the priority with her newly released biennium budget proposals. She announced the budget on Tuesday, via press conference, and she explained that funding for public safety will suffer significant cuts.
While these budget cuts are being considered as a response to the loss of state revenue during the mandated lock downs, the governor may not be willing to give up on pet projects, as indicated by the proposed 8 percent increase in the overall budget. She then pleaded with the Trump administration for additional federal funding for projects that Oregon could not budget appropriately for.
"Honestly, it is time for Washington, DC to get its act together. Unlike the federal government, state governments have to balance our budget. We have to meet the needs of the pandemic Our revenues are down as a result of the recession caused by the pandemic and yet we've got to meet the needs of vulnerable Orgon families and, frankly, we've got to invest and rebuild in our communities."

"Together, with our public safety system, we cut roughly 100 million. I had a very tough conversation with the hospitals today because the Oregon Health Plan is still short $400 million, so that we need to work collaboratively to preserve our health care infrastructure."
She announced a plan for three prisons to be closed. Mill Creek Correctional Facility in Salem is slated to be the first closure in July 2021 with Shutter Creek Correctional Institution in North Bend next, and Warner Creek Correctional Facility in Lakeview to follow.
A D V E R T I S E M E N T

A D V E R T I S E M E N T
Senate Republican Leader Fred Girod (R-Lyons) issued the following statement:
"I am deeply concerned for Oregonians' public safety with Governor Brown's decision to close three state prisons yesterday. There is a potential for an increase in crime, especially when there are no details on who is being released or relocated. "Before the Legislature does anything, Governor Brown must share the plan of where inmates will go, who will be released and how law enforcement, vendor and support staff jobs will be protected.

"Two of the prisons are in rural Oregon communities already under significant stress due to the COVID-19 lockdowns, and the years of neglect as the Portland area has been given priority. "Governor Brown's decision to close multiple corrections facilities, along with the early release of inmates this year, and the 2019 bill that narrowed the use of the death penalty, are examples of the disturbing trend that she does not value Oregonians' public safety and is determined to undermine the Oregon criminal justice system to earn political points."
--Ben Fisher
| | |
| --- | --- |
| Post Date: 2020-12-02 13:05:16 | Last Update: 2020-12-24 12:42:24 |
Fatal crash in West Salem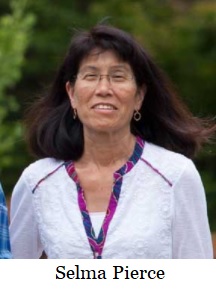 On December 1, 2020 at approximately 5:00 p.m., the Salem Police and Fire Departments responded to Doaks Ferry RD NW and Hidden Valley DR NW on a report of a vehicle colliding with a pedestrian.
The pedestrian, identified as Selma Pierce age 66 of Salem, was declared deceased at the scene. The driver of the Chevrolet SUV that struck Pierce remained on scene and is cooperating with the investigation.
The preliminary findings indicate Pierce was in the roadway when she was struck. The investigation is still ongoing and no further details will be released at this time.
Both Bud and Selma Pierce were very active in Oregon politics. Selma's husband Bud had announced his campaign to run for governor of Oregon just the day prior.
House Republican Leader Christine Drazan has released a statement offering condolences:
"House Republicans were devastated to learn of the tragic passing of Dr. Selma Pierce in an accident earlier today. We are profoundly saddened by this sudden loss of our friend and community leader. Selma dedicated her life to serving people.

"She touched the lives of thousands through volunteer dental work to at-risk populations, service on local education foundations, and her and her husband Bud's generous support of countless community organizations. The Pierces are a pillar of the Salem community and this loss will be felt deeply across our state. Our prayers are with Bud and the entire Pierce family this evening."
Selma's husband Dr. Bud Pierce has also released a somber statement on the tragic passing of his wife:
Selma Pierce, the glue of the Pierce family, an angel of a person , the only woman that I have ever loved, died this evening in a sudden and tragic accident. We cannot believe that she has left us, but we are comforted in the knowledge that she is with God, and we will see her again.
--Ben Fisher
| | |
| --- | --- |
| Post Date: 2020-12-01 21:03:18 | Last Update: 2020-12-01 21:05:57 |
Healthcare personnel and long-term care providers will be first in line
Editor's note: This is the second in a series on Oregon's COVID-19 vaccination plans, digging into the Oregon Healthy Authority's 125 page draft plan on vaccinations.
Today, the Advisory Committee for Immunization Practices of the CDC met to vote on adding the not-yet-approved COVID-19 vaccine to the recommended schedule of vaccines.
All but one voting members of the ACIP voted to add it to the schedule with this language:
When a COVID-19 vaccine is authorized by FDA and recommended by ACIP, vaccination in the initial phase of the COVID-19 vaccination program (Phase 1a) should be offered to both 1) health care personnel and 2) residents of long-term care facilities.
As previously reported on in our first installment of the
COVID-19 vaccine issue
, the US has implemented fast tracked mass vaccination programs twice. Once, with
polio in 1954-1955 that was abandoned
with the Cutter Incident causing polio paralysis and the
1976 Swine flu vaccine
program that caused GBS paralysis. The cart-before-the-horse meeting felt rushed and questions by the panel as well as public comment was kept short. The compressed timeline means there is no long term follow up prior to administering millions of vaccine doses. The ACIP panel stated they will not approve and recommend the vaccine unless it is safe. That is why they are asking for everyone in the community to report adverse events in the early phases and the importance of this data. They are calling on the whole community to ensure safety of the COVID-19 vaccines. Oregon healthcare workers need to be prepared and trained on effective adverse event reporting on a regular basis. The last time the state of Oregon investigated and reported on adverse events, was in 2009.
Public health officials discussed the challenge of implementation plans of those who would be first in line to get the jab. They have a partnership with two pharmacies to attend long term care homes first to vaccinate both the staff and residents on three occasions to administer two doses of the vaccine. Things to keep in mind is that all COVID-19 vaccine trial info forthcoming has reported as having high side effects and Dr. Fryhoffer of the ACIP has recommended letting individuals know that getting the COVID-19 will "not be a walk in the park." Some unblinded trial participants have suggested taking a few days off for the COVID-19-like symptoms of illness it produces. Due to that fact, the CDC suggests considering staggering personnel getting the vaccine as well as to have time away from clinical care because they could experience systemic symptoms post-vaccination. A panel member agreed, "It could wipe out that unit for 1-3 days. It could have quite a few of those people out of work."
"Reactogenicity" refers to the property of a vaccine of being able to produce common, "expected" adverse reactions, especially excessive immunological responses and associated signs and symptoms, including fever and sore arm at injection site. There is no reactogenicity data in Long term care facility residents. The trials were only conducted with prescreened healthy individuals. Pfizer only used 94 participants for interim analysis. You can see the data on the
Informed Consent Action Network
website.
It's not clear if those who have contracted the COVID-19 symptoms previously will need to stay masked up or get vaccinated, nor any policies on exemptions for religious or medical reasons, though consent or assent will be obtained. The following were discussed.
5-10 Million doses are expected to be administered each week following approval and after the initial 40 million doses is given.
They are not recommending prior testing to see if you already had COVID-19 before getting vaccinated.
Dr. Sanchez, panel member suggested lactating women should get the COVID-19 vaccine.
If jurisdictions place their orders, 20 million people will be vaccinated by end of December.
There is also a new adverse even reporting system with the CDC called v-safe that will be tied into the existing Vaccine Adverse Event Reporting System or VAERS. This requires registration but will collect data on day zero for 12 months. If you choose to get the vaccine and experience an adverse reaction you can also report it on the Informed Consent Action Network website.
The ACIP voted to recommend the vaccine should Phase 3 clinical trials show safety and success and approval by the FDA. The FDA meets December 8-10 to discuss Emergency Use authorization of three who have submitted application.
Regardless of how people feel about getting the vaccine, this will mean we can all go back to normal and ditch the masks and grocery store directional stickers, right? Not so fast! We were told by the CDC's committee that masks and social distancing will still be necessary for a long while. Some Oregon legislators have also said it will be many more months before we can go back to normal. It has already been a long nine months.
Photo by Ani Kolleshi on Unsplash.com
--Nicole DeGraff
| | |
| --- | --- |
| Post Date: 2020-12-01 18:43:09 | Last Update: 2020-12-01 19:05:58 |
The publication of the Governor's budget is the start of the biennial budget process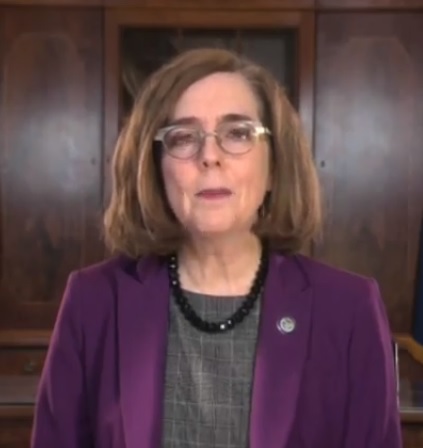 After a technology snafu that had Kate Brown jumping out of her chair and dancing around shaking it off, she resumed her 2021 budget presentation presser, centering on racial justice. Repeating the script she restarted, "What a year it has been..." She said that Oregonians have stepped up to protect friends and neighbors. Keeping each other healthy and well. Through fires and a global pandemic, we are determined to rise and rebuild and have every voice heard.
She went on to say, she thinks that the state's north star is the Governor's budget. To do so we must first recognize racism impacts every part of our culture and economy.
Across the budget, $280M invests in and prioritizes undoing systemic racism.
$10B to ensure every student has access to services and nutrition, early childhood education for 8,000 more kids. She is prioritizing Anti-racism curriculums and behavioral health.
$7B in Climate change investments; she said that effort is not yet fully funded but is "absolutely" committed to cap greenhouse gas emissions through her executive order made the same week she declared an emergency for Covid-19 back in March.
$190M dedicated to communities affected by wildfires. Including investments to build back better" to prepare for future wildfire seasons.
The Governor continued with, "This budget doesn't put enough into education and public health. It doesn't go far enough to heal the pain of 2020. Oregon alone cannot do that. We need Federal government to stand up and respond." She is asking more for OHP and COVID-19 testing. According to the Governor another $685 Million is needed for pandemic reasons. She also stated that we need another round of the paycheck protection program. Due to losing half of its childcare supply, we need to rebuild with federal aid as well as additional federal aid for schools and colleges, cities, counties, tribal governments and courts need help. "It's time for DC to get its act together."
She encouraged folks to contact their congressperson and ask for federal funds.
The Governor also confirmed the likelihood of a catastrophic session is great. "I am absolutely committed that we meet needs of vulnerable Oregonians." She is working with legislative leadership now on implementing one. Given community spread of COVID-19 she wants to ensure a way for Oregonians to participate via technology and keeping legislators and staff safe.
When asked about getting kids back into schools Kate Brown said "there is a specific plan for vaccination of teachers and schools." There has not been any COVID-19 trials completed on children.
--Nicole DeGraff
| | |
| --- | --- |
| Post Date: 2020-12-01 14:03:32 | Last Update: 2020-12-01 14:21:10 |
"V is for Vaccine" Kicks off International Demonstration and Vaccine Awareness
Oregonians found themselves facing an inconvenient truth, regarding the new COVID-19 vaccine during a recent commute. "COVID-19 Vaccine Manufacturers Are Exempt From Liability" reads the sign above the I-205, Oregon City overpass. The sign was part of an international campaign put on by the group 'V' is for Vaccine. Spokesperson Josh Coleman stated in a press release prior to the event,
"All medical procedures require informed consent. Vaccination is no different, but the reality is vaccines are routinely administered without informing the recipient of severe and acknowledged risks. A fast-tracked COVID-19 vaccine means no long term and limited safety studies. With the potential for severe adverse reactions and widespread vaccine mandates, it is critical that people understand their rights, the true scope of risk involved in vaccinating and the lack of adequate recourse if they suffer an adverse reaction."
The new COVID-19 vaccine has been granted the same legal immunity as childhood vaccines were with the passage of
H.R 5546 The National Childhood Vaccine Injury Act of 1986
, making it liability free for manufacturers. In the event of serious adverse reactions or death as a result of the vaccine, the manufacturer is immune from legal consequences or direct pay outs to the vaccine injured.
In light of alarming halts to production, during safety trials, experts are speaking out "We only have one chance to get the vaccine right, after it's approved there's no liability, and no enforcement for post market research" says LPN Jordana Bruce, who specializes in geriatric care, and works for a large in home care provider that operates in Oregon. "A huge red flag with the AstraZeneca trial is that the vaccine was mainly tested on healthy individuals under 50. That doesn't really help anyone when the approved vaccine will be given to my geriatric patients over 60, first, without having been properly tested (on this age range), and those under age 50 aren't really dying from COVID-19". "However, I'm not sure the alternative option is much better" says Bruce, "This mRNA technology has never been used in human history, and if it's like past vaccines without liability, we might not understand the long term risks, until it's too late".
The
New York Times
recently reported issues with the AstraZeneca trial, outlining the flawed data collection and efficacy claims. Data was cherry picked from studies in Britain and Brazil, which led to initial reports of a vaccine at low cost, with a 90% efficacy threshold(sic). Soon after initial reports, Scientists and industry experts noted various errors along with a series of other irregularities and omissions in the way AstraZeneca initially disclosed their data. Claiming as a result, the confidence of the scientific community has been eroded, questioning the reliability of the results.
One key omision being that the test group was largely comprised of healthy individuals under the age of 50. Some of the trial participants were given a half dose, while others were given two full doses, apparently by accident. According to New York Times, "Crucial information was also missing. The company said that the early analysis was based on 131 symptomatic COVID-19 cases that had turned up in study participants. But it did not break down how many cases were found in each group of participants — those who received the half-strength initial dose, the regular-strength initial dose and the placebo."
When asked by
The New York Times
, why such a large variation of effectiveness was seen with different dosing, respectively a 62-90% variability(sic) AstraZeneca and Oxford researchers said they did not know.
In a bizarre move, rather than disclose their findings publicly, AstraZeneca shared some information with Wall Street analysts and other officials. Stock prices quickly plummeted, soon after. When asked why the company chose to selectively share details of their data collection and efficacy failures Michele Meixell, a spokeswoman for AstraZeneca stated, "I think the best way of reflecting the results is in a peer-reviewed scientific journal, not in a newspaper." A peer reviewed paper has yet to be published, and concerns over insider trading appear to be valid according to
financial analysts and Wall Street watchdogs
.
Pfizer and Moderna are also nearing completion, using a vaccine, which uses experimental mRNA technology. Messenger RNA or mRNA is the ribonucleic acid that transfers the genetic code of the DNA of the cell nucleus to a ribosome in the cytoplasm, which is what determines the order that amino acids of a protein bind and act as a mold or pattern for the synthesis of that protein. Pfizer released preliminary results stating their vaccine is
90% effictive
at preventing symptomatic COVID-19. Moderna also released their early results of the phase 3 trial, stating the vaccine is around
94.5% effective at preventing COVID-19
.
Yet, this new form of vaccine has the scientific community at odds regarding ethics, safety, long term viability and efficacy. Dr. Wolfgang Woodarg, is an Internist, Pneumologist, Social medicine expert, MD of Hygiene, environmental clinicist and former head of the German Health administration. Dr. Woodarg has been very vocal about his concerns regarding the panic being created, and the supposed cure, which he believes to be more harmful than the virus.
"This promising vaccine (the mRNA vaccine), for the vast majority of people should be forbidden, because it is genetic manipulation!" Earlier this month the previous vice president of Pfizer
publicly stated
that "There is absolutely no need for vaccines to extinguish the pandemic. I've never heard such nonsense talked about vaccines. You do not vaccinate people who aren't at risk from a disease. You also don't set about planning to vaccinate millions of fit and healthy people with a vaccine that hasn't been extensively tested on human subjects."
Yeadon has been vocal on
social media
, and stated "If any such vaccine is approved for use under any circumstances that are not
explicitly
experimental, I believe that recipients are being misled to a criminal extent. This is because there are precisely zero human volunteers for whom there could possibly be more than a few months past-dose safety information."
Considering the fact that it takes years to file FOIA requests, or go through the court system to compel unwilling agencies to comply with requests, activists appear to have valid concerns regarding rushed vaccines without liability, and the current public policies being created for compulsory use of said liability free products.
It took attorney Robert F. Kennedy Jr many years, and millions of dollars to finally receive a copy of the
FDA results on the MMR study
. A vaccine that was once heavily pushed in the media and by health agencies as being "100% safe and effective". It also took many years, and many court battles before finding that, per the 1986 immunity act for vaccine manufacturers, biannual post market data was never once, in over 32 years, disclosed to the Congress. That biannual disclosure, being the quid pro quo, to ultimate freedom from tort and liability claims.
Since the inception of the 1986 Act, health care costs have skyrocketed as each generation has become increasingly sicker. According to a
BlueCross BlueShield
meta analysis, over 54% of the Millennial generation has one or more chronic illnesses, 23% report serious mental health issues, and the U.S rates number 1 for infant mortality over any developed Nation. The U.S Advisory Committee on Immunization Practices has also significantly increased its list of required vaccines on the CDC schedule, since vaccines became liability free. To date, there is only one study cross examining
vaccinated vs unvaccinated children
, and the results indicate a positive correlation between increased vaccination rates and overall health, developmental delays, asthma, ear infections and gastrointestinal disorders.
As a society, we've just begun to scratch the surface on long term health effects associated with known vaccines. Perhaps, it's a good idea to tap the brakes, and take a more conservative approach to creating public policy. Especially, as we now understand, injury caused by the vaccine, is our own responsibility.
--Breeauna Sagdal
| | |
| --- | --- |
| Post Date: 2020-12-01 07:24:23 | Last Update: 2020-11-30 22:28:52 |
Oregon voters recently passed Measure 109
Governor Brown is seeking applicants for the Oregon Psilocybin Advisory Board.
Established by Ballot Measure 109, the Oregon Psilocybin Advisory Board makes recommendations to the Oregon Health Authority on available scientific studies and research on the safety and efficacy of psilocybin in treating mental health conditions, and makes recommendations on the requirements, specifications and guidelines for providing psilocybin services in Oregon.
OHA invites applications from people who meet the following criteria:
Local health officer.
Representative of a federally recognized Indian tribe.
Member of the OHA Addictions and Mental Health Planning and Advisory Council.
Member of the OHA Health Equity Policy Committee.
Member of the OHA Palliative Care and Quality of Life Interdisciplinary Advisory Council.
Individual who represents individuals who provide public health services.
Psychologist licensed under ORS chapter 675 who has professional experience engaging in the diagnosis or treatment of a mental, emotional, or behavioral condition.
Physician licensed under ORS chapter 677 who holds a degree of Doctor of Medicine.
Naturopathic physician licensed under ORS chapter 685.
Expert in the field of public health who has a background in academia.
Person who has professional experience conducting scientific research regarding the use of psychedelic compounds in clinical therapy.
Person who has experience in the field of mycology.
Person who has experience in the field of ethnobotany.
Person who has experience in the field of psychopharmacology.
Person who has experience in the field of psilocybin harm reduction.
Person representing the Oregon Liquor Control Commission who has experience working with the system developed and maintained by the commission under ORS 475B.177 for tracking the transfer of marijuana items.
Person representing the Oregon Department of Justice.
Member of the public.
Persons interested in applying can submit the following documentation online here
by Jan. 1, 2021:
For more information, contact
André Ourso, OHA Public Health Division
at 971-673-0404.
--Ben Fisher
| | |
| --- | --- |
| Post Date: 2020-11-30 20:25:27 | Last Update: 2020-11-30 22:02:51 |
Are we getting a bang for the buck?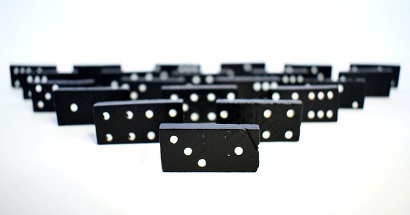 When COVID-19 reached Oregon in March of this year, the Oregon Health Authority initiated a contact tracing program as a tool to control the spread of the disease. The OHA
website informs the public
. "Contact tracing means calling people who may have been exposed to someone who has tested positive for COVID-19 to provide guidance and support. It's a key tool for preventing the spread of the COVID-19 virus. In Oregon, local public health authorities use contact tracing to prevent the spread of many types of diseases, like measles."
On August 5th, the Oregon Legislature Emergency Board approved a $94.2 million Federal Funds expenditure for the Department of Administrative Services and Oregon Health Authority to conduct contact tracing. LFO issued a
report on CARES Act distributions in Oregon related to contact tracing
. According to the report, the Oregon Health Authority Public Health Division received:
$28.7 million in Coronavirus Relief Funds to support COVID-19 contact tracing and case investigation performed by local public health authorities, except for Multnomah and Washington counties, which received funds through the federal Coronavirus Aid, Relief, and Economic Security Act.
$27.6 million in Coronavirus Relief Funds to support COVID-19 contact tracing performed by community-based organizations.
$10.0 million in CRF for testing and contact tracing performed by Multnomah County.
$3.3 million in Coronavirus Relief Funds to support COVID-19 contact tracing and case investigation performed by Oregon's federally recognized tribes.
Much of this money went to support public contact tracer workers, but quite a bit -- $9.4 million in CARES Act funded contracts -- went to
173 Community-based Organizations
for:
Outreach and community engagement
Contact tracing together with local public health authorities
Providing people with social services/wraparound supports
Each of the Community-based Organizations has a specific racial, disability or socio-economic community that they serve. According to the OHA website, "Community-based organizations, including advocacy groups, and Community Health Workers are central to the success of our contact tracing efforts. They will help us reach and respond to the needs of people of color, tribal members, people with disabilities, immigrant and refugee communities, LGBTQIA+ communities, and migrant and seasonal farm workers."
The OHA claims to have hired 600 contract tracers, in addition to the Community-based Organization workers. The Association of State and Territorial Health Officials recommends a ratio of 1:1,000 individuals to tracers, which would put the need in Oregon at about 1,200.
The value of contact tracing is not historically disputed. The amount spent on public workers and given to Community-based organizations has been called into question by some. To date, OHA claims that we have some 70,000 cases in Oregon. The Oregon based outbreak is about 150 days old. That means 600 contact tracers -- according to the OHA site, but probably more -- have handled 117 cases each or an average of 0.78 (i.e. fewer than one) cases per day. This seems like a manageable load -- certainly one that could be covered by almost $70 million in spending.
Another way to look at it, is to divide the spend of $70 million by 70,000 cases, which means that the state has allocated about $1,000 per case. And remember, this isn't care. This is contact tracing.
The upcoming legislative session will be a great opportunity for accountability.
--Staff Reports
| | |
| --- | --- |
| Post Date: 2020-11-30 19:36:58 | Last Update: 2020-11-30 22:43:09 |
A little science, if you're interested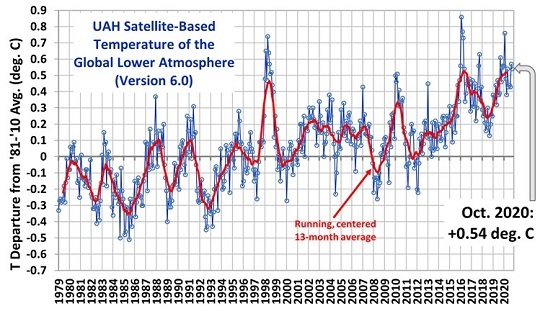 Climate watchers are starting to notice a strong La Niña that has been building in the equatorial Pacific off of the coast of Peru.
La Niña is a cooler sea surface temperature pattern in the equatorial Pacific Ocean off of Peru. Strong winds push warm surface water westward toward Indonesia and Australia, allowing cold water from the depths to rise near South America, providing a cooling effect.
The consequences for planet Earth are a cooling, similar but opposite to the warming we have recently experienced locally and across the globe. Major El Niños occurred in 1998, 2010, and 2016, with 1998 producing the highest Global Temperature and 2016 the highest Global Temperature Anomaly. The graph shows a plot of the anomaly, that is, the monthly departure from average.
The El Niño of 2016 was unusual because the effects lasted over several years. The global satellite temperature record does not yet show the effects of the building La Niña, because it typically takes a couple of months for tropical sea surface changes to show up in the lower troposphere, but they will. The National Weather Service is already predicting 25% more snow for the Northwest east of the Cascades.
Note that the entire satellite record of temperature anomalies shows the powerful effect of our oceans (and large volcanic eruptions). That is because our oceans contain the vast majority of mobile heat on this planet. The first ten feet of our oceans contain as much heat as the entire atmosphere. No wonder they dominate our climate.
The conclusion that should be understood is that the most likely climate change over the next few years is cooling not warming.
In any case, the Earth will surely continue on the roller-coaster ride evident in the NASA data for the satellite era, because we live on a planet with vast oceans and atmosphere that are never in equilibrium.
--Dr., Gordon Fulks
| | |
| --- | --- |
| Post Date: 2020-11-30 07:36:15 | Last Update: 2020-11-30 08:57:33 |
The Soldiers Monument was heavily damaged
There is nothing sacred to criminals in Portland Oregon in 2020. It is no surprise to many who have been paying attention to events in Oregon lately to now see the unchecked and mindless destruction spread about in a county with a district attorney who has pledged to take it easy on criminals. Violent thugs have begun to attack and destroy their own community's history and monuments. Fools do such things, and ignorant criminals.
These criminals that have now toppled a soldier's monument in Portland were supposedly protesting colonialism from centuries ago.
The Portland Police Bureau is now investigating a report of a statue toppled and vandalized in Lone Fir Cemetery this week.
Lone Fir, at 649 Southeast 26th Avenue, is a property owned by Metro. A Metro representative made an online police report on Friday, November 27, 2020, and the incident is under investigation.
According to the report, the vandalism happened sometime between 4:30p.m. Wednesday, November 25, 2020 and 7:30a.m. Thursday, November 26, 2020. A statue known as The Soldiers Monument was tipped over and painted.
Metro pleaded to visitors that the area is unsafe. "We are aware of the vandalism that occurred two nights ago at Lone Fir Cemetery and are assessing the damages. The Soldiers Monument was heavily damaged and was removed yesterday for the safety of visitors."
--Ben Fisher
| | |
| --- | --- |
| Post Date: 2020-11-29 18:40:18 | Last Update: 2020-11-29 19:03:59 |
What are ESDs and why do we need them?
In the interest of local control, Oregon has 197 school districts. This allows for citizens to make decisions about education on a very local level, but it also has the effect of creating very small school districts that don't have the resources to respond to very unique needs or to leverage larger procurement opportunities. This is where Education Service Districts come in.
Oregon's Education Service Districts are defined in
Oregon law
. ESDs originated in Oregon's first laws that established a general system of common schools -- that has maintained but changed Oregon's mid-level education service entities.
The mission of ESDs has remained somewhat constant: "Education Service Districts assist school districts and the State of Oregon in achieving Oregon's education goals by providing equitable educational opportunities for all of Oregon's public school students."​
Each ESD provides regional services to its component school districts, primarily in areas that the school districts alone would not be able to adequately and equitably provide. Examples include high cost technology systems, and services to children with severe disabilities who qualify under the category of high cost but low incidence. Services are offered within four large categories: special needs children, school improvement, technology, and administrative services. In addition to allowing schools to withdraw from an ESD,
2011 SB 250
added new data and informational reporting requirements to the Oregon Transparency website for all Education Service Districts. Reporting requirements include: revenue, expenditures, contracts, salary data, and informational reports; local service plans, audit reports, and meeting notices, etc.
Each Education Service District is governed by an elected board of directors, much like a school district. Their meetings are open to the public.
This is a list of all the ESDs
Clackamas ESD
Columbia Gorge ESD
Douglas ESD
Grant ESD
Harney ESD 17
High Desert ESD
InterMountain ESD
Jefferson ESD
Lake ESD
Lane ESD
Linn Benton Lincoln ESD
Malheur ESD 14
Multnomah ESD
North Central ESD
Northwest Regional ESD
Region 18 ESD
South Coast ESD 7
Southern Oregon ESD
Willamette ESD

--Staff Reports
| | |
| --- | --- |
| Post Date: 2020-11-29 10:46:04 | Last Update: 2020-11-29 12:36:15 |
A look at the current state of energy production and use
The Oregon Department of Energy is about to release it's
2020 Biennial Energy Report
for the State of Oregon. The 612 page report is a comprehensive look at virtually every thing about energy, its production , its transportation, its consumption, and its future in Oregon.
Some very large basic facts about energy emerge.
Oregon hasn't produced any nuclear power since the Trojan nuclear power plant was closed in 1993 after several mechanical failures. The state consumes some nuclear power purchased from facilities in Washington.
While Oregon makes great use of fossil fuel energy -- oil, gas and coal -- none of these are produced in Oregon.
Oregon does produce a great deal of hydroelectricity through a series of dams throughout the state. This hydro-power is renewable, clean and -- unlike wind and solar -- available around the clock.
Oft discussed renewables like solar, wind and to a lesser extent geo-thermal play a small role in the big picture
Despite Oregon's reputation for energy conservation, we import about 2/3 of the energy we use
The elephant in the room is the closure of the coal-fired electrical generation plant in Boardman. At the time of its closure, it produced about 25% of all electrical power in the state of Oregon. That energy will have to be replaced somehow, if you want to charge your Tesla, and the watts produced by the highly subsidized sources of wind and solar have a long way to go to make up the lost ground.
The report makes an interesting point about conservation -- especially in the light of the Boardman closure. "While energy efficiency is not 'consumed' like other resources, it is the second largest resource available in Oregon after hydropower. Efforts to increase energy efficiency effectively reduce overall energy consumption. Historically, Oregon has consistently met increased demand for electricity by implementing energy efficiency strategies." As the population of Oregon continues to climb, total energy use is flat, and energy use per capita is declining.
That's a good thing. That means we're driving more efficient cars, turning down the heat and lights and industry is finding leaner ways to keep the economy chugging along.
The report includes a lengthy section on hydraulic fracturing, known as "fracking." Effectively demonized in the report, this process is what has allowed America to achieve energy independence during the last decade and kept gas prices low enough so that legislatively imposed price increases like the
low carbon fuel standard
don't get noticed as much by consumers, who were prepared to pay $4.00 per gallon in the pre-fracking days.
That same legislature, two years earlier, had the "wisdom" of
making fracking illegal in Oregon
, despite the fact that -- and the report doesn't really tell you -- there is no oil nor gas extraction in Oregon, so fracking never occurs. It has the same effect as banning alcohol at an Amish convention.
Conduit Hydropower is new, but fairly simple. Where water systems are gravity fed, it makes sense to
put small hydro-electric turbines in line
and capture a small amount of energy from them. Many irrigation districts and municipal water districts rely on mountain-fed rivers and streams, and this is an opportunity. Gravity is certainly a clean and renewable resource.
In a state with some of the most oppressive land use laws in the nation, the prevalence of wind power in scenic and sensitive areas continues. One wonders if there was oil in the Columbia Gorge, if drilling and pumping equipment would be allowed to take up as much visual space as wind turbines. The report discusses some of the negatives of wind power. "Wind turbines can impact flora and fauna – in particular birds and bats can collide with wind turbine blades – however, newer designs have reduced collisions and fatalities. Wind turbines can be more than 600 feet tall and can have a visual impact on the landscape. Wind turbines take up land, but Oregon has requirements to protect wildlife and agriculture, and developers often site projects in dryland agricultural areas that allow for farming to continue up to and around turbines. In addition, transmission lines from facilities can similarly disturb sensitive environments, affect waterways, and cause habitat fragmentation." They forgot to mention taxpayer subsides. Maybe bats outrank taxpayers at the Energy Department.
Looking at the chart above and the amount of energy currently generated by wind, and keeping in mind what some places in the Columbia Gorge look like now, one can wonder what the Gorge will look like when (if?) wind becomes a more dominant slice in the energy pie.
A combination of policy and market factors is driving solar adoption. At the state level, Oregon has a long history of policy and program support for solar energy including net metering -- a policy that enables an electric utility customer to receive value for the electricity that they generate on site -- utility ratepayer incentives, and subsidies for solar installation. The Oregon Renewable Portfolio Standard established a target of 50 percent renewables for the state's largest electric utilities by 2040.
Since 1999, Oregon law has required electric utilities to offer net metering to Oregon customers installing renewable energy systems up to 25 kilowatts in size. This law was amended in 2005, enabling the Oregon Public Utility Commission to adopt rules allowing customers of investor-owned utilities to install even larger systems.
Where the Department of Energy talks of "policy" and "market factors," economists might use terms like "mandate," "subsidy" and "incentive." In any case, these are the tools used on a daily basis to manipulate our energy usage, to get the energy picture to look like what the state wants it to look like.
The report will be presented to the legislature this week.
--Staff Reports
| | |
| --- | --- |
| Post Date: 2020-11-29 09:13:35 | Last Update: 2020-11-29 11:53:37 |
Oregon BOLI settles five cases against G4S
The Bureau of Labor and Industries has reached a
settlement agreement
with G4S Secure Solutions, an international company that provides private security services at the Facebook campus in Prineville, regarding five racial discrimination cases filed in 2018. G4S will pay $595,000 to resolve these cases.
Five current and former employees made
allegations of racial discrimination
against G4S. There were also allegations of sex discrimination in two of the cases. According to one complaint, a member of the management 'referred to me and other Hispanic co-workers as 'The Mexicans,' 'The f

ing Mexicans' and 'The Mexican Mafia.'"
The Bureau of Labor and Industries' Civil Rights Division found substantial evidence in each of these cases and forwarded them to its administrative prosecution unit for resolution.
The allegations included discriminatory employment practices such as demotions, schedule changes, derogatory language, harassment, and other disparate treatment.
"This settlement highlights the importance of civil rights enforcement in our state. Five Oregonians have received justice for the discrimination they experienced." says Val Hoyle, Labor Commissioner.

"It's illegal to be treated differently or subjected to harassment because of your race, sex, or national origin. If people are suffering discrimination in any corner of our state, they can reach out to us and we willhelp make it right. Oregon's laws are there to protect you, and we are here to enforce them," says Hoyle.
Other non-economic terms of the settlement agreement include continued training and review of harassment and discrimination policies for all Oregon employees of the company.
--Ben Fisher
| | |
| --- | --- |
| Post Date: 2020-11-29 08:45:45 | Last Update: 2020-11-29 18:18:25 |
Read More Articles