A little science, if you're interested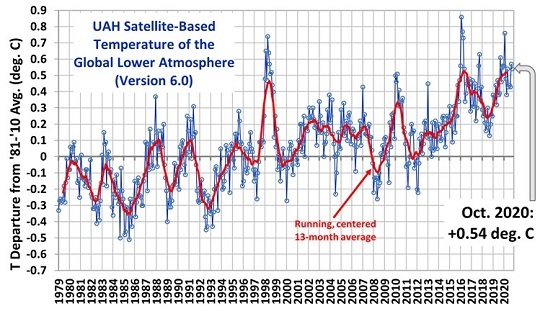 Climate watchers are starting to notice a strong La Niña that has been building in the equatorial Pacific off of the coast of Peru.
La Niña is a cooler sea surface temperature pattern in the equatorial Pacific Ocean off of Peru. Strong winds push warm surface water westward toward Indonesia and Australia, allowing cold water from the depths to rise near South America, providing a cooling effect.
The consequences for planet Earth are a cooling, similar but opposite to the warming we have recently experienced locally and across the globe. Major El Niños occurred in 1998, 2010, and 2016, with 1998 producing the highest Global Temperature and 2016 the highest Global Temperature Anomaly. The graph shows a plot of the anomaly, that is, the monthly departure from average.
The El Niño of 2016 was unusual because the effects lasted over several years. The global satellite temperature record does not yet show the effects of the building La Niña, because it typically takes a couple of months for tropical sea surface changes to show up in the lower troposphere, but they will. The National Weather Service is already predicting 25% more snow for the Northwest east of the Cascades.
Note that the entire satellite record of temperature anomalies shows the powerful effect of our oceans (and large volcanic eruptions). That is because our oceans contain the vast majority of mobile heat on this planet. The first ten feet of our oceans contain as much heat as the entire atmosphere. No wonder they dominate our climate.
The conclusion that should be understood is that the most likely climate change over the next few years is cooling not warming.
In any case, the Earth will surely continue on the roller-coaster ride evident in the NASA data for the satellite era, because we live on a planet with vast oceans and atmosphere that are never in equilibrium.
--Dr., Gordon Fulks
| | |
| --- | --- |
| Post Date: 2020-11-30 07:36:15 | Last Update: 2020-11-30 08:57:33 |