On this day, November 26, 2010, US federal agents in a sting operation arrested Mohamed Osman Mohamud (19), a Somali-born teenager, just as he tried blowing up a van he believed was loaded with explosives at a crowded Christmas tree lighting ceremony in Portland.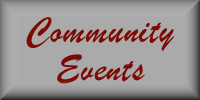 Post an Event

Oregon Legislature Interim Committee Meetings
Wednesday, December 7, 2022 at 8:00 am
Legislative Committee hearings
Oregon Capitol

Oregon Legislature Interim Committee Meetings
Thursday, December 8, 2022 at 8:00 am
Legislative Committee hearings
Oregon Capitol

Oregon Legislature Interim Committee Meetings
Friday, December 9, 2022 at 8:00 am
Legislative Committee hearings
Oregon Capitol

82nd Session of the Oregon Legislature Begins
Monday, January 9, 2023 at 8:00 am
The 2023 Session of the Oregon Legislature begins. Legislators are sworn in and bills are introduced.
Oregon Capitol, Salem
View All Calendar Events
Its not your money until you cash the check. Even then...
Editor's note: this is the second of a multi-part series recounting how the party in power is thwarting the will of the people. There is also a downloadable companion brochure
Based on a booming economy in 2017-2019 biennium, the Oregon kicker was scheduled to pay back taxpayers the third largest kickback in the state's history. The Oregon Constitution requires that, when there is at least a two percent difference between the final revenue forecast for the biennium and the actual end-of-biennium revenue, the surplus is returned to individual taxpayers.
In a complicated budget maneuver, Democrats voted to pass
HB 2975
reducing the 2020 kicker by $108 million. For individual taxpayers, that translated to a 14.5 percent reduction to their kicker rebate when they filed their taxes in 2020 for 2019. By moving budget items around the Democrats said they could utilize more funds for critical services such as community colleges and higher education. It's a back-handed violation of the Oregon Constitution.
Oregon is unique being the only state with a constitutionally mandated accountability law that ensures state government doesn't grow too fast. The kicker ensures in years where revenue exceeds the state's estimate that legislators don't go on a spending spree. In essence it's considered an over payment and returned to taxpayers. For corporations, their additional revenue is redirected to K-12 public education. Rep. E. Werner Reschke
expresses
it as "the best way to keep our economy growing is to return this money to the people who earned it. It's one of the best and most effective economic development plans ever created. I believe that working families -- not politicians and government bureaucrats -- are the ones who are better equipped to wisely spend, invest and save this excess revenue."
The Oregon Constitution requires the governor to provide an estimate of biennial General Fund revenues. In 1979, the Democrat majority legislature placed a condition on those revenue estimates that required excess funds to be "kicked back" to taxpayers. It was passed as a constitutional amendment in 1980. Since voters engraved the kicker in the constitution, the legislature majority has tried several tricks to delay or withhold funds from taxpayers. In 1991, the personal kicker was triggered, but legislators suspended it citing a budget turmoil. In 1995 they changed the year of calculation for personal rebates to the prior year to reduce the amount of returns. Voters retaliated in 2000 by enshrining the kicker in the constitution so only a vote of the people can abolish it, and any change or suspension requires a two-thirds vote of the legislature. In 2007 legislature, the corporate rebates were redirected to a rainy-day fund, and in 2012 voters permanently divert it to schools. Since 2011 the kicker has been a tax rebate, saving about $1 million in administrative costs allowing a larger rebate.
In 2019, Speaker Kotek introduced a bill to cut in half the rebates for public safety, air quality and job creation. It directed $260 million toward seismic upgrades to the I205 bridge, which was already in the transportation package passed in 2017. Then there was $245 million for a Zero Emission Fund to help the state transition to zero-emission vehicles, like electric cars. Kotek said she made the proposal "after hearing the magnitude of the expected kicker refund."
Covid-19 has taken a toll on Oregon's economy with very little possibility for a kicker this biennium. But it is ripe for proposals to end the kicker. Governor Brown has voiced support for diverting kicker refunds to cover the PERS shortfall. Riding the current wave of fear, it will be interesting to see what will be proposed for the 2021 session to shore up the economy.
--Donna Bleiler
| | |
| --- | --- |
| Post Date: 2020-08-15 13:30:20 | Last Update: 2020-08-06 18:54:14 |
Wasco County officials are concerned about the fire's trajectory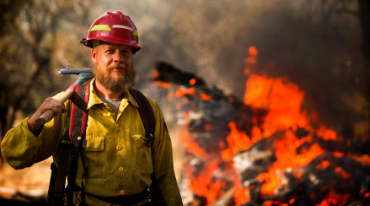 Nearly 1,000 acres are burning in a Columbia Gorge fire that has been determined to be human-caused. State resources are being utilized despite the nearly 4 million in cuts to the Oregon Department of Forestry Fire Protection program, and at this time, efforts to contain the fire are struggling at the time of this writing. Level 1,2, and 3 Evacuations have been ordered, numbering in the hundreds. Some structures and homes have already been a total loss.
Governor Kate Brown invoked the
Emergency Conflagration Act
in response to the Mosier Creek fire that broke out in Wasco County this evening. The fire is currently threatening 300 homes, and residents of Osburne Cutoff, Vensel, Catron, Dry Creek, Carroll, Morgenson, and from Chenoweth Airport to Vensel/Ketchum road are on level 3 evacuations. Oregon State Fire Marshal will assume command tomorrow at 8:00 a.m. and will work to bring resources from counties around Oregon to assist in the response. Oregon State Fire Marshal will be working under unified command with Oregon Department of Forestry.
"With high temperatures and weather conditions helping fires grow quickly, I have invoked an emergency declaration to make more state resources available to the fire crews on the front lines in Wasco County and the Columbia River Gorge at the Mosier Creek fire," Governor Brown said. "I ask Oregonians to remember that preventing wildfires is critical this year, especially as we have fire crews on the front lines during this pandemic. Be cautious and honor all burn bans, and keep our fire crews in your thoughts as they fight to protect our communities and the landscapes that surround them."
In accordance with ORS 476.510 - 476.610, Governor Brown determined that a threat to life, safety, and property exists due to the fire, and the threat exceeds the firefighting capabilities of local firefighting personnel and equipment.
The Governor's declaration authorizes the Oregon Office of State Fire Marshal to mobilize resources to assist local resources battling the fire.
Fire danger levels will be on the rise in Oregon, with a warming trend this weekend into next week. Residents are asked to take extra precautions to prevent human-caused wildfires. Oregonians are encouraged to take extra care when preparing for road trips and outdoor adventures that include securing and maintaining vehicles before hitting the road and checking on all campfire and local restrictions at intended destinations.
Wasco County officials have expressed concern about the fire's trajectory in the upcoming weekend which is going to be a hot one.
The second special session of the legislature featured several reduction in fire protection spending, including reductions in equipment purchases, delays in radio system purchases and increases in the rates charged to private landowners for fire protection -- all while maintaining over $200,000,000 in raises for public employees.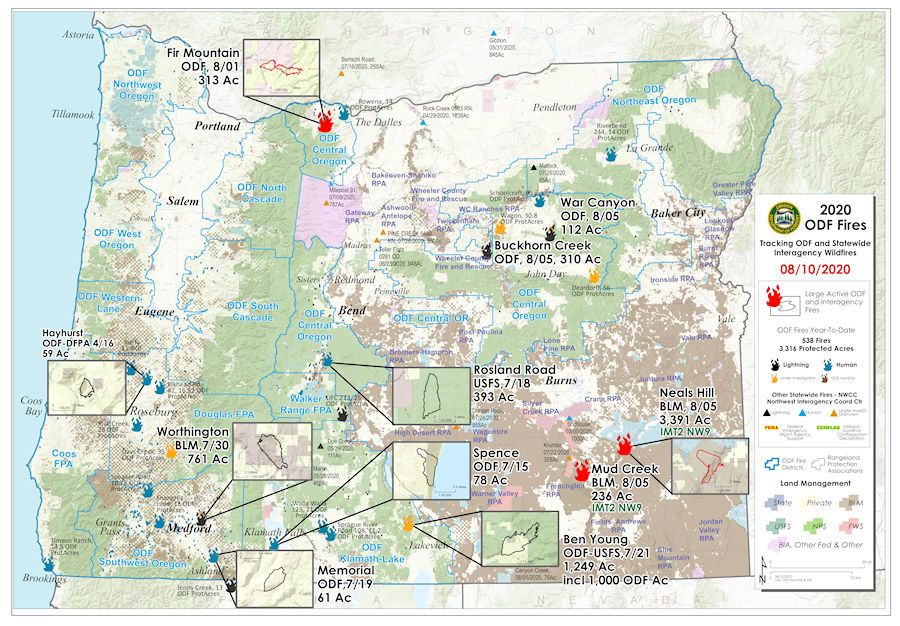 --Ben Fisher
| | |
| --- | --- |
| Post Date: 2020-08-15 06:12:05 | Last Update: 2020-08-15 06:41:25 |
Amazing what a few well-placed arrests will do
--Northwest Observer Meme Team
| | |
| --- | --- |
| Post Date: 2020-08-14 17:54:24 | Last Update: 2020-08-08 13:31:00 |
Leave a glancing blow for the DA on the way out.
The State Police have announced that they are leaving Portland and apparently re-deploying to counties with friendlier -- or less-friendly, depending on your point of view -- District Attorneys than the one in Multnomah County. Oregon State Police Captain Timothy R. Fox issued this statement:
The Oregon State Police is continually reassessing our resources and the needs of our partner agencies and at this time we are inclined to move those resources back to counties where prosecution of criminal conduct is still a priority.

Last night was our last night in Portland.

This decision was based on the fact that our two week commitment ended last night... Troopers are returning to the communities that they are assigned to serve and protect.
Readers will remember that Multnomah County District Attorney Mike Schmidt's Office
announced a new policy
in which he said that "[w]e will presumptively decline to charge cases where the most serious offenses are city ordinance violations and crimes that do not involve deliberate property damage, theft, or the use or threat of force against another person. Crimes in this category include:
Interference with a police officer, ORS 162.247
Disorderly conduct, ORS 166.025
Criminal trespass, ORS 164.245 and 164.255
Escape III, ORS 162.145
Harassment, when classified as a Class B misdemeanor, ORS 166.065
Riot, ORS 166.015 – Unless accompanied by a charge outside of this list"
In a tweet, Governor Brown seemed to indicate that it was planned all along.
The level of violence in the core downtown Portland area has fluctuated over the two plus months of nightly rioting, and it remains to be seen if this move impacts the intensity of the violent activity.
--Staff Reports
| | |
| --- | --- |
| Post Date: 2020-08-13 21:44:00 | Last Update: 2020-08-13 22:23:00 |
The case count is low, but the percentages are high
Governor Kate Brown announced that she would be rolling back Malheur County to Phase 1 from the Phrase 2 they were in with the State's current economy reopening plan. These changes will take effect on Monday, August 18th.
"Over the past month, COVID-19 cases in Malheur County have risen so much that restrictions must be put back in place or we risk further illnesses and death in the region," said Governor Brown. "I know this change is difficult, but immediate action is necessary in order to reduce the spread of the disease and protect all those who call Malheur County home."
Some of the data out of Malheur County regarding COVID-19 that was cited as the reason for the rollback, was:
Malheur County has a case rate of 266 cases per 10,000 people -- the third highest in the state.
Over the past two weeks, the county has had a test positivity rate of 26%, which is far above the state average of approximately 5.8% for the last two weeks.
The county has reported an average of 15 cases per day over the past two weeks.
Over the past week, 55% of new cases were sporadic cases that could not be traced back to a known source.
One larger long-term care facility outbreak (23 cases) and a few small workplace outbreaks have been reported.
The Oregon Health Authority has provided assistance with messaging and masking requirements, and is also providing ongoing case investigation support for weekend coverage.
The county will remain in Phase 1 for at least 21 days. The Governor's office, along with public health experts, will review the situation and data on a weekly basis and remain in close communication with county leaders.
In Phase 1, recreational sports, swimming pools, and events and venues like movie theaters, bowling alleys, and arcades remain closed. Non-essential local travel is allowed. Personal services businesses are allowed to operate with health and safety measures in place. Restaurants and bars are open for dine-in service until 10 p.m. with health and safety measures in place. Indoor social gatherings remain capped at 10 people as long as physical distancing is maintained, while other gatherings are limited to 50 indoors and 50 outdoors. This means that indoor gatherings, including faith-based, civic, and cultural gatherings are limited to 50 indoors and 50 outdoors. Complete Phase 1 guidance is available here.
Governor Brown added, "A step back like this is a reminder for all of us that this disease will be with us for the foreseeable future. We must continue to take measures to slow its spread or we risk further restrictions. Oregonians must continue to wear face coverings, maintain physical distancing, and practice good hygiene."
Critics have argued that it may be hypocritical of Kate Brown to set these restrictions in place, when it appears that Oregon has already "flattened the curve" successfully. The hesitation to open the economy back up appears to be in concert with Brown's objectives, which seem to be political, and perhaps not aligned with that of the average Oregonian's in 2020.
--Staff Reports
| | |
| --- | --- |
| Post Date: 2020-08-13 15:50:44 | |
Passed in 2013, rejected in 2014, passed again in 2019.
Editor's note: this is the first of a multi-part series recounting how the party in power is thwarting the will of the people. There is also a downloadable companion brochure
The Oregon legislature passed
SB 833
in 2013 to issue drivers' licenses to those unable to show proof of legal presence in the United States. Using Oregon's
Referendum law
which allows citizens to veto any act of the legislature that does not have an
emergency clause
, signatures were gathered and the question was put to the voters.
Voters overturned the act with Ballot Measure 88 in November 2014. The vote to veto failed in Multnomah County but prevailed in 35 other counties, approved by 66% of Oregon voters – nearly a 2:1 margin. It was a surprising defeat for Multnomah County when security-minded voters banded together, regardless of party affiliation.
Even though nearly a million Oregonians voted NO on Measure 88, over the next four years the Legislature's Democrat majority operated as though Ballot Measure 88′s outcome had been the opposite.
Richard F. LaMountain
, current President of Oregonians for Immigration Reform and chief sponsor of Measure 88, noted that the Democrat majority "plowed forward with laws that credentialed college students here illegally to compete with U.S. citizens for taxpayer-funded scholarships; extended Oregon Health Plan coverage to 14,000 additional illegal immigrants; broadened sanctuary protections; and granted illegal immigrants enrolled in Barack Obama's Deferred Action for Childhood Arrivals program the right to renew Oregon driver licenses."
Then, again Democrat legislators passed
HB 2015
in 2019, giving drivers' licenses to those without proof of legal residence. One must ask if Oregon's initiative system is so disregarded, our only recourse is to vote.
--Donna Bleiler
| | |
| --- | --- |
| Post Date: 2020-08-13 13:49:44 | Last Update: 2020-08-08 14:54:15 |
Multnomah County is open for riot tourism
Multnomah County District Attorney Mike Schmidt's Office
has set a new policy
regarding protest related cases. "We recognize that we will undermine public safety, not promote it, if we leverage the force of our criminal justice system against peaceful protesters who are demanding to be heard... A prosecutor choosing to decline to prosecute a case is not condoning or endorsing the conduct that led to the arrest and/or citation."
Demetria Hester, a Black Lives Matter leader was arrested during Monday's declared riot for disorderly conduct in the second degree and interfering with a peace officer. The Multnomah County District Attorney declined to prosecute and charges were dismissed.
The Multnomah County District Attorney's policy goes on to state, "We will presumptively decline to charge cases where the most serious offenses are city ordinance violations and crimes that do not involve deliberate property damage, theft, or the use or threat of force against another person. Crimes in this category include:
Interference with a police officer, ORS 162.247
Disorderly conduct, ORS 166.025
On the face, the charges deserved an investigation according to the policy.
The policy strives, "to advance the safety of our community and its members. We recognize the need to broaden our vision of what a safe community means and our role in promoting that vision. To advance public safety we must not only prevent crime, but must also promote economic and housing stability, educational opportunities, strong family and community relationships, and the mental and physical health of all those who live in our county."
Upon release, Hester said, "This is a revolution and we're getting reparations. If you're here, do your part." She ended her remarks by inciting the crowd that had gathered in chants of "stay woke" and "reparations." She told reporters she is a survivor of a hate crime on the light-rail train in Portland, "we will never stop because we want to be treated equal as people."
Her idea of equality is her right to loot, destroy businesses and public buildings endangering public safety – it isn't reparation to steel from others. Perhaps the attorneys need to consider motive and degree of inciting damage when dismissing a leader that publicly promotes destruction. How interested are Portland leaders in stopping the looting and rioting and protecting their community?
--Donna Bleiler
| | |
| --- | --- |
| Post Date: 2020-08-12 18:54:18 | Last Update: 2020-08-12 22:05:35 |
They claim the Governor moved the goal posts
An
ad hoc
consortium of private schools has sent
a letter
to Governor Kate Brown asking that she rethink restrictions on the opening of their schools in the fall.
The letter recounts the original understanding, "Private schools have been told that there is no final approval required as the the plan. They were to submit a plan to Local Public Health Agency, post it on each schools website, submit the plan to the governing board, and provide a web link to [the Oregon Department of Education]. Then, the school would be ready to open as outlined in the plan."
Private schools -- especially smaller ones -- may not be able to manage the costs.
"Private schools have, in good faith, spent time, finances, and committed to teachers and school families based on the guidelines that private schools were able to choose the instructional model that was best for their school communities, and could open for in-person instruction with a completed plan following Sections 1-3 of the guidance. The sudden mandate for comprehensive distance learning puts the integrity of private schools on the line, which, in good faith, committed to educate children in-person, and collected tuition from parents based on the premise that they could open under the conditions as outlined by the [the Oregon Health Authority]. In addition, the shift did not come with any funds from [the Oregon Department of Education] to private schools to implement the shift - unlike the promise to public schools."
Near the end of the six page letter, following argument as to why the schools should be allowed to open, the final plea is made.
"We know that in-person education is significantly better than online learning. We cannot subscribe to a one size fits all approach to opening our schools in the Fall. There may be one size which fits all in terms of large, urban, public schools. Oregon private schools are designed to focus on the needs of our own specific communities. In many instances these specific communities contain a significant number of minority students."
"Accordingly, we request that you affirm the guidelines issued by [the Oregon Department of Education] and [the Oregon Health Authority] up to to July 27. 2020, remain in effect for private school reopening as provided in Sections 1, 2, and 3 of the
Safe Schools, Ready Learners
document."
The letter was signed by a wide variety of elected officials, including:
Bev Clarno, Oregon Secretary of State
Senator Tim Knopp
Senator Kim Thatcher
Senator Chuck Thomsen
Senator Bill Hansell
Representative Raquel Moore-Green
Representative Greg Barreto
Representative Shelly Boshart Davis
Representative Mike Nearman
Representative E. Werner Reschke
Cliff Bentz, Oregon Congressional Nominee
Colm Willis, Marion County Commissioner
Tootie Smith, Clackamas County Commissioner
Lily Morgan, Josephine County Commissioner
Mary Starrett, Yamhill County Commissioner
Lindsay Berschauer, Yamhill County Commissioner-Elect
Sue Gold, Curry County Commissioner
Mark Bennett, Baker County Commissioner
Sam Brentano, Marion County Commissioner
Jerry Willey, Washington County Commissioner
Rick Dyer, Jackson County Commissioner
Lyle Mordhorst, Polk County Commissioner
Numerous educators and administrators also signed the letter
--Staff Reports
| | |
| --- | --- |
| Post Date: 2020-08-12 15:57:12 | Last Update: 2020-08-12 18:54:18 |
Is this who we want for Secretary of State?

It's bad enough that State Senator Shemia Fagan (D-Portland) doesn't support the bill, but when a ring of log trucks makes here late for the Senate Committee on Housing and Development which she chaired during the 2019 session, and then disrupts the hearing by blowing horns, she takes it out on everyone else, with a thinly veiled apology.
--Staff Reports
| | |
| --- | --- |
| Post Date: 2020-08-12 15:40:20 | |
Public safety looks to be a big issue in November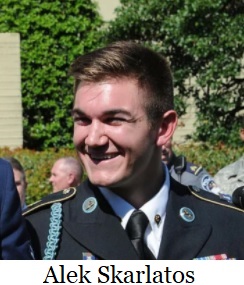 Alek Skarlatos, Candidate for Oregon's 4th Congressional District, issued a statement condemning the Seattle City Council's decision to defund their police department as both reckless and dangerous. Seattle's Police Chief, Carmen Best, announced plans to retire in the wake of the vote which saw only one city councilor vote against the budget package stating that it did not go far enough in its radical aims.
"I visited the 'Police Free Zone' in Seattle prior to the shootings there and the murder of a 19 year-old young man," said Skarlatos. "This 'Mob Squad' of politicians who support defunding the police have blood on their hands and are responsible for the violence that has come to rural Oregon."
The CHOP, or CHAZ, was formed in Seattle on June 8th of this year by violent protesters who forced police to abandon the East Precinct Building and declared it a police free autonomous zone. Its creation spurred increased anarchy in the city culminating in several shootings, including a murder, eventually forcing the mayor to order police to clear the neighborhood. The violence has spread to many other cities throughout the country and region with Portland, Oregon facing more than 70 straight days of unrest as Antifa-affiliated groups have targeted the Federal Courthouse in that city. Smaller cities such as Eugene and Springfield, Oregon have experienced rioting that targeted local businesses and residential areas.
You can find out more about Alek Skarlatos at
his website
--Staff Reports
| | |
| --- | --- |
| Post Date: 2020-08-12 12:13:03 | Last Update: 2020-08-12 12:27:21 |
Reminds the Governor that travel is a civil right
State Senator Dennis Linthicum (R-Klamath Falls) issued a statement pointing to the unconstitutionality of potential travel bans during the COVID-19 event. Governor Kate Brown has threatened to institute travel bans across state lines to further perpetuate fear of the virus.
"A travel ban would crush any bit of remaining life out of rural Oregon," said Senator Linthicum. "If travel has been such a danger to the lives of Oregonians, why did Governor Brown wait until now? Her actions to date are unjustified and completely blind to the social and economic engines of American enterprise.
"Additionally, freedom of movement is guaranteed by the Privileges and Immunities Clause in the United States Constitution (U.S. Constitution, Article IV, Section 2). Freedom of movement has long been cemented as a fundamental Constitutional right."
Senator Linthicum continued, "On top of the COVID-19 fear mongering, the governor demeans Oregonians for going to church or hosting a birthday party, while she fails to denounce the violence and callous rage occurring nightly in Portland. Since she condones leftist politics, the violent riots are apparently frivolous get-togethers and not a threat to public health, but somehow, weddings are.
"Governor Brown should be protecting our civil rights, not throwing them away. I refuse to step aside and let the governor continue to take away our civil liberties; our American rights."
--Staff Reports
| | |
| --- | --- |
| Post Date: 2020-08-12 10:26:14 | Last Update: 2020-08-12 10:38:56 |
Don't watch. The sausage is being made.
Following the marathon 15 hour second special session, House Speaker Tina Kotek released that "The budget that lawmakers ultimately approved yesterday makes approximately $400 million in strategic reductions, taps $440 million in one-time funds and resource adjustments, and draws down $400 million from the constitutionally dedicated Education Stability Fund in order to protect education, health care, and other core services while reducing some ongoing costs heading into the next budget cycle."
"Re-balancing" has no similarity to "equitable." There was nothing equitable about the re-balancing, which targeted projects and programs that wouldn't have as much election consequences and added new programs to boost the major party's election returns. It had a lot to do with why the re-balance didn't receive an overwhelming vote -- hitting rural projects the hardest.
Item one on the Joint Ways and Means 2020 Re-balance Plan smells of a Ponzi scheme. It's described as "use of Education Stability Fund to offset General Fund and CAT need in the State School Fund." They weren't even secretive in reducing the State School Fund $350 million and the CAT fund $50 million to prop up other funding shortages, and replacing those school funds with $400 million from the Education Stability Fund. The bottom line is that they cut $40 million from the budgets and propped up other budgets with $400 million from the Education Stability Fund.
On May 7, Governor Brown asked state agencies to make plans to reduce their budgets by 17% as a backstop to the $2.5 billion in the rainy-day fund. What happened to that plan?
Oregon is ranked high in economy preparedness based on the rainy-day fund. Could that be why the Education Stability Fund was used to retain the false image that everything is super?
When voters passed the Education Stability Fund in 2002, it didn't occur to most voters that the fund would be manipulated to be used as a rainy-day fund for the General Fund shortfall beyond an equitable cut in education to not let education suffer. But what has happened is the education stability fund is being used to make possible adding new funding like $2 million for Individual Development Accounts or adding $1.35 million for upgrades to the Capitol building.
Another question voters should ask is if the state is anticipating $1 billion budget hole, why are they adding new projects? The Legislative Fiscal Officer Ken Rocco says the CAT could bring in $415 million less than expected. Is that going to be another hit on the Education Stability Fund? Our economy is in uncertain times, but playing political games with the school funds isn't what voters are looking for in leadership.
--Staff Reports
| | |
| --- | --- |
| Post Date: 2020-08-11 20:20:25 | Last Update: 2020-08-12 15:40:20 |
Read More Articles