The ridership crunch is softened by your tax dollars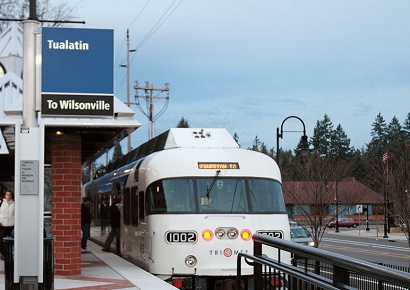 Everyone knows that businesses have been taking a big hit from COVID-19. What is not so apparent is that transit is also taking a hit and this might cause long-lasting impacts for these districts.
Boardings -- defined as getting on a transit vehicle, even if this is part of a longer ride -- are down. Way down. What is not shown in this chart is the WES boardings, which had a similar fall from a high of 7,500 in October 2019 to a low in April 2020 of 1,250.
Tri-Met is the largest transit district, serving the greater Portland area. It's heavily subsidized -- over 75% of its revenue comes from taxes, not from fares -- so, the loss in ridership won't have as big an impact on its ability to stay afloat, but its revenue source is payroll taxes, and as unemployment is high, these taxes take a hit. As paid boardings decline and fewer fare dollars are collected per transit mile, the operating cost per boarding goes up. In other words, it costs a certain amount to get a bus or MAX train to go a mile and if you get more people on, the cost per person per mile goes down. In April, 2020 the operating cost per boarding shot up to over $15.00.
The future of transit may be waning, at least in the Portland area. Voters rejected a
transit tax
in the 2020 election, signaling that after several months of COVID-19, they were not in the mood for more taxes and more transit. One would think that the part of loss of ridership that is due to people being unemployed would easily come back once the jobs come back. The part of ridership loss due to fear of COVID-19 might be harder to recover.
Tri-Met's website says that they are working hard to keep transit areas
clean and free of COVID-19
, but it may not be enough to raise the confidence level of many people.
And let's not forget that crime is a big factor in deterring ridership, and Portland had a long, hard summer of crime. It seems like de-criminalizing everything is the rage these days.
HB 4907
prohibiting police officer from conducting or participating in activities intended to determine whether person has paid certain user charges, fees or tolls imposed by mass transit district passed the House but never made it to the Senate in the walkout-shortened 2020 session.
--Staff Reports
| | |
| --- | --- |
| Post Date: 2021-01-03 09:43:40 | Last Update: 2021-01-03 11:11:04 |