Everything burns and state government is no help.
On Sunday August 16th at about 2:00 pm, a small fire was spotted near Opal Creek Ancient Forest Center. Fire crews begin to respond, and reports start a day later by local news on August 17th. Oregon Governor Kate Brown is asked for assistance, but it's technically federal land, and just weeks prior, a special budget session was held slashing the "Natural Resources Budget", along with Fire Mitigation. Republican Representative Cedric Hayden, who serves on the subcommittee for Natural Resources gave a passionate speech, as a volunteer firefighter. Hayden urgently, and emphatically warned his colleagues that this fire season was going to be brutal, requiring full funding.
The Northwest Observer
reported the budget cuts
, and echoed the warning on August 10th in an article titled "Cuts hit rural Oregon, Pray for rain".
Without desperately needed resources, including six Chinook helicopters, specifically made for and equipped with buckets, the Opal Creek fire quickly spread to neighboring Jaw Bone Flats, and Beachie Creek. Allowed to smolder and spread, due to jurisdictional squabbles, 39 fires had sprung up in various locations. Then the winds came. By labor day September 7th, much of Oregon was on fire. Many were beginning to wonder if help would ever arrive, as they began evacuating their homes and livestock.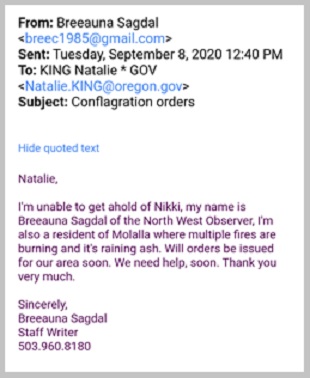 An inquiry made by North West Observer to the Governor's office September 8th, asks when Conflagration Orders might be seen?
The very same day September 8th the White House reached out to Oregon Governor Kate Brown, offering help, services and asking the administration to please notify them as soon as their needs are clear via a "Wildfire Response Request". The email, seen here, was obtained by public records request.
Two days later, on September 10th, Oregon Governor Kate Brown held a press conference, at which time she's asked what resources have been requested from the federal government. Kate Brown replies "of course I've reached out to the White House, I've not had a response back". The next day, the White House follows up with Brown's administration, to address an MSNBC report of an unresponsive Trump Administration, and again offer whatever help might be needed.
Brown's office, acknowledges the help and support from Trump, offering that "if asked", during her scheduled press conference at 1:00 pm, Brown would clarify the Trump administration and the State were working closely together. Brown's office is quick to fire back with a politically motivated, quid pro quo, stating "Thanks, we're also trying to dispel rumors with the FBI, and Local Law Enforcement assistance, that Antifa set the fires".
Essentially, Brown's aid twisted arms, during an election year, to help quash Antifa rumors, in exchange for honesty...
if
asked for.
While politics have clearly played a role in fire response, it appears to have also played a role in the fire's beginning, and quick spread, as well. Tom Sleight, a third generation Molalla farm owner, joined by Nicole West featured here as the "Hillbilly Brigade", sat down with The Northwest Observer, to set the record straight about events witnessed first-hand, on the ground.
Sleight states that he received a call from his brother late Monday night of September 7th. The entire lowlands of Maple Creek, Willhoit, and surrounding areas were ablaze. The Sleight family has learned from years of experience, once Conflagration orders are placed, it can take an additional two to four days before state sanctioned help arrives. At that point in time, Kate Brown had not yet placed Conflagration orders, and both Sleight brothers knew there was no time to waste.
Tom Sleight withdrew approximately twelve thousand dollars from his safe, loaded up his tankers, and began running infrastructure up to the fire line, arriving around 4:30 am. "I just started handing out money to friends and family, telling everyone to go down to harbour freight and buy up all the trash pumps, gasoline, and water tanks they could find", Sleight chuckles.
Nicole West claims it's a deep mistrust of government, years of ineptitude, and failure of one party rule, that essentially saved rural Oregon. "Nobody even stopped to consider what Brown was going to do, we all knew it would be too little too late anyways." West paints a vivid picture of just how effectively, ineffective our government has become. "It was painfully obvious which area was privately owned land, and which areas are government maintained" says West. Government controlled forestry had a 100 year duff layer in spots, smoldering and lighting roots on fire.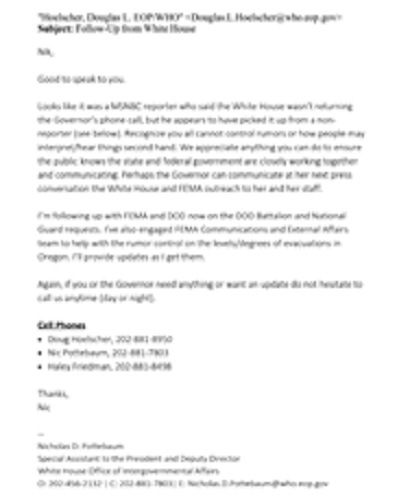 "That debris keeps in heat, and acts like an oven" Sleight stated, "on the other hand, the fires blow right through private land, as it's well cared for, well maintained, limbs cut back, and no fuels to keep it there smoldering."
Since the passing and adaptation of the Coho Salmon petition, and various bills last long session, including the "Wildlife Corridor Bill", sponsored by Portland based environmental groups, many gates have gone up, logging contracts gone unfulfilled, and the day use program for needy families to collect firewood ended, state and federally managed lands have grown unmanageable. Forest management is vital for carbon sequestration.
West believes Kate Brown, and Portland residents are out of touch with reality, "Portland is burning their city down, maybe ours too, but the difference is that we're working hard to save ours". "This isn't about climate change, and even if it was, we're going about it all wrong. Fires put more carbon into the atmosphere than all the cars on the road combined. We need to manage our forests properly, we could have stopped this in opal creek at ten acres, the total loss and devastation will cost far more, than had we properly managed the forest to begin with."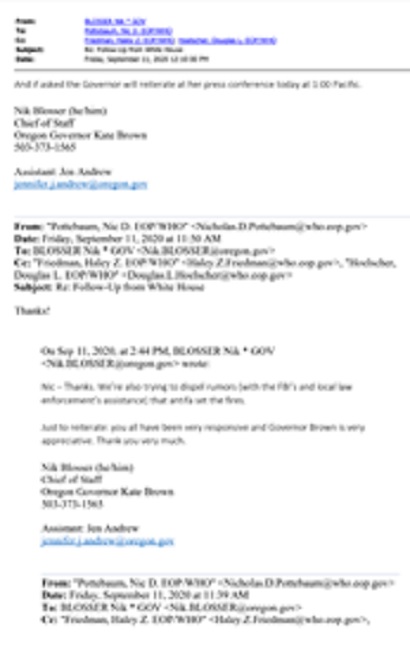 "Had Kate Brown actually compromised on
HB 2020
in 2019, we might have passed a bipartisan forest management bill. Instead of letting voters decide, she pushed lawmakers to walk out, which is all they can do against the democratic super majority" says James Hieb, who is running this election for Canby City Council.
Hieb and his family have also been impacted by the fires, "Many families, farms, businesses, and lives have been lost, unnecessarily to these fires, but mostly to an entrenched status quo that values party politics over human life. It's going to be a rough winter, food prices will go up due to lost local farms, a downed economy is killing jobs. Everything hinges upon this election in November." "National politics receive the lion share of media, but it all boils down to the local level, if a state thrives, or barely survives. Local leaders determine our daily lives, and how we're going to put the pieces back together".
At the time of this report, the White House was not available for comment regarding interactions with the Brown administration. Reports indicate that President Trump had flown in to personally check on residents of the fires, but have not yet been confirmed.
--Breeauna Sagdal
| | |
| --- | --- |
| Post Date: 2020-10-12 08:38:09 | Last Update: 2020-10-12 21:26:07 |