Blockchain technology would take the fraud out of polling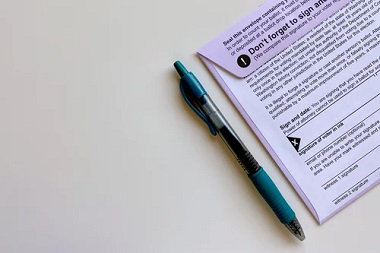 Editor's note: this is the second of a multi-part series on Oregon's mail-in ballots.
How many of the national headlines should Oregon voters be concerned about? The news has shifted from fraud to postal delivery being timely for mail-in ballots. Thomas J. Marshall, General Counsel and Executive Vice President of the United States Postal Service, is reassuring for Oregonians in a letter to Secretary of State Bev Clarno. He says their "reading of your state's election laws, as in effect on July 27, 2020, ballots are generally mailed to eligible voters no later than 14 days before Election Day, which should allow sufficient time for voters to receive, complete, and return such ballots by the state's Election Day return deadline."
Nationally, Postmaster General Louis DeJoy said "The Postal Service is ready today to handle whatever volume of election mail it receives this fall…we will deliver the nation's election mail on time and within our well-established service standards. The American public should know that this is our No. 1 priority between now and Election Day. In addition, effective Oct. 1, we will engage standby resources in all areas of our operations, including transportation, to satisfy any unforeseen demand."
What's in the future for voting by mail? The Office of Inspector General USPS, originally filed for a patent in February 2019 and the official filing was February 2020. The U.S. Patent and Trademark Office recently made public that patent application titled 'Secure Voting System' that describes using blockchain technology to secure mail-in voting. The patent application consists of four levels of protection verifying voters' identity by an online ballot system. It prevents dogs, cats, dead people, multiple voting and illegal/non-citizens from entering the tally. Once a voter has provided proof of their identity, the system would create an anonymous token for them in the form of a unique identifier. The system separates voter identification and votes to ensure vote anonymity, and stores votes on a distributed ledger in a blockchain. The system would also send the voter a mailed ballot. To ensure there hasn't been any tampering with the mailed ballot, election officials can compare it to the linked anonymous ballot submitted online. Blockchain technology is a decentralized system used for cryptocurrencies making it nearly hack proof. It would take the fraud out of polling, but caution still points to those not able to navigate online needing assistance and keeping voting coercion-free.
Oregon Secretary of State's office verified that some of the county election officials have conducted pilot projects with systems using blockchain for military and overseas voters. Jackson County used the technology for the November 2019 special election that allowed the voter to access/mark/cast their ballot via their smartphone. They report that 27 choose to participate out of 213 qualified voters and said it went even better than hoped.
In the meantime, Robert McCullough, McCullough Research, says Oregon's tally computers can be altered easily to divert votes using a USB stick in less than a minute. Janice Dysinger, Oregonians for Fair Elections, says "the vote tally machine is supposed to be separated from the internet, without any connection to it. Yet a USB drive connects the system delivering the election data to the county clerk's computer routinely in the course of the election. Allowing a USB access to the vote counting machine leaves our election unsecured."
When investigating the tally machines, Dysinger says "We have never been able to observe the computer code that is inside the machine. It should be 'open source' programming that is observable by all parties... Yet, the companies that run the software system say it is patented and that no one can see it. This is debated all the way up to the Election Assistance Commission. We objected to this in 2008. It fell on deaf ears."
The concern over mail-in ballots nationally is the delay in delivering and counting ballots plus ballot harvesting. If an election can't be decided by the end of the presidential term January 20, it puts the nation in a turmoil. There are legal debates whether the acting president would be Pelosi or Secretary of State Mike Pompeo. Either way, the DNC has obtained 600 attorneys to litigate any problems or perhaps cause problems. Could it be for the purpose of prolonging determinations or actually making the election fair?
--Donna Bleiler
| | |
| --- | --- |
| Post Date: 2020-08-28 09:22:29 | Last Update: 2020-08-25 09:42:08 |