It comes to over $27,000 per homeless person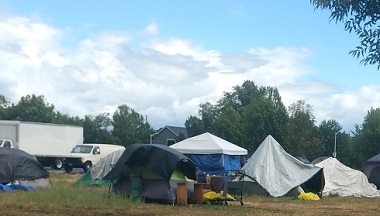 According to the
United States Interagency Council on Homelessness
, "as of January 2020, Oregon had an estimated 14,655 experiencing homelessness on any given day, as reported by Continuums of Care to the U.S. Department of Housing and Urban Development. Of that Total, 825 were family households, 1,329 were Veterans, 1,314 were unaccompanied young adults (aged 18-24), and 4,339 were individuals experiencing chronic homelessness."
The Oregon Legislature has passed a $400 million package to address immediate needs around homelessness, build on current spending to increase the supply of affordable housing, keep people in affordable homes and prevent displacement. If that money were divided among the 14,655 homeless in Oregon, it would come to over $27,000 per homeless person, in addition to what is already being spent.
"We have heard from Oregonians that they want to see action to address homelessness and housing affordability and solutions that work," said House Majority Leader Julie Fahey (D-West Eugene/Junction City), who also serves as Chair of the House Committee on Housing. "This funding plan will invest in effective state, local and community-based efforts that will prioritize getting unhoused people on the path out of homelessness."
"I'm proud of what we accomplished through this package," said Senator Kayse Jama (D-Portland), Chair of the Senate Committee on Housing. "These resources are key to supporting people experiencing houselessness and keeping folks off the street to prevent homelessness, so we can continue to make progress around housing stabilization."
"I would like to express our deep gratitude to the Legislature for their leadership support in understanding cities' immediate needs and responding to our request for assistance by bringing forth a comprehensive housing and homeless investment package," said Mayor Lucy Vinis of Eugene. "We recognize this challenge is multi-faceted, and demands a partnership between cities, counties, service providers, businesses, and community members."
"Salem is facing a homeless crisis like communities across the state. It is our duty to address this crisis with urgency," said Representative Paul Evans (D-Monmouth). "Success will depend on coordination between state and local governments, and the flexibility for local communities like Salem to execute a distinct, regional solution. I'm proud to support this multifaceted approach."
"These pilot programs will create a more equitable, accessible and responsive system by helping our local governments and community partners provide high-level coordination, centralizing communication, and strategic planning and implementation," said Representative Jason Kropf (D-Bend), chief sponsor of the bill.
--Staff Reports
| | |
| --- | --- |
| Post Date: 2022-02-25 06:14:46 | Last Update: 2022-02-24 21:30:23 |