Among five candidates to be considered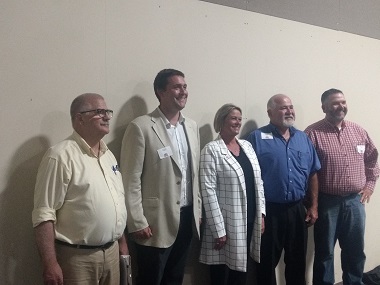 The Oregon Republican Party held the House District 23 Nominating Convention on Friday, June 25th, and the eligible delegates of that district have chosen 5 contenders among the 10 candidates that were considered. Voting delegates of the convention were required to be Republican PCPs (Precinct Committee Persons) of HD 23, as per Oregon election law.
Mike Nearman received the most votes, and seemed to be the clear first choice of the voters.
Nearman gave the following statement after the convention:
"I'm humbled that my fellow Precinct Committee-persons voted overwhelmingly to return me to the House as their representative. The fact that they chose me shows that they value someone with courage and principles that will stand up to Democrats, the media and even their own party to do what is right."
Those considered at the convention were allowed time for candidate speeches and took turns answering questions for the voting delegates.
Those candidates were:
Jeff Kubler
Beth Wytoski
Mike Nearman
John Swanson
Anna Scharf
Jim Thompson
Jim Bunn
Mickey Garus
Harry Noah
Warren George
The convention started off with discussion on whether 3, 4, or 5 nominees should be selected for county commissioner consideration. The voting body decided on 5 nominees.
After candidate speeches and three rounds of questions and answers, the body voted and the election results were announced.
The finalists chosen were in order of most votes received were:
1) Mike Nearman
2) John Swanson
3) Jim Bunn
4) Mickey Garus
5) Anna Scharf
Those nominees will now be considered for appointment to be Representative of House District 23 in the Oregon legisalture by the Commissioners of Polk, Marion, Yamhill, and Benton counties. That process is expected to be concluded by July 9th, 2021.
--Bruce Armstrong
| | |
| --- | --- |
| Post Date: 2021-06-26 10:25:11 | Last Update: 2021-06-26 12:19:03 |