Eastern Oregon town declares crisis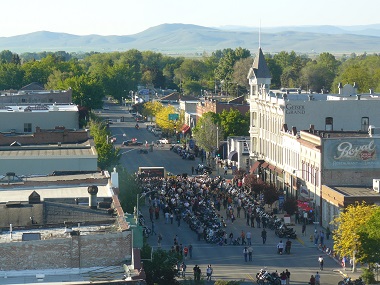 The laid-back town of Baker City is now hoping to wake up the state of Oregon so as to not be so passive any longer. Oregon seems to be all about providing sanctuary for various things. We have sanctuary for undocumented humans and we may be voting on giving even animals sanctuary in 2022. The business leaders in Baker City approached the new mayor, Kerry McQuisten, and the city council with a "Common Sense Sanctuary City" resolution.
It wasn't a slam-dunk, after all they intended to buck the Governor's Emergency Executive Order. So, after a town hall that formed a work-group to set out a course of action, they wrote Governor Kate Brown telling her their community and business leaders were left out of the pandemic decision-making process. Receiving no response, the work group got busy drafting an Emergency Declaration.
What resulted was an official declaration in RESOLUTION No. 3881
"RESOLUTION DECLARING AN ECONOMIC, MENTAL HEALTH, AND CRIMINAL ACTIVITY CRISIS DUE TO THE CURRENT COVID-RELATED STATE EMERGENCY DECLARATION AND RELATING OSHA MANDATES AND GUIDANCE." The resolution passed a city council by a vote of 5-2 on March 23, 2021.

WHEREAS, the Oregon Governor's Executive Order 20-03: Declaration of Emergency due to COVID-19, and all subsequent and related OSHA guidance, and present and future executive order extensions of such are arbitrary, ineffective, and draconian;

and

WHEREAS, we as a municipality have no legal ability to summarily flout these mandates, guidelines and enforcement by OSHA, and therefore cannot protect any local business from State-directed targeting, repercussions and penalties if such local business personally chooses to;

and

WHEREAS, we also recognize that neither city, county nor state government has the legal right to flout the Oregon State Constitution or the United States Constitution;

and

WHEREAS that relate to the right to make personal decisions, the lack of science to support the lockdowns, misinformation used, a number of consequences leading to criminal behavior, and business failures as a result of the mandates. To which they resolved:

NOW, THEREFORE, BE IT RESOLVED that we declare an economic, mental health, and crime crisis due to the current COVID-related State Emergency Declaration and related OSHA mandates and guidances, as a means of loudly and symbolically supporting our citizenry;

and

BE IT RESOLVED, the City will communicate in writing with the Governor's Office to encourage the full opening of our city and county, re-categorization to low-population status, or suggesting other means necessary to give our citizens relief from these mandates;

and

BE IT RESOLVED, the City will support upcoming legislation, dependent upon its straightforward and unharmful wording, which provides reparations to business owners who have had their businesses and income taken without compensation;

and

BE IT RESOLVED, the City will support future statewide ballot initiatives that limit the duration and extent of Governor's emergency powers, which may create similar lock-down scenarios during future emergencies, natural disasters, and pandemics;

and

BE IT RESOLVED, the City will share this resolution with other Oregon cities, counties, and media outlets in the hope those entities will also speak more loudly;

and

BE IT RESOLVED the City recognizes the citizenry of Baker City are free, sovereign individuals within a Constitutional, Representative Republic, not subjects or slaves, and will be recognized as such as we firmly stand to represent them.

PASSED by the City Council of the City of Baker City, Oregon and signed by the Mayor of Baker City, Oregon, this 23rd day of March, 2021.
The Governor and her staff seemingly have refused to consider a Stanford study and dismissed suggestions from the CDC, which states that "lock-downs should not be used as a primary method of controlling this disease and stopping the spread."
Mayor McQuisten hopes that other cities will get in the fight against arbitrary pandemic mitigation measures that have proven destructive.
--Donna Bleiler
| | |
| --- | --- |
| Post Date: 2021-04-29 21:08:07 | Last Update: 2021-04-29 22:04:01 |