The State of Washington beat us to it

Editor's note: This is the seventh in a multi-part series on the budget for the State of Oregon and where possible efficiencies can be found.
Oregon law currently requires periodic emissions testing for many vehicles in the Portland and Medford areas. These tests are paid for by the vehicle owners, so the costs of doing the tests theoretically pay for themselves, though they are a drag on the economy not just in the cost of the test, but in the inconvenience borne by vehicle owners. The dollars saved by vehicle owners -- $21 in the Portland area and $10 in Medford -- will incrementally increase the economies in those regions and generate more tax dollars.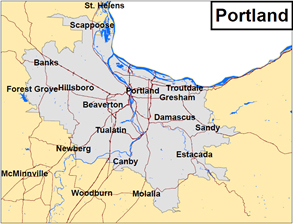 Closing the vehicle test stations might not save the state much money operationally, as the tests are self-funding, but the real estate occupied by the clean air stations certainly has some value -- probably in the millions. Sale of these locations could provide the budget with a one-time shot of cash.
Environmentalists who support the testing worry that it will lead to lower air quality, but emissions regulations on vehicles have been tightened so much that there is hardly any pollution produced.
This is what prompted the State of Washington to
end it's vehicle emissions program
on January 1 of this year, 38 years after it began. The Washington State Department of Ecology stated, "Air quality in Washington is much cleaner now than when the program began in 1982. Every community currently meets all federal air quality standards. The combination of the vehicle emission testing program and advances in vehicle technology led to reduced transportation-related air pollution. We think air quality will continue to improve as newer, cleaner vehicles replace older, less-efficient models."
Savings: Several Million
--Staff Reports
| | |
| --- | --- |
| Post Date: 2020-07-18 08:00:00 | Last Update: 2020-07-06 22:27:26 |