On this day, June 4, 1990, Janet Adkins, age 54, of Portland, became the first person to use a suicide machine developed by Dr. Kevorkian. This began a national debate over the right to die.
Also on this day, June 4, 1999 a federal judge in Portland ruled that AT&T must open its cable lines to competitors.
Also on this day, June 4, 2017, a pro-Trump rally and counter-protest in Portland was marked by multiple arrests and clashes.
Calls on Legislators to Lead
O
regon Secretary of State Shemia Fagan has sent a
letter to state legislators
announcing her 2023 legislative agenda: the Protect Our Democracy agenda.
"Today I am sending you my 2023 Protect Our Democracy agenda, which calls for targeted investments in how we run elections to ensure that they remain free, fair and secure," Secretary Fagan wrote in the letter. "As you weigh your choices and decide which priorities to focus on, please remember that without investments in our elections, we will not have the necessary public trust to address the challenges that Oregonians face today. This agenda is not in competition with other priorities. It is foundational to them."
The Protect our Democracy Agenda includes five areas of focus where we can build on Oregon's history as a pro-democracy state. They include:
Investing in free, fair and secure elections
Expanding access to our democracy
Election security
Successfully implementing campaign finance reform
Updates to election laws
"The rising tide of anti-democracy forces in our country erodes trust and threatens our freedoms," Secretary Fagan wrote. "Thanks to our track record of pro-democracy policy, Oregon is uniquely positioned to show the rest of the country a better way forward."
A D V E R T I S E M E N T
A D V E R T I S E M E N T
Chair of Oregonians for Free and Fair Elections Janice Dysinger sees the problems as coming from elsewhere. "It is easy to vote in Oregon," she said. "It is also an unprotected system and anyone willing to say that they are a citizen and of age can register here from anywhere in the world. No proof, no ID is necessary according to the instructions for the federal postcard application."
According to Dysinger, "the more phantom voters we get here the easier it is to manipulate the vote count. That has been a tactic in other states for manipulating the vote. We find out about these problems and ask questions and we are the bad guys according to Secretary Fagan. Checking the signatures is the only security we have in our election. The Election Observation process has been compromised. Also Ballot Harvesting is legal, unmonitored ballot boxes are not all collected at the close of election day, late arriving ballots without postmarks, and allowing voters to stay on the voter roll indefinitely even though they don't vote."
Secretary Fagan continued, "The 2023 Legislative Session convenes during a time of significant risks for American democracy, with states passing laws that restrict the right to vote or allow partisan interference in elections, falling public trust in democracy, and the continued threat of violent actions like the January 6 insurrection. Despite these headwinds, data show trust and participation in Oregon remains high."
"The 2023 Protect Our Democracy Agenda will ensure that remains a leader by ensuring that our elections remain free and fair," according to Fagan.
--Staff Reports
| | |
| --- | --- |
| Post Date: 2023-01-13 04:22:54 | Last Update: 2023-01-13 04:26:00 |
Additional monitors mean more wide-ranging air quality data collection during wildfire season
T
he Oregon Department of Environmental Quality under the direction of interim director Leah Feldon has launched a
public survey
to help its Air Quality Monitoring Team determine and prioritize 20 locations for new SensORs to measure air quality from wildfire smoke across the state. SensORs, which were first developed by DEQ's Laboratory in 2019, are lower-cost monitors that collect timely particulate matter 2.5 data and display it over
DEQ's Air Quality Index
.
Currently, DEQ has more than 70 PM2.5 monitoring locations across Oregon. As a result of the devastating fires in 2020, the 2021 state legislature passed
SB 762
, which provides funding for 20 more SensORs to be deployed in regions with few to no monitors.
While DEQ has compiled a list of proposed areas, it would like public input to refine and prioritize it before starting the process of determining specific sites.
The list of proposed locations is based on the following:
Counties and areas without monitors in the existing network. Typically, these are coastal or interior counties with low populations.
Areas commonly affected by wildfire smoke.
Regions where underrepresented communities are disproportionately affected by PM2.5 and wildfires, including rural areas.
Input from agency partners and other interested parties, such as the Oregon Department of Forestry and Oregon Health Authority.
There are sections of the survey that allow participants to suggest areas of the state that are not on the proposed list. DEQ's Air Quality Monitoring team is open to ideas.
A D V E R T I S E M E N T

A D V E R T I S E M E N T
"In the past, we have used a complex formula of criteria, including meteorology, topography, emission sources and availability of infrastructure to determine air quality monitoring locations," said Lori Pillsbury, administrator for DEQ's Laboratory and Environmental Assessment Division. "Those continue to be important elements for the final locations. However, we recognize it's also important to consult with those who know our state best – the people living in the various regions. We are eager to hear where they believe SensORs should go next for the most comprehensive data collection."
Particulate Matter is a mix of tiny particles and liquid droplets found in air. Sources include wildfires, automobiles, woodstoves and more. PM2.5 measures 2.5 microns in diameter and smaller (As a comparison, the average strand of human hair is 70 microns in diameter). When inhaled, it can lodge deep in the lungs and remain there a long time, aggravating asthma, heart disease and other respiratory and heart conditions. Understanding high levels of PM 2.5 means state agencies can focus more resources, such as
wildfire and smoke preparation materials
and
smoke management community response plans and grant recipients
, toward those areas.
You can always check current air quality conditions on
DEQ's Air Quality Index
or by downloading the free OregonAIR app, which is available for smartphones.
Those interested in participating are invited to interact through the
DEQ Website
. Responses will be accepted through Feb. 1, 2023.
The Oregon Environmental Quality Commission -- which oversees the DEQ -- will meet Jan. 19, 2023, for a regular meeting. Item G, scheduled to start at 3:30 p.m., will be a discussion of proposed candidates and the vote by the full commission on finalists for the DEQ Director position and next steps for the recruitment process.
--Staff Reports
| | |
| --- | --- |
| Post Date: 2023-01-12 13:19:20 | |
Will fill vacancy left by retiring Dallas Heard
C
oos, Curry, and Douglas County Commissioners met in a joint session to fill the vacancy in Senate District 1 created by the resignation of Dallas Heard (R-Roseburg). The commissioners voted unanimously to appoint State Representative David Brock Smith (R-Port Orford).
"I am humbled to be chosen to replace my friend and colleague Dallas Heard in the Oregon State Senate with this unanimous vote by the County Commissioners of our three counties," said Representative Brock Smith. "I was honored by the overwhelming support of the Precinct Committee Person's during Saturday's Nomination Convention and I want to thank each and every one of them for their affirmation my work for them in the Oregon Legislature. I also want to thank Representative Osborne, Representative Goodwin, Representative Wright, Senator Anderson and so many other legislative colleagues, industry professionals and community leaders for their support and encouragement in moving forward in this process."
Senate Republican Leader Tim Knopp (R-Bend) said, "On behalf of the entire Senate Republican Caucus, I want to extend a warm welcome to Senator-Designate David Brock Smith. We have full confidence that you will represent Senate District 1 well and look forward to adding your knowledge and experience to our Caucus."
Senator-Designate Brock Smith has served in the House since 2017.
Representative Brock Smith has served in the Oregon House of Representatives since 2017, covering Curry and portions of Coos, Douglas and Josephine Counties. He has been an Assistant Leader in the House Republican Caucus and a champion for our natural resource industries and their economies.
A D V E R T I S E M E N T

A D V E R T I S E M E N T
"The 82nd Legislative Session began on Monday and there is a lot of work to be done for our rural district," said Rep. Brock Smith. "We have incredibly experienced and dedicated Sheriffs, County Commissioners, Police Chiefs, Mayors, School Board Members and Community Leaders in Douglas, Coos and Curry Counties. I look forward to working with them and my Senate and House colleagues to continue to bring our rural conservative values to Salem for our residents, their communities and the businesses that support them."
Details about his swearing-in are to be announced.
--Staff Reports
| | |
| --- | --- |
| Post Date: 2023-01-12 13:09:08 | Last Update: 2023-01-12 13:19:20 |
Audit Finds State Needs More Assistance to Take Full Advantage
A
n
audit of the Oregon Broadband Office
released by Secretary of State Shemia Fagan found the office will likely be prepared to receive and facilitate upcoming federal infrastructure grant awards. However, the office will require more assistance, and federal funding specifically earmarked for broadband grant administration, to ensure Oregon receives all the available grant money and disburses it to communities with the most critical needs first.
"We have a once-in-a-generation opportunity to get all Oregonians online," said Secretary of State Shemia Fagan. "Access to affordable, high-speed broadband is a necessity. Without it, kids will struggle in school, adults will be disadvantaged in their careers, small businesses cannot reach their customers and communities will fall behind. I am calling on the Oregon Broadband Office to fully implement the findings of this audit to ensure federal money is used equitably in a way that serves disadvantaged communities first."
As part of the new federal infrastructure bill which passed in 2021, Oregon may receive between $400 million and $1 billion over the course of the next several years to broaden access to broadband throughout the state and ensure all people of Oregon have access to this digital lifeline. This funding will largely come in the form of grants to be administered through the Oregon Broadband Office.
Auditors found the Oregon Broadband Office will need to focus additional efforts in the areas of strategic planning; documenting and distributing its processes, policies, and procedures, timelines, roadmaps, and milestones to its stakeholders to ensure transparency; and be more aggressive in removing barriers to broadband implementation.
A D V E R T I S E M E N T
A D V E R T I S E M E N T
Auditors also note opportunities for the office to effectively monitor and improve broadband programs to close the known broadband gap. The office should pursue collaborative and unique ways of closing the digital divide through continued stakeholder engagement and by establishing dedicated funding for equitable broadband implementation in Oregon. The audit was critical of the office because they have "not yet established a diversity, equity, and inclusion plan, or assigned responsibility for this effort, even though underrepresented communities are most adversely affected by a lack of broadband access."
The audit focused on the Oregon Broadband Office's 14 statutory requirements set in action by
HB 2173
passed in 2019. The auditors made 10 recommendations in total addressed to the Oregon Broadband Office, with the assistance of the Oregon Business Development Department, and the Oregon Broadband Advisory Council.
--Staff Reports
| | |
| --- | --- |
| Post Date: 2023-01-11 11:14:55 | Last Update: 2023-01-11 11:32:03 |
CRI fluorescent lamp manufacturing banned
P
ower outages have already plagued the new year. Western Oregon and Washington are recovering from high tides and strong winds create monster waves leading to fatal crashes, power outages and flooded homes. More than 22,000 homes were reported without electricity from Portland to south Salem, and another 46,000 homes lacked power in the Astoria, Tillamook and Coos Bay areas.
When lights came on January 1, 2023, many were illegally using and holding fast to the old-fashioned incandescent light bulbs that we grew up with. The US Department of Energy has ruled that the old light bulbs use too much electricity.
In Biden's effort to save the planet, he violates his own "pro-choice" health policy by avoiding the dangers claiming consumers will save hundreds of dollars a year by making the mandatory transition to LEDs. Biden can't be totally blamed for this intrusive policy. It is connected to the law that dates back to the George W. Bush administration, who promoted and signed a law that mandated energy efficiency in virtually all household appliances.
Surprisingly, Oregon is behind other states. It had not passed restrictions on using incandescent light bulbs or high-CRI (color rendering index) linear fluorescent lamps. Oregon banned the sale of high-CRI fluorescent lamps with a manufacture date after January 1, 2023. CRI determines how accurately a light source portrays color. EISA excluded high CRI linear fluorescent lamps that has allowed states to push for the more energy efficient LEDs. Fluorescent lights can give people headaches and sometimes the flickering can affect nerves.
A D V E R T I S E M E N T

A D V E R T I S E M E N T
The French health authority warned that the increased amount of blue light in LED lighting can damage the eye's retina and disturb biological and sleep rhythms. They claim there is also a link to age-related macular degeneration, a leading cause of vision loss among people over 50, causing damage to the macula, a small spot near the center of the retina that's needed for sharp central vision.
The French study was confirmed by an
American study
by Morehouse School of Medicine professor and chief scientific research officer Gianluca Tosini. He also added that some exposure to blue light in the middle of the day may have beneficial effects in that it increases alertness. A Columbia University professor of ophthalmic sciences, Janet Sparrow said that the exposure compounds with age and early evidence suggests that the light sensitivity may lead to unhealthy optical responses over the long term.
They seem to agree that protective eye wear would reduce exposure and use of only low-risk LED devices be available to consumers. That must be what they consider pro-choice when it comes to light bulbs.
--Donna Bleiler
| | |
| --- | --- |
| Post Date: 2023-01-11 10:21:21 | Last Update: 2023-01-11 12:24:37 |
Partisan divide is of no benefit to Oregonians
T
he Oregon House Republican Caucus made it clear to Governor Tina Kotek that they are ready to work in a bi-partisan way for the benefit of all Oregonians. Following the Governor's inaugural ceremony, making her the 39th Governor of Oregon, the lawmakers addressed the deep partisan divide across the state
in a letter
.
"As exemplified by a trying campaign for both the Executive and Legislative branches, it is clear that the partisan divide between Democrats and Republicans provides no benefit to the constituents that elected us," said the House Republican Caucus. "The constituencies that our Caucus represent highlight the best that Oregon has to offer. Indeed, our Caucus provides valuable, real-world insight to a variety of policy debates, and by working together, we can solve the most pressing needs facing our State."
The letter highlighted five urgent areas that both parties agree need urgent attention. The Oregon House Republicans said, "we agree that housing, homelessness, and a lack of economic opportunity continue to plague Oregon. Our goal is to expand housing opportunities by cutting regulatory red tape, promoting small business engagement and job growth, and working towards a sound, economically feasible solution to rising housing costs and affordability."
Second, they identified the need for a responsible fiscal policy to help alleviate the rising costs that have far exceeded growth in wages. Oregon has experienced a year-over-year inflation rate of 8.1% and the Republican Caucus is committed to promoting proposals which reduce the overall economic burden on families, including a temporary reduction in income tax and a coinciding reduction in overall government spending. These incremental changes are a modest, simple way to provide everyday Oregonians with economic aid while larger, structural reforms can be debated by the Assembly.
Third, the caucus emphasized public safety through law enforcement and cease using them as pawns in political discourse. "While we are committed to developing policies which improve policing and community trust, we should also recognize that the men and women in law enforcement provide valuable and necessary protection and are selfless in their pursuit of serving their community."
A D V E R T I S E M E N T
A D V E R T I S E M E N T
Accentuating the Governor's pre-inauguration tour of the state, they concur that all branches of government understand and appreciate that the laws enacted in Salem go far beyond the metropolitan areas. They write that "Oregon's rural communities provide vital resources for our state and over-burdensome regulations negatively impact those who provide our state's most critical commodities."
Lastly, they called for agreement on policies which provide opportunity and government expenditures which benefit all, not just a chosen few. "To do so will require increased accountability to spending proposals and policymaking," the Caucus said. "Oregon must position itself to allocate scarce resources and funding to the greatest benefit. This means continuing to monitor government waste and re-allocating monies for health care, education, agriculture, and housing."
It is the Republican Caucus' desire that policies empower parents to choose which school their children should attend irrespective of location or finances, reducing the regulation and opportunity cost for entrepreneurs to start businesses, and providing sound investment strategies to existing government programs to maximize efficiency and reliability.
The 2023 Legislative Session begins on Tuesday, January 17th.
--Donna Bleiler
| | |
| --- | --- |
| Post Date: 2023-01-09 18:47:03 | Last Update: 2023-01-10 12:03:09 |
SoS Fagan Attends Remotely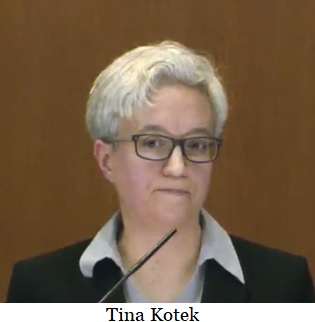 F
ormer House Speaker Tina Kotek has been sworn in as Oregon's 39th Governor. In her inaugural address she promised two things to happen immediately. First, she will issue an executive order on housing to increase the supply of government subsidized housing. As speaker, Kotek presided over an increasingly urgent shortage of housing. Second, she will declare a Homelessness State of Emergency.
As a new lawmaker in my first term, I sat in a roundtable in then Secretary of State Kate Brown's office and helped map out a plan to pass Oregon's groundbreaking automatic voter registration law. As Governor Kate Brown exits today, Oregon is celebrating the distinction of the highest voter turnout in the nation in the 2022 election. Governor Brown leaves a legacy of trailblazing and lifesaving, and I will miss her.

I am excited to celebrate another trailblazer today, Oregon's new Governor, Tina Kotek. After serving with Governor-Elect Kotek in the Oregon House when she was the Speaker, I have no doubt that she is eager to cut through the ceremony and get back to work solving Oregon's biggest challenges. I celebrate her today, not only because of her barrier-breaking accession to Oregon's highest office, but because of how hard she will work for all of Oregon for the next four years.

Lastly, I want to congratulate all the new lawmakers in Salem today. It was not that long ago that I joined my family on the floor of the Oregon House and took my oath of office. I hope all the new and returning lawmakers take a moment to soak up the excitement and celebration today. Oregon is lucky to have you.
Kate Brown suffered from very low approval ratings at the end of her term, finally earning the dubious distinction of having the
lowest rating of any governor in the nation
in the fall of 2022.
A D V E R T I S E M E N T
A D V E R T I S E M E N T
Governors Kotek and Brown have presided over decades-long declines in education, homelessness, public safety and prosperity.
Under the practice of limiting events where the Governor, Secretary of State and Treasurer are in the same high-profile location, Secretary Fagan will assume the role of "designated survivor" during today's inauguration. Secretary Fagan will not attend the ceremony, and instead she will view Governor-Elect Kotek's inauguration from an undisclosed location. Deputy Secretary of State Cheryl Myers will attend today's inauguration on behalf of the Secretary.
--Staff Reports
| | |
| --- | --- |
| Post Date: 2023-01-09 12:58:49 | Last Update: 2023-01-09 22:36:16 |
True story starting a school choice movement
N
ational School Choice Week event, hosted by Education Freedom for Oregon, will be held January 28, 2023, 12-3 pm at the Walters Cultural Arts Center, 527 East Main Street, Hillsboro. The event is free, but
registration
is required.
This event will be to educate families about what School Choice is and why it helps students. This free, fun, family-friendly event includes the showing of a movie about School Choice called "Miss Virginia." This movie is based on the true story of a mother who sacrifices everything to give her son a safe school environment and good education. Unwilling to allow her son to stay in a dangerous school, she launched a movement that helps thousands of families find the right school for their children so they receive a safe, wholesome education.
The event will include a livestream with Virginia Walden Ford, featured in the movie, to answer questions about her movie and her mission.
The movie demonstrates how it is possible for parents, grandparents, neighbors and other ordinary people can stand up for their children and give them the opportunity and financial means for a great education.
A D V E R T I S E M E N T
A D V E R T I S E M E N T
This event is hosted by
Education Freedom for Oregon
, formed in September 2021 during the pandemic when parents became aware of the curriculum their children were being taught. Inspired by a June 2021 national poll showing 80 percent supporting parents' ability to choose where their child is educated in K-12. Even Democrats polled at 70 percent. Parents came together to form the organization to promote school choice with the specific goal to have state school funds follow the student to customize education that meets the needs of the student. They have promoted school choice ever since through legislation and petitions.
--Donna Bleiler
| | |
| --- | --- |
| Post Date: 2023-01-06 11:30:31 | Last Update: 2023-01-06 19:51:00 |
Best time to test is during the heating season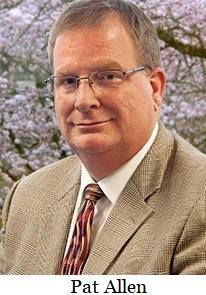 T
he best time to test for radon is during the heating season – the winter months – when windows and doors are closed tight. It's why Oregon Health Authority recognizes National Radon Action Month during January by encouraging people to test their homes for the odorless, tasteless, invisible gas.
Many parts of Oregon remain at risk of high radon, a naturally occurring radioactive gas that comes up from the ground and is drawn into buildings, where it can build up to dangerous levels. The U.S. Environmental Protection Agency estimates radon is responsible for more than 20,000 lung cancer deaths per year in the United States. Radon is the second leading cause of lung cancer behind smoking, and it's the leading cause of lung cancer among non-smokers. But people can take steps to reduce their exposure to radon by testing their homes for the gas and, if necessary, hiring a professional to reduce radon to a safe level.
"Now, more than ever, we are spending more time in our homes. That means more exposure to potentially high radon levels," said Jara Popinga, OHA's Radon Awareness Program coordinator. "The only way to know if you have a high radon level is to test. The best time to test for radon is during the heating season or colder months when the windows and doors are closed for long periods of time."
Many test kits are priced between $20 and $30 and can be found in most hardware stores or available for purchase from online retailers. High radon levels can be fixed by a certified radon professional for a cost similar to that of common home repairs ranging between $2,000 and $3,000, such as painting or having a new water heater installed.
A D V E R T I S E M E N T
A D V E R T I S E M E N T
The Radon Awareness Program collects radon test data from test kit manufacturers to understand which areas of the state have the potential for high radon levels and to identify regions where educational outreach efforts need to be focused. The program is offering a free radon test kit to residents whose homes are in ZIP codes with fewer than 20 radon test results. Residents can learn more about the free radon test kit program and how to apply at www.healthoregon.org/radon. Free test kits are available while supplies last.
For more information on which areas of the state are at moderate to high risk of elevated radon levels, radon testing and mitigation or to order a test kit online, contact the Radon Awareness Program at radon.program@state.or.us or visit www.healthoregon.org/radon.
--Ritch Hanneman
| | |
| --- | --- |
| Post Date: 2023-01-06 11:25:44 | Last Update: 2023-01-06 11:55:23 |
"Empowering school districts, students and families to implement gender-affirming practices every day"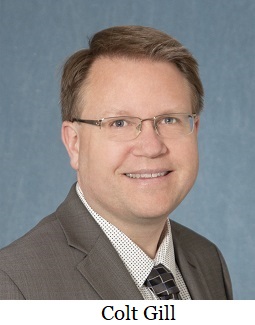 T
he Oregon Department of Education has announced that it is "proud to publish
Supporting Gender Expansive Students: Guidance for Schools
. This guidance is grounded in the recognition, respect, affirmation, friendship, joy, belonging, and safety every human deserves - including the students, staff, and families that make-up our school communities."
According to a news release from the ODE, "Gender expansive students are protected under federal and Oregon civil rights laws. School districts have a responsibility to provide a safe and affirming educational environment for all students, including gender expansive students," Oregon Department of Education Director Colt Gill said. "Affirming and supportive educators, schools, families, friends, and communities are shown to increase academic success, feelings of belonging, and reduce negative mental health outcomes."
"These gender-affirming best practices from the Oregon Department of Education will help our schools to build safe learning environments where gender expansive students feel welcome, accepted, and celebrated for who they are," said Governor Kate Brown. "It's critical that we continue to work towards ensuring that Oregon's gender expansive students have access to all the same opportunities for learning, achievement, and success as their peers––without fear of discrimination and harassment. If you are a gender expansive student in Oregon, please know this––you are seen, you are loved, and you will always have a place in Oregon's public schools."
The ODE describes the guidance as "developed with input from over 500 students, parents, community members, educators, district leaders, statewide education partners, LGBTQ2SIA+ community-based organizations, culturally-specific organizations, the Oregon Health Authority (OHA), and ODE staff from many offices and teams. This updated guidance clarifies new and evolving laws and policies in order to address the diverse needs of a broad range of gender expansive students and the school districts who serve them."
A D V E R T I S E M E N T

A D V E R T I S E M E N T
This guidance update replaces the previously released Guidance to School Districts: Creating a Safe and Supportive School Environment for Transgender Students from 2016. ODE's 2016 guidance was one of the first statewide guidance documents in the nation to assist K-12 schools to synthesize state law, federal law, and best practice in order to support transgender students.
Key Points In The Updated Guidance:
Expanded and clarified support for all gender expansive students, including but not limited to transgender, nonbinary, two spirit, intersex, agender, genderqueer, and genderfluid identities.
Recommendations for merging legal requirements with best practice in the classroom, in school activities, in school policies and procedures, and more.
Additional implementation examples grounded in the technical support requested by Oregon school districts. Additional Resources For School Districts, Students And Families
Alongside the guidance, ODE is releasing a set of tools that offer districts best practices and recommendations to implement gender-affirming practices each day. At the request of students and community members, there are also student- and family-facing resource documents that outline the support that can be requested and affirmed within Oregon public schools and communities.
For School Districts:
For Students and Families:
The publication of this guidance comes during a tumultuous time for LGBTQ2SIA+ communities nationwide, as well as in Oregon. In the face of ongoing anger and violence, gender expansive students are resilient, as are the LGBTQ2SIA+ communities that lift them up all across Oregon.
8% of Oregon students
who identify as transgender, questioning, or gender expansive are part of our communities and our classrooms, our school plays, our after school clubs, our bands and orchestras, our leadership programs, and our sports teams. LGBTQ2SIA+ youth report finding
sources of joy
in self-acceptance, supportive teachers, falling in love, playing sports, parental support, LGBTQ2SIA+ student clubs, and affirming friends, among others.
A D V E R T I S E M E N T
A D V E R T I S E M E N T
As directed by the State Legislature in 2021, this guidance is one way ODE is prioritizing the
LGBTQ2SIA+ Student Success Plan
strategy which states, "ODE demonstrates leadership to districts, schools, and families by collecting and disseminating resources, providing guidance and coaching, addressing violations of policy in a timely manner, and proactively building districts' capacity to create trusting, connected and inclusive environments." (Student Success Plan Domain 3, Objective 2).
"It is our responsibility to move beyond mere tolerance and inclusion toward respectful, affirming, and celebratory school communities where all students belong and succeed," Gill said. "Gender expansive students who are absent due to fear, or who spend their school day feeling unsafe, are prevented from accessing their right to an education. In partnership with each of our school districts, we can make 2023 a year of wraparound support for LGBTQ2SIA+ youth in Oregon."
--Staff Reports
| | |
| --- | --- |
| Post Date: 2023-01-05 11:27:32 | Last Update: 2023-01-05 12:09:21 |
First woman to hold the office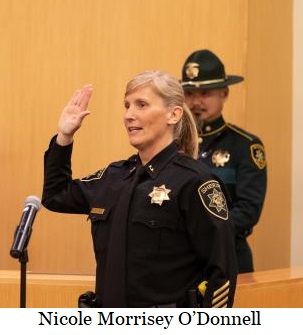 N
icole Morrisey O'Donnell was
sworn in as Multnomah County Sheriff on Wednesday, Jan. 4
, becoming the first woman to hold the post in the Sheriff's Office's nearly 170-year history.
Over 160 people — including former chiefs and captains, community leaders and newly sworn-in Chair Jessica Vega Pederson, alongside other County commissioners — filled the Multnomah Building's boardroom for the swearing-in ceremony.  
Morrisey O'Donnell will lead Oregon's largest Sheriff's Office, whose 750-plus sworn and civilian employees provide services throughout the county, including in Maywood Park, Troutdale and Wood Village. Morrisey O'Donnell boasts more than 26 years of experience, rising in the ranks from deputy to lieutenant to captain, then to Chief Deputy and Undersheriff. She is one of only two Multnomah County sheriffs to hold dual certifications in both police and corrections disciplines. As Sheriff, she oversees a $184 million budget.
Speakers at Wednesday's event included Musse Olol, president of the Somali American Council of Oregon, and Multnomah County Sheriff's Office Chief of Business Services Erin Hubert.   
"I personally had the opportunity to meet her and have one-on-one conversations with her," said Olol, pointing to Morrisey O'Donnell's participation in large community celebration events, as well as smaller, more conversational ones. I've always noticed her level of humility and openness to learn from the community. This is the exact combination we need for the ideal sheriff of Multnomah County."
Morrisey O'Donnell will lead the Sheriff's Office with distinction, and will serve every community with honor and courage, said Olol.
Oregon Supreme Court Justice Adrienne Nelson issued the oath of office while Morrisey O'Donnell's husband, retired Multnomah County Sheriff's Deputy Bob O'Donnell, pinned on her Sheriff's badge.  
Morrisey O'Donnell earned her degree at the University of Portland and received subsequent training at the Oregon Executive Development Institute and Oregon State Sheriffs' Association Command College. 
Morrisey O'Donnell acknowledged and thanked the wide array of community members, including friends, family members and fellow members of the Sheriff's Office, as well as former Sheriff Mike Reese.  
"I will lead the Multnomah County Sheriff's Office and serve our community with compassion, pride and unwavering resolve to building stronger communities because building stronger communities makes everyone safer," Morrisey O'Donnell stated. "I am committed to listening to, and learning from all community members to build solutions together to meet the unique public safety needs of each community." 
Morrisey O'Donnell emphasized reducing gun violence. 
"This stems from an early childhood incident when my father survived a shooting during an armed robbery at his business in our small town," she shared. "My family and I experienced firsthand the impacts gun violence can have in our home and in our community."
A D V E R T I S E M E N T
A D V E R T I S E M E N T
P
reventing violence in all forms remains a top priority, she stressed. 
"I will invest in initiatives focused on prevention, intervention and support services through building partnerships with community-based resources and investigative and enforcement efforts," Morrisey O'Donnell said. 
"I will be a leader and develop collaborative strategies to break the cycle of violence, advocate for the voices of victims and survivors, and hold accountable those who do harm in our community." 
Morrisey O'Donnell said that she would work with County health partners to develop an integrated public safety approach that would support a more efficient trauma-informed response to people experiencing behavioral and mental health challenges. That work, she said, would rest on continued partnerships with mental health providers, addiction specialists and social services, and an ongoing focus on outreach efforts, including access to safe housing education and job skills, and treatment opportunities. 
She then turned her attention to the employees she now oversees.
"The people who work at the Multnomah County Sheriff's Office are dedicated and extremely hard-working," she said. "I care about our members and I admire their dedication to the work they do every day for the safety of our community and in service to others."
Morrisey O'Donnell said that her interactions with people across the county made it clear to her that "we are united in our care and concern for our loved ones. And we want the same things for families, our friends and our neighbors: a safe community where everyone feels welcome."
"I know this is a big task, and I am honored and encouraged by your trust in me to do this important work," the new Sheriff said in closing. "I have a heart for service, a strong resolve and it is my life's calling."
Sheriff Morrisey O'Donnell's swearing in was just one of several ceremonies for Multnomah County officials taking place this week. Multnomah County Chair Jessica Vega Pederson was sworn in Tuesday evening, while Commissioner Diane Rosenbaum was sworn in Wednesday afternoon to represent District 3. Commissioner Susheela Jayapal and Auditor Jennifer McGuirk will be sworn in for their second four-year terms during the regular board meeting on Thursday, Jan. 5.
--Ben Fisher
| | |
| --- | --- |
| Post Date: 2023-01-04 20:53:35 | Last Update: 2023-01-04 21:16:14 |
"Today's decision is very good news"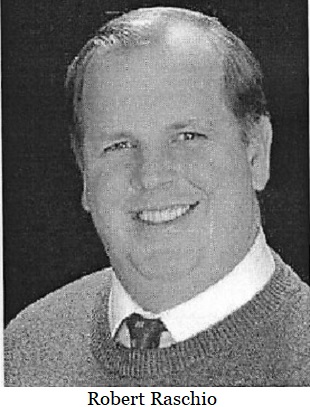 J
udge Robert Raschio in Harney County issued a decision on the State of Oregon's efforts to eliminate the three day safeguard rule, which requires law enforcement to report the results of a background check for firearms purchases or allow the transaction to proceed. Both state and federal law have safeguards built in to allow the transfer of a firearm to take place when the background check system fails.
Judge Raschio issued a
two-page opinion
focused on the severability issue. The text of Measure 114 contained a severability clause which said that "if any provision of this 2022 Act or its applications to any person or circumstance is held invalid", then the court determines if other portions of the law survive.
The language the defendants urge the court to use to sever is inexorably linked with the permit-to-purchase program. To find otherwise requires the court to ignore the operative language linking each provision on background checks to the permit-to-purchase program. The court would be separating sentences at commas and considering the phrase "permit holder" surplusage. It is not surplusage. The court declines the defendants' invitation to do so at this preliminary stage.
Oregon Firearms Federation Director Kevin Starrett says that "Today's decision is very good news. The days ahead will tell what the state plans to do to reverse that good news but for now we have another victory for gun owners and common sense. But the federal case is continuing and the legal bills are larger than anything OFF has ever faced before."
A D V E R T I S E M E N T
A D V E R T I S E M E N T
In addition to this case in state court, there are three cases -- now consolidated -- working their way through federal court.
According to Starrett, "It's extremely likely that the state, under the direction of a militantly anti-gun Attorney General, will appeal Raschio's rulings. AG Ellen Rosenblum has made it clear that she has no interest whatsoever in whether Measure 114 is constitutional. If there is a way to deny people's 2nd Amendment rights, she is going to attempt it."
Starrett raised a further point. "But the great unknown is what happens to those cases if the legislature changes the law? Will the Democrats time any changes to assure the most costly outcome for gun owners? Probably. Remember, gun owners are not only paying the lawyers who are defending their rights, they are, whether they like it or not, paying the lawyers who are working to destroy those rights."
--Staff Reports
| | |
| --- | --- |
| Post Date: 2023-01-04 11:44:26 | Last Update: 2023-01-04 23:42:21 |
Read More Articles