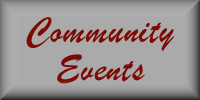 Post an Event

Umatilla County Fair
Wednesday, August 10, 2022 at 10:00 am
Umatilla County Fair Aug. 10th-13th, 2022
1705 E. Airport Rd. PO Box 94 Hermiston, OR 97838

Tillamook County Fair
Wednesday, August 10, 2022 at 10:00 am
www.tillamookfair.com August 10-13 PignFord races, pari-mutual horse racing, destruction derby, nightly entertainment included in entry fee.
4603 Third St, Tillamook, Oregon 97141

CLACKAMAS COUNTY FAIR & RODEO
Tuesday, August 16, 2022 at 10:00 am
CLACKAMAS COUNTY FAIR & RODEO August 16-20, 2022 10am - 10pm
Clackamas County Events Center 694 NE 4th Ave. Canby, OR 97013

Oregon State Fair
Friday, August 26, 2022 at 10:00 am
Which part of the Oregon State Fair are you most excited for? We'll keep adding to the fun all summer long!
Salem, Or

Washington County Candidate Meet and Greet
Wednesday, August 31, 2022 at 6:30 pm
Join our Washington County State House and Senate Candidates and Oregon State and National Candidates to discuss issues that are important to you, your family, and your community. Refreshments provided.
King City Clubhouse 15245 SW 116th Ave. King City, Oregon 97224

Linn County GOP Gala and Auction
Saturday, September 10, 2022 at 5:00 pm
Keynote Speaker Dave Sanderson, 2009 "Miracle on the Hudson" survivor.

linngop.com/galatickets
Linn County Expo Center

Washington County GOP Reagan Dinner
Saturday, September 17, 2022 at 6:00 pm
Tickets for Reagan Dinner 2022 in Hillsboro September 17th, now on sale at www.washco.gop, featuring former Secretary of State Mike Pompeo.

Oregon General Election
Tuesday, November 8, 2022 at 8:00 pm
Statewide
View All Calendar Events
Some schools sports will be allowed to open, with protocols
Governor Kate Brown has announced that beginning this week, outdoor contact sports will be permitted to resume with health and safety protocols in place based on county risk level . In Lower Risk and Moderate Risk counties, practices and games for outdoor contact sports, including high school football, can resume following health and safety guidance to be issued by the Oregon Health Authority.
Brown announced guidelines that high school sports must follow to resume outdoor contact sports. As has become expected, the guidelines offer little help for local school boards for whom the Governor has placed all responsibility for school re-openings, after she decided to shut them down last year. Teacher unions, who have been given all the power to decide whether kids ultimately go back into the classroom, will now have the say if kids can return to the field.
Senate Republican Leader Fred Girod (R-Lyons) said, "I am glad a select few of our kids will be able to return to much-needed physical activity and competition. However, the Governor's consistent pattern of running away from taking responsibility for undoing the damage her school closures have caused is troubling. She first gave teachers unions the power to lock students out of the classroom, despite data suggesting safe re-openings were possible. Now, she is giving them more power that will dictate if kids can play sports."
Under Governor Brown's new guidelines, schools in "high risk" and "extreme risk" counties must also have limited in-person instruction if they want to resume outdoor contact sports.
In the Governor's press release that announced her decision, she said, "To all the parents of student-athletes and coaches who have called and emailed me in the last year asking for school sports to resume, I am challenging you now to devote your energy to making sure in-person academics can resume for your kids, too."
"If only the Governor took as much responsibility for reopening schools as she asked of parents, we may be out of this mess," Girod concluded. "Her department is sitting on hundreds of millions of dollars from the federal government to assist schools with safely reopening and COVID precautions, but no one knows her plan on how to use it," Girod said.
Governor Brown made a pre-emptive defense of her decision.
"To all of Oregon's high school athletes: I am asking you now to be leaders in your communities. We've given you the chance to play, but with that opportunity comes great responsibility. If COVID-19 numbers spike, we may have to shut down contact sports again. When you are off the field, set the example for your peers: wear a mask, maintain physical distance, and avoid social gatherings.

"It is not lost on me that this decision today will allow high school football to resume, when too many high school classrooms across Oregon remain empty. To all the parents of student athletes and coaches who have called and emailed me in the last year asking for school sports to resume, I am challenging you now to devote your energy to making sure in-person academics can resume for your kids, too. If our school gyms, fields, and weight rooms are to reopen, we owe it to Oregon's children to make sure our classrooms, libraries, and science labs fully reopen as well."
This seems to be just the latest chapter in the continuing saga of the Governor being pulled on the one hand by the very powerful teachers' union, and on the other hand by Oregon's students and parents of Oregon's students and a growing body of scientific evidence that does not support keeping schools closed.
--Staff Reports
| | |
| --- | --- |
| Post Date: 2021-02-10 15:24:41 | |
Decades of consequence await us.
Governor Brown announced that on February 12th we will have reached a nearly impossible metric for the strictest level of re-opening – all without ever offering a shred of evidence that dining in restaurants or exercising in gyms contributes substantially to the spread of the virus.
It begs the question: Will there be businesses to open on Friday?
The New York Times reported today that Oregon has some of the most restrictive lockdown rules, as only one of two states in the country where businesses are "Mostly Closed".
We've seen our main streets die across the state while small family businesses have been annihilated – not by the virus – but by the "cure."
We have an ongoing childhood development crisis, as our education system remains absent except for the privileged few with the money to pay for private school. Depression and suicide continue to skyrocket – especially among our kids.
Oregon's high school athletes have been barred from competition and training, throwing potential scholarships into jeopardy. All so we could be the 49th state to begin to reopen?
We need certainty that Governor Brown will not wage another war on the survivors of her siege against small business by reverting to a third total lockdown.
These restaurants, fitness centers and other small businesses are going to need to order inventory with a shelf-life, and bring employees back to work and off unemployment with little guarantee she won't pull the rug out from under them again.
A D V E R T I S E M E N T

A D V E R T I S E M E N T
This opening is long overdue, and not enough. Our Governor needs to allow our schools to open in a way that actually makes sense to school boards, parents and most importantly our children. The Governor and our school boards across the state also need to stand up to the teacher's unions and demand that they return to work. Elderly or otherwise vulnerable teachers who have not been vaccinated should be allowed to teach via zoom – to children in a classroom under supervision – if need be.
Decades of consequence await us. Our response in opening the schools cannot be as irresponsibly slow as reopening businesses. Please call the Governor and your local school board members and demand they open our classrooms immediately.
Editor's note: This first appeared as a post in facebook
--Stan Pulliam, Mayor of Sandy, OR
| | |
| --- | --- |
| Post Date: 2021-02-10 10:29:08 | Last Update: 2021-02-10 15:24:41 |
It is past time for the legislative branch to assert our responsibility
Representative David Brock Smith (R-Port Orford) has introduced
HB 3177
that will bring equity across the business sector during the remainder of the state of emergency related to the COVID-19 outbreak.
"For nearly a year of a rollercoaster of business closures, tens of thousands of Oregonians have been unemployed from the hospitality sector across our state," said Representative David Brock Smith. "Many of these entrepreneurs in the hospitality sector are being forced to close their doors forever. These business owners, their hardworking employees and their families have faced extreme hardships with devastating delays in business relief, unemployment insurance payments, with little to no income and no relief in sight. Many of these restaurants and hospitality industry businesses will close their doors forever, taking these jobs with them. Further, the majority of these impacted Oregonians are the most vulnerable working families across our state." According to the Oregon Employment Department, Oregonians employed within the hospitality industry are the most racially diverse and the second most ethnically diverse in Oregon.
"We are not only losing our hospitality businesses across the state and the jobs associated with them forever, we are losing our unique, locally family owned, independent small eateries. These businesses do not have the ability to weather the income deficits from closures, unlike their corporate chain competitors," said Rep. Brock Smith.
"Legislators have been telling our constituents that while not in session, we have no authority to intervene on the Governor's Executive Orders related to the COVID-19 emergency, subsequent mandates and their closures. We have now begun the '21 Legislative Session and it is past time for the legislative branch to assert our responsibility, and I would argue the obligation, in guiding policy and lead in this work for the residents that put us here to do so," said Rep. Brock Smith.
--Staff Reports
| | |
| --- | --- |
| Post Date: 2021-02-10 08:45:16 | Last Update: 2021-02-10 10:20:12 |
Waste water systems have been challenged by disposable wipes
COVID-19 created a germ conscious population causing a run on antibacterial wipes, baby wipes, etc. Unfortunately, this germ eradicating behavior has also increased issues for waste water utilities.
HB 2344
aims to alleviate the clogging of municipality sewer systems though labeling of disposable cleaning wipes or similar products to standard specifications stating, "Do Not Flush". Washington has already passed similar legislation and California is currently working on it.
Mark Jockers, Chief of Staff, with Clean Water Services was one of the members of the workgroup that helped put this legislation forward. They provide services to about 600,000 businesses and residents in urban Washington County and manage ~1,500 miles of sanitation and sewer lines. Waste water systems across Oregon have been increasingly challenged by disposable wipes since 2000. He stated that "Since the onset of COVID-19 we have seen an increase in the volume of these items in the collections system, and the cost to Oregon is estimated at $5M annually or about $30K per municipality to manage this issue". Waste water utilities have spent millions on outreach and education to help solve the problem. Voluntary labeling initiatives and educational campaigns have not solved the issue. Due to lack of consistency, consumers are confused and HB2344 is a move towards solving that problem.
There is minimal opposition to the labeling legislation. The Association of the Nonwoven Fabrics Industry, expressed opposition around the implementation date. They asked that the bill be amended to giving the industry until January 1, 2023 to comply. This date change would also align with pending legislation in California and bring California, Washington and Oregon into the same requirements for packaging.
A D V E R T I S E M E N T

A D V E R T I S E M E N T
Shawn Miller with the Northwest Grocery Association also raised concerns about the retailer/manufacturer contractual obligation. In essence, store brands (Kirkland for Costco, Kroeger for Fred Meyer, etc.) do not control the packaging and labeling of the products. Therefore, they want to clarify in the legislation that the labeling responsibility would be placed on the manufacturer not the retailer. Washington successfully adopted similar language to address this concern.
The final concern came from the Oregon Department of Justice. As the bill is written, enforced would be through the Unlawful Trade Practices Act which is enforced by the Consumer Protection Department within the Oregon Department of Justice. They currently do not have adequate capacity or expertise to enforce the provisions of the bill. They suggest enforcement provisions be placed either with the State Department of Agriculture or Department of Environmental Quality. They already handle similar regulatory enforcement and would be the more appropriate agency to take this issue on as well.
--Terese Humboldt
| | |
| --- | --- |
| Post Date: 2021-02-10 08:11:01 | Last Update: 2021-02-10 08:45:16 |
The Governor stacks the Council without Senate approval
SB 286
began hearings this week in the Oregon Legislature. "Environmental justice" is being defined as the fair treatment and meaningful involvement of all people regardless of race, color, national origin or income with respect to the development, implementation and enforcement of environmental laws, regulations and policies.
Governor Brown's request for
SB 286
is nothing short of continuing her control clamping down on the environment using a Council. The proposal is to create the Environmental Justice Council within the Department of Environmental Quality as the fiscal agent. She stacks the Council without Senate approval:
SB 286
converts a task force into a Council. A task force that had limited focus on low-income communities that was expected to complete its work by elevating the role of environmental justice advocates in formulating the state's environmental policies that adequately reflects highly impacted communities, including the utilization of cumulative impact analysis by natural resource agencies.
On the other hand, the Environmental Justice Council is to develop a cumulative impact analysis for
all
communities utilizing the natural resource agencies. Expanding the focus doesn't just identify more vulnerable populations and environmental health disparities, it creates environmental burdens that impact everyone and is toxic to the economy. Looking for environmental conditions that impacts the climate is creating a problem that needs to be solve that will have an adverse impact on the economy and thus taxpayers.
A D V E R T I S E M E N T

A D V E R T I S E M E N T
One of the task force duties was to refine and clarify how we measure vulnerability and underinvestment using a leading-edge scientific methodology, cumulative impact analysis. In consultation with the Racial Justice Council's Environmental Equity Committee, the Council is to evaluate laws related to the environment with a focus on potential policy changes that advance environmental equity. Race and poverty correlate to vulnerability and additional factors including age, health, multiple sources of exposures, geography, work exposures, and other exposures are often layered onto communities. The Council will have unfettered impact on many of the Statewide Planning Goals: local planning, land use, and public facility programs.
Let's not forget that Governor Brown promised "secure equal rights and equal opportunity for all and to promote social and economic justice and the health and safety of all Americans."
--Donna Bleiler
| | |
| --- | --- |
| Post Date: 2021-02-10 07:07:57 | Last Update: 2021-02-10 07:30:22 |
Willamette Valley lags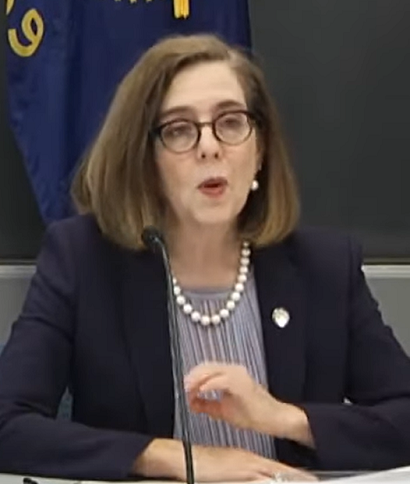 Governor Kate Brown today announced that 12 counties improved in risk level, with 10 improving from Extreme Risk for the first time since November, effective February 12. County risk levels under the state's public health framework aim to reduce transmission and protect Oregonians from COVID-19. The framework uses four different risk levels for counties based on COVID-19 spread—Extreme Risk, High Risk, Moderate Risk, and Lower Risk—and assigns health and safety measures for each level.
Effective February 12 through February 25, there will be 14 counties in the Extreme Risk level, 11 at High Risk, three at Moderate Risk, and eight at Lower Risk. The county risk level drives
what can be done in each county
.
Lower Risk (8)
Baker (Moved from High)
Curry
Gilliam
Grant (Moved from Moderate)
Sherman
Tillamook
Wallowa
Wheeler

Moderate Risk (3)
Harney (Moved from Lower)
Lake (Moved from Lower)
Morrow (Moved from Extreme)

High Risk (11)
Douglas
Clackamas (Moved from Extreme)
Clatsop (Moved from Extreme)
Columbia (Moved from Extreme)
Deschutes (Moved from Extreme)
Hood River (Moved from Extreme)
Klamath (Moved from Extreme)
Linn (Moved from Extreme)
Lincoln
Multnomah (Moved from Extreme)
Washington (Moved from Extreme)

Extreme Risk (14)
Benton
Coos
Crook
Jackson
Jefferson
Josephine
Lane
Malheur
Marion
Polk
Umatilla
Union
Wasco
Yamhill

"Thanks to Oregonians who have stepped up and made smart choices, we have made incredible progress in stopping the spread of COVID-19 and saving lives in Oregon," said Governor Brown. "This week we will see 10 counties move out of Extreme Risk, including the Portland tri-county area, for the first time since November. This is welcome news, as we'll start to see more businesses open up and Oregonians being able to get out a bit more.
"It's also incredibly important that we continue to remain vigilant and protect our neighbors and loved ones as we face virulent new strains of COVID-19. This means continuing to wear masks, keep our physical distance, and avoid indoor gatherings. If we want to keep businesses open, reopen schools for in-person instruction, and stay safe, we must keep up our guard. Until vaccines are more widely available, case counts could go back up if we don't keep following safety measures."
The Oregon Health Authority will examine and publish
county data
weekly. County risk levels will be reassigned every two weeks. The first week's data will provide a "warning week" to prepare counties for potential risk level changes. The next assignment of risk levels will be announced February 23 and take effect February 26.
--Staff Reports
| | |
| --- | --- |
| Post Date: 2021-02-09 17:42:10 | Last Update: 2021-02-09 18:03:52 |
Anti-Gun bill hearing scheduled for Feb 18th
O
regon
HB 2543
, which will allow the State Police to delay a firearm's purchase forever even when there is no denial on a background check, has been scheduled for a hearing on February 18th 2021 At 1PM.
The summarized language of the bill is expressed here:
"Prohibits transfer of firearm by gun dealer or private party if Department of State Police is unable to determine whether recipient is qualified to receive firearm."
Currently both Oregon and Federal law allow a buyer to take possession of a firearm if the State Police do not issue an approval after 3 business days as long as there has not been an actual denial.
According to reports, the OSP has a long history of failing to complete background checks and things have only gotten much worse since Covid and the increase in attempted purchases.
The OSP's "Firearms Instant Check" unit may reportedly even "cancel" firearms sales that they do not want to bother investigating with no apparent lawful authority to do so, according to some observers.
People who are delayed are faced with the frustration of contacting the OSP "challenge line" only to likely have their calls ignored or mishandled.
Anyone who has tried to deal with a state agency or collect an unemployment check during the Covid lock=down knows how easily the state can simply ignore you.
A D V E R T I S E M E N T

A D V E R T I S E M E N T
If this bill is passed persons who have no criminal history of any kind will have no recourse if the State Police either mismanage the background check or simply refuse to conduct one.
A person whose safety is in danger can be told by OSP that they are simply out of luck. There are reports of "delays" on gun purchases that have gone on for several years. Under this bill gun buyers will be totally at the whim of yet another failed state agency.
As you know, Oregonians are no longer allowed to testify against legislation in the Capitol.
While the Democrat controlled legislature has invented a "process" to testify in writing or "remotely" and pretended that this is a fair replacement, in fact, actually getting your testimony on the record is entirely hit or miss.
Below are the "instructions" for submitting testimony now that you have been locked out of the building. Make sure you are providing testimony for the
House Judiciary Committee's Feb 18th meeting on HB 2543.
For those who chose to provide testimony, the key arguments against this bill are:
The long history of bad record keeping by the OSP
The frequent prior restraint on a right in the absence of any criminal history
The lack of response from OSP when they delay a buyer and the complete lack of recourse for persons wrongfully prevented from purchasing firearms.
Under this bill, a single mom with a stalker who cannot rely on protection from any state agency can be told that she has to wait forever to have the means to protect herself and her children.
--Bruce Armstrong
| | |
| --- | --- |
| Post Date: 2021-02-09 17:15:49 | Last Update: 2022-01-01 18:19:55 |
The timing is tone deaf
There has been a great deal of focus on bars and restaurants as victims of government policies. Lost are those businesses downstream that supply these businesses. Often they are equally impacted.
Oregon Breweries wineries, cideries and distilleries are an essential part of Oregon's economy and identity. Prior to the COVID-19 outbreak, Oregon was home to 400 breweries, 73 distributors, and 37,200 farms, creating thousands of good-paying jobs and several billion dollars in wages. Many of those jobs are now at risk or have been lost.
The last thing these homegrown businesses need is a tax increase. Tax increases only make it harder for these businesses to invest in rehiring, equipment, upgrades and expansion, and will result in higher prices for consumers.
Oregon brewers help create 43,000 jobs and $2 billion in wages each year. Unfortunately, more than 10,000 of those jobs are expected to be lost because of COVID-19 closures. We've already seen dozens of our local breweries shutter. These statistics tell the story.
Oregon beer generates nearly $6.7 billion dollars in economic output and nearly $1 billion in taxes.
As many as 20% of craft breweries are unsure they will be able remain open because of COVID-19.
Because of COVID-19, it's estimated Oregon beer sales will have decreased by $284 million in 2020.
The tone deafness of this tax increase at this time was not lost on one lobbyist for a distribution company. "Even Kate Brown realizes that this is going to be too hard on the industry." Opponents of the tax have a website prepared called
DontTaxMyDrink.org
. A legislative bill has yet to surface.
The idea for the tax increase is reportedly the brainchild of Mike Marshall, the co-founder and director of
Oregon Recovers
, which describes itself as "an inclusive statewide coalition comprised of people in recovery–and their friends and family—uniting to transform Oregon healthcare to ensure world-class prevention, treatment, and recovery support services for Oregonians suffering from the disease of addiction."
Marshall, who is no stranger to politics, directed Governor Kitzhaber's 2014 reelection campaign, before helping to found Oregon Recovers. Some insiders have commented that the tax idea is a little bit outside the mission for the organization.
--Staff Reports
| | |
| --- | --- |
| Post Date: 2021-02-09 12:30:05 | Last Update: 2021-02-09 18:45:48 |
Does this make schools safer?
The Senate Interim Committee on Education has proposed
SB 238
, which would prohibit School Resource Officers statewide.
Previously, there was an SRO at each of Portland's nine public high schools. Most large high schools throughout the state hosted an SRO at their school.
If enacted,
SB 238
would change this. It would be a statewide ban and would:
Prohibit schools and school districts from employing SROs
Prohibit schools and school districts for contracting for security at any school-related event (such as sporting events, concerts, etc.)
Redirect funds "upstream to restorative justice" efforts
Place restrictions on when a school could call police to situations involving "imminent serious physical injury"/crimes
What does this solve?
This bill is part of the "Defund the Police" movement from groups like BLM/Reimagine Oregon.
It is based on a false narrative that SROs are racist, target students of color, and contribute to a "school to prison pipeline."
Student activists and some radical members of the Portland City Council used the George Floyd incident last spring to propose these changes without any specific proof or data that SROs on campus are harmful.
What are the consequences?
The SRO program is primarily preventative. They patrol neighborhoods around schools to keep students safe. They build relationships with kids, and help with bullying situations, violence, online threats, and can prevent school shooting situations through deterrence.
A D V E R T I S E M E N T

A D V E R T I S E M E N T
The nature of large sporting events, concerts, etc. necessitates security personnel to keep kids safe.
Schools should be allowed the discretion to contact police as necessary.
This legislation takes decision-making from the school district and imposes more statewide mandates on schools.
What are the equity issues? Is it fair that adults and lawmakers value protection for themselves, but not for Oregon students? On inauguration day, the Oregon State Capitol was protected by Oregon State Police and Oregon National Guard troops. There was no mention of "restorative justice" or reinvesting police funds to community groups on that day.
People who want to influence the process can contact the members of the
Senate Education Committee
.
--Mary Miller, Oregonians for Liberty in Education
| | |
| --- | --- |
| Post Date: 2021-02-09 09:50:26 | Last Update: 2021-02-09 12:30:05 |
The only science that supports this is that lottery generates tax revenue
Last week was the first week in months that restaurants with video lotteries could open. However, they will not be allowed to serve food.
Senator Dennis Linthicum (R-Klamath Falls) released the following statement to call out the hypocrisy of Governor Brown's tyrannical and chaotic pandemic response:
"According to the Governor's "relaxed" guidelines, people can sit 6 feet apart at restaurants to touch video lottery machines but will not be allowed to eat. The only science that supports this decision is the fact that the lottery generates more tax revenue for the Governor to spend than do restaurants. With this decision, the Governor is making herself clear: tax revenue is more important than workers' livelihoods. The Governor is putting the interests of state coffers ahead of the more than 28,000 people in the hospitality industry who were thrown out of work last December."
Last week, Oregon's Occupational Safety and Health Administration (OSHA) also made permanent temporary rules that have been imposed against law-abiding business owners. The agency claims that "we have not yet defeated this disease" so they must continue to strangle main street businesses. Yet, supposedly, they will repeal the rules "once they are no longer needed."
"Businesses are again being asked to trust government elites, the Governor and OSHA, although there has been no consistent standard for them. Everyone can see the rampant failures of the Governor as she arbitrarily gives a few lucky businesses license to open because they have state-owned lottery machines on their premises. But this is not following any legitimate analysis or understanding of the data as COVID cases are higher now than when she shut them down in early 2020. The Governor is playing politics with Oregonian's livelihoods. People deserve better."
--Staff Reports
| | |
| --- | --- |
| Post Date: 2021-02-09 09:35:53 | |
Finding the Business-Mom Balance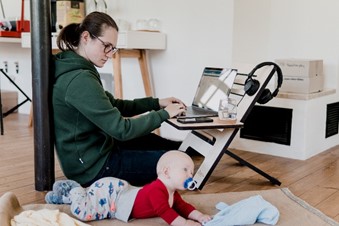 We've all heard of the "serial entrepreneur" – that individual who seems compelled to take every great idea to market by creating a company. What if you're a stay-at-home mom, knee-deep in breakfast cereal and carpooling, with that same entrepreneurial drive? Can being a "cereal entrepreneur" – or "mompreneur" – work?
Fact: The collaborative spirit and empathic nature women typically bring to their relationships are desirable leadership traits. Plus, with today's technology freeing up many work-at-home options, your entrepreneurial dreams are more feasible than ever.
Learn from the trailblazers
Fast Company notes the
existing gender disparity
among entrepreneurs, yet the
roster
of early trailblazers who also juggled motherhood may be longer than you think – from haircare entrepreneur Madam C.J. Walker to Chinese-American dining whiz Joyce Chen. Take both inspiration and doses of reality from them; learning from those who have gone before you is an important pillar of success.
Plan, prioritize and prepare
Moms learn early on the importance of
efficiency and juggling
. Diaper-changing necessities are all within reach, homework time is balanced with screen time, and you're likely already thinking about tomorrow's dinner menu.
Utilize those organizational skills as you're incorporating your business life into your mom life. Whether you prefer a digital planner or a paper organizer, set aside time for your business tasks and stick to it – understanding that you can't beat yourself up if your child suddenly falls ill. Certain phone calls and appointments have to be taken during the day, while many of your business and personal housekeeping tasks can be done after hours. Prioritize them accordingly – are there emails you can answer after the kids are in bed? Does that pile of laundry need to be done before 5 p.m.?
Setting aside time to do advance
meal preparation
can save you, and your family, a great deal of frustration. Turn planning and preparing the week's menu into a fun family activity.
Ask, and learn
Entrepreneurs go in with a big idea and the drive to execute it – they do not go in thinking they know everything there is to know about running a business.
Ask questions
, ask for help, and solicit feedback. Take advantage of free resources like those from the
Small Business Administration
. Your local chamber of commerce can likely provide you with some excellent networking opportunities and often offers events and programs for starting a business.
There is also much to glean from the internet to bring your vision to life. You'll find a wealth of knowledge available from the millions who have traveled this same journey. You can even tap into business plan resources, explore business ideas, learn about marketing and market research, launch an ecommerce store and
easily register
your LLC online.
No stranger to work
Motherhood has always been hard and is the perfect embodiment of doing several things at once. Accept that things won't always go as planned; as noted in Fast Company, many successes endured
failures
first.
Parenthood won't erase your entrepreneurial drive, and it can create a tug-of-war between that business desire and your parental instincts. Recognize and accept that you will sometimes feel guilty about filling the family bowls with cold cereal on a busy morning rather than preparing a hot breakfast, but those are not the things you and your family will remember – what they'll remember is you having the courage and the will to follow your both your business and your motherhood dreams to become a "cereal entrepreneur."
Photo by Unsplash
--Staff Reports
| | |
| --- | --- |
| Post Date: 2021-02-09 08:34:19 | Last Update: 2021-02-09 09:50:26 |
A plan is needed to make up the lost knowledge
During the COVID-19 pandemic students have experienced challenges and learning loss because of many factors. Summer break time also results in learning loss.
Some state lawmakers are considering adopting a year-round calendar as a means of helping to address the learning loss. Republican State Senator Brad Hawkins of Washington State is sponsoring Washington
SB 5147
which seeks to explore alternative school calendars. Section 1 of the bill states
"The COVID-19 pandemic has created a unique set of challenges and circumstances that have tested the K-12 education system. Due to reduced instructional time, educational inequities, and the inability to access technology and educational services, many students have suffered learning loss and a disruption to their educational experience. As a result, the legislature finds that a school calendar other than that traditionally used by Washington schools may help students to obtain the knowledge and skills needed to prevent negative educational outcomes. By extending the school year or using an alternative calendar, selected school districts will be better able to address the negative outcomes of the pandemic in a flexible and locally responsive manner. It is also the intent of the legislature to utilize federal stimulus funding as a potential source of funding for this program."
Most students are not served by the current outdated school calendar in place in many states like Oregon. This is an opportune time to seriously consider year round school.
--Celeste Gervascio
| | |
| --- | --- |
| Post Date: 2021-02-09 08:33:29 | Last Update: 2021-02-09 08:44:07 |
Read More Articles