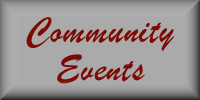 Post an Event

Oregon Legislature Interim Committee Meetings
Wednesday, December 7, 2022 at 8:00 am
Legislative Committee hearings
Oregon Capitol

Oregon Legislature Interim Committee Meetings
Thursday, December 8, 2022 at 8:00 am
Legislative Committee hearings
Oregon Capitol

Oregon Legislature Interim Committee Meetings
Friday, December 9, 2022 at 8:00 am
Legislative Committee hearings
Oregon Capitol

82nd Session of the Oregon Legislature Begins
Monday, January 9, 2023 at 8:00 am
The 2023 Session of the Oregon Legislature begins. Legislators are sworn in and bills are introduced.
Oregon Capitol, Salem
View All Calendar Events
Freedom Foundation sues Governor, OHA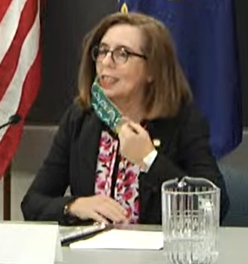 The
Freedom Foundation
, which filed a lawsuit earlier in July challenging Washington's mandatory mask rule, on Wednesday requested an emergency stay with the Oregon State Court of Appeals to prevent Gov. Kate Brown from imposing a similar edict in the Beaver State.
"Governors in left-leaning states all over the country are making up the rules as they go – and ignoring the procedural rules their own state laws set up," said Jason Dudash, the Freedom Foundation's Oregon director.
The Freedom Foundation
filed the court action
on behalf of three individuals who object to the mandate that they wear masks. In addition to Brown and the state of Oregon, the challenge names Oregon Heath Authority Director Patrick Allen, who on June 30 issued the so-called "Statewide Mask, Face Shield, Face Covering Guidance," which outlines the face covering requirements.
Freedom Foundation's challenge points out that the "guidance" is an administrative rule — and the creation of such a rule must follow the procedural standards set forth in ORS 183. These standards include notice of the proposed rule, publication of the rule, 21 days advance notice to allow public input, and a fiscal impact statement.
The challenge argues that not only does the mandate violate state statue, it also violates the wearer's First Amendment rights.
--Staff Reports
| | |
| --- | --- |
| Post Date: 2020-07-23 16:43:13 | Last Update: 2020-07-23 16:45:25 |
President Trump responds to the violence in Portland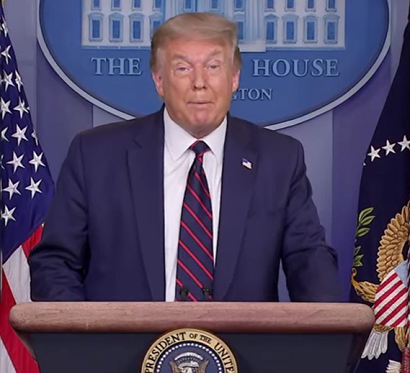 Governor Kate Brown tells the President to stop playing politics, stop calling law enforcement secret police, and likens his leadership to a dictatorship. She calls on the President to get his officers off the streets in Portland. Mayor Ted Wheeler said the President is trying to look strong for his base, and Pelosi call them "Storm Troopers".
While President Trump met with GOP leaders, he answered question about federal officers in Portland. "We'll have more federal law enforcement. In Portland, in three days they have done a fantastic job in a very short period of time. No problem. They grab them, a lot of leaders in jail. These aren't protesters, these people are anarchists. These are people that hate our country and we're not going to let it go forward. I'll tell you what, the governor, the mayor and the senators are afraid of these people. That's the reason they don't want us to help them, they're afraid. I actually believe they may be physically afraid of these people. We didn't just go there right away; we went there after 51 days we said we can't let this happen anymore. But these are anarchists, the politicians are afraid and that's why they say we don't want the federal government out there. This is worse than Afghanistan by far."
Filmmaker Ami Horowitz said on Hannity that a four-square block area around the federal building was under siege taken over Tuesday night when he was in Portland. About 5,000 onlookers were there cheering them on. "Media malpractice of how protesters are portrayed and how people view them in the media is said to be all kumbaya brother, they're just sitting there having a good time, people singing and dancing. The reality is that hundreds of people were attacking the federal building. By attack, I mean they had hammers, steel pipes and were setting fires to burn the building down with all the people in it while the 'peaceful' protesters are exhorting them on – cheering them on. They weren't aghast at what was happening. They weren't saying, hey guys you shouldn't be doing this. They were supporting these people who were trying to burn the officers alive in the federal building. So, to say it's a mostly peaceful protest, it's not true at all and that is part of the problem."
Press Secretary Kayleigh McEnany responds with the President's authority under U.S. Code 40-1315 to deputize agents in protection of federal property, investigate and pursue criminal acts. To date, the agents in Portland are only protecting federal property according to Chad Wolf, acting director of Homeland Security.
Senate Republican Leader Fred Girod said, "It is sickening to watch as phony leaders pander to the violence in Portland. I refuse to turn a blind eye to the violence and lawlessness each night. What Portland Democrats fail to understand is if you give an inch to these violent anarchists, they will take a mile, and they won't stop. They want to perpetuate the idea of a 'civil war' to further isolate Oregonians from one another. Peaceful protesters are welcome, but the second violence and lawbreaking occurs, it is up to elected officials to support the law enforcement officers that put their lives on the line to keep citizens safe in unstable situations. Democrats have refused to do this and have failed all Oregonians by pandering to the violence."
All the talk from the Governor and Mayor that federal agents shouldn't be in Oregon leaves every city, large and small, vulnerable to unchecked violence. Portland is a big target, and it's spreading to Eugene and Salem. If Portland is overrun, and that's already a liberal city, they won't stop there. Death from COVID-19 will pale in comparison to civil unrest. Law and order is sure to be a priority in the upcoming elections.
--Donna Bleiler
| | |
| --- | --- |
| Post Date: 2020-07-22 19:48:33 | Last Update: 2020-07-23 18:46:24 |
The right to bear memes shall not be infringed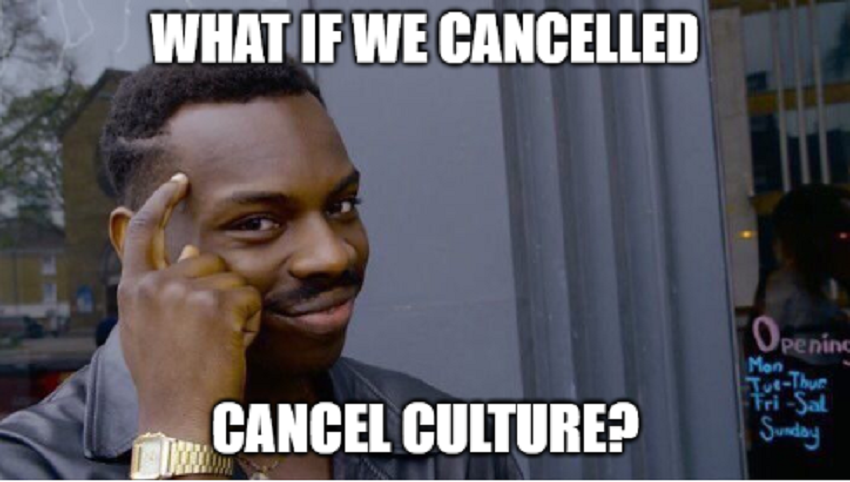 --Northwest Observer Meme Team
| | |
| --- | --- |
| Post Date: 2020-07-22 15:07:15 | Last Update: 2020-07-22 14:07:37 |
Gun sales will continue to rise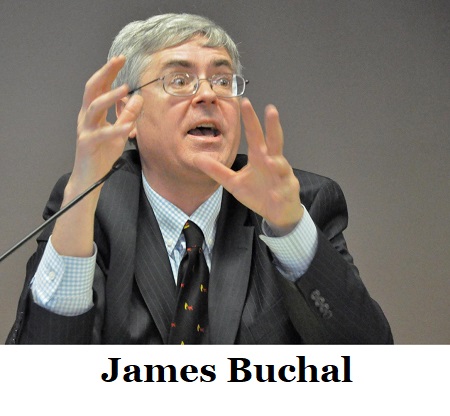 Governor Kate Brown responding at her press conference to questions on federal agents' actions in Portland, said she doesn't approve of President Trump's tactics, and he must remove his agents. But, she did acknowledge that property destruction has to stop. Her answer is that she will be looking into a new system of training law enforcement. This, after the special session earlier this month passed police reform bills. One might wonder what was the plan behind those bills if she is yet to look into police training.
Meanwhile, outside the Gresham City Council stands a flag pole that once flew 'Old Glory' but now supports the Black Lives Matter flag. The City Council unanimously approved flying the flag with the official logo of a radical Marxist "Black Lives Matters" group. One must ask if they even researched the distinctive "three yellow stripe" flag Gresham is flying to know it is the same flag sold on the Marxist group's website.
The Multnomah County Republican Party has taken objection to Gresham City Council. "We as Republicans, the party of Lincoln, obviously have no objections to promoting messages of racial equality," says Chairman James Buchal, "but these City Councilors are tarnishing the City of Gresham by flying the flag of a radical Marxist organization hostile to all fundamental American values."
Buchal said they firmly oppose the BLM group's website message that "police don't keep us safe". "We reject the idea that bad actions by bad officers define policing in America, and we reject the idea that systemic racism requires massive 're-education', censorship of opposing views, and punishment for dissent in the Marxist fashion."
A
demonstration in support of Gresham Police
is planned for July 22 at 6 p.m. outside the Gresham City Hall Council Chambers. Organizers said, "we want our police to know we support them." They encourage people to bring a thank you note to give to officers.
One thing that Oregon needs is a strong police force, local and state, and leaders that support them. Without that, gun sales will continue to rise.
--Donna Bleiler
| | |
| --- | --- |
| Post Date: 2020-07-22 14:40:39 | Last Update: 2020-07-22 14:58:37 |
Somebody needs to solve some problems and blaming Trump doesn't do that.
It must be an election year.
At the end of her recent press conference, in response to a reporter's question about the riots in Portland, Oregon Governor Kate Brown took a swipe at President Trump and the Secretary of the Department of Homeland Security, perpetuating the narrative floated in the media that federal law enforcement is operating illegally in Portland.
Let me be very clear with Oregonians.

"When I spoke with the director of the Department of Homeland Security last week, I told him to go home and take his federal troops with him, um, this is a democracy not a dictatorship.

We cannot have secret police abducting people and putting them in unmarked vehicles. I cannot believe I have to say that to the president of the United States. I know that Oregonians are outraged. Americans should be appalled."
Even, the lefter-than-thou, queen of wokeness, Willamette Week reporter, Tess Riski, breathlessly -- and reluctantly --
reported that everything that federal law enforcement is doing is legal.
The Oregon Attorney General, Ellen Rosenblum (D-Portland) has
filed a lawsuit against the federal government
alleging that "On information and belief, federal law enforcement officers including John Does 1-10 have been using unmarked vehicles to drive around downtown Portland, detain protesters, and place them into the officers' unmarked vehicles, removing them from public without either arresting them or stating the basis for an arrest."
US Senators Jeff Merkley (D-Portland) and Ron Wyden (D-Portland) have
introduced legislation to restrict the use of force during riots
.
Oregon generally, and Portland specifically, both face grave danger to persons and property. It seems like the time is now to do something -- not play politics.
--Staff Reports
| | |
| --- | --- |
| Post Date: 2020-07-22 12:44:29 | Last Update: 2020-07-22 15:00:09 |
Gatherings limited again, 10 pm curfew on businesses
Oregon Governor Kate Brown declared new statewide mandates via her press briefing conference, including a directive stating that children as young as 5 years would hereby be required to wear a face mask both in and outdoors. Indoor gatherings were also limited to 100, statewide.
The Governor, who recently brought up concerns of dictatorship federally, is rolling out statewide mandates in a way that critics would say is being quite dictatorial herself. She has also announced that bars and restaurants must close their doors by 10pm. Observers have noted that shortened business hours by grocers, food service and other businesses has only made social distancing more difficult in some demographics.
She defended her tighter restrictions, saying "I don't make these decisions lightly and there are no easy choices."
To recap:
All children 5 and older indoor public spaces and outdoors where distancing cannot be maintained are required to wear masks.
Gathering size for indoor venues such as restaurants and bars is reduced from 250 to 100. Outdoor venues are still limited to 250.
Restaurant and bars must close at 10:00 pm.
Allowing outdoor visits to residents of long-term care facilities where there is no outbreak. The Governor highlighted this as a positive thing.
As an aside, the Governor promised "Clear metrics for school re-opening in the next few days." She emphasized, "School in the Fall will not look like a normal year."
She ended her prepared remarks with the threat, "If we don't stop the spread of the virus I will have no choice but to force widespread and difficult closures again."
--Staff Reports
| | |
| --- | --- |
| Post Date: 2020-07-22 12:00:31 | Last Update: 2020-07-22 12:08:22 |
Let's get rid of this broken agency.

Editor's note: This is the ninth in a multi-part series on the budget for the State of Oregon and where possible efficiencies can be found.
DOGAMI, as it is abbreviated, has two main departments.
The Geologic Survey and Services (GS&S) Program gathers geoscientific data and maps mineral resources and hazards. Geographic areas needing tsunami hazard mapping, landslide hazard studies, flooding hazard studies, and earthquake risk mapping have been prioritized by the agency. The information is shared with state and local policy-makers for land use planning, facility siting, building code and zoning changes, and emergency planning.
The Mineral Land Regulation and Reclamation (MLRR) Program is responsible for regulating the exploration, extraction, production, and reclamation of mineral and energy resources for the purposes of conservation and second beneficial uses of mined lands. The objectives are to conserve mineral resources and protect the environment while providing for the economic uses of the mined materials. This includes oil, natural gas, geothermal exploration, and extraction.
This agency's budget woes are so epic that the legislature would not let them have a biennial budget, instead restricting them to a single year appropriation while they get their act together.
Can the geologic survey functions be turned over to Oregon State University? They might like the work, and the agency could use a break. As far as natural resource extraction goes, the reality is that political control of this state by environmentalists means that there is very little natural resource extraction happening, so very little to regulate -- which may be the source of the agency's fiscal irresponsibility in the first place.
Savings: $4-19 million biennially, depending on how much of the agency is dissolved.
--Staff Reports
| | |
| --- | --- |
| Post Date: 2020-07-22 08:00:00 | Last Update: 2020-07-22 15:02:23 |
Place blame on police and fall just short of calling them racist.
No one who has watched the online video clips of the nightly violence and rioting in Portland over the last two months can continue to claim that what we are watching are "peaceful protests."
State Representatives Karin Power (D-Milwaukie) and Janelle Bynum (D-Happy Valley) have issued a statement in which the motives of law enforcement are again called into question, and no recognition of the damage done by the rioters is acknowledged.
Despite the fact that most law enforcement activity has been directed at white persons, Bynum insists that this activity is "designed" to work against people of color. Many observers have pointed out that the only "design" present is that of the rioters, who seem intent to provoke law enforcement at all costs.
The statement says:
"These acts of violence perpetrated by federal law enforcement are designed to pass down a legacy of fear and further the interminable control of the movements of Black and Brown bodies since the days of American slavery," said Rep. Bynum. "I will not let my children, or any of our children, inherit paranoia and mistrust of the people we commission to protect us. I am showing them the way of non-violent protest against oppression and government overreach. I am teaching them the true meaning of good trouble, necessary trouble."
Does anyone remember George Floyd? Or do we not need to talk about him?
--Staff Reports
| | |
| --- | --- |
| Post Date: 2020-07-21 13:13:10 | |
The myth of "peaceful protesters" is exposed
In the wake of continuing violent attacks against federal facilities in Portland, the Department of Homeland Security is
documenting the result of these attacks
against federal property. An
update
was also posted on Sunday.
As the media reports things like
"people in camouflage were driving around the area in unmarked minivans grabbing individuals off the street"
as if innocent people are being impounded, some pundits have speculated that coverage of the violence is declining, because support in the polls for the violence is on the decline.
Of course, federal law enforcement has no place initiating any law enforcement activity, unless federal laws are broken, federal personnel are assaulted, or federal property is attacked. One would suspect that the feds have reason to arrest those who have been detained. It's not like there's any shortage of federal crime in Portland lately.
While elected officials in Portland and the local media claim that federal involvement causes an escalation of the violence, it remains to be seen if federal facilities continue to be targets, as federal law enforcement arrests continue.
In a
statement
, DHS Acting Secretary Chad Wolf said, "The city of Portland has been under siege for 47 straight days by a violent mob while local political leaders refuse to restore order to protect their city. Each night, lawless anarchists destroy and desecrate property, including the federal courthouse, and attack the brave law enforcement officers protecting it.
"A federal courthouse is a symbol of justice - to attack it is to attack America. Instead of addressing violent criminals in their communities, local and state leaders are instead focusing on placing blame on law enforcement and requesting fewer officers in their community. This failed response has only emboldened the violent mob as it escalates violence day after day.
"This siege can end if state and local officials decide to take appropriate action instead of refusing to enforce the law. DHS will not abdicate its solemn duty to protect federal facilities and those within them. Again, I reiterate the Department's offer to assist local and state leaders to bring an end to the violence perpetuated by anarchists."
--Staff Reports
| | |
| --- | --- |
| Post Date: 2020-07-20 19:45:16 | Last Update: 2020-07-20 19:45:54 |
Never let gubernatorial hypocrisy go unpunished
--Northwest Observer Meme Team
| | |
| --- | --- |
| Post Date: 2020-07-20 17:39:07 | Last Update: 2020-07-20 17:39:18 |
Voters are being denied their right to referendum
No Fake Emergencies is announcing today that they are beginning circulation of a titled ballot initiative for the 2022 election cycle. The received approval to circulate last week from the Secretary of State.
Initiative Petition 1
, dubbed "No Fake Emergencies 2022" will reform the ways emergencies are handled in the legislative process. The major effect of the initiative will be to require a 2/3 majority vote on most bills declared to be an emergency.
By declaring a bill to be an emergency, the legislation not only takes effect upon being signed by the Governor, it removes the ability of the people to subject the legislation to a referendum, where it can be effectively vetoed by the people. Critics have pointed out that this process is being abused by being applied to bills which are not emergencies, but to avoid the referendum process.
Chief Petitioner State Representative Bill Post (R-Keizer) said, "for the last 5 years, as a legislator, I've witnessed the absolute abuse of the 'emergency clause' in legislation. I strongly believe that if there is an 'emergency' then it should so be declared and stated exactly what that 'emergency' is. Instead, this legislative tool has been used to override the will of the voters. It's time for the voters to have the say in what is an 'emergency'."
State Representative Gary Leif (R-Roseburg), also one of the Chief Petitioners, added, "for far too long the emergency clause is being used for political gain rather than what it was intended for. It's intended to bridge the gap when resources run out. Instead it's used so that the people cannot have a voice."
The campaign needs to gather 149,360 signatures by July of 2022 to make the November 2022 ballot. More information can be found at their
website
.
--Staff Reports
| | |
| --- | --- |
| Post Date: 2020-07-20 14:18:42 | Last Update: 2020-07-20 15:18:57 |
Make higher ed fund itself. It creates enough value to do so.

Editor's note: This is the eighth in a multi-part series on the budget for the State of Oregon and where possible efficiencies can be found.
It's rare that an opportunity presents itself to save money while at the same time making a policy decision that makes sense.
In 2013, the State of Oregon passed a first-in-the-nation
"Pay it Forward"
describing a pilot for this kind of higher education tuition plan. They way the plan works is described
in the bill
itself:
"[I]n lieu of paying tuition or fees, students must sign binding contracts to pay to the State of Oregon or the institution a certain percentage of the student's annual adjusted gross income upon graduation from the institution for a specified number of years."
The dollar amounts are dizzying. In the 2019-21 biennium, State of Oregon general and lottery fund support for four year colleges was over $1.3 billion and that represents about 18% of the budget for Oregon University programs. The state could rescind the general fund money, and back a bond to create a startup fund for pay-it-forward scholarships. Since the money gets paid back into the fund, the fund is self-sustaining -- or even expanding, if the university manages it well. Ultimately, the fund could be required to do the service on the debt that was taken on to create the fund.
There are several positive aspects of the program:
It virtually solves the student debt problem, at least for new students who participate in the program going forward
Universities are incentivized to get the student through their programs. Currently, Universities are incentivezed to allow students to drink beer, languish and keep paying tuition. A pay-it-forward scholar who is still attending school is tying up money that could be used for the next scholar, and the university will take more steps to help students move along.
It will have a tendency to direct support toward students and degree programs that have value in the marketplace. Conversely, it will focus support away from programs that are tempting to students, but don't create great earning potential.
Scholarships can be easily directed to students who are deserving based on merit, as well as need.
Universities crave more autonomy. In 2011 the legislature moved to make Oregon's universities more accountable to their own boards and less accountable to the state This program would free them from the bonds of state funding and the strings attached to those.
This program seems to have little downside while at the same time holds great potential for revolutionizing four-year higher education in Oregon. It can also deliver some great budget cuts.
Savings: Up to $1.3 billion biennially
--Staff Reports
| | |
| --- | --- |
| Post Date: 2020-07-20 08:00:00 | Last Update: 2020-07-06 22:31:14 |
Read More Articles