Though some are beaten down and will take years to recover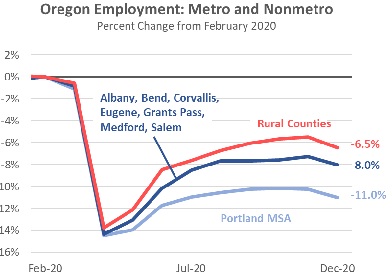 When the Oregon Office of Economic Analysis issued its February
Economic and Revenue Forecast
, one needs to keep in mind that they are talking about the
state's
economy and the
state's
revenue. You and I are on our own. Especially if you own a small business. Nowhere does the document talk about the many bars, taverns, restaurants and other small businesses which were effectively shut down during the government sponsored recession.
For some, while you weren't going out to your favorite Mexican or Italian restaurant, and working from home and not buying gas to go to work, you were pocketing the money. The OEA announced that "Households have built up considerable savings in the past year." Not if you're a waitress. They note that "Lower income households continue to struggle," that "Job prospects remain dim," and that "Federal aid has lapsed at different points."
If you're a service industry worker or a small business just hanging on by your fingernails, the OEA points out that "Pent up demand will be unleashed as pandemic wanes and economy reopens" and that a "mix of consumer spending will shift back to labor intensive, in person services, driving strong employment gains."
the OEA is a part of the Department of Administrative Services, which reports to the Governor. Do you suppose they know anything about her plans to open the state?
--Staff Reports
| | |
| --- | --- |
| Post Date: 2021-02-24 15:34:04 | Last Update: 2021-03-09 20:34:35 |