"I was just a guy standing there holding a camera"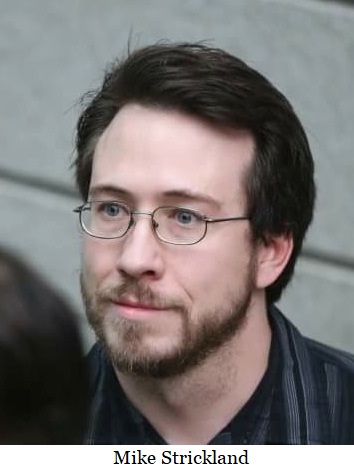 F
our years ago today Judge Thomas Ryan declared me guilty of 10 felonies and 11 misdemeanors in a Multnomah County courtroom. This involved the incident where I drew my firearm in response to a gang of thugs coming after me. I didn't even fire a round, as simply drawing was enough force to get the mob to back away and leave me alone. I didn't harm so much as a fly. I was the one targeted, attacked, tried to get away to avoid further altercation, and ultimately acted to defend myself against what I considered unlawful force and imminent unlawful force being used against me by a gang of masked thugs.
With the council of attorney Robert Barnes, my case has now officially been filed with the Supreme Court of the United States. The central question asked is "Did the Oregon courts err in holding that there is no Constitutional right of self-defense except for when someone like the judge would have behaved the same way under a purely 'objective,' 'reasonable person' standard, thus excluding all evidence of defendant's prior experiences, defendant's state of mind at the time, and defendant's intent in general?"
I never thought I would ever be presenting a case to SCOTUS. At the start of this, I was just a guy standing there holding a camera, recording a public event, doing my job as a video journalist. As the attack on me commenced, every move I made was in reaction to what other people were doing to me. That continues today.
Before, during, and after the trial there have been multiple Constitutional rights violations committed against me.
Deputy DA Kate Molina propagated false information about me through the media involving a completely separate matter in which she never pursued, making claims that I was threatening and harassing a black person whom I don't even know, claiming I drove by his house with my hand in the shape of a gun pointing toward him, and saying I have ties to white supremacist groups. Kate Molina swore things thing in front of a judge with several TV cameras and other reporters recording it.
Of course none of it is true, and there wasn't an ounce of evidence to support her wild accusations, but it was used to not only throw me in jail on a $250,000 bond, but also influence and taint prospective jurors. Before the trial I filed a motion for change of venue, based off of Molina's own false claims said about me to media. Judge Ryan denied the motion. I was essentially denied my right to a fair trial.
Multiple pieces of exculpatory evidence were ruled to be inadmissible, including an incident where far left "documentary" filmmaker, Skye Fitzgerald, violently body slammed me to the pavement while stealing two video cameras from me, shattering my arm and leaving me partially disabled. Judge Ryan, believing he is a mind reader, claimed that is irrelevant with regards to the incident a year later, where I had 10+ people threatening me and accosting me. Judge Ryan thinks the prior incident did not play into my mindset, and must have also believed that it does not impact my ability to go one-on-ten fisticuffs.
Judge Ryan also ruled that my statements to the detective were inadmissible. While I was in custody I had explained to the detective how the mob came after me, how I tried to get away, how I was in fear, and how I eventually acted in what I believed to be self defense. I had also explained to the detective how I had been receiving random and anonymous death threats. None of that was admissible during my trial.
Basically all evidence relating to my mindset, my own personal belief, and my assessment of the situation were inadmissible. This removed the subjectivity from the notion of self defense, and created a purely objective standard. This is contrary to the standards that the courts, including Oregon's higher courts, have used for years. Higher courts across the nation have agreed that self defense is based off the defendant's own personal belief of what is unlawful force being used against the person, and how a person in the defendant's shoes, with the defendant's experiences and knowledge, would react in any given self defense situation.
Judge Ryan specifically said this is not about what other people were doing to me, but about what I did. He essentially refused to consider self defense as a concept, since self defense is entirely predicated on the actions of other people.
During the trial multiple individuals admitted to premeditating and executing this physical attack on me, and they admitted to engaging in what even the state's ambush expert witness conceded was assaultive" behavior toward me. The state's star witness, multi-time federal felon Benjamin Kerensa, admitted he conspired with several others to confront me. Kerensa weighs 400 pounds. He is literally twice my size. He admitted to grabbing me to physically throw me out of the crowd. He admitted that this was unprovoked and that he hadn't seen me doing anything to incite him or others leading up to this.
Judge Ryan also allowed for the aforementioned ambush witness, who was allowed to testify after both sides had rested, and whose name was not on any previously disclosed witness list. This ambush witness, Gresham police's firearms and use of force trainer, Ryan Rasmussen, testified that just about everything I did was wrong and not reasonable. Except he could only testify as to what a police officer was trained to do in the situation I was in, not what a civilian with a Concealed Handgun License is trained to do or reasonably expected to do, as Rasmussen has no training, qualifications, or experience with civilian CHL's. Despite this, even he agreed that I had properly assessed at least some of the thugs as threats, and that I was justified in drawing my firearm on at least some of them.
The state claims there are ten "victims" of mine, yet only two of these people were ever identified, ever came forward, and ever testified. I was denied my right to face my accusers, because they hadn't accused me of anything. We have no idea who these other people are. I was found guilty of crimes against anonymous John Does who never testified. The only two who came forward were Kerensa, the big guy who started the entire altercation, and Malcolm Chaddock, whom I had personally seen at prior events causing trouble and committing crimes. Chaddock served as the distraction so Kerensa could run up along my blind side.
A D V E R T I S E M E N T

A D V E R T I S E M E N T
At various different times throughout this ordeal I have been banned by the courts from talking to media, posting on Twitter, posting videos, blogging, going to political events, filming political events, and filming anything at the local colleges. They essentially banned me from working. Those bans were lifted after nearly four years. My own first-person video which shows the initial attack by the mob was ordered sealed by the judge and the public couldn't see it until four months after the trial.
This case basically declared that it is not unlawful force when a gang of thugs attacks someone on the streets. Since my arrest we've seen rampant violence and crime at protests and other political events. The gangs learned that they can attack whomever they want and not only face no consequences, but the person they attack is the one who gets arrested and throw in jail for fighting back. Mob violence is now rewarded and incentivized. If they can do all of these things to me, they can do it to anyone. Are you next?
The entire notion of self defense with a firearm rests in this case. If the Heller case established the right to own a gun for self defense, then the Strickland case will determine if you have the right to even level the gun at aggressive assailants, even without discharging a round.
People ask what they can do to help. I am mostly caught up in the legal bills, but it's always nice to have a little bit on hand in reserve, and you can donate at paypal.me/StricklandLegalFund.
You can also donate through
Oregon Firearms Federation
. Leave a note on the donation form that it's for the Strickland fund.
I'll be doing another live stream Q&A for the donors in the coming weeks.
Oregon Firearms Federation has been there every step of the way helping out. I highly recommend supporting them.
Perhaps more important than funds is spreading awareness about what had happened. The Gateway Pundit graciously allowed me to
publish a piece
a few months back where I explain more about the case, the trial, and all of the shady tactics used by various different actors. I also included several videos, including video of the incident itself, and several videos using the audio from court proceedings to catch these actors in their lies. It is a good link to share around.
You can also check out the
podcast series
by Victoria Taft, where she goes in-depth with exclusive interviews of some of the witnesses and explores other aspects of the case.
My attorney, Robert Barnes, has been a
regular guest on the Viva Frei YouTube show
, and he goes into some detail as well.
You can also encourage other organizations, such as the NRA, to file amicus curiae to the court in support of my petition. Amicus briefs allow for interested third parties to submit arguments and information to the courts in support of, or against, the people involved in the case to help the judges better understand the situation.
I am available for interviews, media appearances, and speaking engagements.
Thank you all for your support and I am confident that I will emerge from all of this victorious.
--Michael Strickland
| | |
| --- | --- |
| Post Date: 2021-02-11 07:40:41 | Last Update: 2022-01-01 18:11:50 |