Restaurants, already struggling, will see a downstream impact.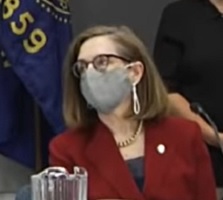 As restaurants try to survive through Governor Brown's lock down orders, ranchers can't get their meat to market causing a sharp increase in the stakes you eat. A
study released earlier this year
estimates the COVID-19 pandemic will cost the cattle industry $13.6 billion. The problem isn't sales, it's the limited capacity of processing plants, which is causing the price of beef to rise.
Representatives David Brock Smith (R-Port Orford), saw that the Wholesome Meat Act of 1967, which requires states to have inspection programs "at least equal to" the federal meat inspection program, was an opportunity for Oregon. He sponsored
HB 4206
, which passed in the 2020 Special Session. It authorizes the Oregon Department of Agriculture to establish a program for state inspection of the processing and sale of meat products from amenable and nonamenable species, except for equine species.
However, the pandemic accelerated the need for processing and rendering facilities for processing the remains of harvested and natural caused or disaster caused loss of animals. At this time there are no rendering facilities to process animal remains. Representative Smith is back with Representative Mark Owens (R-Crane) sponsoring
HB 2785
that will provide grants to upgrade and build processing centers to operate under the state meat inspection program. The $10,000,000 requested would also expand the federal inspection operation for meat processing in Oregon.
The ranchers have gone from being paid by renderers for waste remains and then were paying them to take waste, now there is nowhere in the state to take animal remains. Representatives Smith and Owens are also sponsoring
HB 2787
, which will study developing animal rendering facilities to utilize every part of the animal by reducing, converting, or melting down fat. Animal rendering facilities process animal by-product materials to produce tallow, grease, and high-protein meat and bone meal; and products that can be used in foods or to make soap, candles, or lubricants. Recommendations are to be reported to the appropriate interim committees of the Legislative Assembly by September 15, 2022.
A D V E R T I S E M E N T
A D V E R T I S E M E N T
Branching out for more control over processing meats and a potential for new industries is a positive for new jobs for one of Oregon's top commodities. However, Governor Kate Brown is looking to fill the $2 billion gap in her budget and is leaving no stone unturned. Regardless of the consequences, she has requested the ranchers double their fees on brands in
SB 32
.
But, wait, that wasn't enough. She is also requesting
SB 33
which adds 30% to the food safety program license fees. The Oregon Department of Agriculture issues licenses for a variety of activities related to food manufacturing and processing.
SB 33
authorizes rules to increase the license fees listed by no more than 15% for the fiscal years beginning July 1, 2021 and July 1, 2023:
ORS 603.025 – meat products
ORS 616.706 – food establishment
ORS 619.031 – animal food slaughtering and processing
ORS 621.072 – use of milk grade designation
ORS 621.166 – dairy products plant
ORS 621.266 – pasteurizer operator
ORS 625.180 – bakery or bakery distributor
ORS 628.240 – refrigerated locker plant
ORS 632.720 – egg handler
ORS 632.730 – commercial egg broker
ORS 635.030 – non-alcoholic beverage manufacturer
While restaurants are deciding whether they can survive the pandemic, the closures roll up to ranchers and food producers. Likewise, increased fees roll down to struggling restaurants and individuals struggling from high unemployment. Can the economy rebound on higher fees?
--Donna Bleiler
| | |
| --- | --- |
| Post Date: 2021-02-08 07:16:52 | Last Update: 2021-02-07 21:51:33 |