Metro encroaches from the North
At the
McMinnville City Council meeting
on January 26, Emergency Service Consulting International staff Sheldon presented the plan to combine nine local Fire Districts into an eventual single district named the Willamette Fire District in a four-phase process of public involvement.
The process calls for meetings, defining the plan, laying out the challenges to the idea and refining the plan and overcome objections. It would expand existing intergovernmental cooperation agreements to include McMinnville rural, Amity, Dayton, Dundee, Carlton and Lafayette in the north. Southwestern Polk County, Sheridan and West Valley Fire Districts would make up the south. It was noted that Metro has a toe hold in Yamhill County currently with service to Newberg.
Councilors participated in a visioning exercise to determine why this would better serve the citizens. They were asked to name strengths, weaknesses, opportunities and threats. Positive perceptions included economies of scale, unified training, improved recruiting and renewed vigor in he ranks. Concerns were limits on prioritizing funding, fiscally isolating law enforcement, loss of intimacy with constituents, loss of local identity with firefighters and support staff, loss of local control, possible loss of charter and harm to community support for tax rates.
Dayton's Fire Chief Brett Putman was interviewed. He was asked is the current service to the area working or broken? It's working well. Is the current service structurally adequate to meet the future needs of the area? So far, yes. Will the new plan improve service? Possibly, but at what cost? Will it better control fire insurance costs? Possibly. Will the new plan save tax dollars? No, but a small increase may be worth it.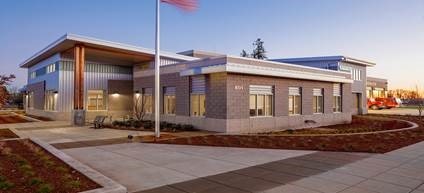 Is this a defensive strategy to keep high overhead Metro from further incursions into non-Metro Yamhill and Polk Counties? Local fire chiefs don't see Metro as a threat. The current tax for Dayton Fire is $1.23 per $1,000 assessed value of property. Dayton works from an annual budget near $550k with only two full time employees. The rest of the 27 firefighters are all volunteers. They responded to 628 emergency calls in 2020, about 30% of them were fires. Rules for the safety of firefighters require from 3 to 6 minimum at the conflagration before engaging in fire suppression. Mutual aid calls are frequent as the smaller districts work together on fire alarms.
If the new combined district means tax rates go from $1.23 to $1.50 or $2.00, local chiefs will support consolidation only if the benefits to locals can justify that increase. Currently each of the small districts has elected directors. Eighteen of the forty-four directors are up for election in May of 2021. Most are volunteer firefighters in addition to being directors. Their elected positions will go away eventually if consolidation occurs.
--Tom Hammer
| | |
| --- | --- |
| Post Date: 2021-02-06 09:26:57 | Last Update: 2021-02-06 09:44:12 |