She needs a plan that includes school reopening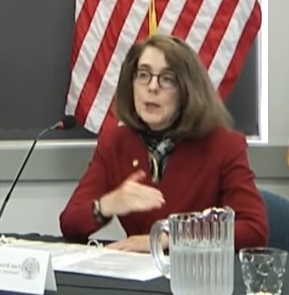 Governor Brown has mishandled nearly every aspect of the coronavirus vaccine rollout, and still she sticks to her course. Her administration's mishaps range from giving seniors mixed messages on when they could receive the vaccine to sluggish distribution. Now, she is on pace to botch school reopening. Is this a lot to do about nothing? In a virtual press conference on December 28, 2020, the World Health Organization and Dr. Fauci publicly stated that "health officials do not know if COVID-19 vaccines prevent infection or if people can spread the virus to others after getting vaccinated." FDA granted emergency use for Pfizer and Moderna vaccines based on clinical trials showing a reduction in severity of symptoms, but WHO officials say, "while it appears the vaccines can prevent clinically symptomatic COVID-19 clinical disease, there is no clear evidence COVID-19 vaccines are effective at preventing asymptomatic infection and transmission."
So why all the fuss over the vaccine? Is it the need for Governor Brown to appear she has successfully manage the pandemic? Senate Republican Leader Fred Girod (R-Lyons) "I share the Governor's eagerness to open schools, but not at the expense of lying to seniors." After all Governor Brown set the standard for her to get criticized.
The Governor first told seniors that they would become eligible for shots starting last week. She then changed course after she mistakenly counted second doses for first doses. Teachers are now set to receive vaccines before seniors in an attempt to return kids to school this school year. In early January, a group of teachers' unions sent the Governor a letter demanding access to the vaccine before schools reopened. But now, they are moving the goalposts; The Portland Association of Teachers and other local teachers' unions are balking at returning to in-person instruction.
A D V E R T I S E M E N T

A D V E R T I S E M E N T
To date, there has been no agreement with school districts and teachers' unions to ensure schools will actually reopen once teachers are vaccinated. "If teachers are going to jump the line ahead of seniors, they must go back into the classroom." Girod continued his hit on the Governor, "The science says this vaccine is effective. We cannot allow politics to get in the way of getting our kids back to school."
"The Governor continues to say that she trusts that teachers will return to the classroom, but last time she relied on others to fulfill her plans, she ended up lying to seniors. She should not set parents and kids up for disappointment. Her words are empty until there is a guarantee that kids will get back to regular instruction. No agreement, no cutting in line – that's the deal. We need to see something in writing."
When will Governor Brown face her responsibility to parents and students and iron out with teachers' unions a plan that will put kids back in the classroom? More than vaccines, we want leadership that is transparent and trustworthy.
--Donna Bleiler
| | |
| --- | --- |
| Post Date: 2021-01-27 07:13:35 | Last Update: 2021-01-26 18:25:26 |