A little peek at the greasy boot of the party in power.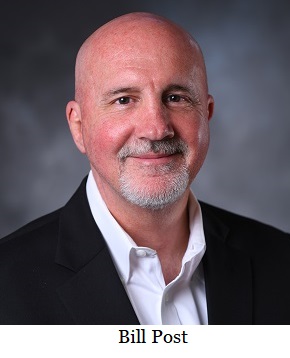 In the Oregon Legislature there is a jovial time at the beginning of the session when all is "Kumbaya" time and we all get along. There is a "non-partisan" spirit about the place. Then, quickly it fades away and once again the super-majority party exerts all its full control. When I say "full control," I mean it.
The Legislative Policy and Research Office are the folks who work "behind the scenes" to help committees flow. Now, I like all of our LPRO staff a lot and admire their hard work and dedication. Still it's literally advertised as "non-partisan." The graphic shows their job announcement.
In the video below, a new LPRO staffer introduces herself. "I did work for the Utah legislature. I was with the House Democrats, which is s super-minority, so it's definitely nice to be in the majority, so it's good to work with you guys." So I'm not concerned with hurting this staffer, anyone can make a mistake. It's the fact that the Leadership in the Oregon Legislature is so non-transparent and so entirely biased. IT's not just that House and Senate Republicans have to deal with the super majority legislators, it's like doing that with one hand tied behind our backs and blindfolded to boot.
Oregon needs to wake up and see how this place really works. There is
no
-- I mean
zero
balance in this process. I wish no ill will to this staffer, she's done nothing wrong. It's the Leadership that needs to be addressed.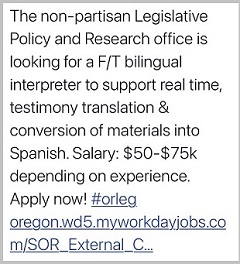 Which brings me to another point to discuss. The Oregon Republican Party recently released a statement on the impeachment process and 10 US Representatives. I am a
State
Representative, so I don't get involved in national politics. Neither should the ORP. What the ORP
should
concentrate on is things like what I've brought up here in this blog post. I have presented
tangible
proof of the
absolute
uphill battle that Oregon's House and Senate Republicans are fighting every day. I am tired of Republicans who "look back" at the past. I am moving forward and moving toward what's important to Oregon. And much of that is the imbalance of power in the Legislature and the state wide offices. Press releases condemning Republican Representatives from other states does nothing to win seats in here in the Oregon House or Senate, nor does it help Republicans win the Governor's seat in 2022. Let's get our focus off of the national news and on to the state of Oregon.
The statement made by the ORP
is one of which I disagree. I want that to be very clear. This is "looking backward" while I am "pressing onward".
To the ORP I say: it's none of our business what US Representatives from other states do. Though I may disagree with the decision made by those Congressmen, it's not my place to condemn them. Instead, I condemn the Democrats who have "lorded" over this state for 30 years. Focus please!
--State Representative Bill Post
| | |
| --- | --- |
| Post Date: 2021-01-26 16:08:05 | Last Update: 2021-01-26 16:48:36 |