"Follow the science"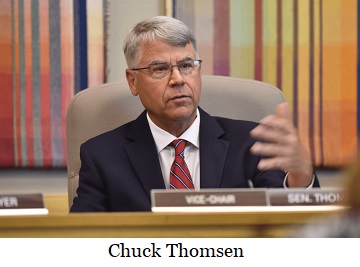 On Friday, Gov. Kate Brown doubled down on her decision to deprioritize vaccinating seniors. The decision flies in the face of science as the data clearly shows that seniors die at a disproportionate rate than other groups.
Even the Governor, in her Friday press conference, admitted, "It is absolutely true that our children are not dying at the same rate... as seniors," but then proceeded to explain why seniors must wait another 2 weeks to receive a vaccine.
Senator Chuck Thomsen (R-Hood River) released the following statement:
"This decision will cost lives. Last week, reporting by The Oregonian and Willamette Week pointed out the Governor's flawed decision-making process. If the Governor was really "following the science" as she is so fond of saying, she should not be pushing seniors back in line.

"I understand the desire to get kids back in school for regular instruction. Kids and parents alike are suffering. Teachers unions have said they will only go back to school if they receive the vaccine. Now that they have pushed seniors back in the line, they are balking at going back to school. If we have no guarantee that in-person instruction will even happen after teachers are vaccinated, then the Governor's whole argument collapses.
A D V E R T I S E M E N T
A D V E R T I S E M E N T
"It would be one thing if the Governor has had a consistent message, however anti-science it may be, but she told seniors in my district, and across the state, that they could get the vaccine. Then after discovering the federal government had a limited number of doses available, she rescinded her decision to vaccinate seniors and decided to let teachers go first.

"I call on Governor Brown to make vaccines immediately available to our seniors so we can prevent any excess death from COVID-19."
Governor Brown's
retreat on vaccines for seniors
has caused quite a stir.
--Staff Reports
| | |
| --- | --- |
| Post Date: 2021-01-25 09:48:19 | Last Update: 2021-01-25 15:29:12 |