Unless the toll is used to pay for construction of additional lanes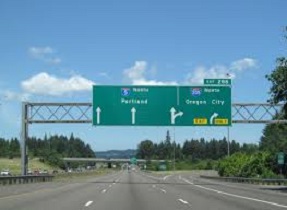 A proposal to put the brakes on congestion pricing tolling, at least on Interstate 205 has been introduced for the 2021 session of the Oregon Legislature in the form of
HB 2629
. The proposal, sponsored by State Representative Christine Drazan (R-Oregon City) is simple. It says that "the Oregon Transportation Commission is prohibited from establishing any toll on Interstate 205 unless the toll is used to pay for construction of additional lanes."
The idea of congestion pricing is to create a variable toll, so that when there is more demand for freeway lane space -- during times of more congestion -- the price goes up and people who are able to find alternatives can delay or reschedule trips or take other routes, thereby taking pressure off the heavily used freeways, like I-205.
Critics point out that the freeways are already so heavily congested that there aren't any realistic times in which it's not congested to schedule a trip. It's also hurts lower-income persons more, because they are unable to work from home and tend to work "shifts" where they don't have as much flexibility on the schedule.
Many homeowners who live in the vicinity of I-205 oppose congestion pricing for another reason. The higher prices will cause some to find alternative routes that can lead them through neighborhoods, and residents don't want the extra traffic.
A D V E R T I S E M E N T
A D V E R T I S E M E N T
The bill also removes language in Oregon law from the 2017 Transportation Package, which authorized the tolls on I-205. The language being taken out is "On Interstate 205, beginning at the Washington state line and ending where it intersects with Interstate 5 in this state" which describes one of the places where congestion pricing is planned.
The bill mirrors a proposed statewide initiative petition that failed to make the November 2020,
IP 10
, which proposed nearly the same thing, that no tolls could be imposed, unless the funds generated went to new lane capacity.
--Staff Reports
| | |
| --- | --- |
| Post Date: 2021-01-20 11:08:47 | Last Update: 2021-01-20 12:07:51 |