State Police are investigating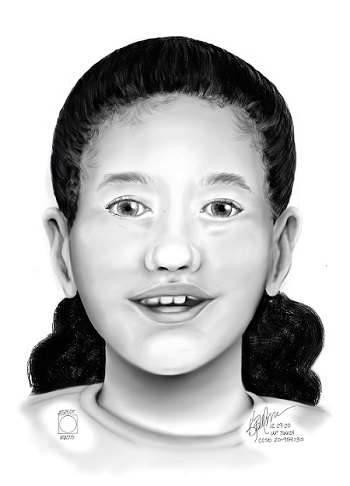 The Oregon State Police is releasing this sketch of a child found in Lincoln County on December 10, 2020, asking for assistance in identifying the remains.
On December 10, 2020, Investigators were summoned to the H.B. Van Duzer Forest State Scenic Corridor for a death investigation. The area is a heavily wooded state park in Lincoln County, Oregon, and due to the terrain OSP Detectives were assisted by Lincoln County SAR members after finding the remains of a female child.
The Oregon State Medical Examiner's Office estimates the decease's age to be 6-and-a-half to 10 years old. She is approximately 3'10" to 4'6" tall, and had long hair that is dark brown or black. Her race or ethnic origin has yet to be determined, but DNA analysis is not complete.
Due to the condition of the remains she had likely been deceased at least 30 days before she was discovered. No information regarding the cause or manner of death is available for release at this time.
If you have any information that might help investigators in identifying this child, please call 800-442-0776 or *OSP (*677).
--Donna Bleiler
| | |
| --- | --- |
| Post Date: 2021-01-04 19:04:31 | Last Update: 2021-01-04 21:42:41 |