Riot damage seems to track opportunity zones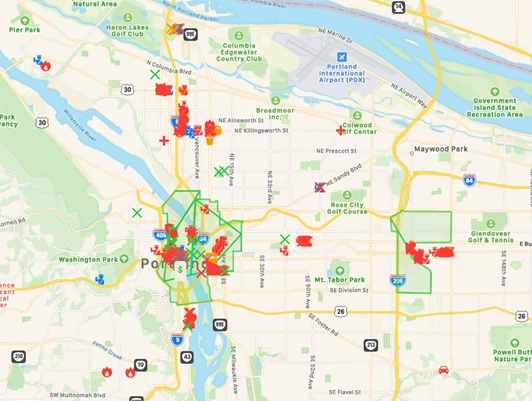 In the aftermath of the violence this summer, the city of Minneapolis mapped out the redevelopment business opportunity zones and overlaid the buildings burnt out by Antifa. They were shocked that it matched perfectly. Some wanted to know how many Antifa and Black Lives Matter agents are deep state provocateurs. To some observers, it was clear to them that they were hired to tear down America.
According to Wikipedia,
Catherine Austin Fitts
is an American investment banker and former public official who served as United States Assistant Secretary of Housing and Urban Development for Housing during the Presidency of George H.W. Bush. She has widely written and commented on the subject of public spending and has alleged several large scale instances of government fraud. She founded an investment advisory firm named Solari, which also produces a blog analyzing public policy.
Motivated, the
Solari Team
mapped Portland from May to October 7, 2020, for the correlation between riot damage and the tax-attractive Opportunity Zones. They found that "a tremendous amount of effort was spent on destroying the downtown area bounded on the West: by the 405, North: by West Burnside, East: Willamette River and South: SW Clay where a high concentration of Justice and Police facilities were."
Even though riots happened repeatedly in the same areas in Portland, the damage was very devastating. The majority of the riot damage was in Opportunity Zones, however, there was stray violent areas outside of opportunity zones. Most of that damage was targeted at law enforcement structures, coordinated with defund police protests. Small Business property damage was rampant costing businesses $30 million, which doesn't include the destruction to city property, cleaning graffiti off monuments and buildings, and replacing or restoring monuments.
Governor Brown's order to keep businesses shutdown only makes it more difficult for destroyed businesses to be rebuilt, unless they aren't intended too. Portland's economic development agency intends to deliver on its promise of equitable development made in 2013. The city plans for the Central Commercial Zone between Old Town Chinatown and the Pearl District will include at least 720 affordable housing units, small business opportunities, new parks, public art and a cycle track within the neighborhood. What other plans are on the drawing board that will utilize the destroyed businesses?
--Donna Bleiler
| | |
| --- | --- |
| Post Date: 2020-12-13 21:26:24 | Last Update: 2020-12-13 21:40:38 |