This study doesn't account for the unfunded liability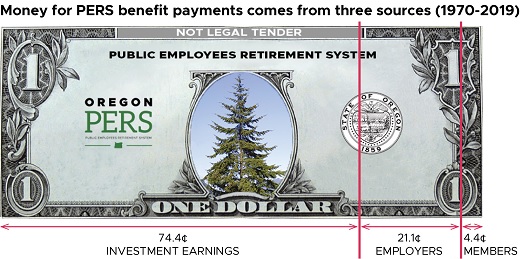 Oregon's Public Employees Retirement System released its
study findings on retiree benefits
paid in 2019. PERS covers approximately 95% of public workers in Oregon including all state and school district employees and most local government employees.
The study analyzed how PERS benefits paid to Oregon retirees impacts Oregon's economy. Oregon PERS paid approximately $4.11 billion in benefits to PERS retirees living in Oregon in 2019. The $4.11 billion in annual benefit payments multiply to $4.33 billion in economic value to Oregon when the full financial impact of these dollars when spent in local communities. These benefit payments sustained an estimated 33,402 local jobs, and added approximately $1.29 billion in wages to Oregon's economy. Additionally, the state of Oregon collected an estimated $234.9 million in income taxes on PERS retiree benefits during 2019.
Funding for these benefits came mostly from investment earnings on contributions previously paid by members and public employers. Investment income has provided 74.4% of total pension revenues since 1970. Member contributions have accounted for 4.4%, with employer contributions providing 21.1% of pension revenues over the past 49 years.
These retirees spent a significant portion of this money on goods and services in Oregon, which helped support local businesses. These businesses then purchased goods, in part, from other local vendors, adding to the Oregon workforce and economy. This study quantifies the total effect of these benefit payments on Oregon's economy, based on three factors:
Economic value of PERS benefits to Oregon
Jobs created and related wages
Tax receipts
Depending on who you ask, the PERS deficit is between $26 to $50 billion that is needed over the next couple of decades to pay pensions. The issue is that the employer contributions are going towards current benefit payments and not reserves. Increase in Investment earnings reduces the obligation.
Investments earnings increased in 2019
by $6,981 million, which was more than enough to cover increased payments, and 2020 is on track to do the same.
--Donna Bleiler
| | |
| --- | --- |
| Post Date: 2020-12-12 20:59:41 | Last Update: 2020-12-12 22:38:11 |