Attracting unwanted odors, noise and activity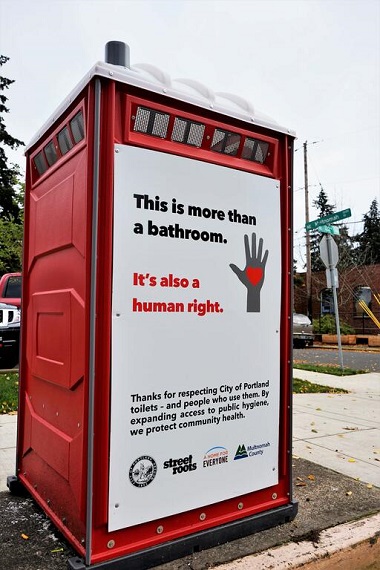 Across Portland, over 120 portable toilets will feature a new, super-sized message: "This is more than a bathroom. It's also a human right."
Signs are being installed this week to discourage people from vandalizing or stealing the units, which are intended to serve people experiencing homelessness and others who need access to public bathrooms. Since placing the portable toilets in response to COVID-19, the City of Portland has faced backlash from some neighbors who oppose having toilets close to their homes.
The City installed signage on new portable toilets to raise awareness about public health.
Striving to serve as many people as possible, the City selected locations based on a detailed analysis of areas where houseless people are living, interviews with people living in encampments, an audit of existing public restrooms and an assessment of human waste. Follow-up surveys are being conducted to help fine-tune the placement of the toilets.
Critics of the portable toilets have sent angry emails and voicemails to the Homelessness and Urban Camping Impact Reduction Program, as well as blocking toilet delivery, and vandalizing or stealing the bright red hygiene units. Some people say portable toilets are attracting unwanted odors, noise and activity near their homes.
--Ben Fisher
| | |
| --- | --- |
| Post Date: 2020-12-05 15:00:51 | Last Update: 2020-12-05 15:13:43 |