As if it's not bad enough that your government won't prosecute them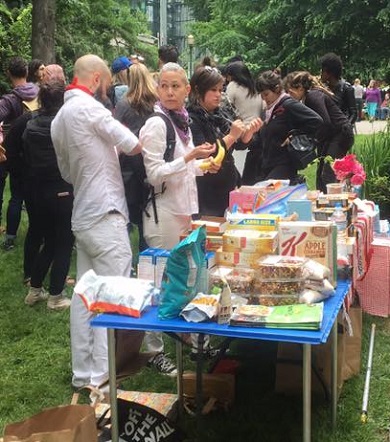 According the
Oregon Health Authority website
, "On August 18, 2020, OHA opened grant applications to not-for-profit organizations statewide and Oregon's nine federally recognized Tribes and the Urban Indian Health Program for grants flowing from legislatively-directed $45 million in federal CARES Act coronavirus relief funds. These grants are intended to address the disproportionate impact the COVID-19 pandemic has had on Oregon's tribal communities and communities of color."
PJ Media
has also reported on this.
Page 7 of this
list of Oregon Health Authority COVID-19 Health Equity Grant Awards
lists the award to SNACK BLOC as $145,000. Ironically, although it appears that these snacks were used to sustain rioters, the OHA website says that "these grants can be used to help people address...safety and violence prevention." The motto of SNACK BLOC seems to be the statement "Supporting the Resistance One Snack at a Time," according to their
facebook page
.
According to their facebook page:
SNACK BLOC is a community resource and support for rallies, protests, community events and vigils in the greater Portland area.
Supporting the Resistance, one snack at a time (via donations from the community). We aim to create a safe space with sustinance, medic tent, and chill zone during efforts made by the Resistance.

SNACK BLOC holds a zero-tolerance policy for:
Racism
Non-consensual interactions
Violence
Transphobia
Homophobia
Xenophobia
Ableism
Sexism
Body shaming
Misogyny
Victim blaming & shaming
Cultural appropriation

If you feel that SNACK BLOC is not holding to this standard, please let us know.

As one can infer from the spelling, the name "SNACK BLOC" derives its significance -- and its political leanings -- from "Black Bloc." According to
Wikipedia
,
"black bloc is a tactic used by protesters who wear black clothing, ski masks, scarves, sunglasses, motorcycle helmets with padding, or other face-concealing and face-protecting items. The clothing is used to conceal wearers' identities and hinder criminal prosecution by making it difficult to distinguish between participants. It is also used to protect their faces and eyes from pepper spray, which is used by police during protests or civil unrest. The tactic allows the group to appear as one large unified mass. Black bloc participants are often associated with anarchism, anarcho-communism, communism, libertarian socialism, antifascism, or the anti-globalization movement."
According to the Secretary of State's Corporation division,
SNACK BLOC was founded in June
as a public benefit corporation and lists its President as Masyn Bontrager.
One observer said, "$145,000 buys a lot of snacks, but it could have gone to help struggling small businesses or unemployed people."
--Donnie Coleman
| | |
| --- | --- |
| Post Date: 2020-12-04 21:29:04 | Last Update: 2020-12-05 14:18:43 |