Stopping Coronavirus means total complaince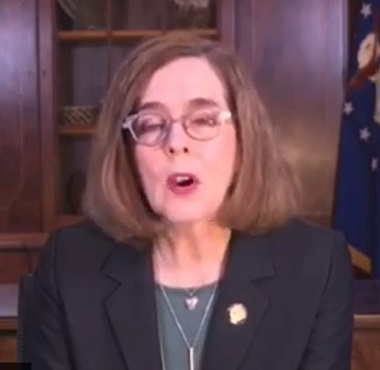 Oregon Governor Kate Brown stated in today's press conference that Oregonians are complying, but the pandemic isn't over yet.
More than 84% of Oregonians are wearing masks, a meta analysis of cell phone data use shows that Oregonians are staying home. Transportation is down by 37%, office use is down 40% and telecommuting is up 13%. Oregonians are listening, and doing as they're told, to get through this "dark winter".
"We just need you to hang on a little longer, hope is on the way" stated Kate Brown. 35k initial doses of the Pfizer vaccine are on the way, approximately 70k initial doses of the Moderna vaccine will be here by December 22nd. Health care workers will be the first in line to roll up their sleeves and be given the "opportunity to get the vaccine, by the end of January".
In a press release yesterday Governor Brown announced the appointment of a new panel to the Western States' Scientific Safety Review Workgroup. Doctors, scientists, and health experts from California, Nevada, and Washington, will fill positions on the panel. The workgroup will review the safety and effectiveness of COVID-19 vaccines that receive Emergency Use Authorization from the U.S. Food and Drug Administration (FDA).In addition to reviewing safety and efficacy, the workgroup will give recommendations on timelines for reopening Oregon, including when schools can reopen.
But Brown warned "the vaccine doesn't end the pandemic just yet, everyone needs to buckle down until they can receive it".
The press conference was handed off to Oregon Health Authority Director Pat Allen who began his announcement with "grim milestones", Oregon has reached 80k total cases, and today marks 1,003 deaths for the total pandemic. Case counts have reached 1k cases per day, and Allen stated "we only expect this to get worse as Thanksgiving case counts emerge". "But there's light at the end of the tunnel" says Allen, as vaccines are expected to arrive soon. Until that point Allen suggests no meetings, no travel, and no gatherings.
"Rigorous clinical trials show the vaccines are safe and effective". Claimed Dr Rachael Banks the Director of Public Health. "Our typical flu vaccine is between 40-60% effective, and you see us pushing those vaccines like crazy, because 40-60% is pretty good. 95% effective is unheard of, so we feel really good about these vaccines. Banks went on to add that "It's not the vaccine that's the solution, but it's us all getting vaccinated that will stop this pandemic", "I know I'll be getting the vaccine" stated Banks, who then turned toward Governor Brown and Pat Allen, asking if they would too. Naturally both answered in the affirmative, the entire event felt scripted and contrived, like a dystopic advertisement for the new vaccine.
To put things into perspective we're currently shut down due to 80k positive and presumptive cases, of those cases we're looking at a 1.25% fatality rate of both positive and presumptive Covid-19 deaths. Oregon's population is currently 4.45 million, meaning exactly 0.000225093% of Oregon's population have died of or with Covid-19. It should also be noted that Oregon is using the
Thermo Fisher PCR test at 40 cycles
, which has proven to be a faulty method of testing. In fact
Portugal
recently determined the test will no longer be used to create public policy.
Conversely it's estimated
265 million people will die from starvation this year
, due to lockdowns, and interruptions in the marketplace.
Many questions remain unanswered by Brown and OHA, like do we have enough cold storage for the vaccine, which requires storage at sub freezing temperatures? What will happen to people if they don't receive the second vaccine dose in time, due to supply shortages? What is Oregon's plan for post market surveillance? What exactly is a robust economic package, and will it be available to all Oregonians? One thing did stand out quite clear, in today's meeting however. Oregon's economy will continue to be held hostage until total compliance is achieved and everyone gets their shots.
--Breeauna Sagdal
| | |
| --- | --- |
| Post Date: 2020-12-04 10:53:21 | Last Update: 2020-12-04 17:21:03 |