For teachers' unions, it not about the kids.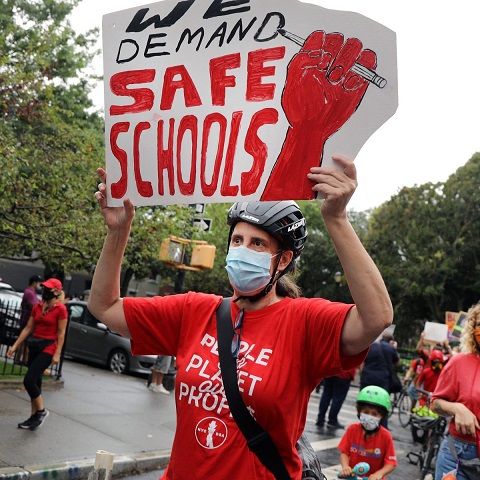 If your kid is sick of distance learning and/or not getting the most out of your education property taxes, you might have more than just Governor Brown to blame. It might be that the Governor is under a lot of pressure from her friends as the local teachers' union. One of the most powerful public employee unions in the state, the Oregon Education Association is convinced that standing up for its members means keeping kids out of classrooms.
Governor Brown has been convening her COVID advisory group in secret -- as the public meeting laws apparently allow -- so it's not clear who is putting pressure on her to develop policies favorable to their interests, such as public employee unions. In this case, though it's not required for her to be transparent, her failure to do so heightens speculation that she's being influenced.
According to
their website
:
OEA and your local association are continuing to work around the clock to fight for protections for students and staff who fear for their health, or the health of their loved ones, should they be asked to return to school. Nobody wants to get students back into the classroom more than educators, but we can't bring students back until we can ensure that our schools are a safe place for students to learn and for educators to work.

As we continue to see record levels of COVID-19 both here in Oregon and throughout the United States, it is more important than ever that our communities recognize the threat of this pandemic and take the steps necessary to contain its spread.
OEA President John Larson makes a similarly bold statement on their website:
Relaxed metrics at this moment in time will only serve to further disrupt education for students, families, and educators throughout Oregon – allowing districts to bring students back to the classroom before it is safe to do so and increasing the likelihood that our schools and communities will again be forced to lockdown in the future.
The science tells another story. First of all, according to data supplied by the Oregon Health Authority, children age 19 and below make up fewer cases than the general population -- despite the fact that roughly a quarter of them, kids under the age of five, have no mask mandate. When they do contract the disease, children aged 19 and below have less-serious symptoms, as evidenced by the fact that they are hospitalized much less than other age segments. And, as would be expected from these statistics, they are far much less likely to die from it. In fact, no one in Oregon has died from COVID-19 who is 19 years or younger.
Not. A. Single. Person.
Further, as we are on our way to herd immunity from this disease -- an equilibrium in which enough people have immunity to the disease to keep it at bay, whether by having contracted it, or though vaccination, the demographic that can be most helpful in this process are the children. No one wants their child -- or any child -- to get seriously ill, but this outbreak seems to target the elderly and immune compromised, so the more young people who get immune from it helps corner the virus.
It's hard to imagine who the teachers' unions are trying to protect. Kids? Not really. Teachers? Maybe, but other professionals -- one thinks of first responders and health care workers -- face the disease, too and survive.
One could wonder if, instead of teaching critical thinking and science to a generation of youth, children are taught fear and dependence upon government, by the "red for ed" public employee union members who are doing the teaching. One also wonders if there's not a rift between the actual boots-on-the-ground educators -- a group not known to fear a virus -- and their union bosses. Certainly, there must be some teachers that want to return to the classroom. They might be better served by their union fighting to get them a spot closer to the front of the line for scarce vaccines, rather than an eternal spot in front of a laptop.
It remains to be seen if the public employee unions which control our education system care about children. It's pretty clear that they are wholly unresponsive to taxpayers and parents.
--Staff Reports
| | |
| --- | --- |
| Post Date: 2020-12-03 15:10:40 | Last Update: 2020-12-03 16:20:42 |