And you thought it was only going to be two weeks.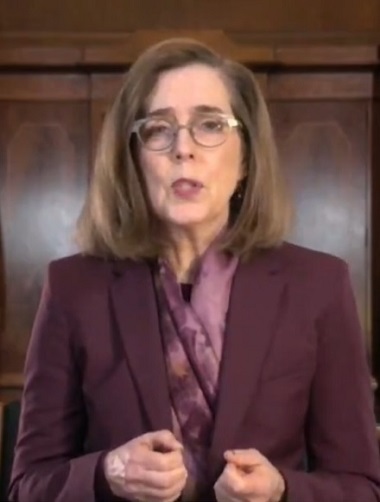 In a press conference today, Oregon Governor Kate Brown described a policy that will include continuation of lockdown measures past the two-week duration previously announced. She issued a stern warning. "Irresponsible behavior over Thanksgiving, at best will only make the pandemic last longer. At worst, it will send one of your loved ones to the ICU."
She said that there would be
four levels of county risk
, not unlike the "phases" used earlier in the outbreak. Describing a continued lockdown, she said,
"The statewide two week freeze is complete next week. However, due to extensive COVID-19 spread in our communities, there are at least 21 counties including our most populous counties like Multnomah that are facing extreme risk of virus spread and will need to continue with strict health and safety measures similar to the freeze through most of December. My hope is that Oregonians in these counties take this news seriously and commit to hunkering down for the next several weeks. For all counties in Oregon we are introducing a data-driven framework intended to protect Oregonians, by putting appropriate safety measures in place dependent on a county's risk to the disease ranging from low risk to extreme risk. It's important to know here that there is not a no-risk category."
Hopes were buoyed by Oregon Health Authority Director Pat Allen looking forward to the development of a vaccine and the expectation that 30,000 doses of the vaccine would ship to Oregon in December -- top be prioritized among the over 200,000 health care workers in Oregon.
These protections are not forever. In December Oregon expects to begin receiving limited shipments of the first COVID vaccine. While we're sill awaiting federal emergency use authorization, these vaccines appear to be safe and effective. That's good news. If we all get vaccinated, we can put and end to this pandemic.
The new policies include a relaxation of the prohibition on outdoor dining which will be allowed in structures that have at least three sides open. The Governor said that she hopes to roll into the new metrics next week.
A D V E R T I S E M E N T
A D V E R T I S E M E N T
The entire list of counties at risk is
Lower Risk: (5)
Gilliam
Sherman
Tillamook
Wallowa
Wheeler
Moderate Risk (4)
Curry
Harney
Lincoln
Morrow
High Risk (6)
Clatsop
Coos
Crook
Lake
Hood River
Josephine
Extreme Risk (21)
Baker
Benton
Clackamas
Columbia
Deschutes
Douglas
Grant
Jackson
Jefferson
Klamath
Lane
Linn
Malheur
Marion
Multnomah
Polk
Umatilla
Union
Wasco
Washington
Yamhill
--Staff Reports
| | |
| --- | --- |
| Post Date: 2020-11-25 13:39:31 | Last Update: 2020-11-25 16:14:11 |